Travel
Oct 18th, 2017
Golf travel – GolfPunk goes to Norfolk
North Norfolk (Digital) Magazine....
Words: Tim Southwell Photography: Snapper Of The Yard
"Buck toothed simpletons with eyebrows on their cheeks… horses running through council estates… men in platform shoes being arrested for bombings…. Badly tarmaced drives… in this country."
Sorry, couldn't help but start with a quote from Alan Partridge who, along with Delia Smith, Stephen Fry and turkey-genocide-practitioner Bernard Mathews, presents the most immediate window into the world of Norfolk.
So what else about Norfolk? Well, Alan Brazil lives there when he's not lying horizontal in the TalkSport offices after another legendary Soho bender. And then there's the mosquitos.
Norfolk is where mosquitos come for spring training, undergoing a grueling program of physical exercise and studying The Mozzie's Guide To A Human's Sensitive Areas. Jesus, they end up like buzzing rat assassins with wings.
"She was certainly at the front of the queue when God was handing out chests… and mammary glands…."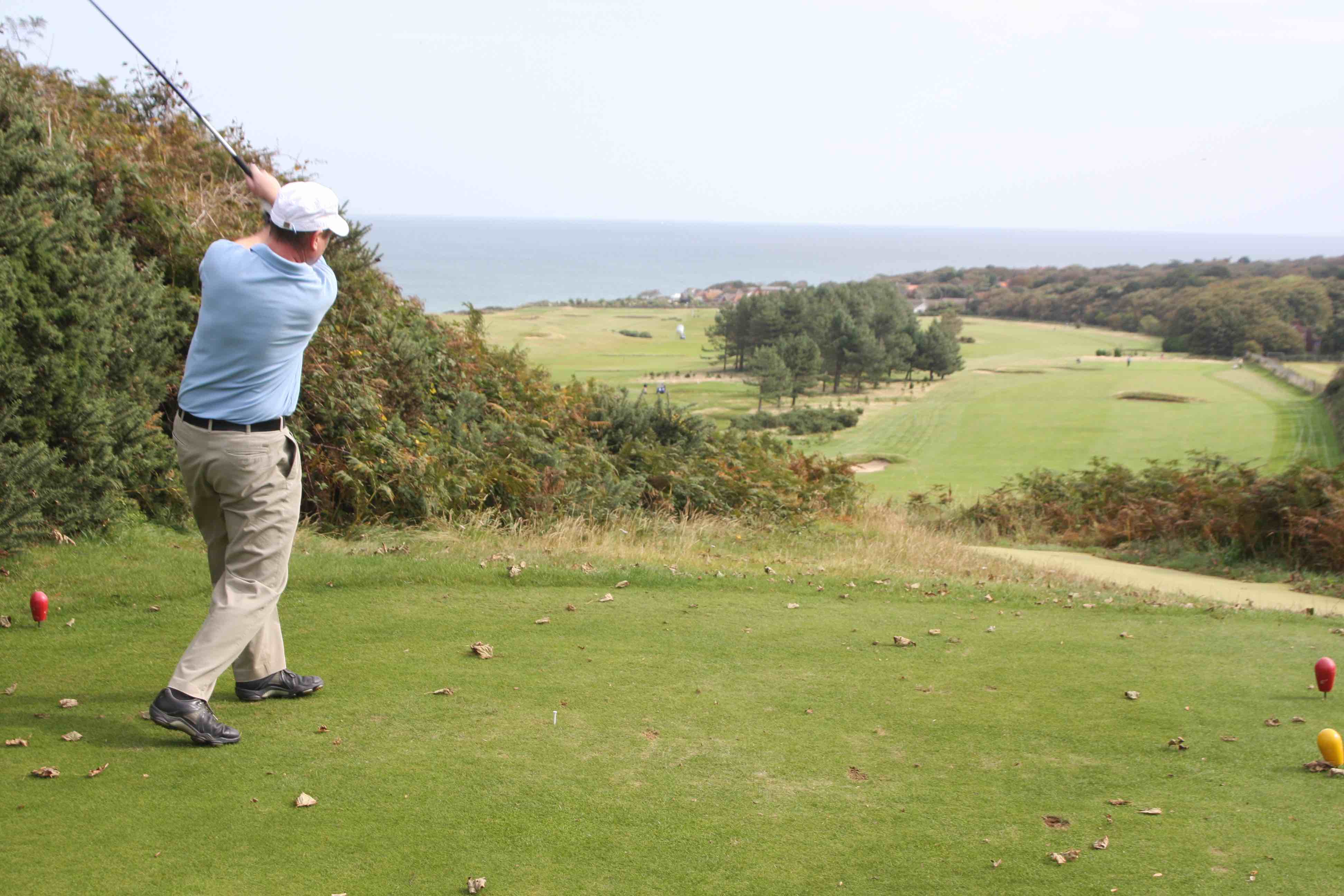 So, given our relative lack of knowledge about the place, we'd never really considered a venture into Norfolk. Not until our MD, the Brigadier, burst into the office with a cunning plan.
The Brig is a stoic and determined chap who gives you the distinct impression that, in a former life, he plied his trade setting up sugar plantations in the colonies of the British Empire. His wisps of hair become more and more frayed the harder he works, and we suspect that near the point of exhaustion they will actually burst into flame.
On this particular day, The Brig was at 'Smoulder Level 3' (4 is considered highly flammable and at 5 we have to seal him inside an iron cask). Anyway, he was at 3 and he marched in and slapped his palms on the desk: "Next week we have a few days free and guess which band is playing in Norwich?"
"The Wurzels?"
"Shut up, now. It's Hard Fi, the popular music combo from Staines near London. Hard Fi are playing in Norwich on Wednesday night and, I reckon, we should load up the unit and get the hell up there – a golf & roll road trip."
Three days later…we got stuck for three hours on the M25.
"Big Yellow Taxi there by Joni Mitchell, a song in which she complains that they 'paved paradise to put up a parking lot' – a measure which actually would have alleviated traffic congestion on the outskirts of paradise, something that Joni singularly fails to point out."
Quick fast forward to the first tee at Royal Norwich Golf Club…
Now that's what I'm talking about: A par-three to open our account on the GP Royal Norfolk golf caper. Snapper Of The Yard finds the green but has to settle for par when his 15-foot birdie putt horse-shoes around the lip. The Brig makes par after a fine recovery pitch and, despite a quality bunker shot, my par putt lips out from seven feet. Still, we're on our way!
Established in 1915 and given patronage by HM King George V, Royal Norwich Golf Club has hosted many professional events over the years and has seen everyone from James Braid (who conducted redesign work on the course in 1924) to four-time US Open Champion Walter Hagen take it on.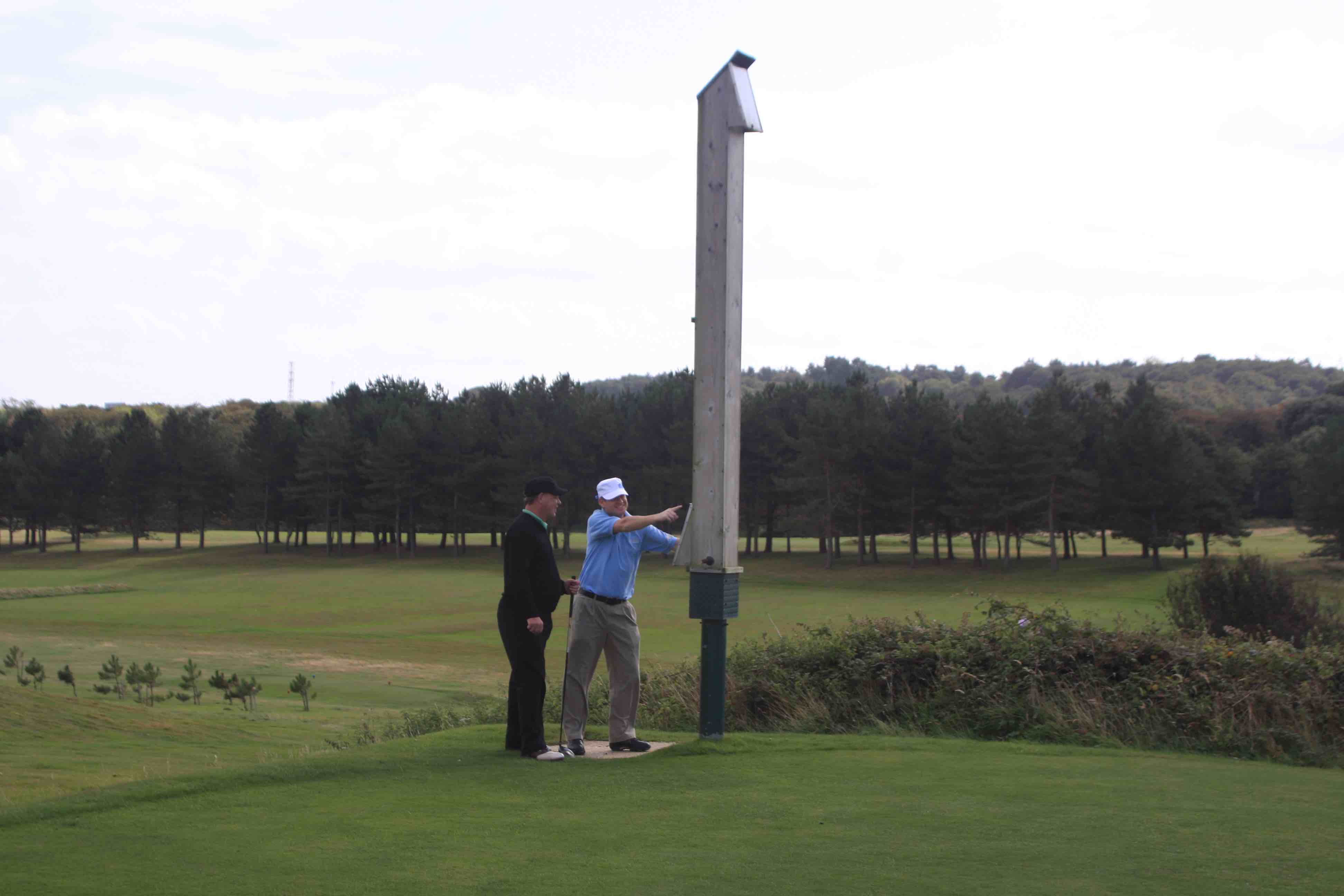 But it was in 1971 during the Martini International Championship that Royal Norwich achieved infamy when tour professional John Hudson scored his first ever hole in one, hitting a four-iron high and true, onto the green and watching it role wondrously into the hole.
Then he walked onto the 317-yard par 4 13th tee and hit his drive high and pretty, curving left to right, pitching 30-yards short before running onto the green and straight into the hole. He had recorded two consecutive holes-in-one. And the second miraculous feat on a par four!
On Norfolk farmers: "If you see a lovely field with a family having a picnic, and a nice pond in it, you fill in the pond with concrete, you plow the family into the soil, you blow up the tree, and use the leaves to make a dress for your wife who is also your brother."
In the bar later, the members revel in the John Hudson story before telling us about the time Jack Murray hit his first tee shot as Club Captain straight into the hole in 1973. What is it with this place and aces?!
"Guide dogs for the blind. It's cruel really, isn't it? Getting a dog to lead a man round all day. Not fair on either of them."
Hard Fi at The Waterfront…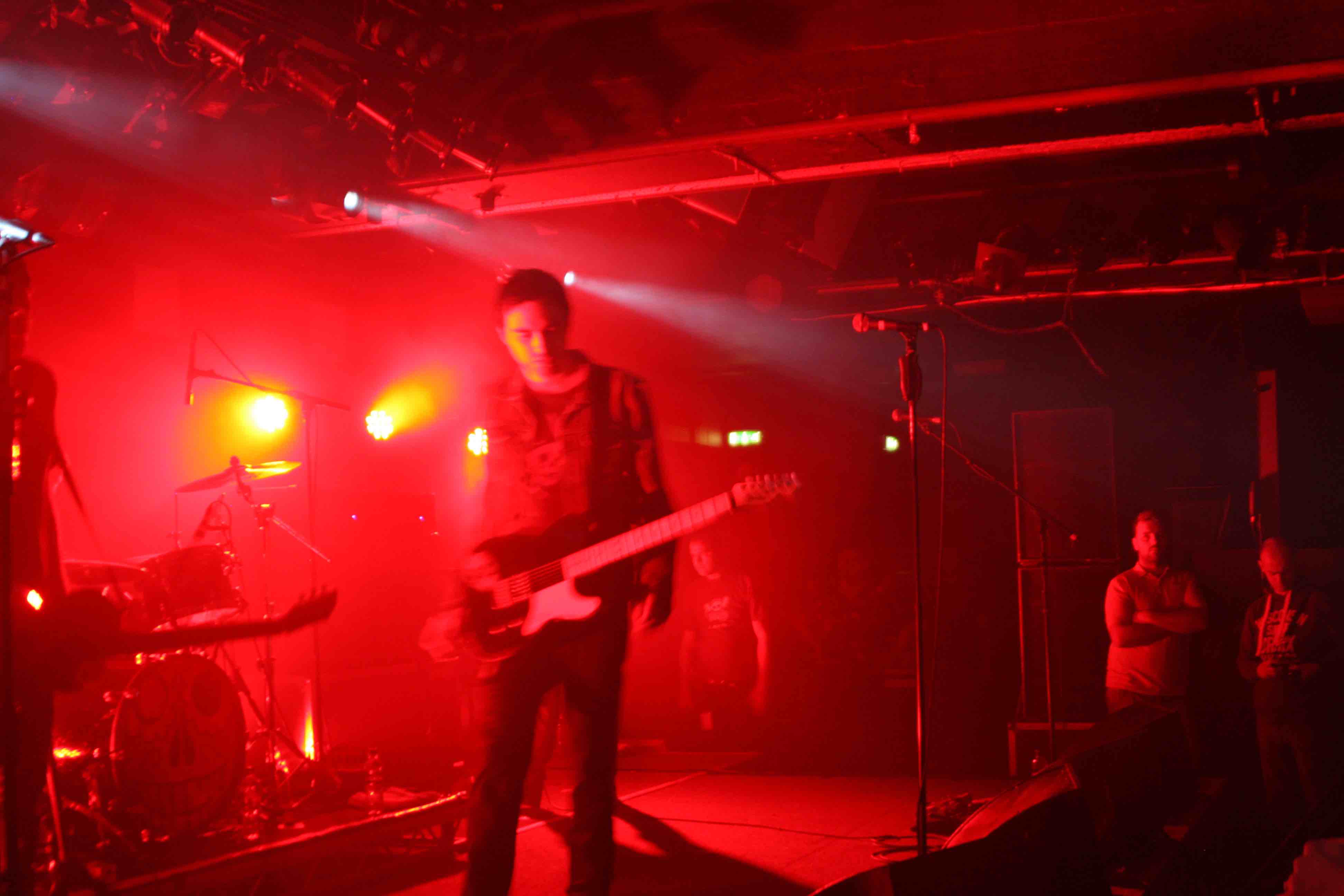 We first met Hard Fi at the 2006 GP British Open Clubhouse in Hoylake. They were riding high following the successful release of their debut album Stars Of CCTV.
Lead singer Richard Archer had agreed to DJ at our opening night party and we became friends right there and then. Especially when it emerged that Richard loves golf and plays whenever he can!
Hard Fi released their second album No Cover Art in 2008. Like the first album, it reached Number 1 in the UK charts. Their latest record Killer Sounds was released the day we headed up to Norfolk.
We love Hard Fi and tonight they are playing The Waterfront in Norwich and we are lucky enough to be on the guest list. A great set – combining classics from all three albums – has the crowd going bonkers.
As we sip on cool beers after the gig, we all agree that this is one hell of a golf caper. If you like alternative music influenced by every musical style from reggae to soul, ska to dance, Hard Fi are your band.

Backstage, Richard starts babbling like a man still rushing from the buzz of the stage: "The thing about golf," he says, "it's that first moment when you hit the ball properly – that amazing feeling of satisfaction.
"I was out on a par three course and I hit my first tee shot – nailed it and it ended up five feet from the pin. I was like 'I've cracked it, I'm going to turn pro!' And obviously I've never done that again!"
(Video)
Watch Richard Archer take on GP Editor Tim at Lindfield GC's HILF (Holes I'd Like To Frequent), the beautiful 12th.
"Another thing I've always liked is that you can get dressed up. I've never been into playing in just jeans, or whatever. The only thing is, I get all the nice gear and go out on the course and play like a div! Anyone fancy another beer?"
And that's pretty much all I remember. We awake at The Premier Inn with bleary eyes, open the curtains and realize for the first time that our hotel is situated right on the river. Must have been a good night. A quick text is sent over breakfast ("That's the best cooked breakfast I've had since Gary Wilmot's wedding"), thanking Mr Archer for allowing us to raid his backstage fridge. And then it's on to Royal Cromer Golf Club.
"Hi Susan. I was a bit bored so I dismantled my Corby Trouser Press. I can't put it back together again. Will that show up on my bill?"
When Old Tom Morris was drafted in to advise on restructuring the (then) nine-hole course in 1891, he declared he would create 'the finest nine hole course in the country'. He also strongly recommended that Royal Cromer prepare itself for a full 18-holes at its earliest convenience.
The course has since been influenced by Harry Colt, J.H. Taylor, James Braid and, more recently, by Frank Pennick and Donald Steel. The result is a superb test of dramatic cliff-top golf, coupled with inland holes that sweep across a beautiful valley.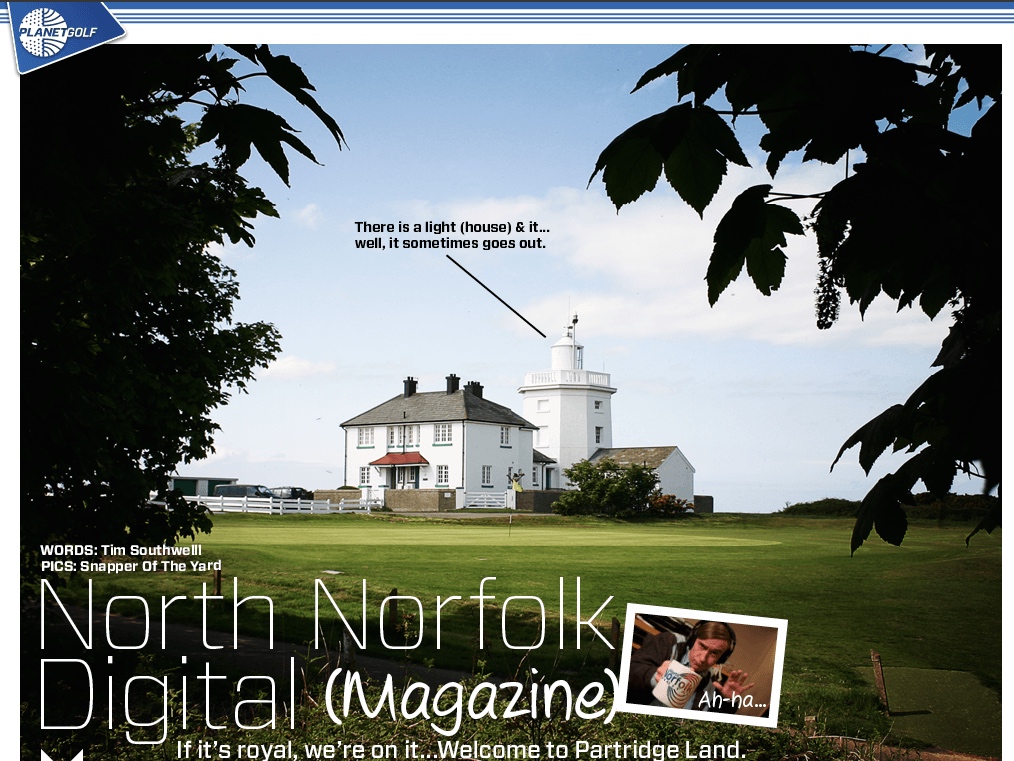 Many dignitaries have graced the links over the years, not least Sir Arthur Conan Doyle, who wrote the Sherlock Holmes' masterpiece The Hound Of The Baskervilles, while staying nearby. Oscar Wilde played the course in 1892 and he, too, stayed around in order to write a classic of his own Women of No Importance.
"Wooah, Gill, you really know your onions."
You immediately get the sense that this is a special place. There's a really nice atmosphere. Some golf clubs have it and some golf clubs don't. Royal Cromer most definitely has it.
Apparently, however, when the wind blows here you 'know about it'. This is the message from the club pro who sends us on our way with a wink and a slightly ironic sounding 'good luck!'. Hhmmm.
Fortunately for us the golfing gods have been kind and there is no more than a gentle breeze to contend with. That, combined with glorious sunshine, ensures one of my favourite ever golfing days. It probably helped that I was playing pretty decent as well. Isn't that funny? How a new golf course becomes immediately quite brilliant when you're playing well? Royal Cromer has got the lot: Links holes, inland valley holes and superb greens. It's a great challenge but totally fair if you're finding fairways.
An hour after completing our round, we are sitting on Cromer Pier sipping a chilled glass of Chablis as the sun goes down. We feel like kings among men.
"All this wine nonsense! You get all these wine people, don't you? Wine this, wine that. Let's have a bit of red, let's have a bit of white. Ooh, that's a snazzy bouquet. Oh, this smells of, I don't know, basil. Sometimes you just want to say, sod all this wine, just give me a pint of...mineral water."
The drive to Royal Brancaster Golf Club is quite something. There is literally nothing at all for miles and miles and the endless succession long winding country lanes makes you feel like you are going to drive round the corner and straight into the North Sea.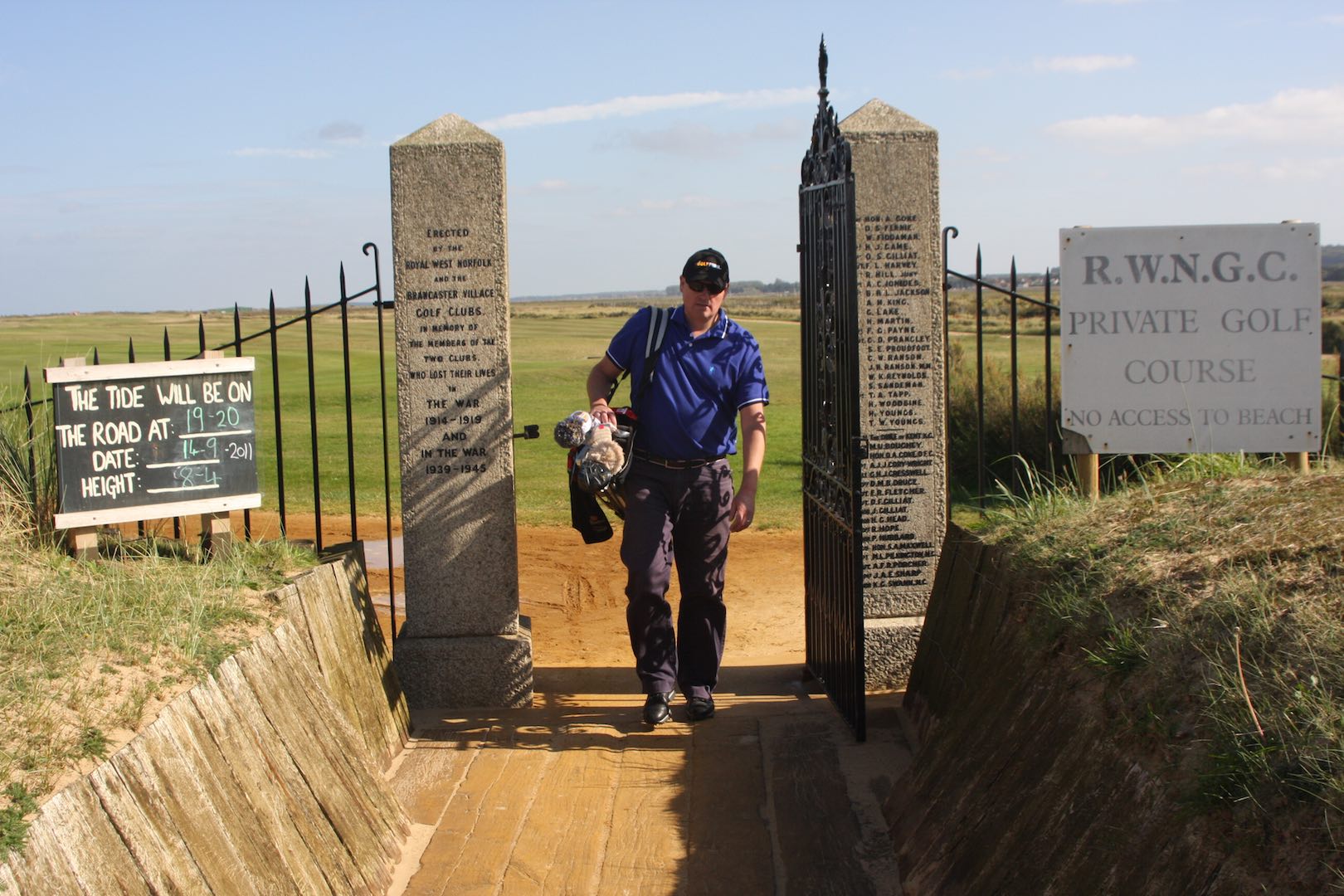 It is truly one of the UK's golfing outposts. But well worth the journey. Brancaster is a simple yet thoroughly engaging golf course, characterized by windswept fairways that hug the coastline and vast bunkers reinforced by large wooden railway sleepers.
In contrast to Royal Cromer, Brancaster's origins are more humble, with Mr Holcombe Ingleby (no, I've never heard of him either) laying out the course in 1892. Brancaster (or Royal West Norfolk to give it it's official name) has barely been altered since.
Situated between the beautiful beach of Brancaster Bay and the salt marshes, Royal West Norfolk is basically a long strip of links land that gets turned into an island at high tide.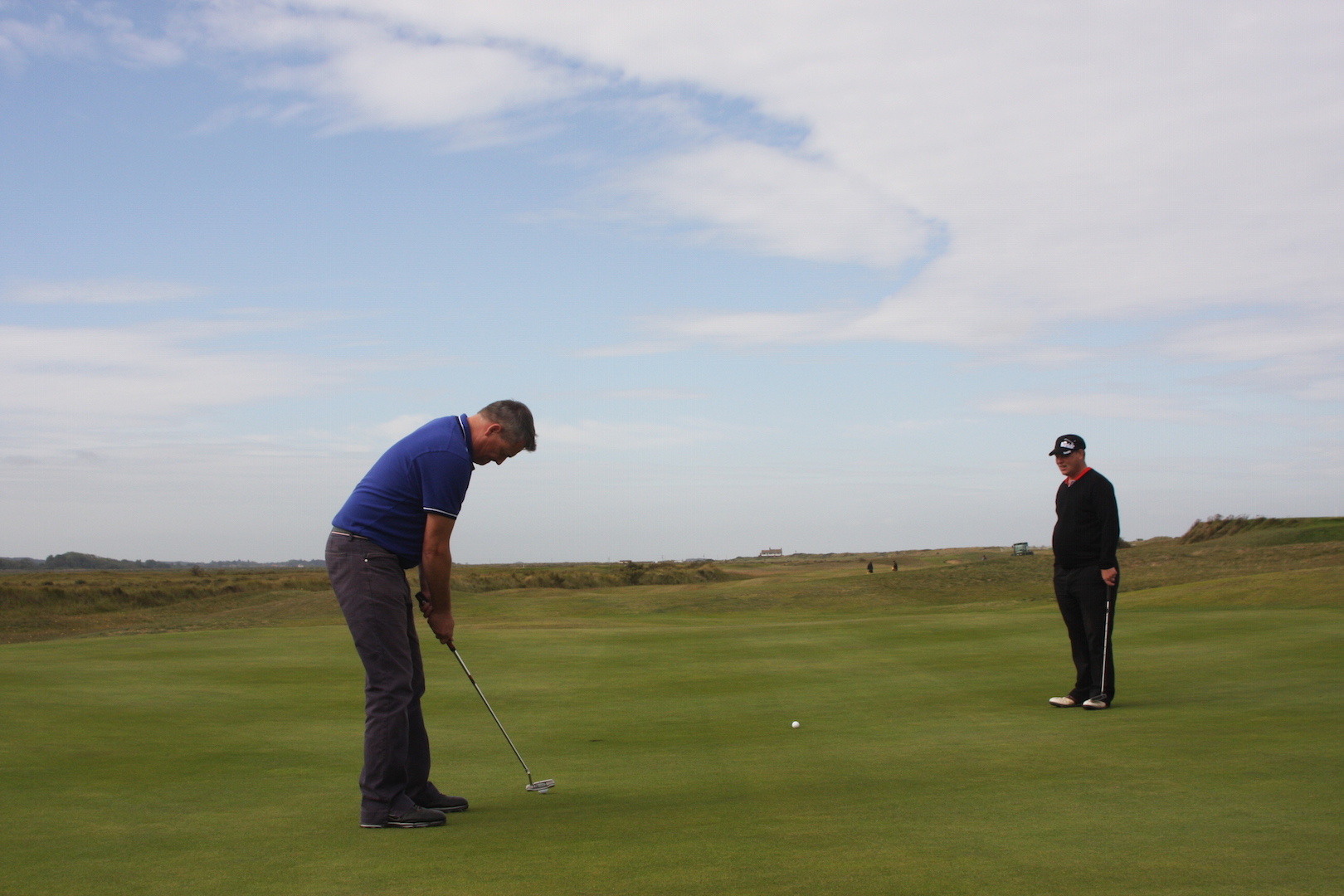 And high tide is definitely the time to play this course as it creates several water hazards, so make sure you check the tide times. A warning: If your game isn't razor sharp, you will need plenty of golf balls to complete the round.
"The temperature inside this apple pie is over 1000 degrees. If I squeeze it, a jet of molten Bramley apple will squirt out. Could go your way; could go mine. Either way, one of us is going down!"
Naturally, we are playing the course at low-tide. D'oh! And only two-balls are allowed on Brancaster. Double D'oh! No matter. the Brig, Snapper Of The Yard and I draw lots to see who will play which 12 holes.
At first it's disappointing not to be playing the whole course but the six-hole sojourn actually proves a godsend, as it gives you time to have a real look and absorb this remote but charming place.
"Lovely stuff. Not my words Michael, the words of Shakin' Stevens"
As we cruise back down the motorway on our long journey home, we are all wind-beaten and exhausted. It's been one hell of a do. But we are elated. And we are coming back to play Brancaster at high-tide.
Otherwise we will never be able to really say with 100% confidence that "We had the last laugh…"
Related:
GolfPunk goes capering on England's Atlantic Coast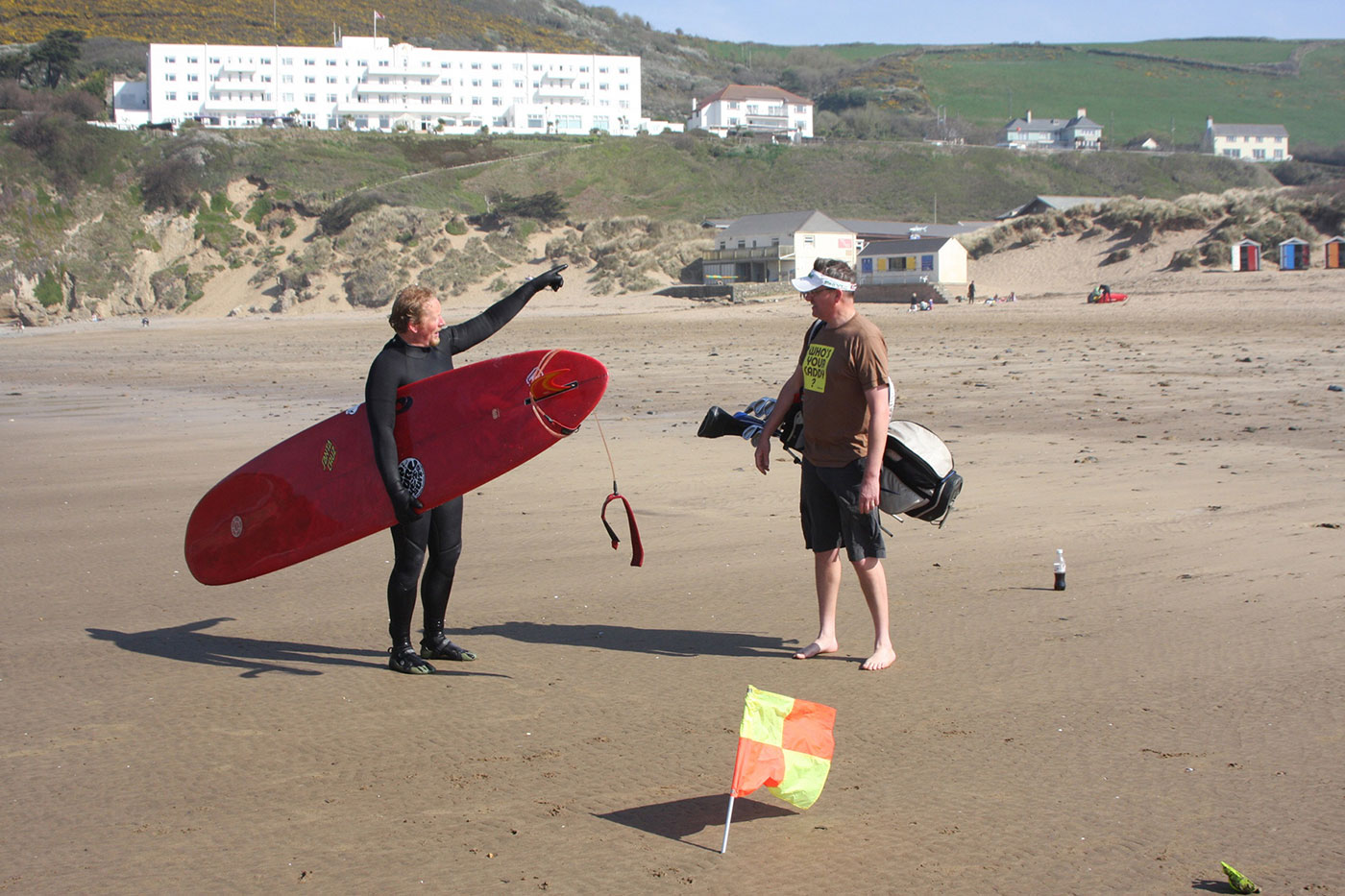 Where we played & where we stayed.
Royal Norwich G.C.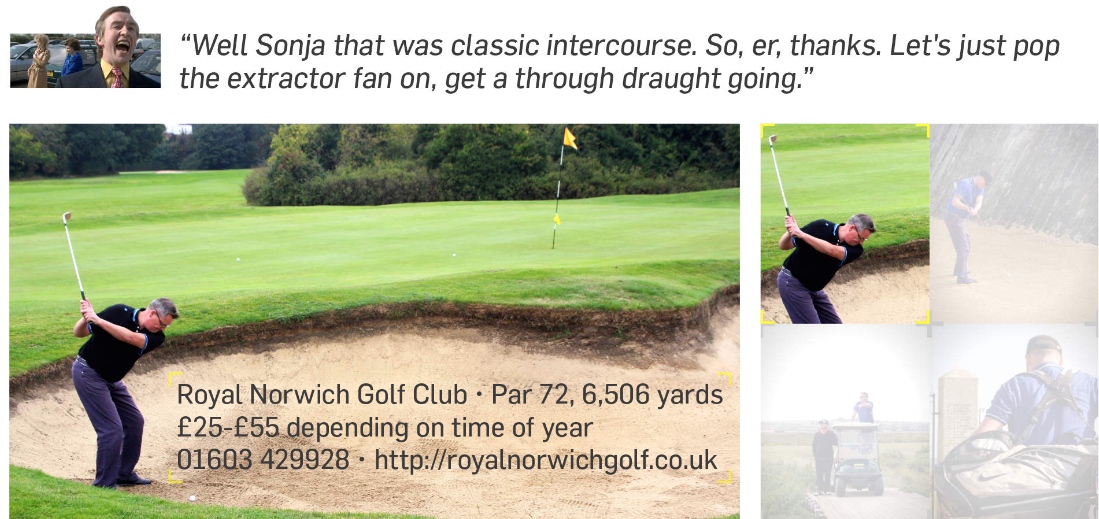 Royal Norwich Golf Club
Drayton High Road
Hellesdon
Norwich
NR6 5AH
Par 72, 6,506 yards
Killer hole: 15th. 389 yard par four (SI 5). Called 'The Whinney' the tee shot sweeps down across a narrow valley, requiring length and accuracy. There is a large pit in front of the green waiting to capture any wayward approach shots.
Email: mail@royalnorwichgolf.co.uk
Phone: 01603 429928
Website: royalnorwichgolf.co.uk
Royal Cromer G.C.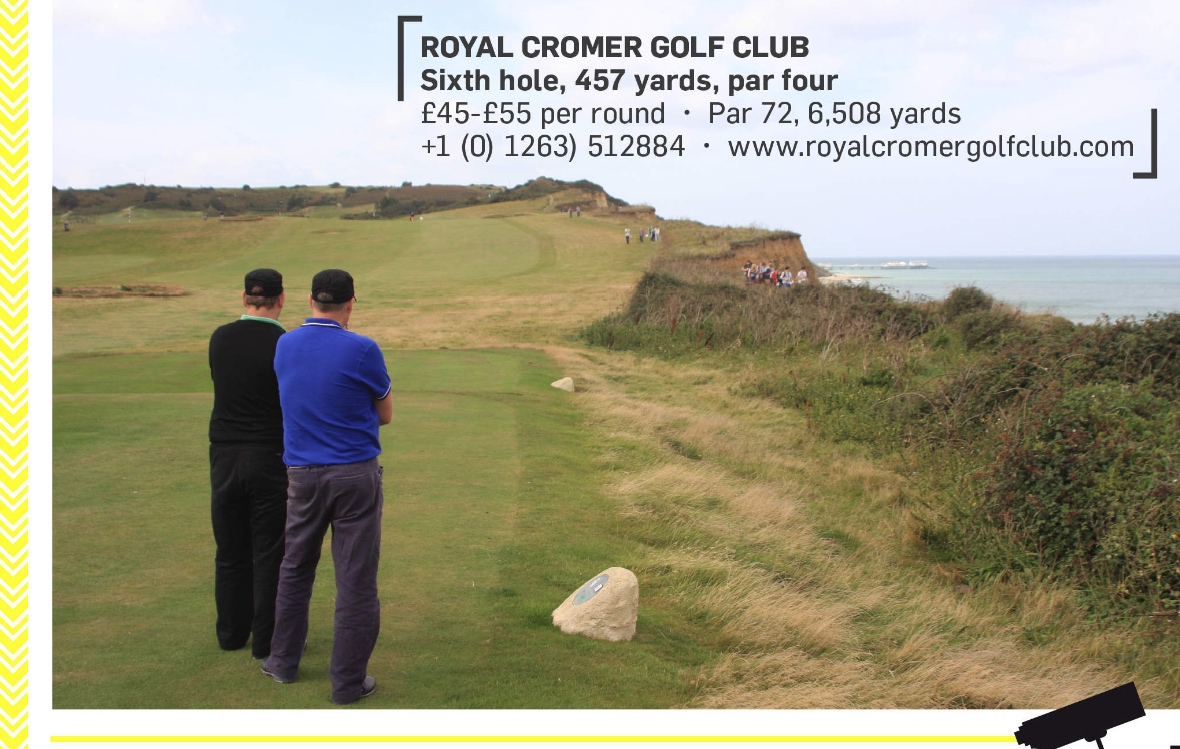 145 Overstrand Road
Cromer
Norfolk
NR27 0JH
Par 72, 6,528 yards
Killer hole: They're all fantastic to be honest. The sixth is a great tee shot with the sheer cliff to your right falling away to the sea. The 14th, 'Lighthouse', is a par four dog-leg that does indeed angle up to the famous Cromer Lighthouse. But my favourite has to be the 391-yard par four, 15th where you tee off from a large elevation out towards the sea. 150 yards of gorse awaits any mis-hit tee-shots and thick rough and bracken flanks the fairway. Your approach is into a green well guarded by pot bunkers. Fantastic.
Tel: 01263 512884
Pro Shop: 01263 512267
Email: general.manager@royal-cromer.com
Website: royalcromergolfclub.com
Royal Brancaster G.C.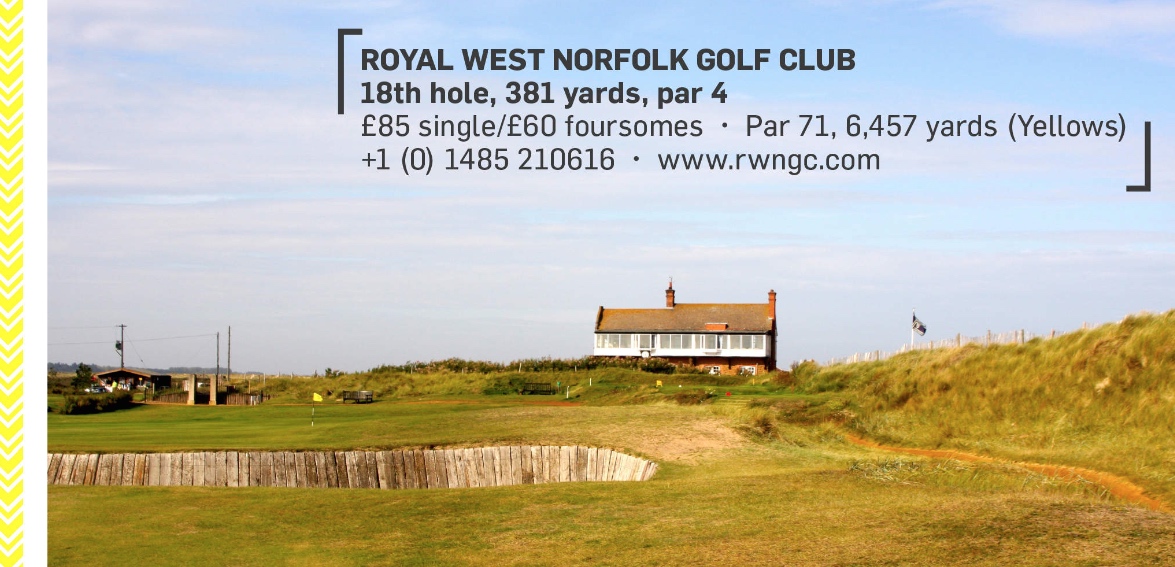 Brancaster, King's Lynn,
Norfolk, PE31 8AX
Par
Killer hole: At high tide the 8th is a sight to behold (apparently!). A 495-yard par five(SI 1), the fairway is split by water and the green becomes an island. Just a treat.
Pro shop telephone: 01485 210616,
Email professional@rwngc.org)
Email: secretary@rwngc.org
Website: rwngc.org
The Premier Inn, Norwich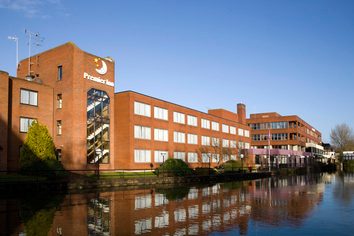 Prince Of Wales Road, Norwich,
Norfolk NR1 1DX
Telephone: 0871 527 8842
An ideal location situated in the heart of historic Norwich, alongside the River Wensum. Conveniently positioned opposite Norwich train station; this Premier Inn is a good base for exploring Norfolk's golfing wonders.
The Virginia Court Hotel, Cromer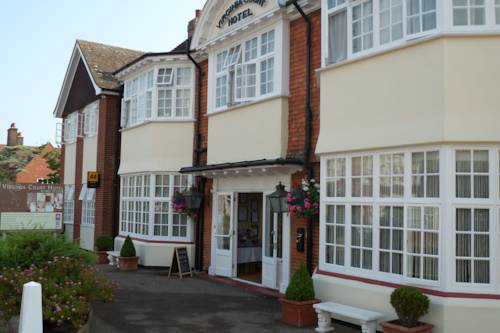 Cliff Avenue, Cromer,
Norfolk, NR27 0AN
A sensational family-run hotel with a really friendly welcome. Nice, comfortable rooms. The bar is furnished with wonderful art-deco (not that we spent much time there, of course…) and the restaurant, whilst quite posh, is extremely comfortable and cosy. Fine dining without doubt – try one of their famous Cromer Crab dishes. Out of this world.
Reception Tel: 01263 512398

Email: info@virginiacourt.co.uk
Website: virginiacourt.co.uk
TAGS: North Norfolk Digital, Alan Partridge, Hard Fi, Golf In Norfolk, Royal Cromer Golf Club, Royal Norwich Golf Club, Royal Brancaster Golf Club, Cromer Pier, Visit Norfolk, Travel, 2017, Golf Courses, Lifestyle, UK and Ireland