Top 10s
Jun 18th, 2017
Top 10 Golf Quitters
Shocking, shameful, hilarious!
Words: Tim Southwell Photography: Getty Images
TOP 10 QUITTERS
To paraphrase Full Metal Jacket: "Are you quitting on me? Well, are you? Then quit, you slimy walrus-looking piece of dirt! Get off of my golf course! NOW! MOVE IT!' is what should have been said to this list of sad saps…
10)

Kim Jong Il, North Korea's best ever golfer
The story goes that the late Kim Jong Il played golf once around North Korea's first ever course in Pyongyang. He shot 38-under-par, including 11 holes in one. He quit the game after, saying that he didn't want to ruin it for everyone else with his supreme skill.
9)

Michael Campbell, 2009 Open
To be fair, there are many events we could have picked where Cambo has quit, but the 2009 Open is notable because it was the straw that broke the Daily Mirror's back, by labelling the Kiwi golfer a 'serial quitter'. Cambo withdrew due to a shoulder injury, but the British tabloid was having none of that saying "the real damage was on his scorecard." Cambo – notching up his fifth withdrawal that year – was 20-over-par, dead last and had just marked down an ugly '7' at the par-three sixth. They may have had a point…
8)

Sandy Lyle, 2008 Open

I was at the 2008 Open. I even remember standing out in 50mph wind and rain at 7am in the morning. It was horrid. I didn't quit though. I stayed strong.
Which is more than can be said for Sandy Lyle. The former Open winner managed just two hours and nine holes before chucking in the towel.
"I would have done myself more harm than good staying out there. The best thing was to get back in and sort things out," he moaned.
"I was cold and my hands were hurting a bit as I made some skanky shots. I lost momentum. I couldn't hit the ball at all and it was total meltdown, I suppose."
Diddums….
7)

Sir Michael Caine & Sir Sean Connery
We all know an angry golfer and we all do our best to avoid them. Legendary actor, Michael Caine, however, took this to extremes by quitting the game altogether to avoid the rants of fellow thesp, Sean Connery. The pair played while working together on The Man Who Would Be King, but Caine's shanks drove Connery insane.
"Sean has a terrible temper and when he tried to teach me golf he was so incensed by my performance that he grabbed my club and broke it in two. I have never played golf since."
Boo to you, 007!
6)

Colin Montgomerie, marriage crisis
On the eve of the China Masters in 2004, the event promoters received some bad news. Big draw, Colin Montgomerie had high-tailed it back to England "for personal reasons" and would not be playing in the event. Arse.
Was he ill? No. Had he left the oven on? Nope. Well, what was the matter then? Apparently, Monty's marriage was on the rocks and he had flown back to do the whole flowers and chocolate number.
Dunno about you lot, but we don't think that's in the rulebook. Just play on…
5)

Bobby Jones, Open Championship
Bobby Jones is immortalized today as perhaps the closest anyone has come to golfing perfection. It wasn't always that way, however, The famous writer, Grantland Rice, once said of a young Jones that he had the "face of an angel and the temper of a timber wolf."
This was no more true than in his first appearance on the Old Course in The Open Championship of 1921. He was having a stinking third round and reached the 11th hole taking 52 shots. This short par-three proved no kinder as he hit into the Strath bunker and promptly proceeded to rip up his scorecard, pick up his ball and tell the world that he hated this course.
The local press responded in kind, with the headline "Master Bobby is just a boy, and an ordinary boy at that."
Jones later reflected on this as his "most inglorious failure" in golf. Easy to do when you've won everything though, isn't it?
4)

Frank Beard
"My name is Frank Beard, and I'm an alcoholic," was a phrase that the PGA Tour pro often uttered in church halls around the States.
Frank had been the leading money winner on the tour in 1969, and played in the Ryder Cups teams of '69 and '71. Off the course he was a brooding, intense character who found solace in a bottle.
"The number of times I drove drunk, the times I left the club legally drunk after a drink or two. Although it was never a drink or two, it was six or seven, really blotto," he described.
He began drinking during a bitterly cold Bing Crosby National Pro-Am in 1964, and once the warming Scotch passed over his lips it never stopped. He described the latter part of the 70s as "a search for a lost golf ball culminating in 1980, with a paltry $7,081 in earnings not even covering his bar tab.
He quit golf to become a salesman. But more importantly, he quit booze. When he realized how much he missed the game, he returned to the Seniors Tour, only this time minus the quart in his bag. Frank Beard didn't quit golf. He quit the bottle. And battling toe-to-toe with Orville Moody for the US Seniors Open In 1989, proved that sometimes it's good to quit. Just not golf.
3)

John Daly, 2011 Australian Masters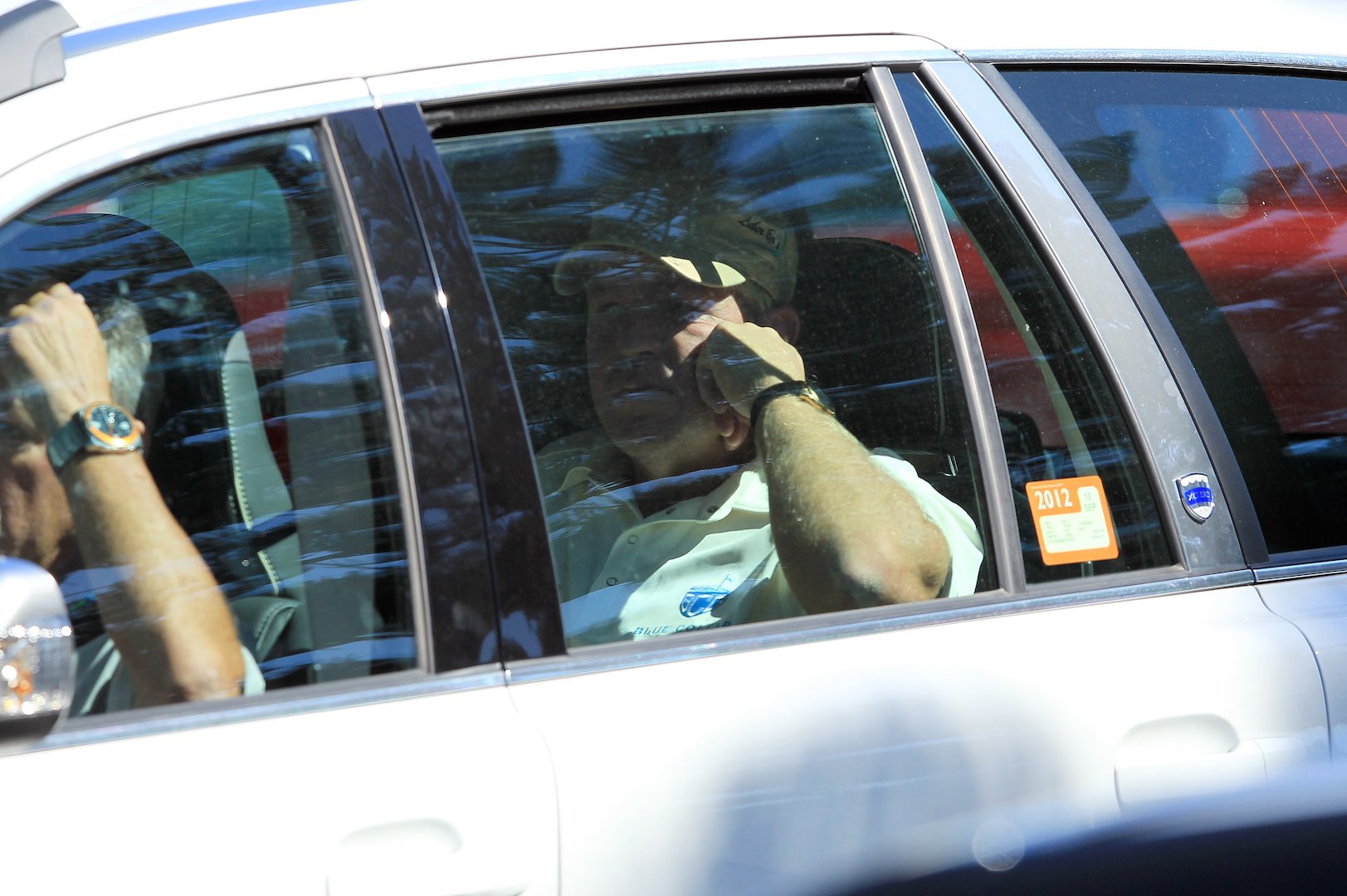 "See ya, losers"
To be honest, we could have compiled this whole list from John Daly's antics. Booze, women, doughnuts…roll it in fat and give it a name and John Daly has probably quit it. It is for his exceptional ability to walk off a golf course, however, that he earns third place here.
Playing in the Australian Masters in 2011, John was in a bad mood after receiving a two-shot penalty for hitting the wrong ball out of the 10th bunker.
Cue meltdown. Daly attempted to slash one over the water on the par-five 11th hole. He failed. He tried again. And again. And again. In fact, he dumped six balls into the water before signing his card and walking off the course.
"When u run out of balls u run out of balls," he later tweeted. Understandably, the Aussie PGA weren't impressed. Made for great telly, though.
2)

Robert Garrigus v Drugs
Robert Garrigus is currently making a handsome living as a journeyman pro on the PGA Tour.
That intro could've been completely different if he'd continued with the drug consumption he started in college, however.
Garrigus started smoking pot, but by 2003, was eight years into a nasty drink and drug problem. One stoned night he watched an advert for a rehab centre and told himself "I need to go there and I need to go there tomorrow morning." He did.
"It was the best decision of my life. It changed my life completely.' I was used to being intoxicated all the time. On anything. I would shoot a 64 one day and follow that up with an 80 the next."
A day after coming out of rehab, Garrigus nearly qualified for the US Open, and knew he'd made the right decision. He made it to the PGA Tour in 2006 and earned over $6m. He then won on the PGA Tor in 2010 and finished tied 3rd at the U.S. Open in 2011.
So kids, don't do drugs…
1)

Annika Sorenstam & Lorena Ochoa
A double-header at the top spot of our quit list goes to two of the most talented golfers of the last 20 years. Annika and Lorena both ruled with an iron, er, well, they were both very good. They scared the lunch out of everyone and it was arguably not worth watching if either wasn't playing. Strange then, that both walked away at the height of their powers.
Annika was 37, had won 72 tournaments, 10 Majors and over $22m in prize money. She once shot 59 and averaged 70 over that career. She was succeeded by Lorena. An understated, yet determined Mexican who cruised her way to 27 victories, two major championship triumphs and $15m in prize money before quitting aged just 28.
Being top dog in the women's game seems to be something of a poisoned chalice. Those that occupy it seem to possess phenomenal powers, yet it also appears to be a lonely and uninspiring place.
That's why Annika and Lorena quit with just a simple shrug of the shoulders. Quitting because the idea of having a family seemed more challenging and fun. That's why they are top of this list. They didn't quit out of emotion. They quit out of indifference.