Top 10s
Sep 10th, 2018
Golf's Top 20 Caddies Of All Time
Rake rats, loopers, whatever you call them, they are all Lord Staunch
Words: Joe Lancaster & Tim Southwell Photography: Getty Images
10 caddies earned more than $700,000 on the PGA Tour last year. And whoever is on the bag of the FedEXCup winner will walk away with a cheque for over $1,000,000.00. But who are the greatest caddies of all time?
Part 1 of 2
20)

PAUL STEVENS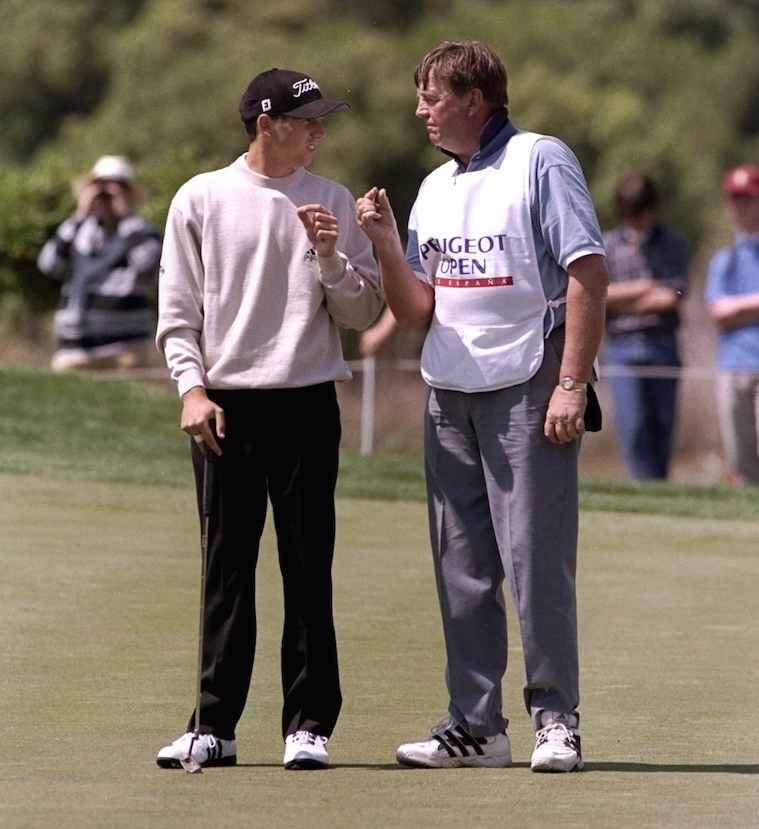 Stevens caddied for Sam Snead, Ben Crenshaw, Nick Faldo, Bill Rogers, Tony Jacklin, Curtis Strange, Sergio Garcia, Ernie Els, Hale Irwin and Sandy Lyle, winning a variety of events from the British Masters to the Australian Open. He also caddied for Tom Watson, winning the 1984 Australian Open at Royal Melbourne.
Not impressed? His caberet career (comedian, singer, compere) has included appearances with Roy Orbison and Paul Anka, The Beatles and The Rolling Stones. He has also compered tours for The Beach Boys, The Four Tops and Cannon & Ball (definitely not impressed - Ed).
He also broke the world joke-telling record in 1977 with a time of 8 hours, 22 minutes, to enter the Guinness Book Of World Records.
You can hire him for your event here!
Even though he has retired from caddying, Paul is still the longest serving tour caddie, having amassed 35 years on tour.
19) DAVE MUSGROVE
In nine years on Sandy Lyle's bag he won the Open and the Masters, and his stint working for Lee Janzen yielded two US Opens. He once said of Bernard Langer, "when he practices on his own, he can hold up a fourball."
We might be jealous that he caddied for Seve for four years (a long time with Seve) but he felt he had "served a sentence." When they got to the last green at Lytham in the 1979 Open, Seve said he could take four putts and win, but Musgrove replied, "no you can't, I've had a bet on you to finish under par..."
18)

TONY NAVARRO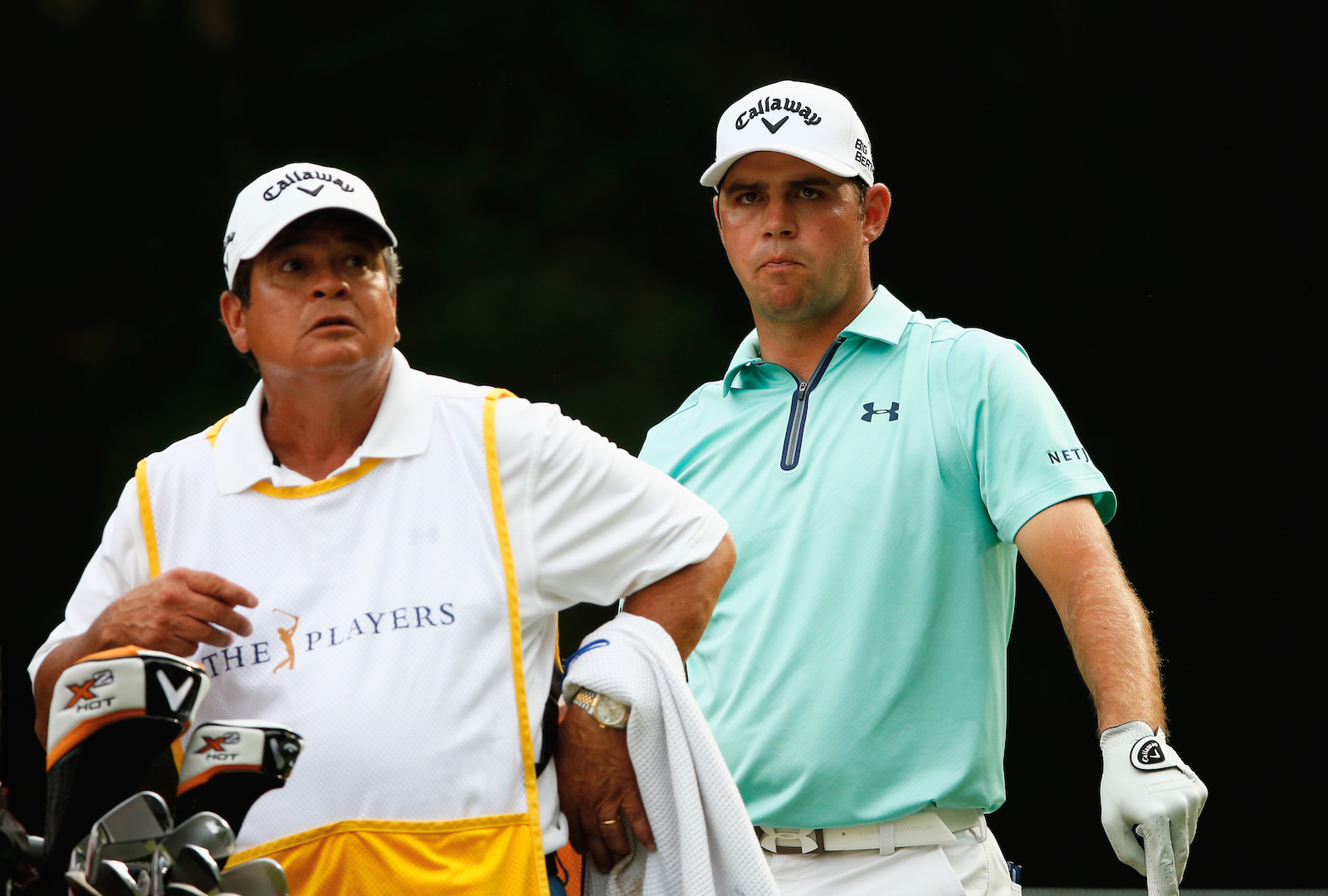 Tony Navarro was on Greg Norman's bag when he blew the '96 Masters. But, unlike many of the Great White's caddies, he didn't get fired; in fact they worked together for 12 years, winning 23 times including the 1993 Open. In 2004 Norman encouraged his friend to switch to fellow Aussie Adam Scott.
"This was very difficult," Navarro said. Really? Norman had won nothing for three years and was concentrating on course design, while Scott was one of the most promising talents around. Tough call.
In 2008 Navarro caused chaos when he went into the gallery at the end of Scott's second round of a tournament in California in 2008, and proceeded to confront two spectators who had been heckling his player.
Navarro ended up rolling around on the ground with one of the fans before course security and the police broke it up. Has since worked with Angel Cabrera, and is currently pulling out the wrenches for Gary Woodland.
17)

JAMES 'TIP' ANDERSON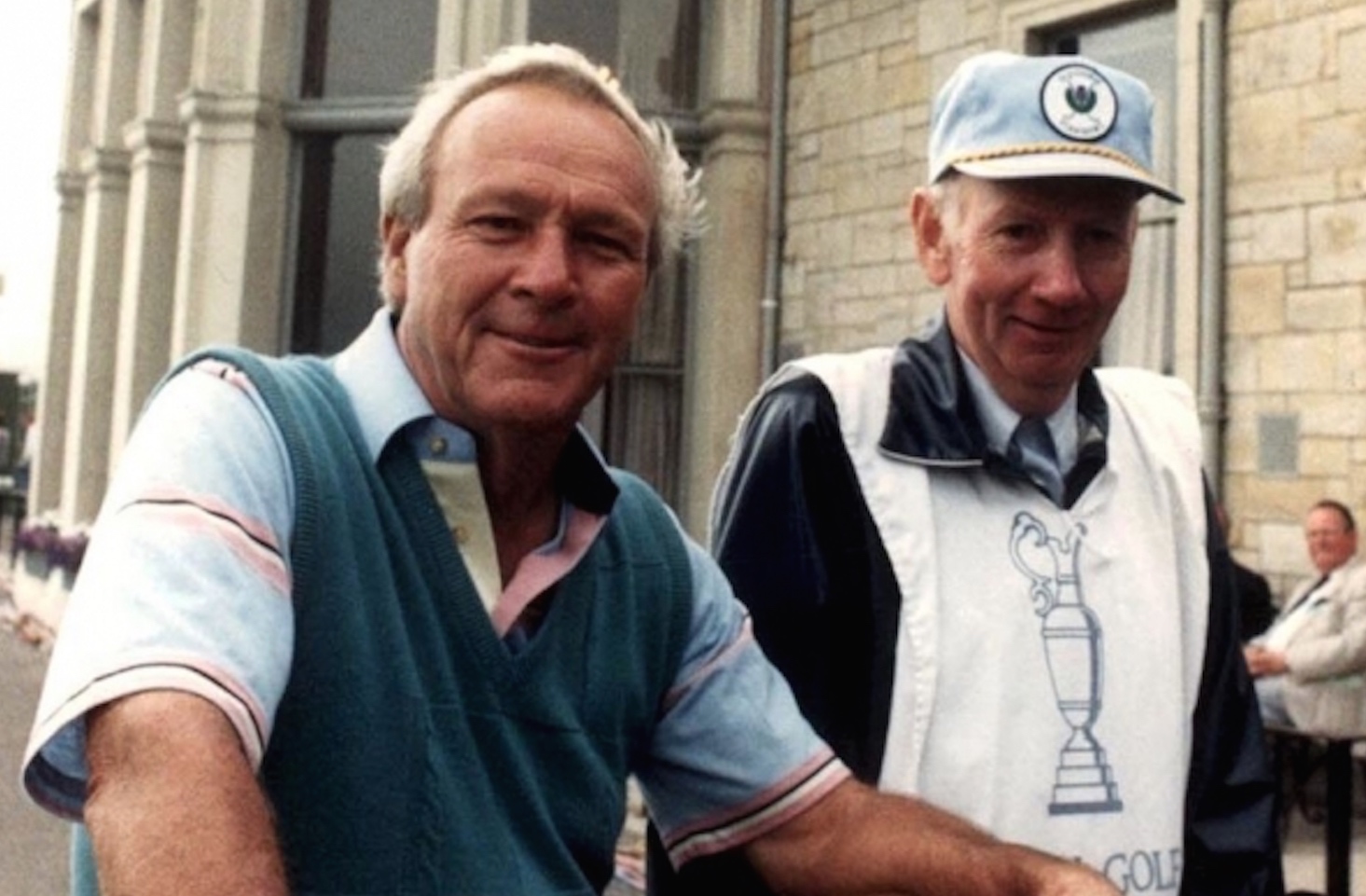 His death in 2004 is often referred to as the end of an era for caddies. James 'Tip' Anderson was a St Andrews caddy who took his father's vocation, a man also in the highest ranks of the profession.
He won the Open twice with Arnold Palmer, and was on Tony Lema's bag for his single Claret Jug win at the Old Course. Lema referred to playing with Tip as a "humbling and rewarding experience." Tip would never blow his own trumpet. He was a modest man who took pride in his job and inspired his players.
16)

BAGGER VANCE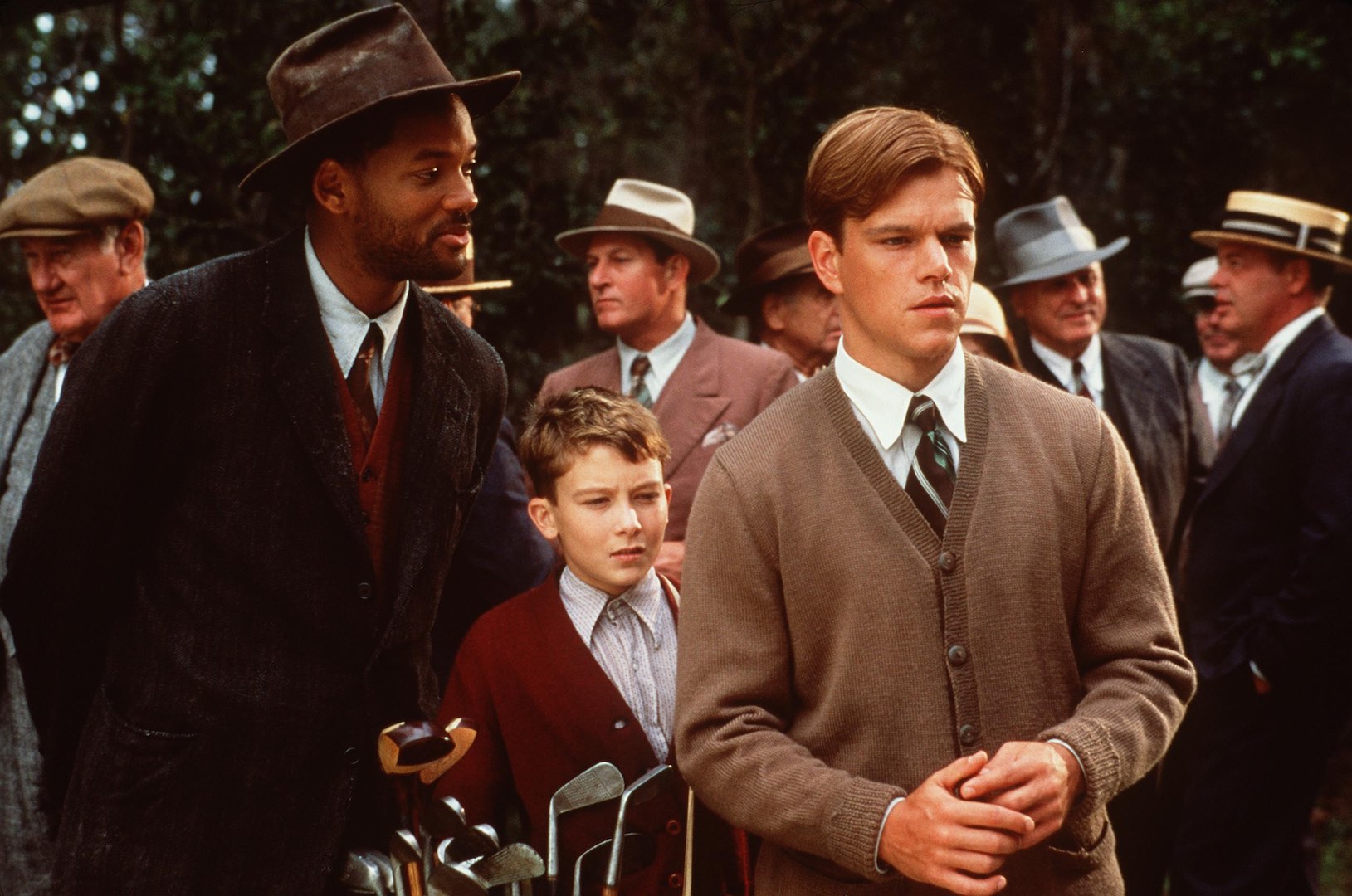 If you're like us, then you'll have an affection for average sports films, and The Legend of Bagger Vance is decidedly average. Rannulph Junuh (Matt Damon) is an ex-local golfing hero turned World War One veteran who has turned to drink to bury the horror of combat.
When Bobby Jones and Walter Hagen turn up in Savannah, Georgia, for an exhibition match, Junuh is persuaded to play by his estranged girlfriend Adele (Charlize Theron). At first, he can't hit a cow's arse with a JCB, but after some predictable hokum from Vance (Will Smith) – 'a man's grip on a club is like his grip on life' etc – he finds his game and rallies from eight shots down to tie the match.
In most of the film, Vance is hard to take seriously, but the reason he makes this list is thus. At one crucial point, Junuh asks, "anything else?" "Just bash the living shit out of it." Staunch.
15)

JIM 'BONES' MACKAY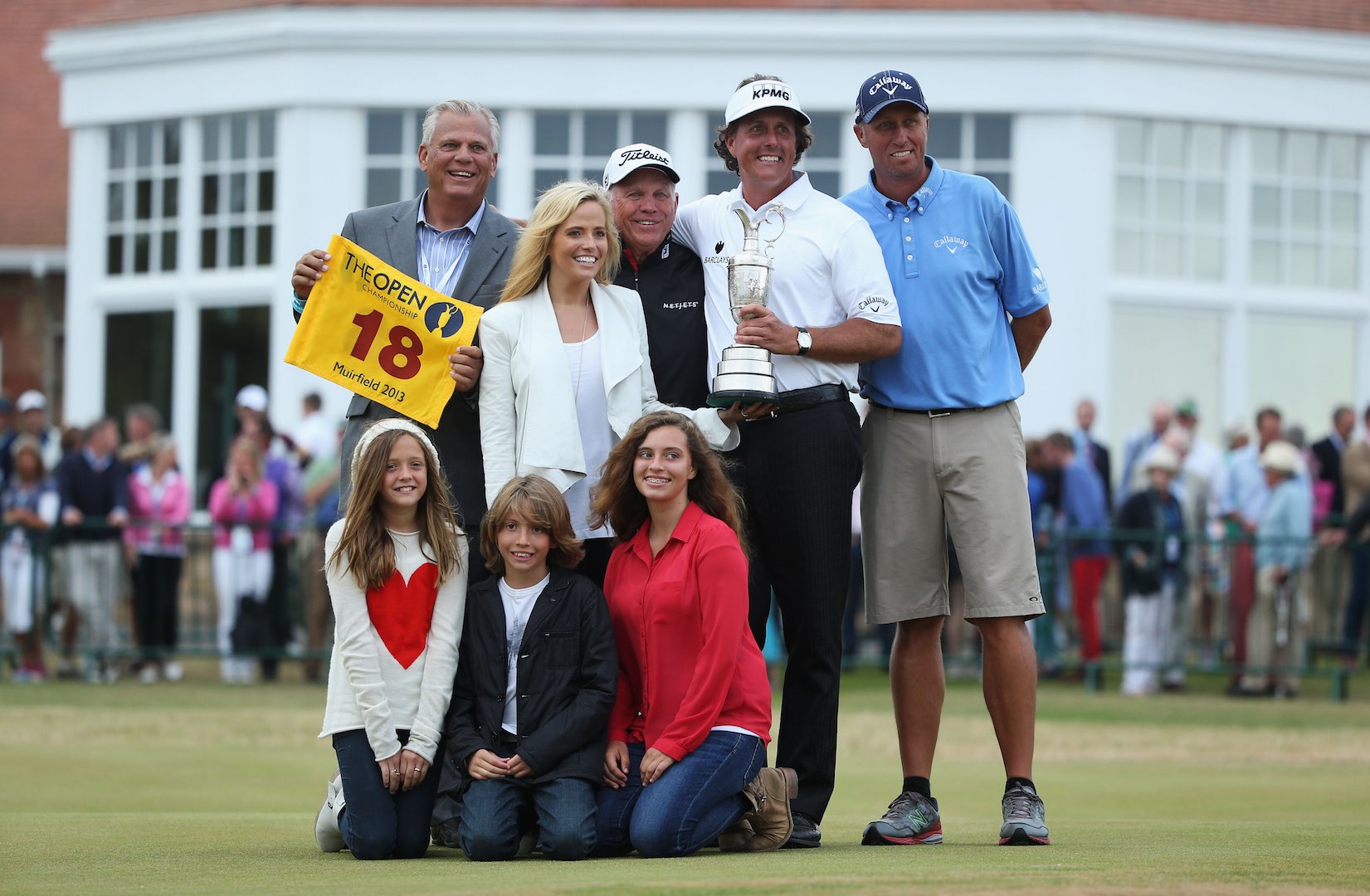 Bones has been on Mickelson's bag since 1991, racking up well over 40 wins. He's currently the longest serving 'steady' caddy to a major winner - he assisted Phil on the way to three Green Jackets, one Wanamaker Trophy and The Open in 2013.
"It's the little things that Bones does," says Mickelson of their time together. "Take the International in Colorado. Because it was so difficult to pull clubs at that altitude, he used to document not only every shot I hit, but also the distance it went, the temperature, what time of day it was, and what the wind was doing, until we got it figured out." Mickelson would win the tournament twice.
Mind you, Bones could do with helping his man over the line with the U.S. Open. Phil is now on six runner up finishes...
14)

ERIC LARSON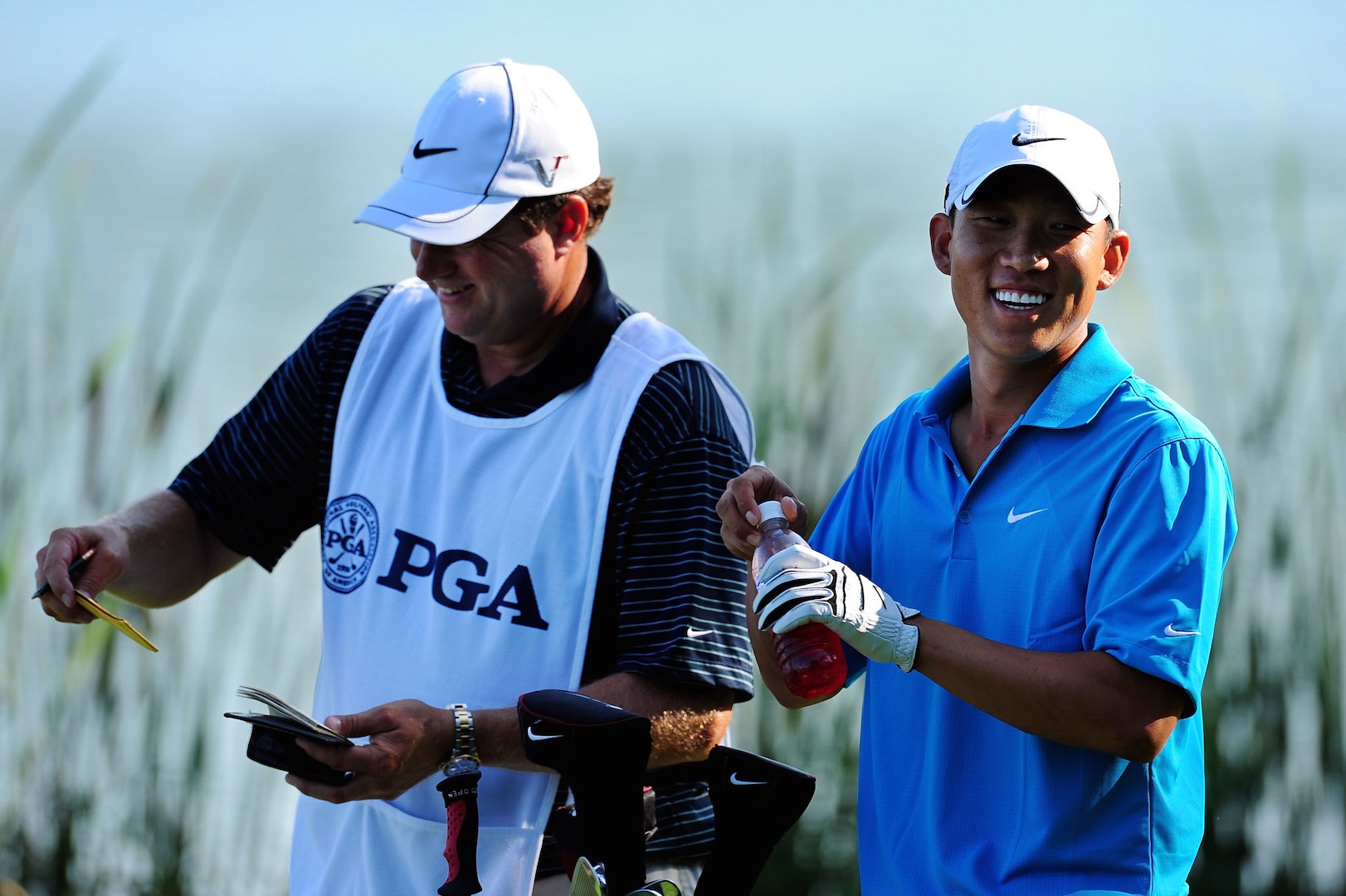 Mark Calcavecchia's caddie served 11 years in the slammer for 'small-time' drug dealing, a sentence criticised by almost everyone but the judge.
Larson had been supplying coccaine to a friend. He wasn't big time. Not even small time. But he was breaking the law.
"It was kind of a bad deal the way it unfolded," Calcavecchia said. "He made a mistake. Give him three or four years and let him get on with his life. They wanted to give him 20. They gave him 13 1/2 and he got out in 11. Twelve years of his life were taken away."
Larson refuses to make excuses, though. He got himself into trouble, no one else: "I made a mistake. I did wrong," he says, his voice leaving no room for question. "I've always had to accept what I got because there's nothing else you can do. It is what it is."
During his time in stir he earned a bachelor's degree in business management, took a number of courses and grew vegetables for fellow inmates.
A regular visitor, Calc promised him a job when he got out, and was true to his word. Immediately after his release Eric dusted off the old bag, pulled out the Bridgestone Rextars that were still in it, and hit the course with his old friend.
Eric has since caddied for Anthony Kim and Jeff Overton.
13)

WILLIE AITCHISON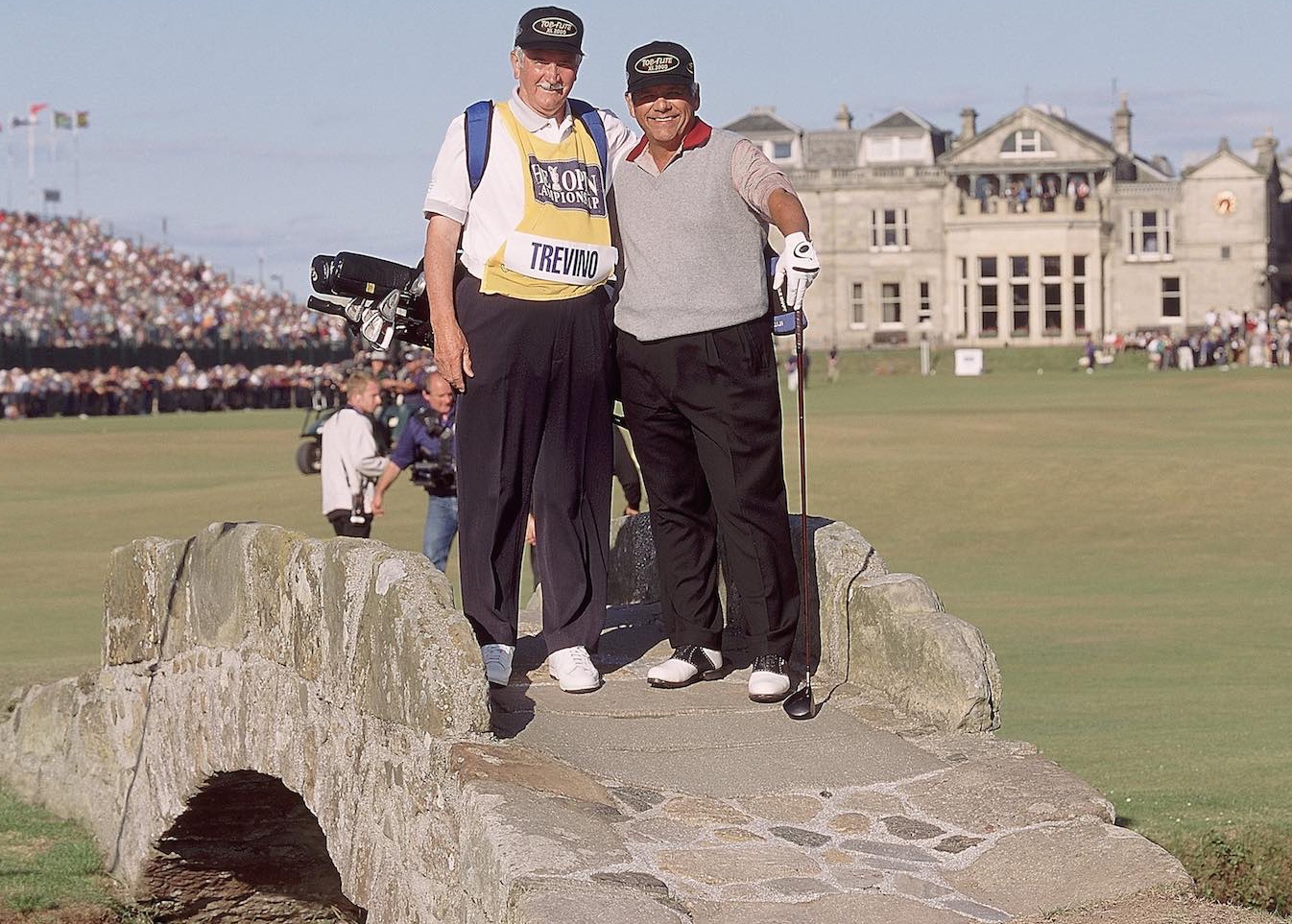 This legendary Scot won the Open three times, twice with Lee Trevino, who once said, "Caddies are a breed of their own. If you shoot 66, they say, 'Man, we shot 66!' But go out and shoot 77, and they say 'Hell, he shot 77!'"
Perhaps Aitchison's greatest on-the-bag achivement was steering a nerve-rattled Roberto de Vicenzo to his first major win at the 1967 Open at Hoylake.
Most pundits expected Jack Nicklaus, the Golden Bear, to overhaul him on the final day, but Willie guided meticulously by the younger Aitchison, De Vicenzo struck a magnificent shot on the 16th to pull two shots clear of Nicklaus. With Nicklaus finished up ahead and knowing he could shoot five and still win, as they made their way up the par four 18th fairway.
De Vicenzo was overcome by emotion but Aitchison steadied his man, handed him his iron and the Argentinean struck the ball into the centre of the green, then putted up and sank a tiddler for the championship.
Willie later worked as Caddie Master on the European Tour, but was called to arms for the final two holes of the Alfred Dunhill Links in 2007 when a caddie suffered an injury, and steered his young charge to a birdie on 18. "I'll admit that there was a wee rush of adrenalin when I put it over my shoulder again," he said.
His obituary in The Scotsman said this:
Though he was a humble man from humble origins, Aitchison stood no nonsense when those who thought themselves to be his betters talked down to him. The straight talking man from Maryhill would let them know in no uncertain terms what he thought of their rudeness. It was an attitude that stood him in good stead as he fought for many years to have caddies paid and treated properly.
It transpired that he was a natural caddie, able to judge distances to the yard with his eyes alone – there were no yardage books back then – and just as importantly he was a shrewd judge of humans, too, always able to advise the right club to the golfer who employed him.
It is no exaggeration to say that the modern top-flight caddie – they can earn huge sums and no longer have to eat at burger vans – owes his or her financial and status well-being to Willie Aitchison.
12)

EDDIE LOWERY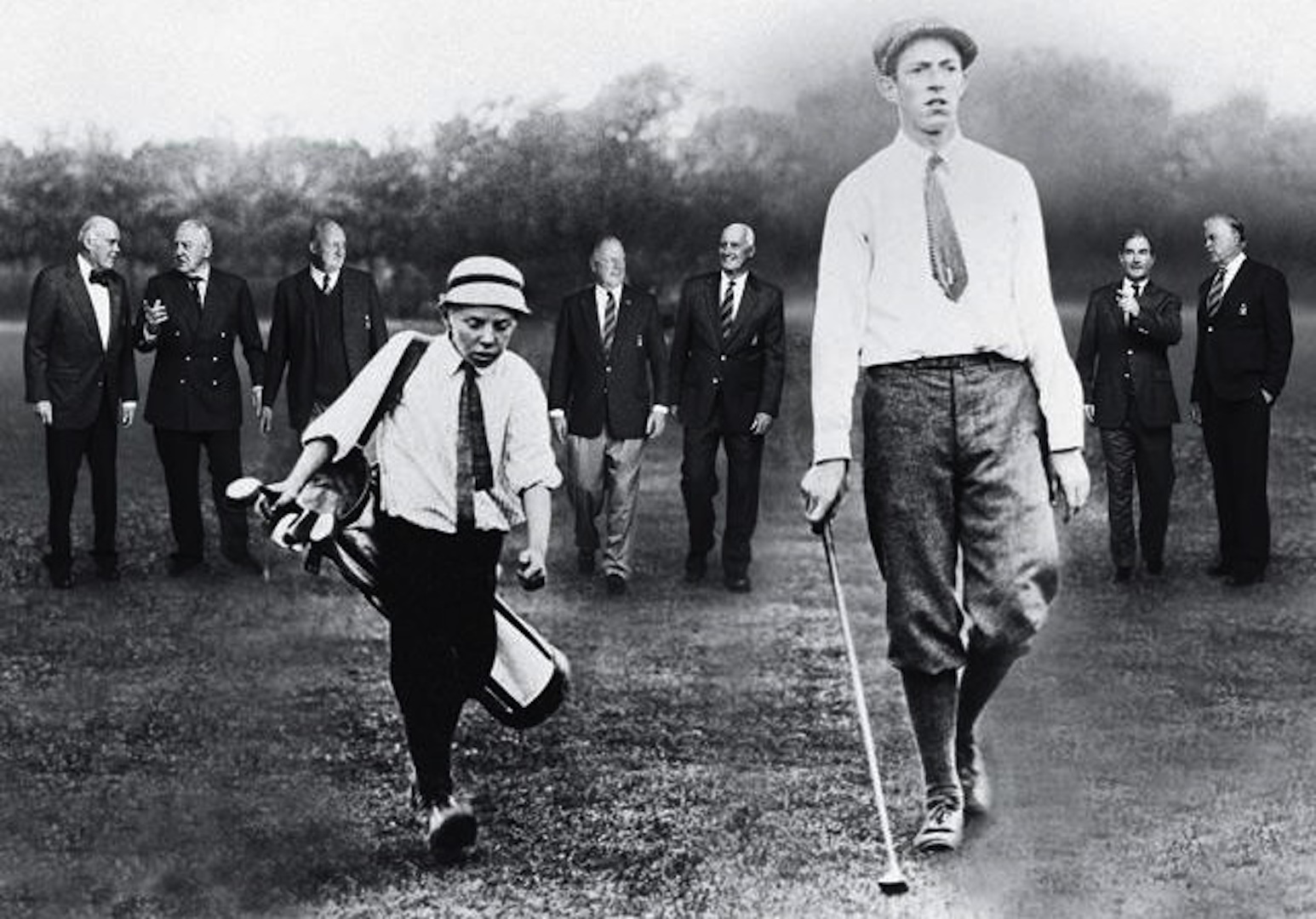 The story of Francis Ouimet – who as an amateur defeated Harry Vardon and Ted Ray to win the 1913 US Open at Brookline CC – was brilliantly captured in Mark Frost's book The Greatest Game Ever Played, though his 10-year-old caddie was undoubtedly the star of the show.
After haranguing Ouimet into letting him carry his bag, Lowery skived school every day and even survived the USGA trying to convince Ouimet to ditch 'the kid'. He later became a multi-millionaire car dealer, and sponsored two of his employees – 1964 U.S Open champion Ken Venturi and 1955 and 1956 US Amateur champion E. Harvie Ward Jr – throughout their fledgling careers.



11)

STEVE DUPLANTIS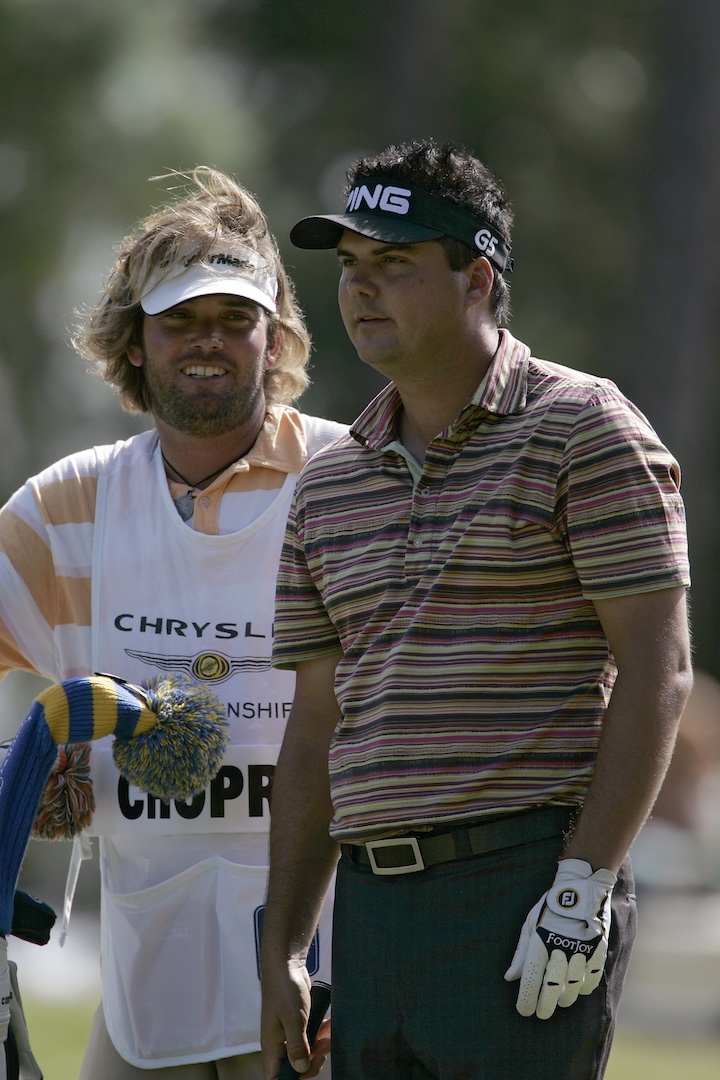 His nickname was 'Asbestos'  because he was thought to be fire-proof. Steve Duplantis had a reputation for being a party animal, but had a stronger reputation for being a staunch caddy. When he was late for work and hungover players knew better than to fire him.
"He raised the level of every player he worked for," said caddy Patrick Smith. He won four times on the bag of Jim Furyk early in his career and enjoyed Rich Beem's successful rookie season, during which their win at the 1999 Kemper Open was heralded by Jim Nantz as, "one of the greatest caddying performances you will ever see."
Duplantis also worked the bag for Tommy Armour III when he set the PGA Tour's 72-hole scoring record at the 2003 Texas Open. In January this year he was hit by a taxi and killed on a night out in the run-up to the Buick Invitational.
Many caddies wore ribbons at the tournament to commemorate him. "I tried several times to get him some help," said Tommy Armour III. "And I told him in 2003, 'Bud, if you don't change, you're going to die a tragic death.
Related: