The Staunchies
Dec 24th, 2015
GolfPunk Of The Year: The Results
Who have you voted number one?
Words: Tim Southwell Photography: Getty Images
GolfPunk Of The Year 2015...
RICKIE FOWLER 31%
Rickie's first career, Motocross, ended age 15 when he broke his foot in three places. In 2014 he was the only player to finish in the top five of all four of golf's biggest events (the only other players to have ever achieved this were Jack Nicklaus and Tiger Woods). Big break through moment came earlier this year when he won The Players at Sawgrass, despite Sports Illustrated declaring Rickie to be one of the most over rated golfers in the world. Muppets. One fourth member of frisky Tour playing band The Golf Boys. Massive appeal to younger generation of golfers. Doing good things for the game. World Number 6 at time of writing. 12.44, 24th December 2015.
Rickie won the prestigious GolfPunk Of The Year title courtesy of his film star looks, swashbuckling approach to golf, the fact that he loves links golf and comes over to the UK more often than any other successful US Tour pro, his clothes which – when he's avoiding the last day orange thing – set him apart from the crowd. Plus he seems like a really nice bloke. And the fact that he got more votes than anyone else. 
Rickie Fowler, you are the 2015 GolfPunk Of The Year!
18.9%

 Jason Day
Andy Sullivan

 10.5%
8.4% 

Bubba Watson
Ian Poulter 

8.2% 
7.7% 

Danny Willett
Shane Lowry 

6.6% 
5.6% 

Henrik Stenson
Dustin Johnson 

5.1% 
What makes a GolfPunk?
The GolfPunk is the player who stands out from the crowd. Bobby Jones is a GolfPunk simply by virtue of the fact that he changed the game forever and gave us Augusta.
Lefty Stackhouse, on the other hand, is a GolfPunk because he added so much colour to the game with his erratic antics, once knocking himself out with a self-inflicted punch to the jaw after missing a short putt. It makes no difference that the sport is bedevilled with conservative attitudes, that traditions and codes of conduct are often maintained with repressive vigour, there will always be the GolfPunk.
Which other sport presents us with such a rich variety of colourful figures fromWalter Hagen to Severiano Ballesteros? Which other sport characterises the nobility of human endeavour more honestly? Where else could you find Cinderella stories and tales of soul-sapping woe in equal measure?
You'll notice we haven't included a whole host of budding GolfPunks from the various tours. This is deliberate. We will be featuring the likes of Rory McIlroy,Jordan Spieth et all as often as possible via the website over the next few years as they continue to cement their places in the big time.
But for now, these are our GolfPunks. Many of our favourites are archetypal winners like Sam Snead and Lee Trevino – players who matched their considerable natural talents with ruthless ambition. Others, like Mo Normanand John Daly, have spent their lives sampling triumph and despair, and we love them all the more for it. And where would the game be without unsung nut cases like serial club abusers Ky Lafoon and Lefty Stackhouse?
A funny bunch, but what unites every single one of these people is an undying love for the game. These people don't kick sneak their ball out of the rough and onto the fairway, and they don't stroll through the line of an opponent's putt (Brooklyn apart!). They don't even shave a shot or two off a dodgy practice round.
It's not all rosy, of course. After half an hour in some clubhouses you could be forgiven for thinking there is more wrong than right with the sport. I mean, what other membership club have you joined, where on receipt of your membership payment, they immediately hand you a list of the things you can'tdo?
Yet while there are people out on the course who keep breaking records, busting clubs, walking on water and wading through burns we will salute these GolfPunks one and all. Enjoy…
Team Of The Year...
GB & IRE WALKER CUP TEAM 57.4%
GB & Ireland 16.5 USA 9.5: A record victory since the event was first played in 1922. From the moment GB & Ireland took a 3-1 lead in the first morning fursomes, they never looked back. Beau Hossler for USA was their stand out player with 3.5 points but GB & Ireland's Jimmy Mullen joined Paul Casey and Luke Donald in becoming the only players to record a 4 point haul in the event. 
42.1%

2015 Solheim Cup Team
Want to see all the Staunchy results in one place? Click below...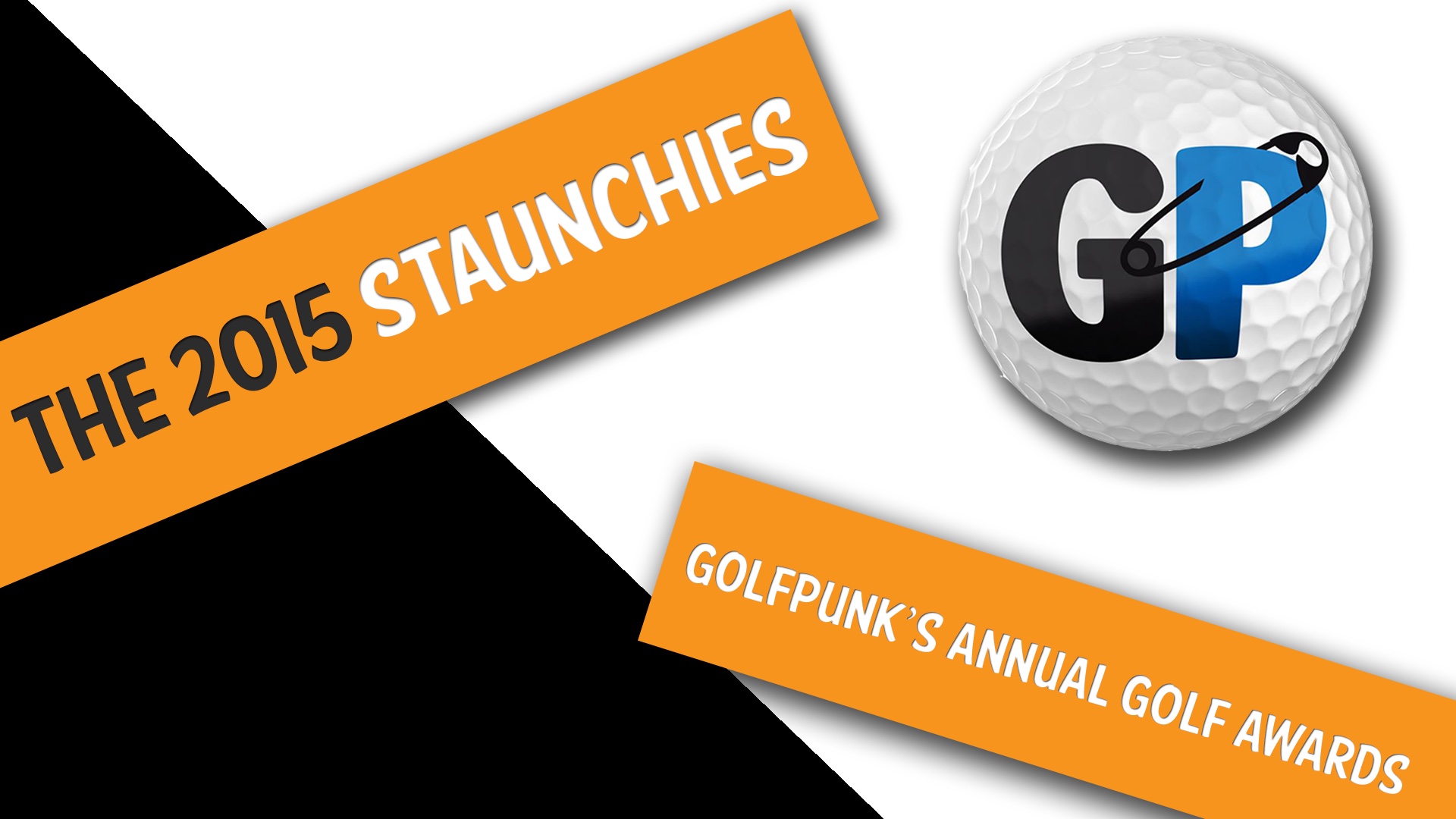 ​Click pic to reveal the Top 50 GolfPunks Of All Time