The Open
Jul 16th, 2021
I miss you, Peter Alliss
Memories of uninterrupted free-to-air golf on TV
Words: David Adair Photography: Getty Images
Call me old fashioned and perhaps I am showing my advancing years but watching the Open isn't what it used to be. That all-day free coverage on the BBC from the early hours until the early evening with the only requirement being to on occasion switch between BBC 1 and BBC 2.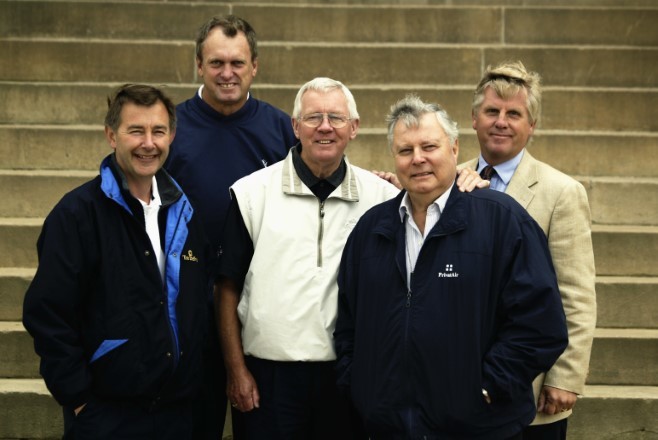 And then there was the assured commentary of Peter Allis, the 'voice of golf' who just quietly went about his craft. A combination of amusing anecdotes, inciteful observation and good honest opinion kept us all glued to our TV sets.
With Alliss ably backed up by the likes of Alex Hay the BBC coverage echoed throughout the house as we wandered in and out of the room and went about our other duties. Of course, there was no live pause back in the day, so one just prayed that you wouldn't miss a chip in or, even better, a player struggling to move his ball out of the thick rough!
The only breaks in coverage would be for perhaps Ken Brown showing us how tricky a green was or the post-round interviews. There was the odd feature but the focus was on the golf.
Don't get me wrong, the Sky coverage in the UK is good but perpetually punctuated with ad breaks, wistful overhead shots of the course and demos of the team's latest high tech toys.
Nick Dougherty bringing a hologram of Tony Finau into the studio and dissecting his swing is impressive stuff. Still, I'd prefer to be watching Bryson pounding another drive into the cabbage.
I enjoy most of the commentary on Sky but it is all a bit safe for me. Everyone seems conscious of not upsetting anyone or saying anything contentious. Unfortunately, there isn't a lot of fun in the commentary box these days.
I miss the Alliss's quips such as "One good thing about rain in Scotland. Most of it ends up as scotch." or  him getting in trouble for suggesting Zach Johnson's wife was probably thinking 'If this goes in, I get a new kitchen.'" at the 2015 Open.
And of course, just when you are enthralled watching the top players taking on the challenges of a classic links layout, we cut away to a run through the leaderboard followed by a minute of lovely advertisements. Then, we are treated to overhead shots of the course or players practising or arriving at the course.
I want to watch as much golf as can be crammed into the hours available to me.
I miss Peter Alliss. I miss a BBC that gives a fig about golf, but most of all, I miss the Open being free and interrupted on UK TV!
TAGS: The Open, Peter Alliss, BBC Golf, Sky, 2021
---
And another thing...