The Open 2016
Jul 7th, 2016
The last time GolfPunk took over Troon
The Foozler at The Open
Words: The Foozler Photography: Warren Orchard
*Foozler: (noun) a hacker; one who is rubbish at golf.
The term was coined by original golf punk P G Wodehouse.
Golf's most reluctant convert wanders lonely as a cloud, trying desperately to make sense of the oldest, most illustrious golf tournament of them all. If he looks confused, there is one very good reason for that. He is...
DAY 1
OK, I KNOW it's a cliché but first impressions are, by definition, unrepeatable. No one ever smoked their first cigarette twice, no one ever lost their virginity twice and no one, but no one, ever went to their first golf tournament twice. To be honest losing my virginity was considerably easier. After the initial upset at least I knew where things were. And what to say: "Sorry, love, I lost my lighter."
"In my knickers?"
"I've said I'm sorry. "
Blimey! Such is life. We live, we learn. With Royal Troon I was truly, exceptionally and sensationally clueless. That moment with the lighter? That was a nothing By which I mean I was not just vaguely daft. I was a total complete, thorough and comprehensive, super-sized, fur- lined, copper-bottomed twat. And I was made to feel like it too. "Foozler," people shouted, "you look confused." There was no point in explaining that confused is the way I always look, because, this time I really was confused.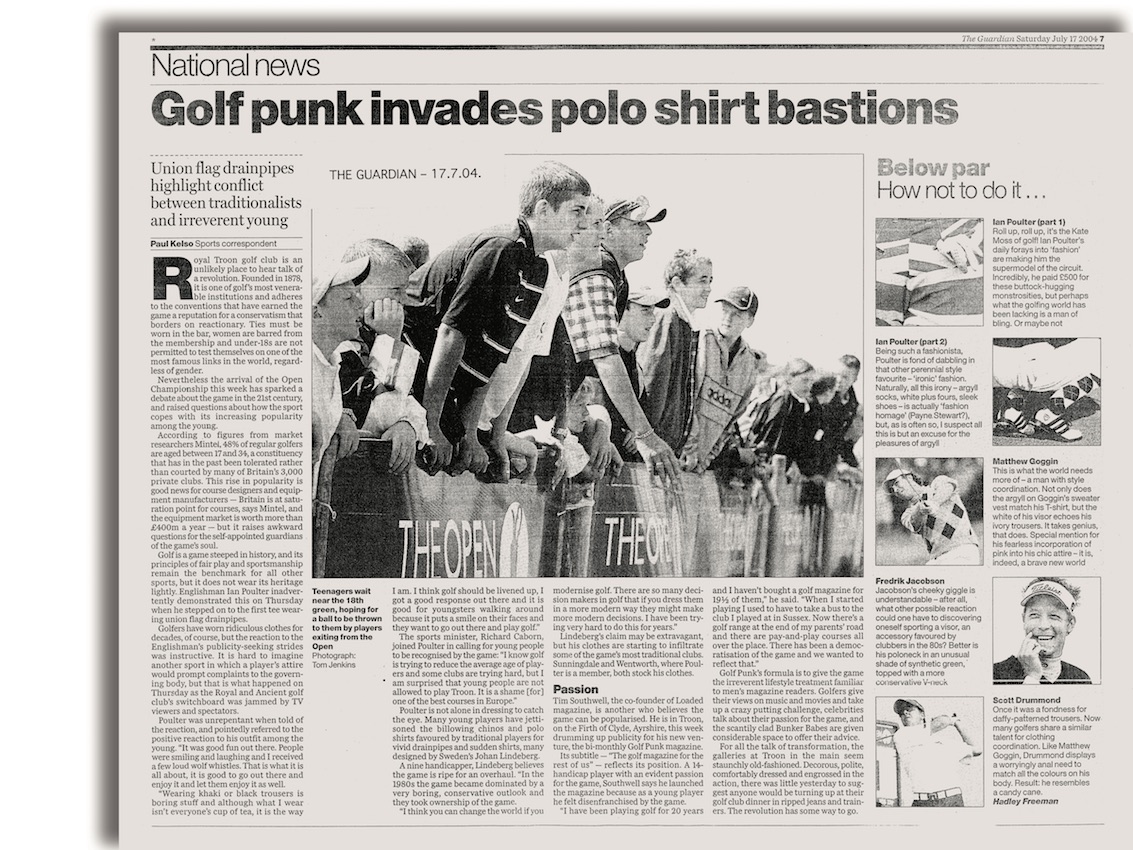 I watched as determined crowds wandered in disparate directions and thought, "I should be following one of these groups." I sat around getting amazingly sunburnt in places where gangs of blokes sat around getting amazingly drunk. I was, and remain, utterly bewildered. Huge multinationals had marquees so elegant and complex they almost qualified as architecture. I stared at scoreboards so vast and incomprehensible I genuinely had the feeling I had just landed in the arrivals lounge of Alice Through The Looking Glass.Welcome to Madness, for tourist information please see The Red Queen.
And, frankly, on the first day, I wanted to cry.
Things struck me though. First there was there utter lack of visible security. Sure, there were loads of coppers, and they all looked pretty fit, but they never intruded and never got in your way. If this strikes you as even rational then think for a second about the Athens Olympics. In Athens there was a no-fly-zone. There were thousands of coppers imported from across the globe to protect athletes no one has ever heard of. The atmosphere was no doubt as convivial as a California State penitentiary. Instead, at the Open, we wandered free and blameless, despite the fact that some of the world's most famous men walked amongst us. Tiger, Monty, and the bloke with the lairy patriotic trousers. God bless Scotland, God bless The Royal & Ancient and God bless the cops. And I never thought I'd say any of that all together.
DAY 2
I HAVE JUST read back on my notes and changed my mind. The R&A have, apparently, taken umbrage to us being us. To us being here. I know this because I am careful enough to read the papers. They, the papers, love us. In fact, they can't stop writing about us. But they all seem to think that the Royal and Ancient hate GolfPunk. Do they? Or is it just a good story?
Last night, to flip things over, someone asked me why GolfPunk hates the R&A. I replied that we do not hate the R&A, that, in fact, we would love them to open their doors to us. The person I was speaking to, our critic, your critic, told me, in her immaculate Edinburgh accent, that the doors would never be opened. I felt tempted to say that if the doors won't open we will do our best to kick them down. But this is golf and golf is polite.
Never mind though, on with the real stuff, on with the golf. Or rather the smells. The smell hits me like an ancient memory. Royal Troon smells like Glastonbury Festival before they introduced posh nosh. Sushi and stuff. Royal Troon smells incessantly fatty, like a cardiac arrest waiting to happen.
Then there are the voices. There is the business talk. These are the guys who never get to see the golf; they simply stand about exchanging ivory-tinted business cards and comparing PDAs. And then there are the girls. I had always assumed that the women who loved golf enough to follow golf would look ruthlessly rural, with large monkey hands. Boy was I wrong. The girls look great. Decked out in preposterously ostentatious Chanel and Valentino they look like Grand Prix groupies. Their hands are immaculate. And they are thoroughly international.
On a single trip to the bar I was able to recognise Spanish, Italian, Portuguese and Japanese. The girls, including the Japanese, are all blonde. And the men they chase are the foreign-
English speakers, which is to say they don't
 chase Brits. The Canadians (gigantic), the
Australians (enormous) and the 
Americans (kick-ass huge) love women, 
money and golf. They make a fierce
 and opinionated point of loving 
all these things, but 
mostly they love golf.
The Americans are by far the best company, mostly because the yanks that attend Troon are from the Bible-belting, God-fearing, gun-toting south. Florida and Texas, I suspect. I spent a while speaking to a few foreign-English speakers and each of them, the Canoes, the Aussies and the Yanks told me that we were
 all united in a war against tyranny and a final victory for
 the English-speaking golf world. They told me it did not really matter which English-speaking country won the
 Trophy providing they spoke English. Opting to
 support the British, I chose, for obvious reasons,
the chap with the famous pants. And the player
 with the famous marital problems. The yanks, 
initially my friends, began to think I was nuts.
And here is the problem with watching golf 
in a truly live way. You never get to see much of it.
If you really care about watching all of it then stick to the telly. Golf lends itself, like no other sport to TV. Because, should you decide to ignore the Open's numerous distractions (beer, conversation, burgers, a bit of sun burn) you will have to invest a whole lot of your time in a single player. It's either that, or a single hole, and frankly that makes your bum hurt. On the grounds that I disagree with arse cramp. I, the devoted follower, followed devotedly.
It takes around four hours to cover Troon, and you walk around seven miles when doing so. The paramedics who hover relentlessly between the holes and the galleries are there for a very good reason. As one of them explained to me: "It's a long walk, and sometimes people aren't up to it." In this case life's not just a bitch, it's a trudge; and then you die. Golf's a gamble. And at Royal Troon, a fearsome course open to every horror the Scottish weather has to offer, every single last one of us gambles. They play. You follow. We all gamble.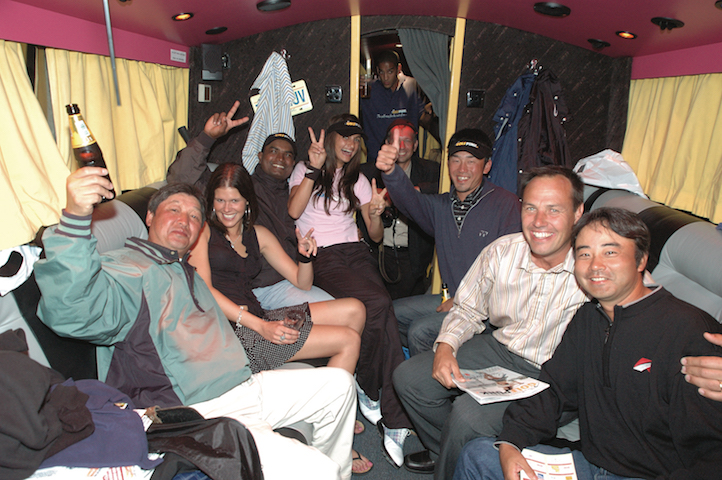 So at 6am I gambled on Ian Poulter. He is young, he is athletic and, for about six and a half seconds, I fell in love with his trousers. Those Union Jack strides we all saw in the papers looked like some clinically-nuts Gibraltar pavement, or the wall of an Ulster Volunteer Force stronghold. "Fuck," I thought, "This guy is clearly bananas. I support him." I learnt later that Alan Brazil, of Talk Sport, had said that Ian's trousers were the major issue of the 133rd Open. This nonsense was later bandied about by sources as disparate as The Sun, The Guardian and The Daily Telegraph.
Things did not work out in quite the way I wanted. Poulter did not win, but, this being golf, he did not lose either. At around 11am I decided to go for a drink.
And then another and another. Stumbling back I clocked myself in the blackened window of a 7-Series BMW. The booze had boiled me and the sun had cooked me. "This golf thing," I thought, "It's really a quite a laugh." In my 
notebook I wrote: "Royal
 Troon – A cross between
 Glastonbury and the Henley
 Regatta." I stared at this for a moment and then added: "Except without the music and the boats.
DAY 3
IT'S EARLY, HORRIBLY bloody early. The Bunker Babes, those delightful young women who occasionally decorate these pages, have lost their Royal Troon passes. Clearly this is not good news. It is, as I say, horribly bloody early, and tempers are a little frayed. Iestyn George, GolfPunk's deputy editor, is trying to explain the way things work, and why no one, but no one, can ever lose their passes again. My mission today is to follow Colin Montgomerie.
Monty is a local boy. This means a lot. This surely means real support. The passion, anger and excitement you might feel at a football stadium is, with golf, dictatorially contained. Weird little men wander about holding up signs (Silence, Stand, etc) that make you feel like you are involved in some epic version of a 19th century school detention. The passion for the game is surreptitiously preserved within the gut. You are obliged to shut your mouth, clench your buttocks and stand the fuck still. Monty is almost the epitome of this. The words 'controlled' and 'aggression' barely cover that thin-lipped smile. Monty has an internal swagger.
And boy, has this guy been through some shit. He emerged from the wreckage of a horribly public separation only a few months ago and now I watch him anti-swagger up to the first. And here is the cool thing about home crowds. They just will not shut up. The Telegraph reported that his every move was accompanied by a chorus of "Good luck, Colin" but what I heard was the loud terrace chant of "MONTY! MONTY!"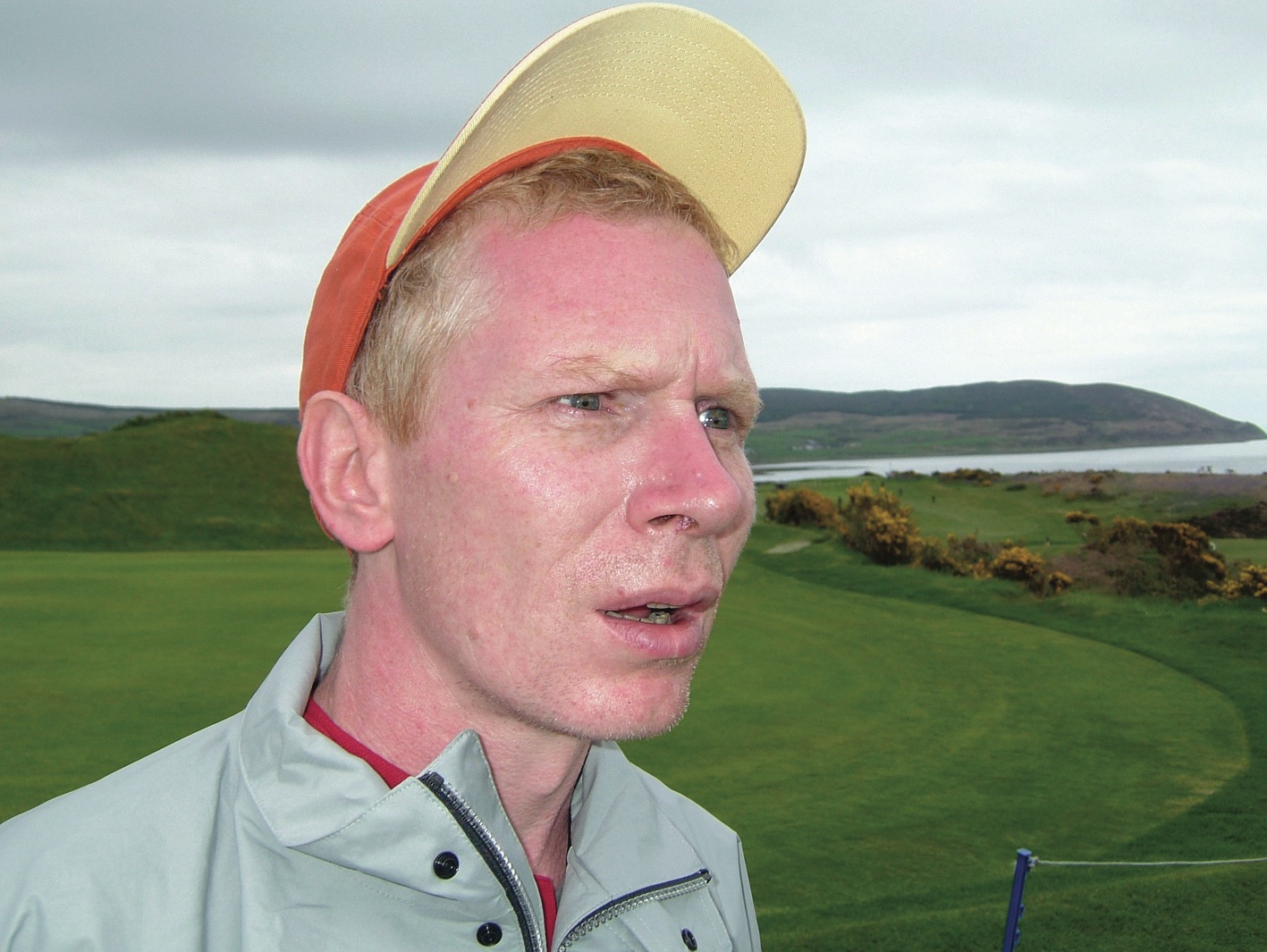 He was defeated by a bloke called Skip. Who on earth is called Skip? Still, let's not forget what Troon's home boy did. He finished with a 69 and two-round 138. Three off the lead. I have no idea what any of that means and the Alice Through The Looking Glass leader board does not help one bit. In fact, it gives me a nose- bleed.
"Foozler," screams a man even more red faced than me. "How did Monty do?" 
"I think he's under five," I reply, trying to look informed. "I think you'll find he's over 40," says Red Face.
And as a parting shot he adds. "That's why people love you Foozler, cos you're a total, fucking wanker."
Looking at my notes I realise I have been called a wanker more than five times and Foozler more than eight. I'd say I'm on the up and up.
DAY4
I OMITTED TO mention that we, the GolfPunk contingent, all 26,000 of us (it really did feel like that) are guests of a bloke we have never heard of, who has kindly furnished us with access all areas passes to the clubhouse and practice area. For the past few days we have enjoyed the inadvertent hospitality of Staunch Hemmingay.
Tim Southwell, GolfPunk's editor, attempts to correct me. "Not Hemmingay, Hemmingway. As in Earnest bloody Hemingway."
"You're both wrong," shouts someone. "It's Ted Hemmingway".
Neil, our exasperated photo editor pipes up: "For heavens sake, it's Todd Hamilton. Todd Hamilton."
And you know what? It was Todd Hamilton. And it was a photo finish, or whatever the hell they call it in golf. I honestly cannot believe that in its long history the Open has enjoyed a more exciting day than that final day. Ernie Els, the world number two, looked invincible but Todd was the guy who gave us the passes. So it was Todd, "TODD! TODD! TODD!" who we were cheering for. Up until this moment Todd had ranked 56th in the world. When the two of them equalised I started a pitch invasion. I was followed by a few thousand others, all of them Els supporters.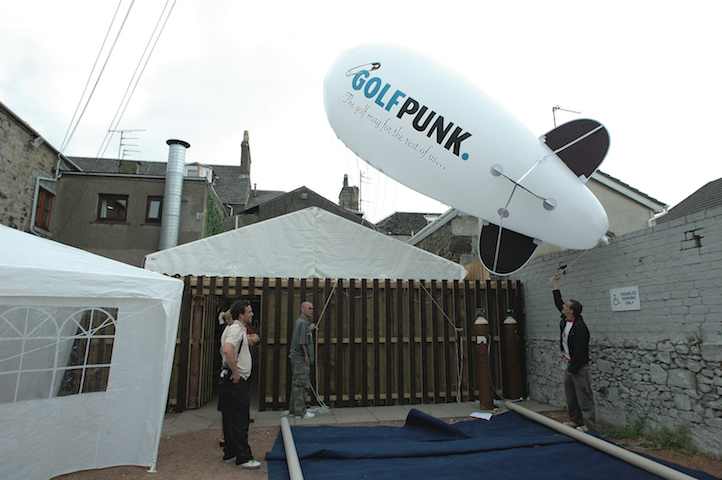 This, though, is golf, and golf is polite. They played, I think, another four holes, which I watched from the comfort of the PGA tent. And then Todd won. It was utterly surreal and nothing made sense. It was as wonderfully implausible as watching Crystal Palace thrash Barcelona in the European Cup f inal. Things like this should not happen. But this is golf so I guess anything can happen. Wandering back to our bus I peppered all and sundry with questions and all and sundry were gracious enough to humour me with answers. I am beginning to understand that Monty was never under-five, except when he was literally under five. He was five-under all along. Except when he wasn't. Listen, I am beginning to get the point. I truly am.
But answer me this, you know-it-all golf-gobblers. Golf is complicated, right? Even the dumbest of caddies has to have a handle on complex arithmetic. True, right?
So, here is my question. Why does the greatest golf tournament on earth use illiterate, innumerate schoolboys to keep the score? Troon is full of people, umpires or whatever, who are able to communicate the scores to the BBC at the speed of light. So why then do we, the punters, your bread and bloody butter, have to watch a bunch of hapless, hairy handed twits squabble about who's dropped what and how many fingers count to ten? Explain please.
I put all this to a member of the R&A and she stared at me as if I was mad. What about electronic scoreboards, what in the name of the devil is wrong with that?
"Would you want to put a wee Scottish schoolboy out of work?" she inquired, with magnificently understated horror.
But by this time I was mad. "To begin with I am not sure that they are schoolboys, at least not in the way we traditionally understand that word. And if they are schoolboys, I am completely sure that it's illegal to put them to work so young." I tailed off, exasperated.
"Tradition," she replied, flatly, and left the table with such patronising elegance it took another 30 minutes for my ears to cool down.
Tradition? Sorry but I don't see how innumerate kids can in any way be useful, let alone traditional. So, even after all this excitement and chaos and sporting excellence I still don't understand this game. I really don't.

The Scottish Pimms
Two measures of vodka, a half can of Irn Bru, Plenty of ice
● Stir the vodka into the Irn Bru in a tall glass and you have something that tastes a lot like Pimms. It's an interesting addition to the oeuvre of the country that selflessly gave the world the deep fried Mars Bar and proudly leads the global chart in artery furring. This is Scotland's finest cocktail, not to mention golf's most sophisticated and celebrated tipple.
The Dr Pepper
One measure Captain Morgan's Dark Rum Half pint of coke Single shot of Amaretto
●Add the rum to the coke in a pint glass. Chuck a shot of Amaretto into the rum and coke to make it fizz like a small volcano. Allow to settle. Tastes like Dr Pepper.
The Cheeky Vimto
A glass of port, and one blue WKD.
● Add the port to the WKD in a pint glass. This tastes exactly like Vimto, only it makes you fall over.
The Don King
One measure of Kahlua, Half pint of coke, the top of a pint of Guinness
● Add the Kahlua to the coke in a tall glass. Finish off with a top of Guinness for fluffy, white Don King head.
The D.I. Babb
One pint of Guinness, Two measures of Tia Maria
● Add the Tia Maria to the Guinness in a pint glass. Truly, this is the nectar of the gods and gets you drunk from the feet upwards.
Exclusive and original to GolfPunk
DRINKAWARE: Please drink sensibly (GolfPunkHQ.Com employees all fall off their chairs laughing).