The Open 2016
Jul 11th, 2016
GP's Troon Course Guide
Caught in a storm, GP's Editor is +13 after 9... can he pull it back?
Words: Gavin Newsham & Tim Southwell
Hole 10: Sandhills, 452 yards, par 4 (SI 10)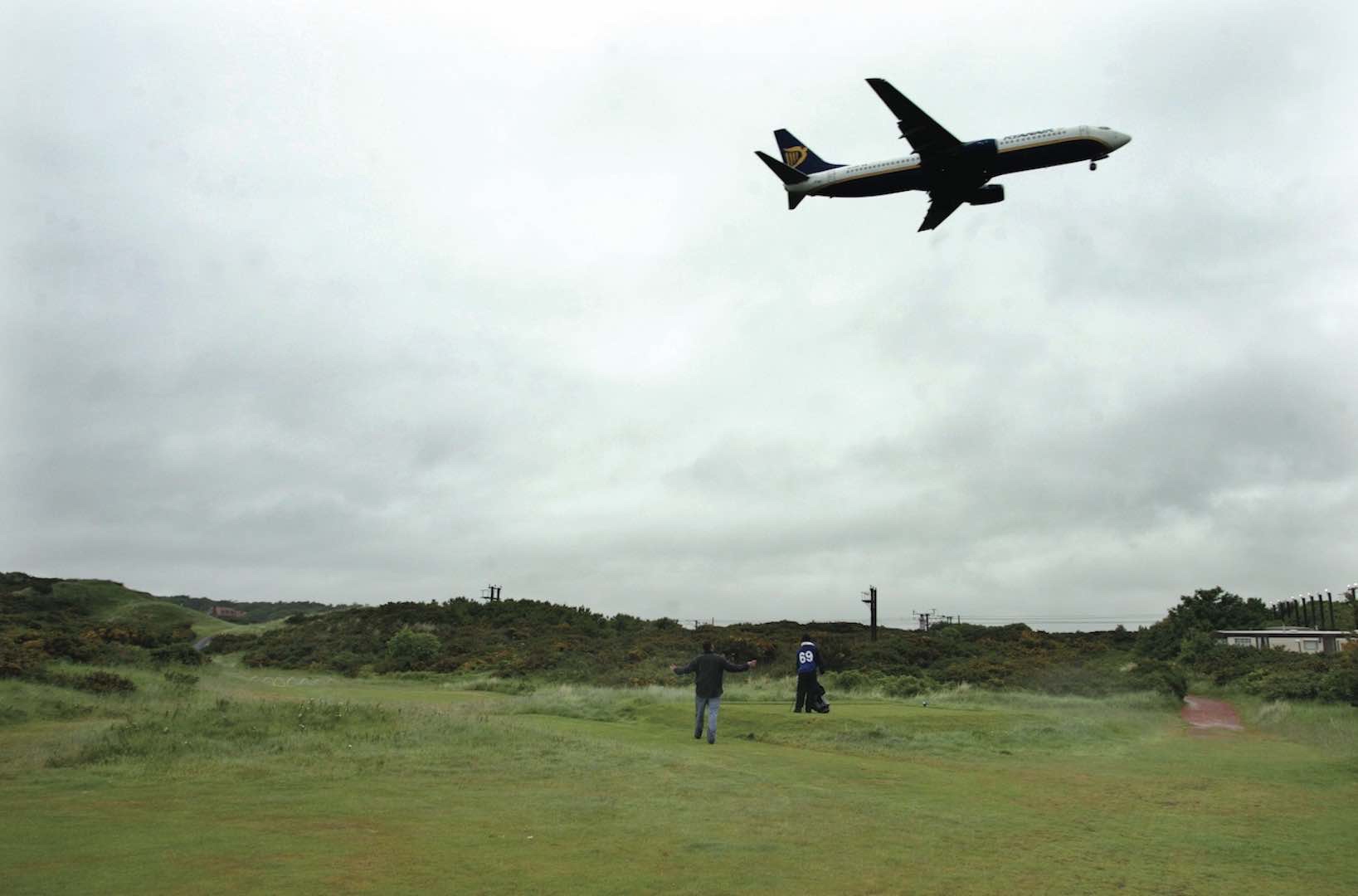 It's a blind tee shot at the 10th and as Tim assesses the challenge ahead of him, Jimmy scampers off into the distance. There is a pole marking the line but Jimmy declares that to be "bollocks". We wait while Jimmy climbs up a hillock and stands there waving like a mentalist. "Aim for me," he shouts. Tim waves back and addresses his ball, a 3-wood in hand. He pulls the club back and tops it no more than 30 yards into a bush. "Should have stuck with the driver," muses Southwell.
Rather than declaring his ball unplayable or having a whack at it, Tim lifts his ball out of the rubbish and gives it a nice fluffly lie on the walkway before walloping it the way he should have done in the first place. We walk on and admire some of the houses overlooking the course, wondering which players will be renting them out for Open week.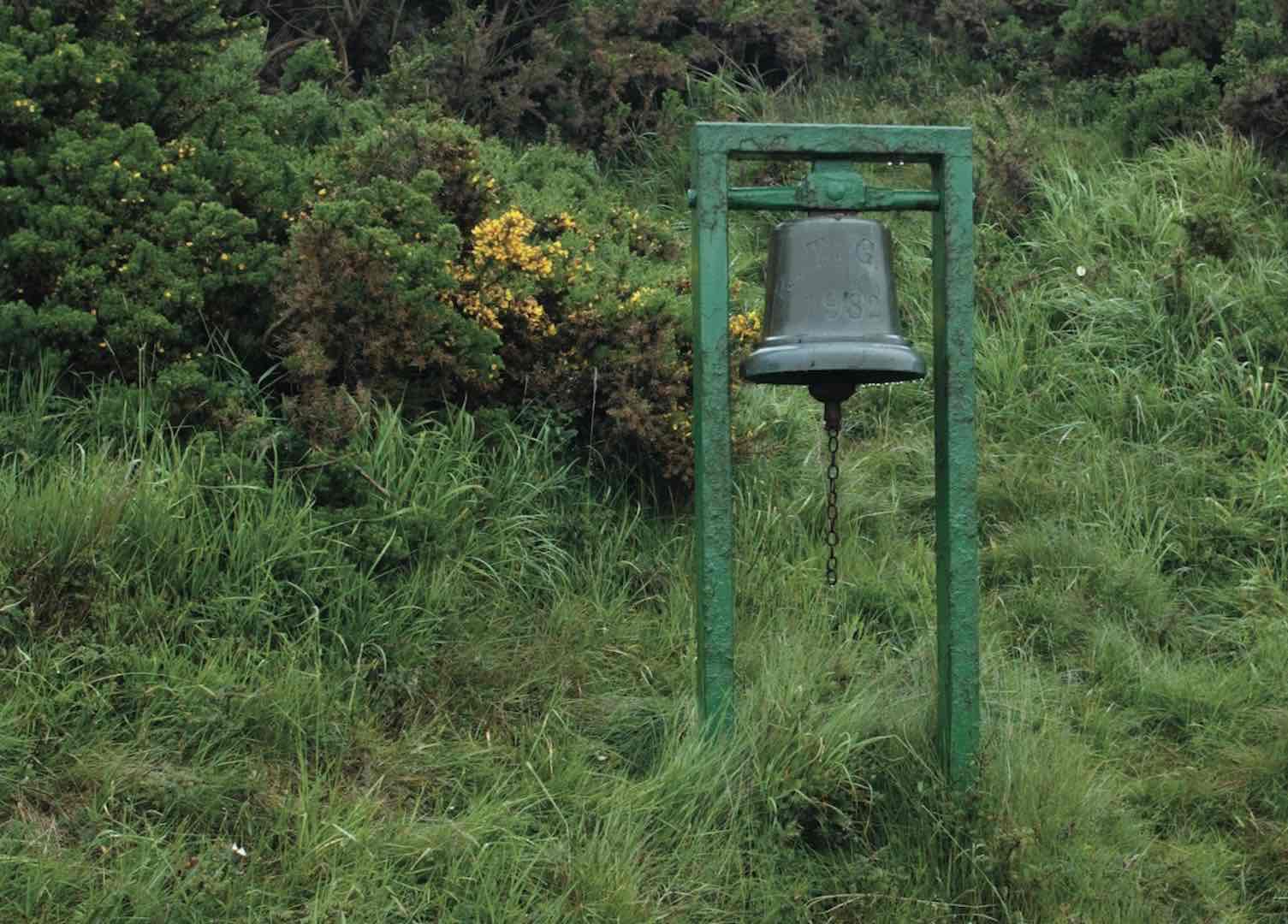 With 135 to the pin, Southwell hits a solid enough 9-iron but once more fails to threaten the green. Local wildlife, yes. The putting surface, no. He hits another one of those little bump and runs with a 4-iron but comes up woefully short. His next shot, a putt that leaves him six feet short, isn't much better. Needless to say, he misses that too. A seven goes down on the card.
Southwell +17 after 10...
Hole 11: The Railway, 483 yards, par 4 (SI 1)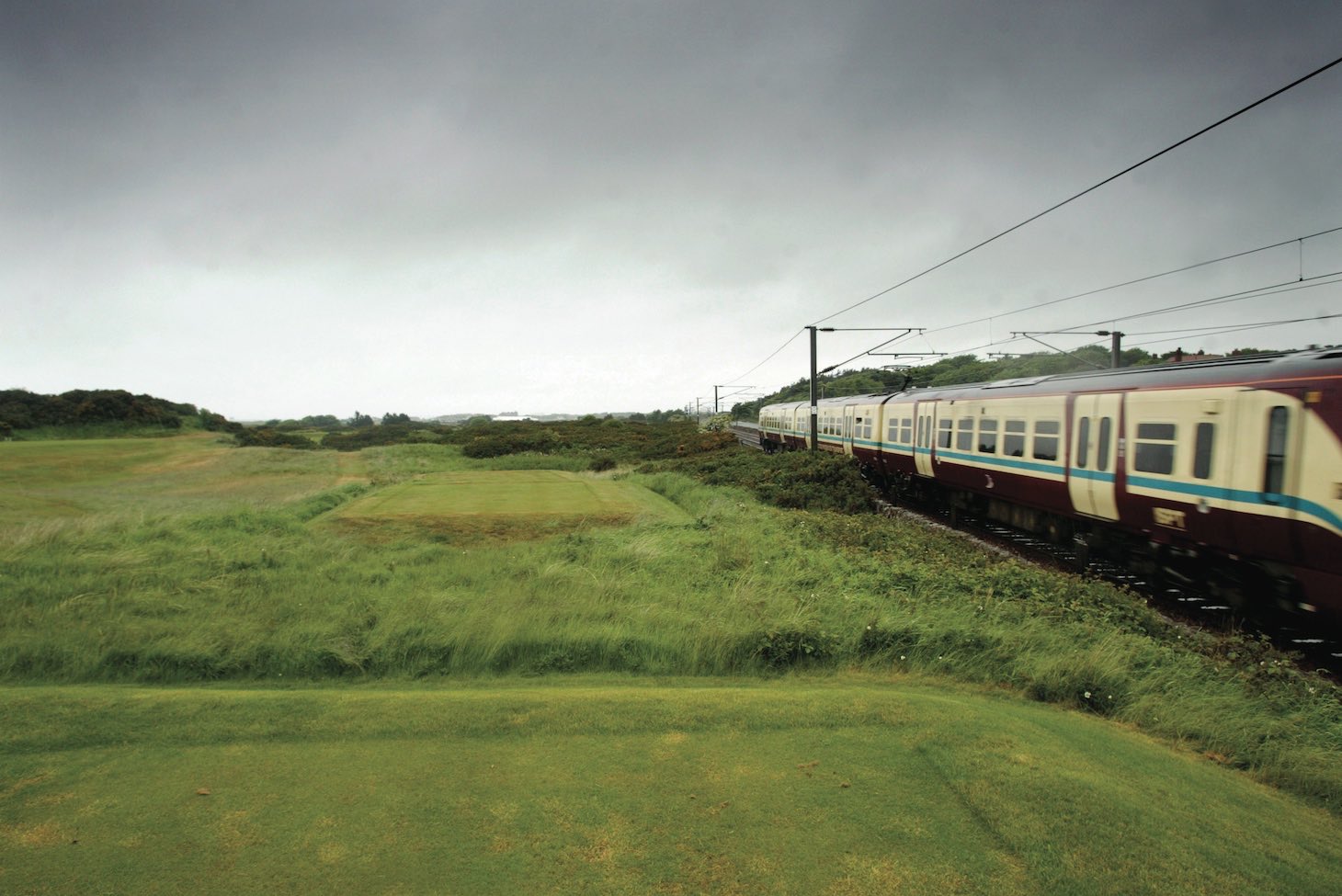 The Railway hole, without doubt, is one of the most intimidating golf holes you will ever see. There's the railway track running parallel to the fairway, eager to accept the slightest of slices. Then there's the dense gorse along the right. Hook your tee shot in here and you'll have more chance of finding civilisation in Rochdale than you will your ball. Finally, there's the 240 yard carry to the fairway, a tee shot so daunting that in 1982 Lee Trevino is rumoured to have taken one look at the hole and considered walking in rather than having a go.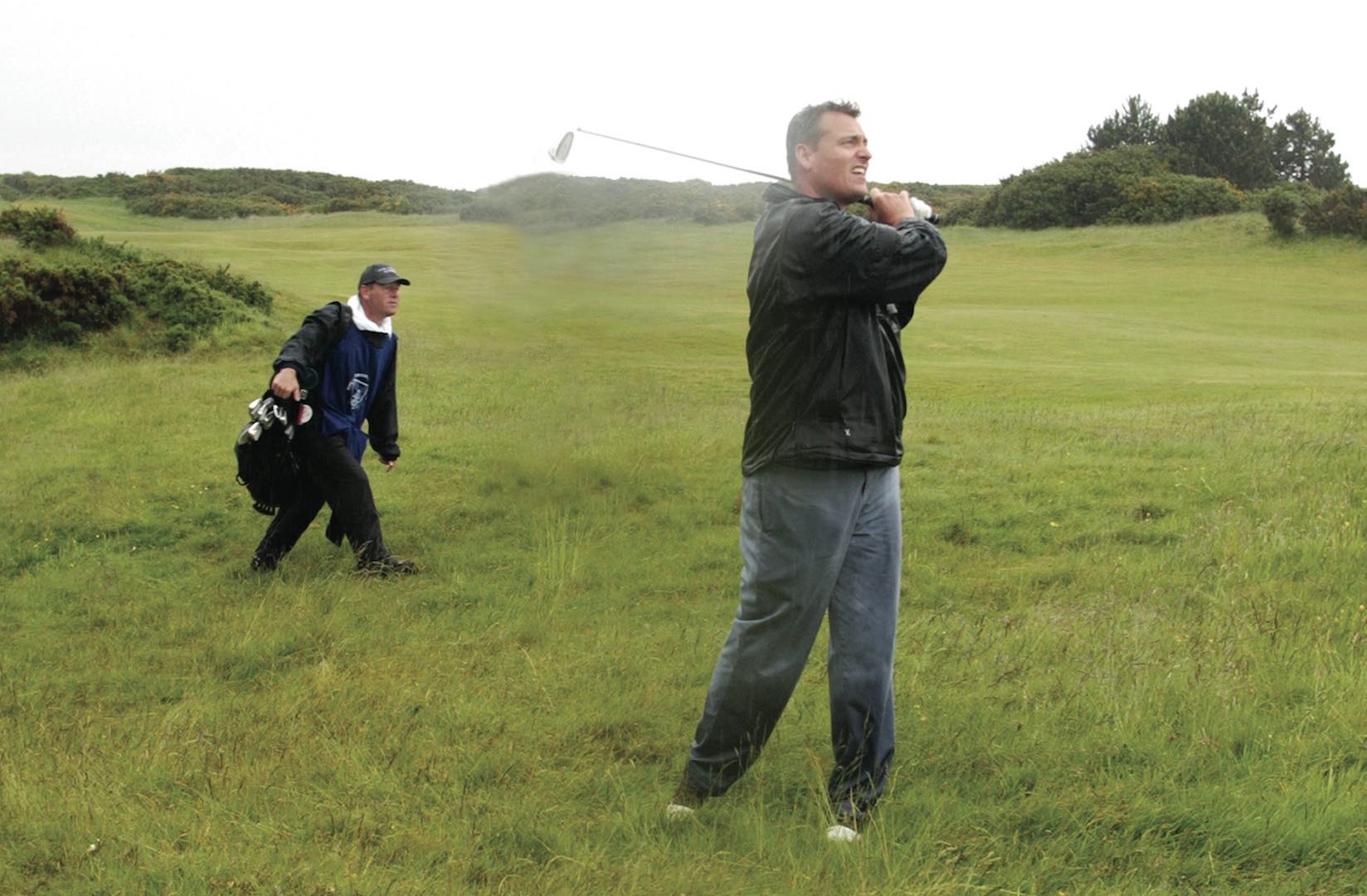 Jimmy takes Tim forward to the medal tees. It makes the hole easier, but not much. Miraculously, Southwell escapes with a par. According to Jimmy, that makes Tim six shots better than Jack Nicklaus, who walked away from The Railway in at the 1982 Open with a 10.
Southwell +17 after 11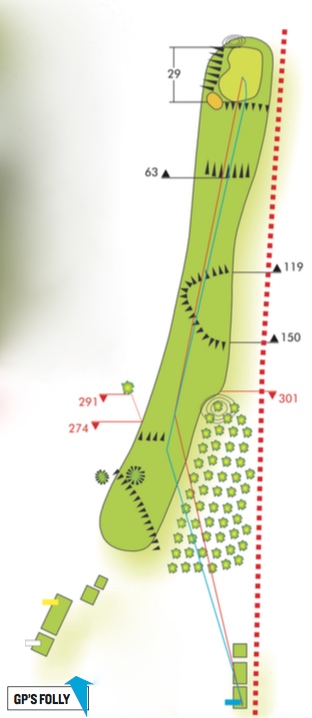 Hole 12: The Fox, 429 yards, par 4 (SI 6)
According to legend, this hole was once a woodland inhabited by scores of foxes. Today, however, the woods have gone and so have the foxes, presumably gunned down by errant drives. After his par at the 11th, Tim has now attracted a gallery (that's if you count two berks with nothing better to do as a gallery). Curiously, they are standing almost directly in the firing line of the tee shot and Tim's drive does its best to decapitate them.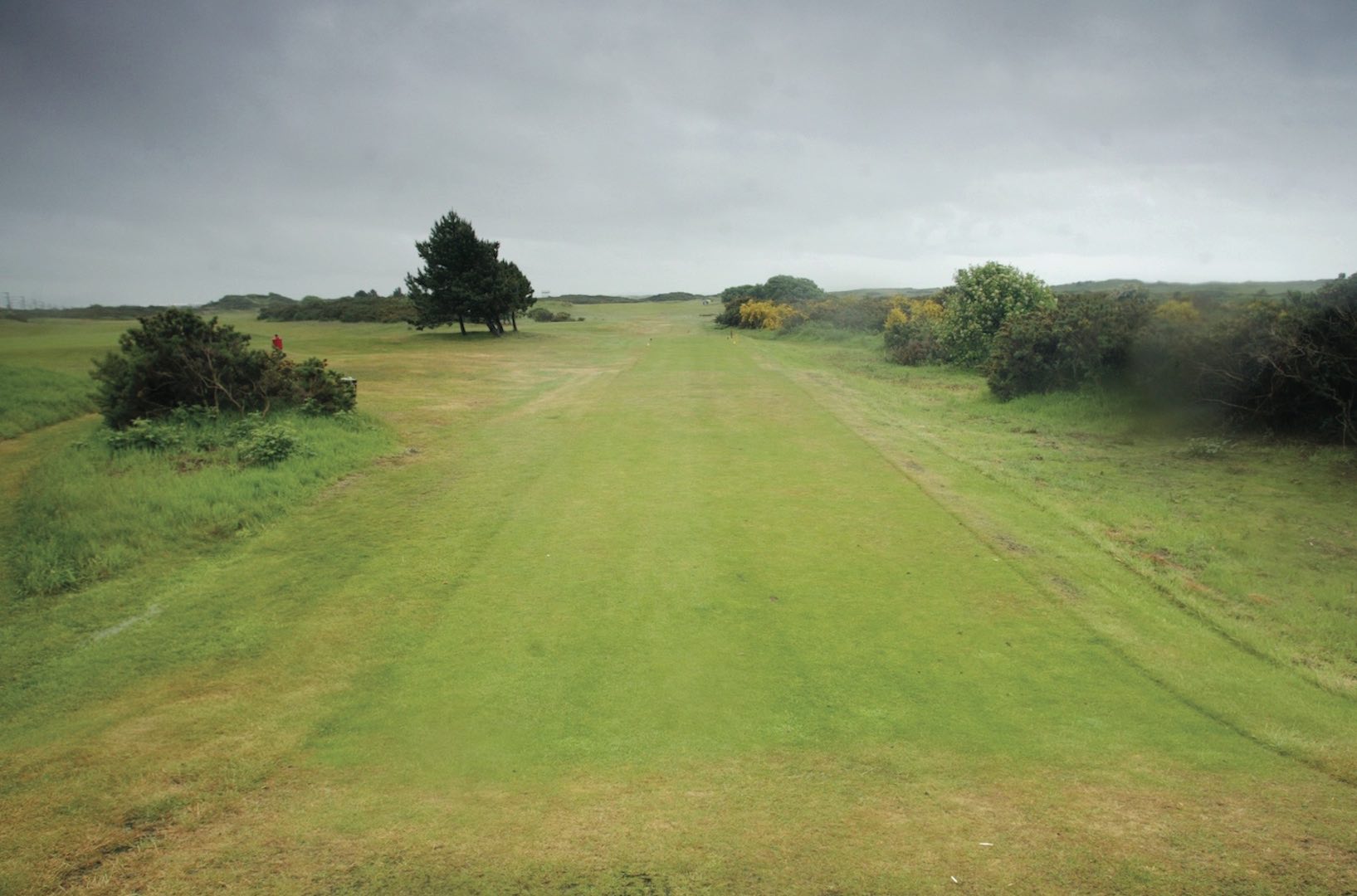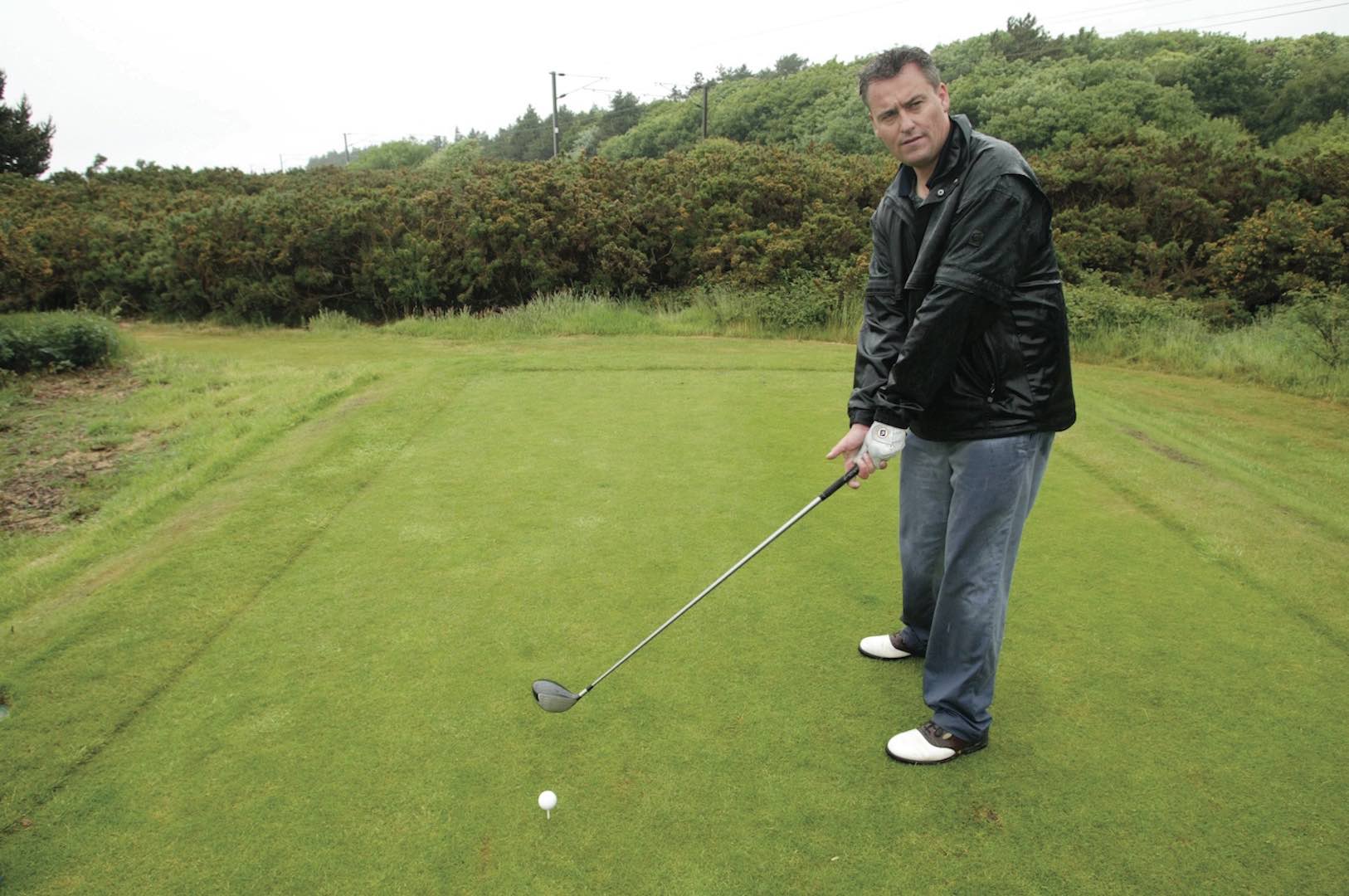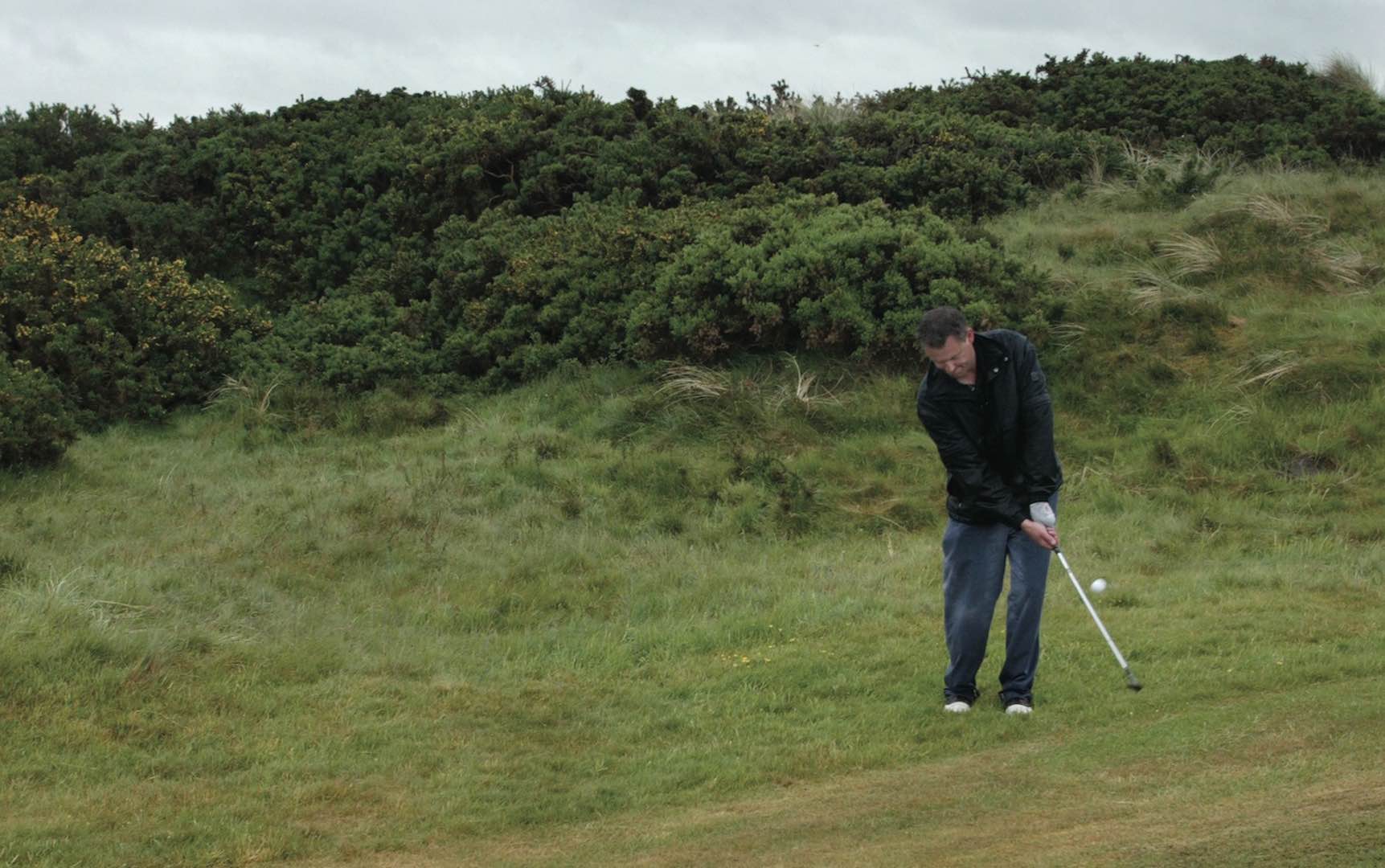 The rain is still falling and my socks are sopping. It's not much fun to be honest. It can't be much fun for Tim either. He has dumped a 3-iron in the crap, stuck a 4-iron through the green and has missed a tiddler for a six. We head to the 13th tee. The gallery, meanwhile, decide they've got something better to do.
Southwell +19 after 12

Hole 13: Burmah, 472 yards, par 4 (SI 12)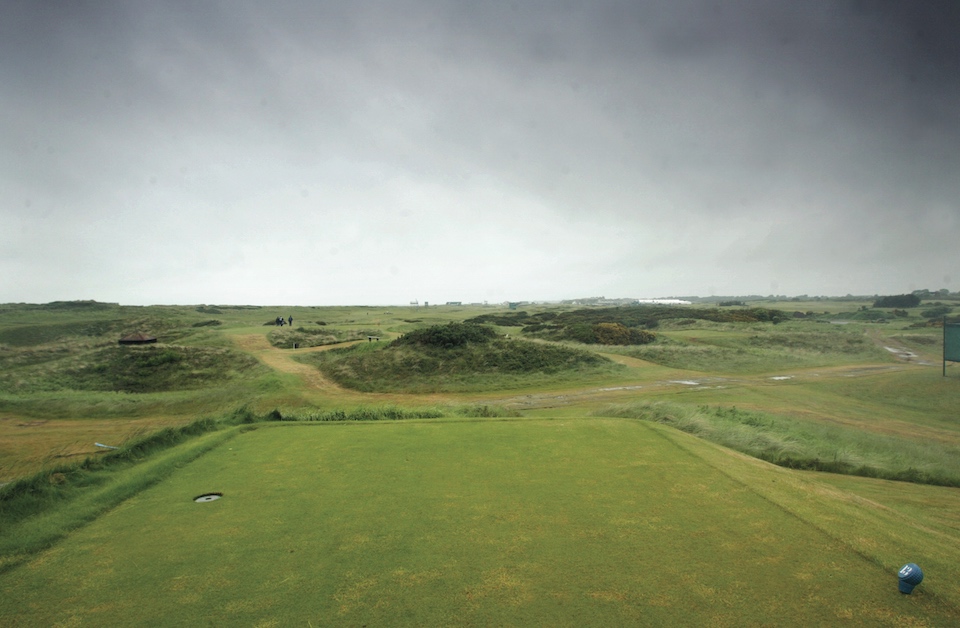 Another drive, another search. Tim's tee-shot at 13 has disappeared into a bush.
"You've got some shit on the end of your club," says Jimmy.
Tim examines the clubhead and finds nothing.
"Not that end," laughs Jimmy.
Unbelievably, though, Southwell locates his ball and, even more unbelievably, he has a shot, albeit a 215 yard one to the front of the green. Out comes the 3-wood again and again Southwell finds trouble like a pig sniffing out truffles. The sand wedge approach finds the back of the green and three putts later, there's another six on the card. And still the rain falls, pouring into our faces as the wind gets ever more angry.
Southwell + 21 after 13

Hole 14: Alton, 178 yards, par 3 (SI 15)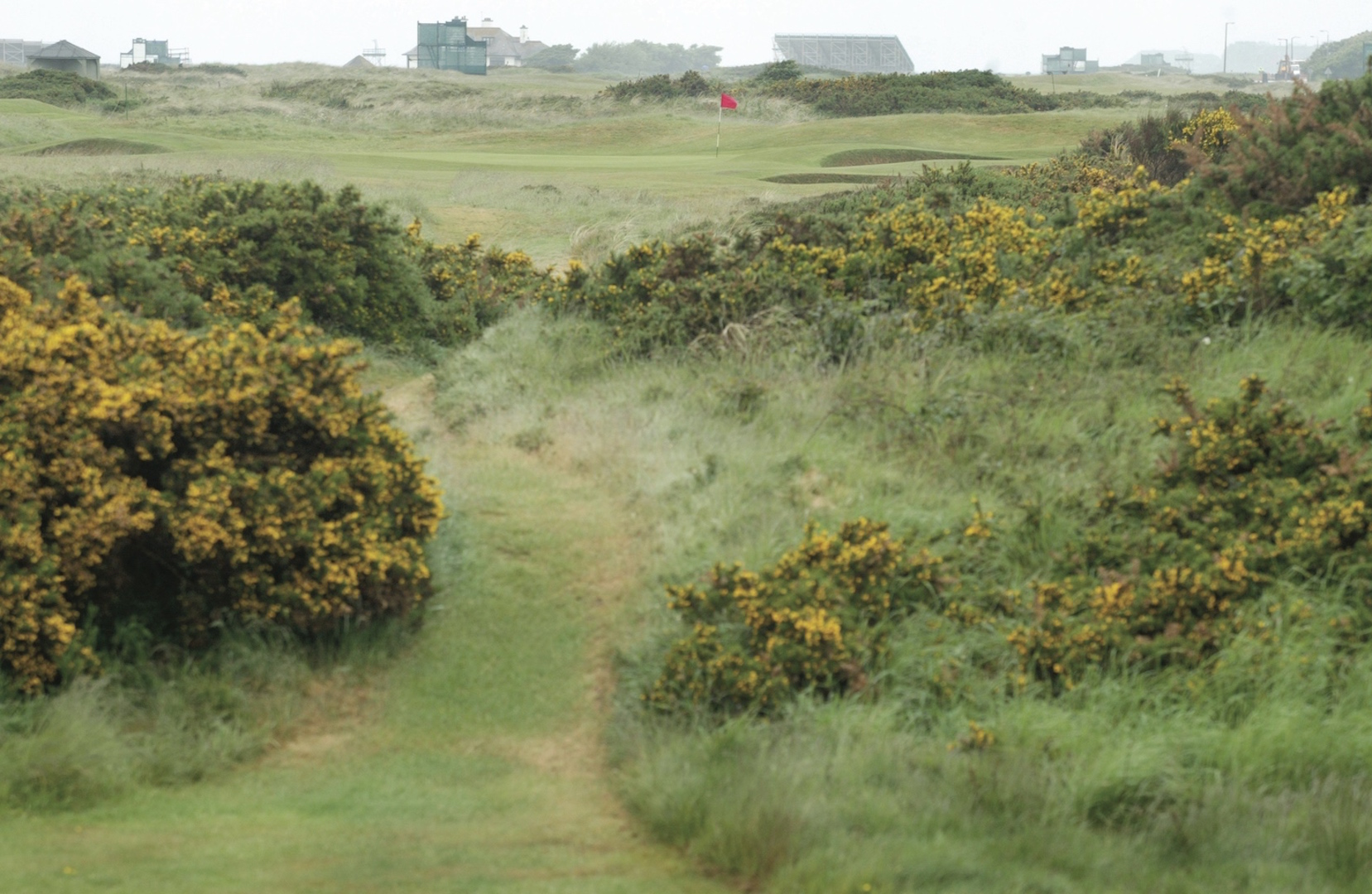 At last, a short hole and a relatively straightforward one at that. Indeed, the only real danger is at the front of the green where three unsightly bunkers await the careless golfer. Southwell launches a 5-iron between the bunkers but comes up short, the pesky wind still playing tricks with his game and his mind. He has a 60 foot putt for birdie and he hasn't holed a putt longer than six feet all day.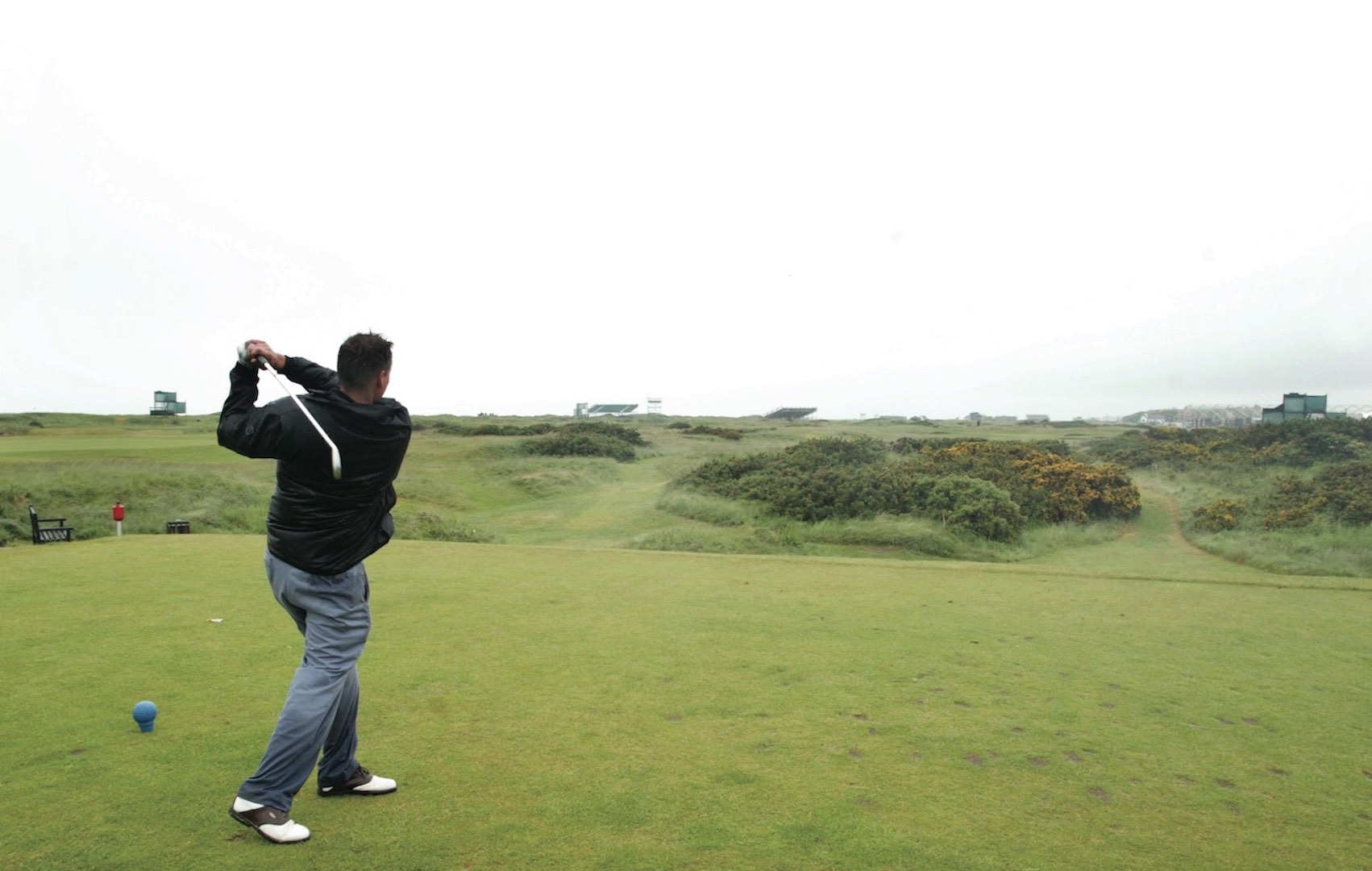 He crouches down and eyes the line. Jimmy stands behind him pointing at the breaks. He looks more focussed than he has all day. He steps up, and takes a couple of practice putts before setting the ball off in search of the hole. Down it trundles, breaking left and then back again, meandering down the green. There is a real air of expectation.
Sadly, that air of expectation disappears when Tim's putt comes up 15 feet short. He misses the next one too. A tap in from four inches gives him a well-deserved bogey.
Southwell +22 after 14

Hole 15: Crosbie, 502 yards, par 4 (SI 3)
In 2004, before the last Open at Troon, they built a new tee here just to make it that bit tougher for Tiger and co. What they should be doing, of course, is building a new tee about 390 yards nearer to the green to make it a bit easier for Tim. His drive narrowly misses bouncing on the road that travels along the right side of the hole and into the path of a local walking her dog. Southwell is evading the fairways with all the skill of a shopper trying to steer clear of people in charity bibs.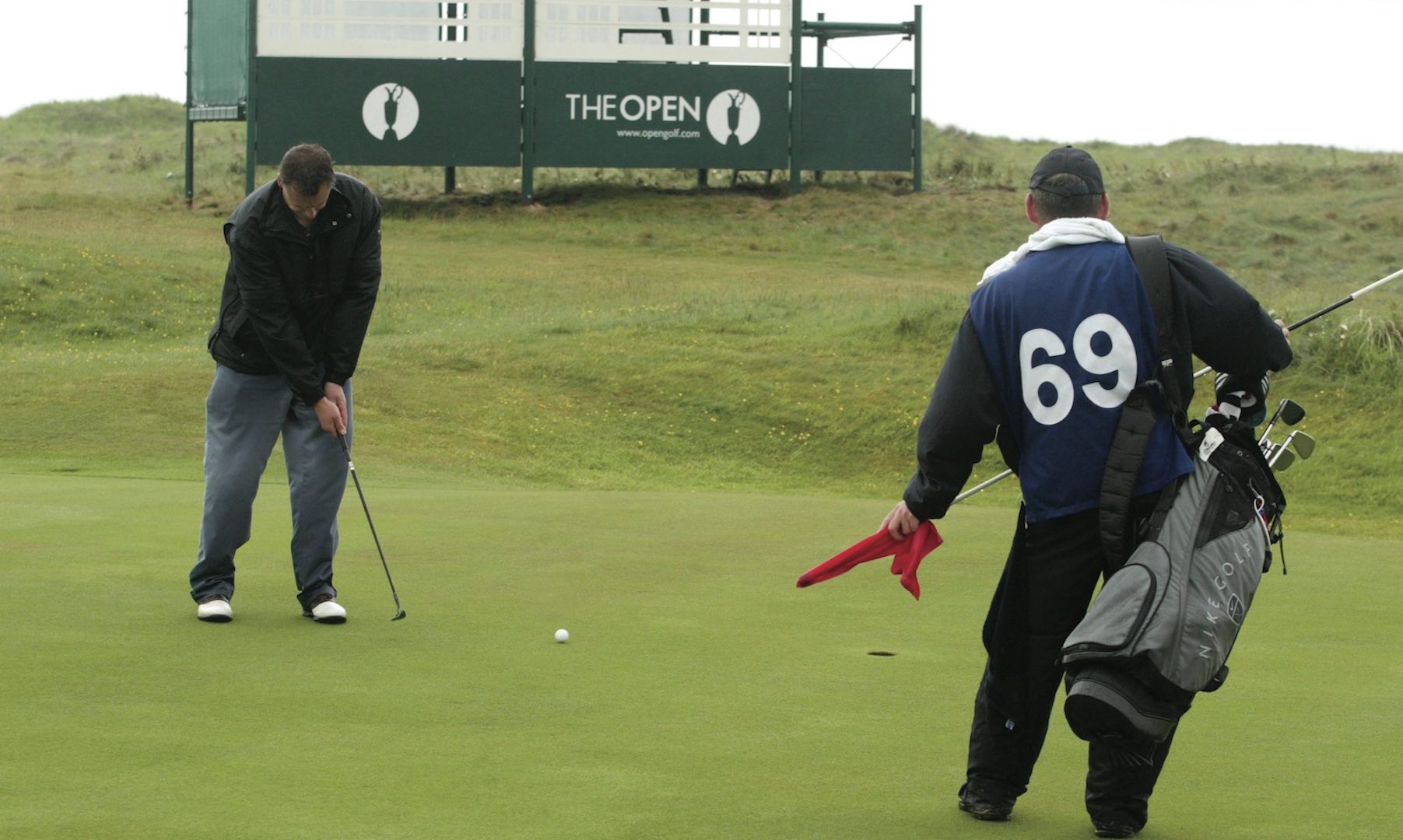 But somehow we find the ball. It is living a charmed life. Yet again, though, his next shot finds the rough. Still, at least the fairways are being kept in decent nick for the Open.
"Eighty five to the pin," says Jimmy. "Sand wedge?" inquires Tim, clutching at straws.
"Aye, that should do it."
Aye, it should but it doesn't. Instead, Southwell finds himself once more putting from the fringe of the green with a putt as long and as difficult to handle as a Routemaster bus. He does well to get it to within four feet. He doesn't do quite so well, though, in knocking the next one two feet past and tapping in for a six. To be fair, the poor lad has been battered by Troon.
It's extremely windy and raining harder every hole 'we'play. When conditions are like this and you're faced with a golf course being prepared to take the likes of Jordan, Rory and Jason down a peg or three, you would do well to break 100. Then the awful truth looms; we need nothing worse than a bogey and two pars to do exactly that – break 100.
Southwell +24 after 15

Hole 16: Well, 553 yards, par 5 (SI 8)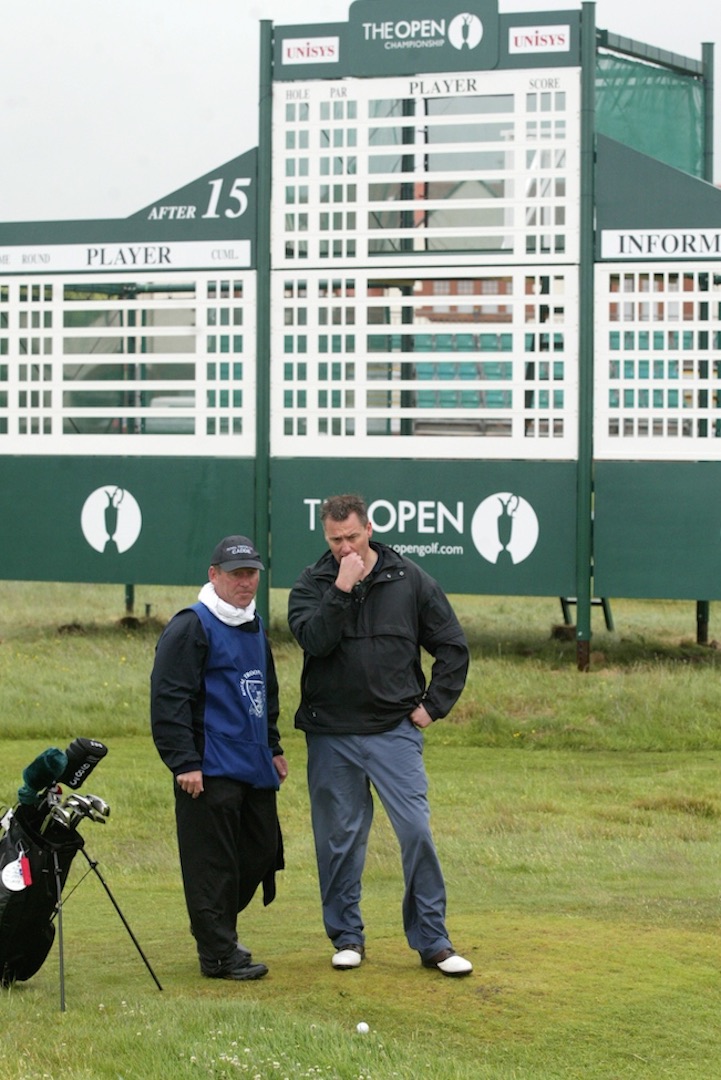 There are certain moments in golf that will never be forgotten. Tiger's first win at Augusta, Van de Velde's early bath, Jordan Spieth's heroic attack on all four majors last year. You can now add to that list Tim Southwell's fourth shot at the 16th hole at Troon. Having zig-zagged his way down this par five with little or no concern for where the fairway was, he found himself greenside with a very menacing bunker five yards in front of him and the flag directly behind that.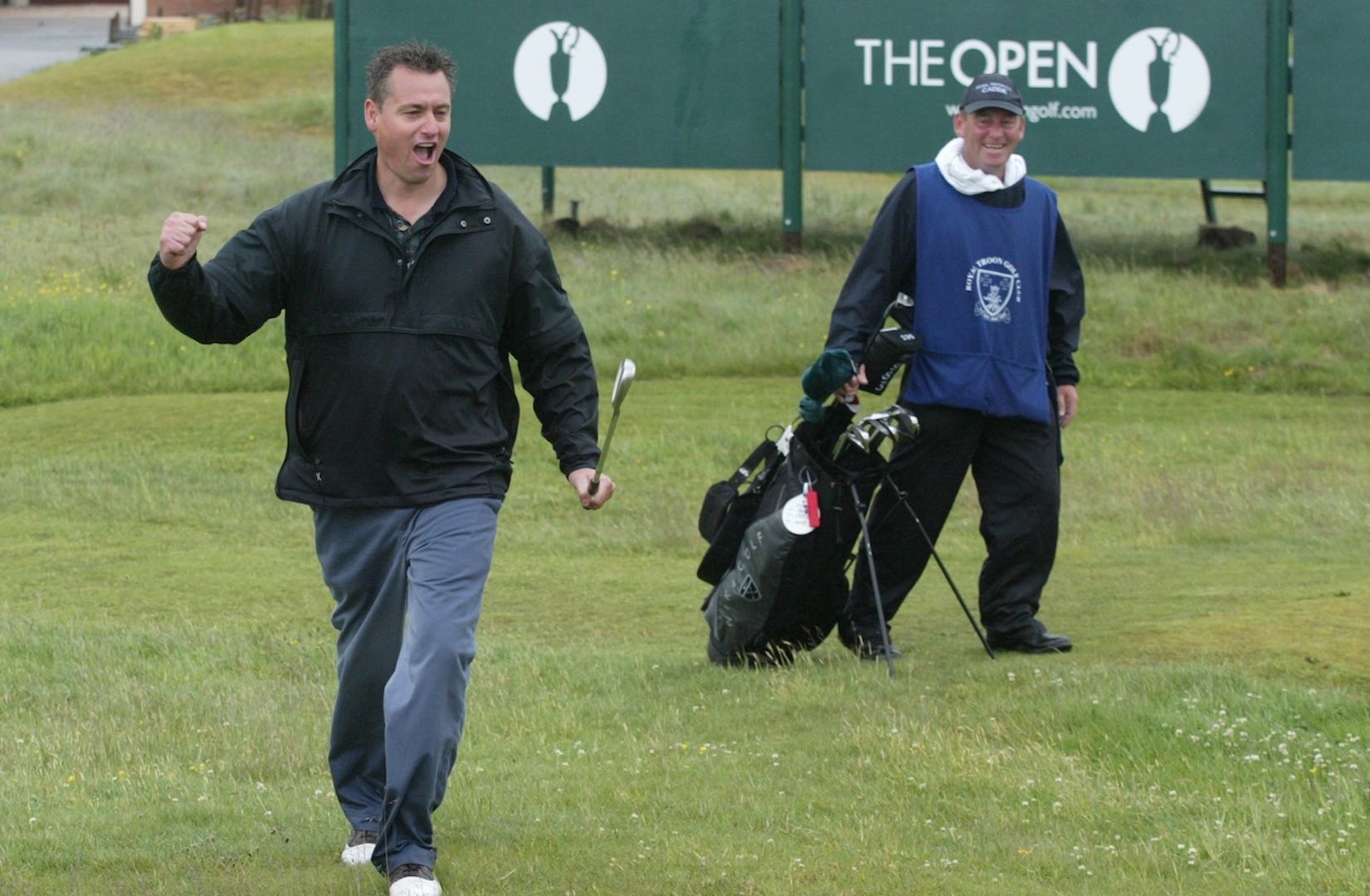 He had two options. He could pretend he was Phil Mickelson and try and flop it on to the green but that was bound to end in humiliation. Alternatively, he could run it around the lip of the bunker and let it feed down to the hole. Thankfully, he chose the latter and he came within inches of holing it. As Tim strides on to the green, I tell him it is the greatest shot I have ever seen and he believes me. Then he misses a two footer for par, the clown.
Southwell +25 after 16

Hole 17: Rabbit, 218 yards par 3 (SI (13)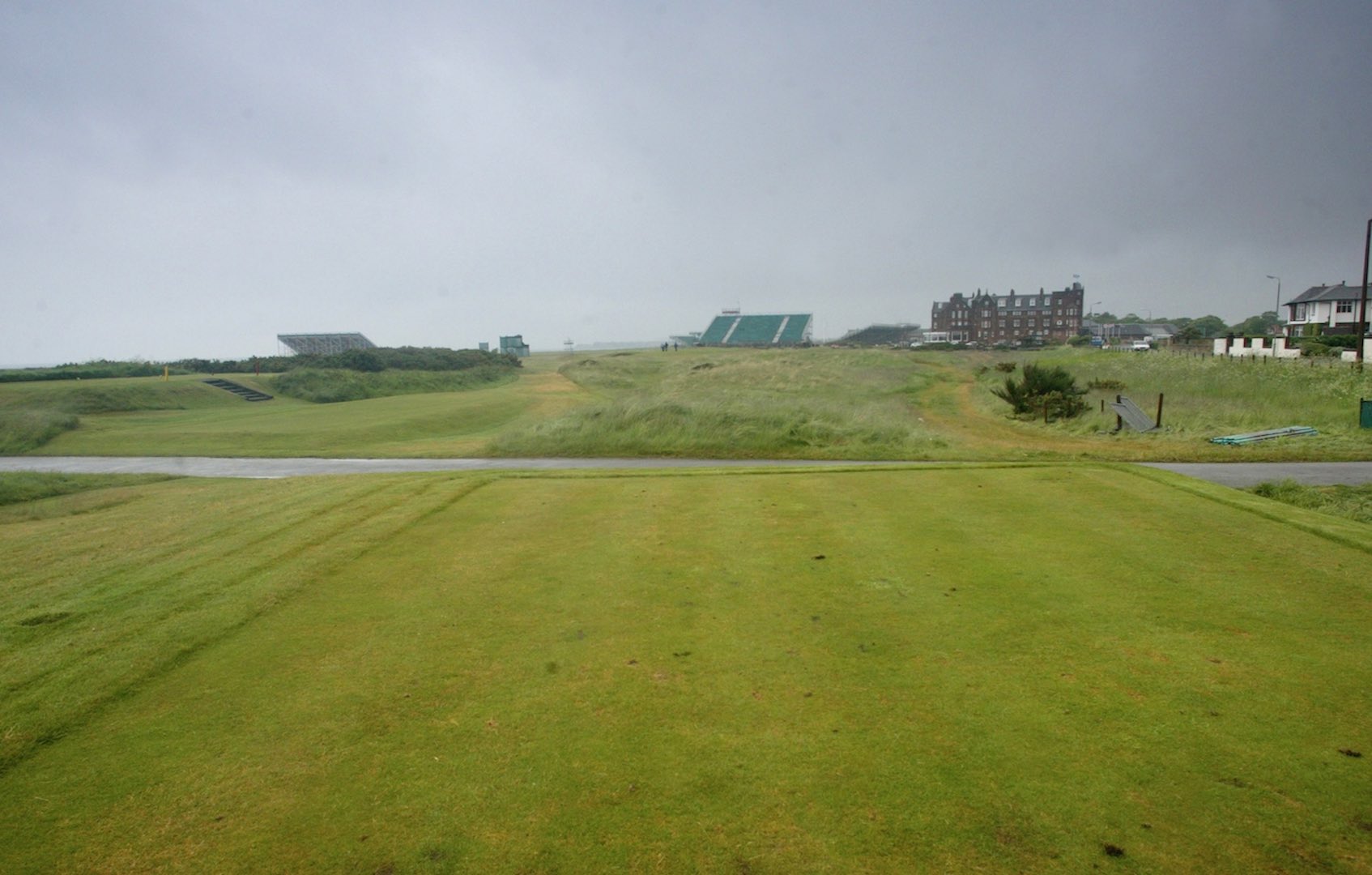 Just when you think the misery is nearing an end, Troon comes up with another stinker of a hole. Rabbit purports to be a par three but I've seen shorter par fours than this. When it comes to club selection, there is no debate. With the wind battering everyone and everything in sight, Tim is forced to take his driver again and give it everything he's got. The poor club must be exhausted.
He aims it out left and hopes the wind will push it back on course. He catches it well and for once, the ball does as it's told. It comes down right on line. All it needs is a good bounce.
With Tim willing it on, the ball kicks forward and on to the green, just 15 feet away from the hole. It is another exceptional shot. I tell Tim that it is the second greatest shot I have ever seen and again, he believes me. He misses his birdie putt but it's another solid par for the Englishman.
Southwell +25 after 17

Hole 18: Craigend, 464 yards, par 4 (SI (17)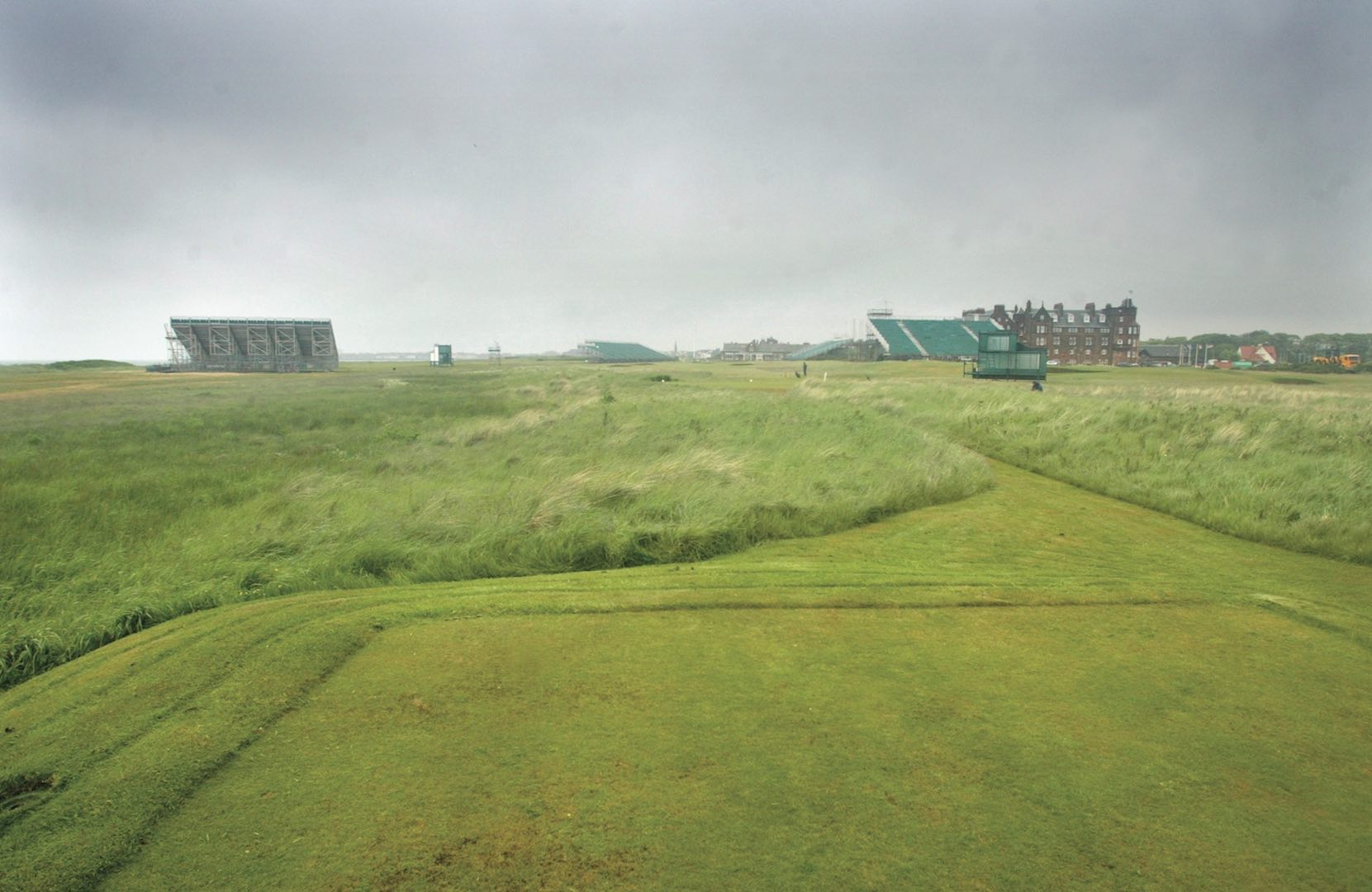 The end is nigh. Tim has hit a 5-iron approach the 170 yards to the green, leaving himself a 20 foot putt for a birdie or, more realistically, three putts for a bogey. He is walking down the fairway doffing his cap to empty grandstands and waving to imaginary galleries. In the distance, two women are staring out of the clubhouse window at this soaking wet, delerious Sassenach.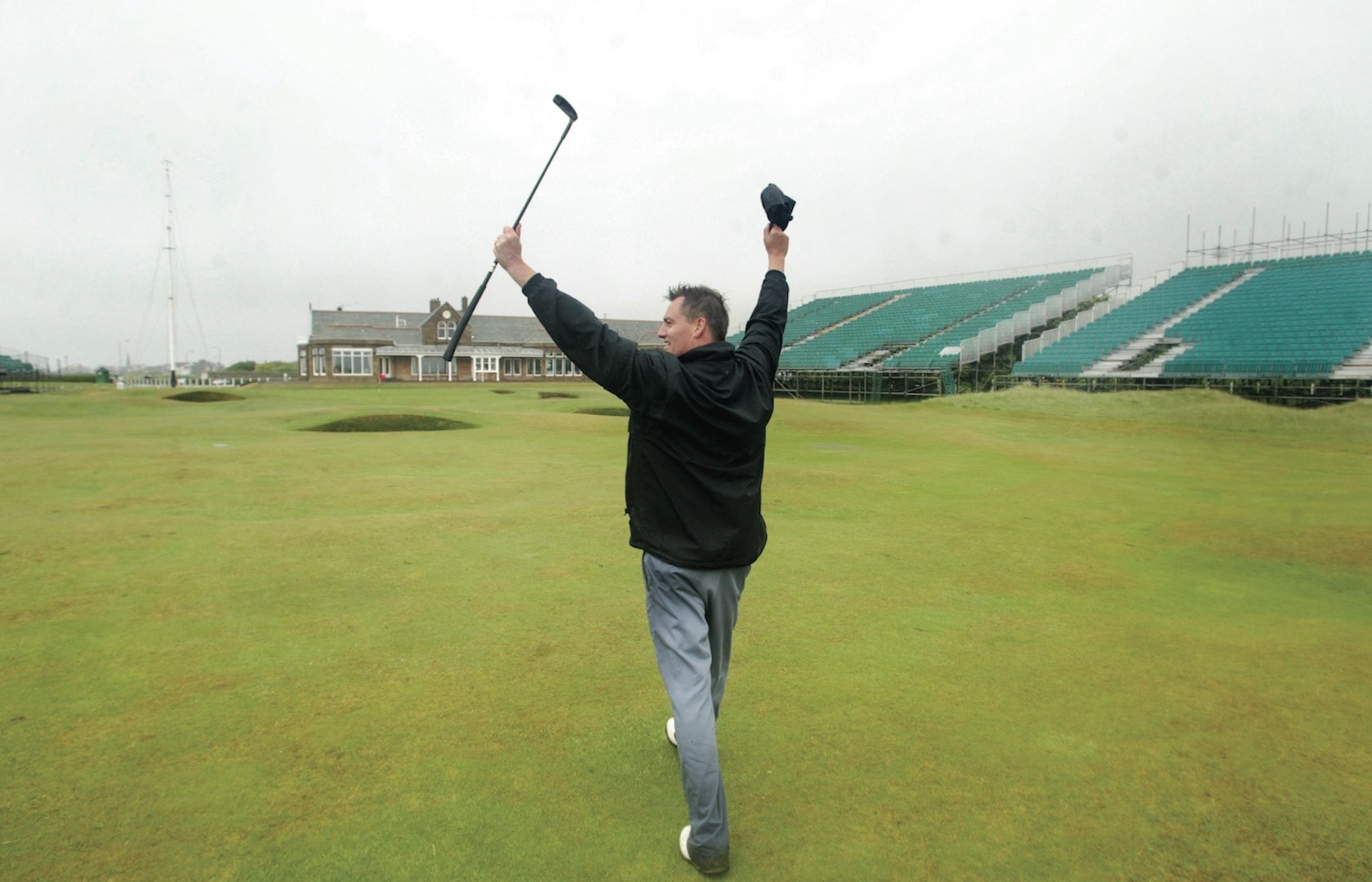 We arrive at the green and Tim eyes his putt for much longer than any of the previous 50 or however many he's had. He seems determined to finish with a flourish. Jimmy helps him out but it's clear that he, and us for that matter, have got one eye on lunch and the other on an afternoon sat in the pub.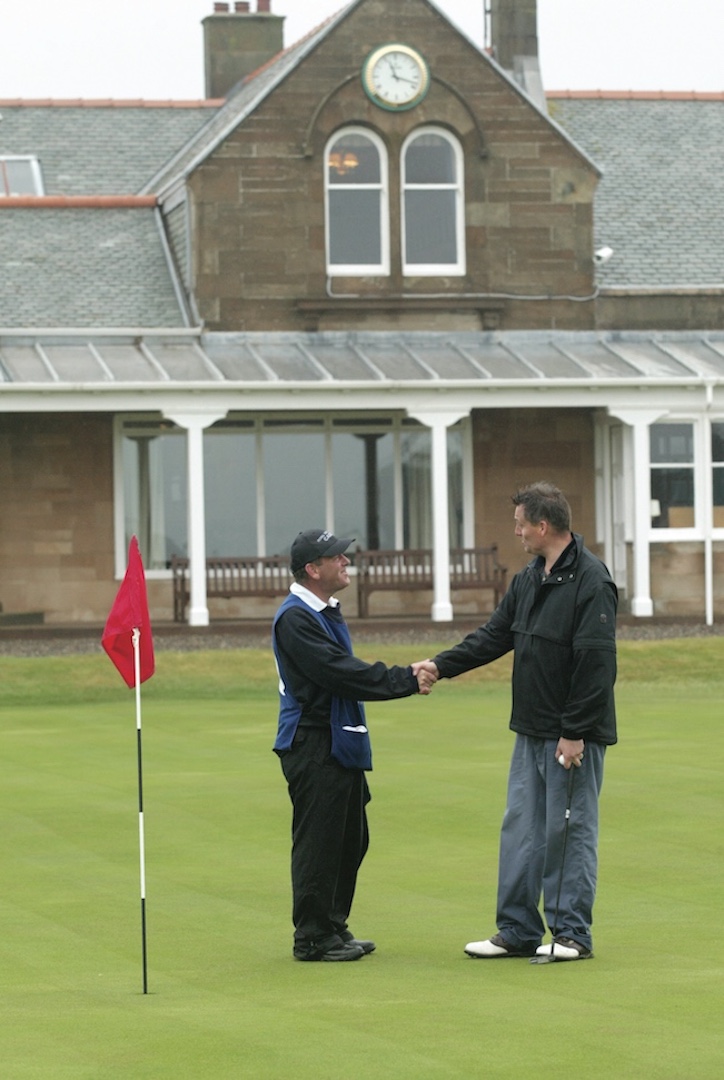 For the umpteenth time, though, he leaves his putt short and settles for his second successive par. It's been a hell of a do. We all shake hands and leave the course before someone asks us to.
Southwell +25 after 18

Related:
GP's Alternative Troon Course Guide: Holes 1-9...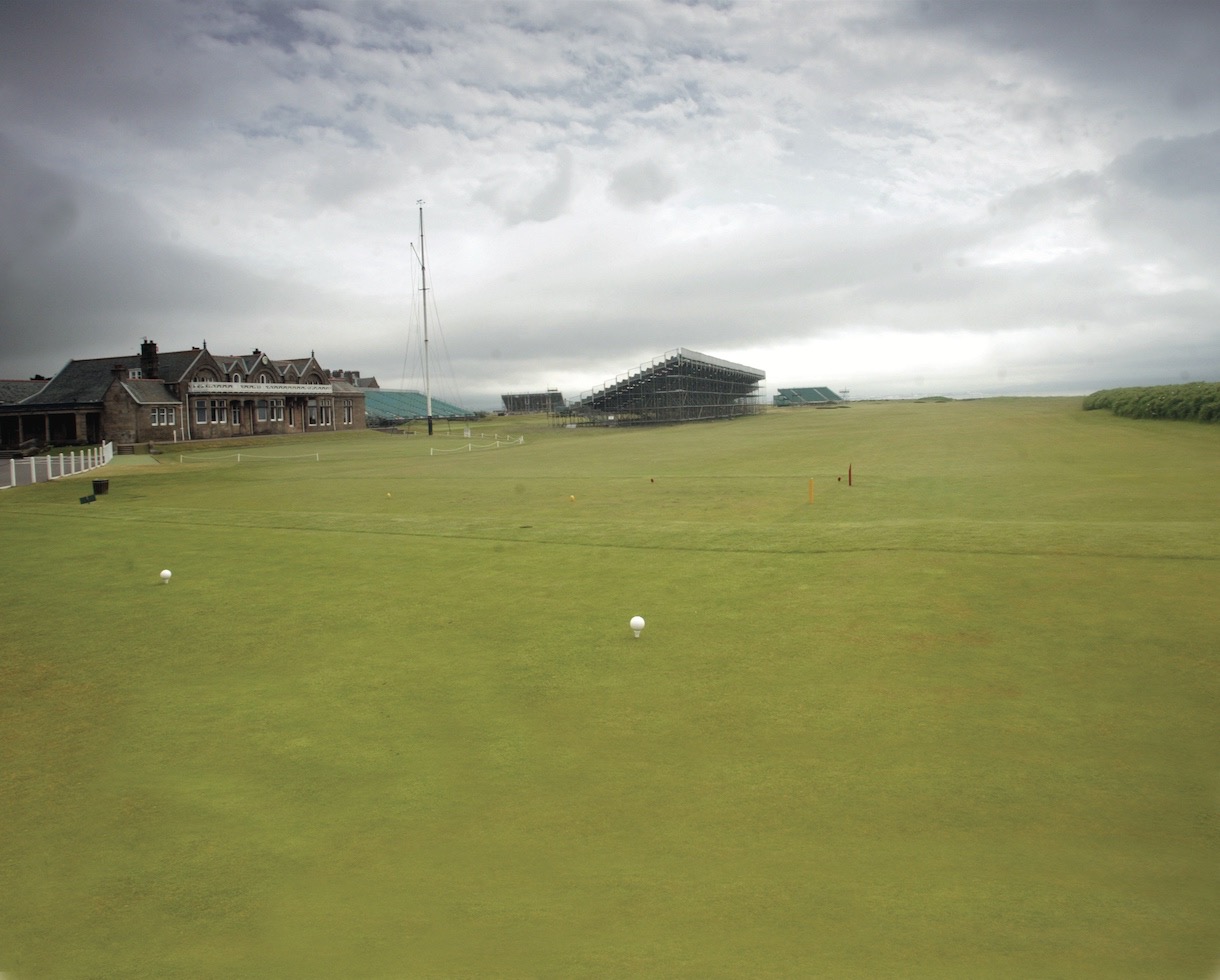 Here is the full, gory story in numbers...