The Masters
Apr 14th, 2019
Why The 2019 Masters is just the beginning for Tiger Woods
Jack is looking over his shoulder once more...
Words: Tim Southwell Photography: Getty Images
As Tiger Woods holed the winning putt some time around 7.35pm on Sunday I was asked an awkward question: "Are you crying??", "Seriously, mate, are you crying?"
"I've just something... sniff... in my eye, that's ... sniff... all..."
In all honesty I had to be hosed down after watching Tiger Woods complete what was probably the most remarkable sporting comeback of all time. He didn't play golf at all for 18 months from 2016 onwards, such were the extremes of his debilitating back issues.
Four operations seemed to have taken their toll and no one seriously expected that Tiger could bring us more of the extraordinary magic his stellar career had bestowed upon us for more than a decade.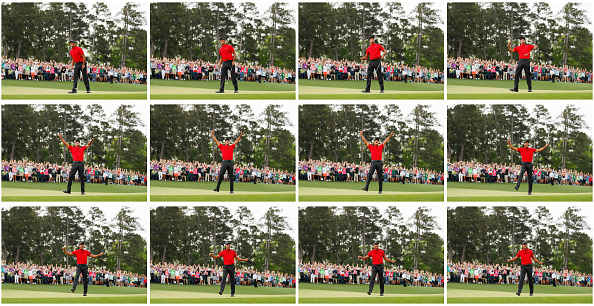 You could still hope, of course, but deep down it was impossible to see him being able to really compete again. The game had moved on in his abscence and other players had stepped up to the plate. The likes of Jordan Spieth, Justin Thomas, Brooks Koepka, Dustin Johnson, and Rickie Fowler were bringing a vibrant youthfulness to the game and putting more distance between the 'Good old Tiger years' and the present day.
For a long time it was all he could do to get out of bed. Doctor's orders prohibited him from even picking up a golf club throughout a painful 2016. But then we began hearing whispers that Tiger had been spotted practising his short game. Not long after news came that he'd played nine holes. Then, that he was on the range and hitting full shots.
No one was expecting him to really 'come back', but it would be great to see him back on the PGA Tour. Even a half-cocked Tiger Woods made any tournament worth watching. 
2017 was a virtual wash out as Tiger focussed on getting properly better, ready to at least give it a real go in 2018. A tie for second place at the Valspar in March was followed by fifth place at Bay Hill. Suddenly he was mixing it with the kids and looking more and more comfortable back on tour.
32nd place at The Masters was followed by a missed cut at the U.S. Open, but a couple of top 10 finishes followed, including fifth place at the Open during which he led for a while on the final day. Then at the U.S. PGA at Bellerive, Tiger shot a blistering final round 64 and gave Brooks Koepka quite a scare, before settling for second place.
But this was nothing compared to the crazy scenes at East Lake when Tiger faced down the best 30 players in the world to win the Tour Championship. As he made his way down the 18th fairway he was enveloped by a vast swathe of delerious, cheering disciples. Tiger Woods, the golfing messiah, had risen once more.
But as for more major success? At 43 years of age that might be asking a bit much. The big question – could he actually break Nicklaus's record of 18 majors? – had not been given any serious shrift for a long time. Far too unlikely. Surely.
And then Tiger wins the 2019 Masters. We've never seen anything like it. After holing the winning putt Tiger emitted a roar of defiance into the Augusta air, his fists clenched and his face contorted in sheer ecstacy. As he walked through the galleries on his way to the scorer's hut, the Augusta patrons chanted "TIGER, TIGER, TIGER".
I don't remember that ever happening before at Augusta. We'd just witnessed something incredible and golf had taken a seismic shift into the world's consciousness once more. This was massive, massive for golf. Tiger Woods was front and centre on every newspaper in the world, the unlikeliest of comebacks was complete. And now? Now it's all about the future.
Next month's U.S. PGA Championship is at Beth Page Black, a venue where Tiger won the 2002 U.S. Open and finished 6th in 2009. Then, in June, the U.S. Open returns to Pebble Beach where Tiger won his first U.S. Open in 2000 by a record breaking margin of 15 shots.  
Good memories aside, he is just playing great golf again. He might have rode his luck on 13 when his pulled drive managed to navigate its way through a forest of trees and find the middle of the fairway, but he had that look about him, the look that suggests even he doesn't quite know the limitations to his brilliance.
What's more, the other players around had that other look. The look that says 'Holy shit, Tiger is back in full effect, we're all doomed...'. 
Interestingly, Tiger is no longer working with any coach, he's just doing his thing. Unencumbered by too much technical information, Tiger looks free of the suffocating swing thoughts and mechanics that made his game look unnecessarily complicated at times. 
Rickie Fowler was quick to comment after Tiger's win:  "This keeps 18 in play.", while Brooks Koepka added: "Eighteen is, I think, a lot closer than people think. I would say that's probably what all fans … what we're thinking – that he's definitely back and 18's not far.''
As for Tiger himself, he was asked if Nicklaus "should be worried'' about Woods catching him. Nicklaus has always said that he welcomes Tiger breaking his record. Well, that's what he says. Maybe he means it. But only now will again have to seriously ponder the possibility of it actually happening.
"I don't know if he's worried or not,'' Tiger said. "I'm sure he's home in West Palm just chilling and watching.''
Well, we're all paying attention and watching now. Buckle up, guys, we're in for a hell of a ride.
And Another Thing...
Tiger Woods' incredible career timeline