The Masters
Mar 23rd, 2017
What happened at Jordan Spieth's Masters dinner?
Tiger enjoyed himself, that's for sure!
Words: Tim Southwell Photography: Getty Images
Earlier this week a reporter asked Jordan Spieth if he was looking forward to hosting the Masters Dinner.
"Actually," replied Jordan, "its the most nerve-wracking thing I can imagine right now."
"I imagine the Chairman will maybe ask me to say a few words," said Spieth, who last year became the second-youngest champion in Masters history. "I'll certainly think of something that makes sense, given the timing. But I'll probably do less talking and more listening tonight.
"It will be certainly unique. There will be nothing that I've ever done before or will ever do that will match the first time talking to that audience."
That was two hours before the event. Spiethy needn't have worried. If you can impress Tiger Woods, you can impress anyone. Tiger is renowned for loving his grub. So much so he opened his own restaurant The Woods Jupiter. If his tweets are anything to go by, he's going to be inviting himself round to Jordan's place on a weekly basis.

So what did Jordan serve up?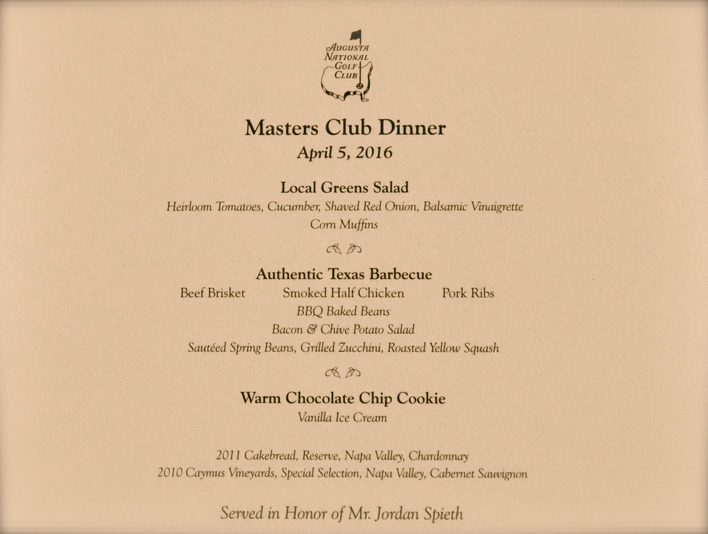 The idea of the previous year's winner hosting the Champions dinner was started by Ben Hogan in 1952. Previous hosts have served up everything from Asian curry (Vijay Singh) to fish & chips (Nick Faldo).
So the defending champion selects the menu, and pays the tab. Spieth, a Dallas boy,followed the example set by one of his heroes, fellow University of Texas Longhorn and two-time Masters champion Ben Crenshaw, in serving Texas barbecue.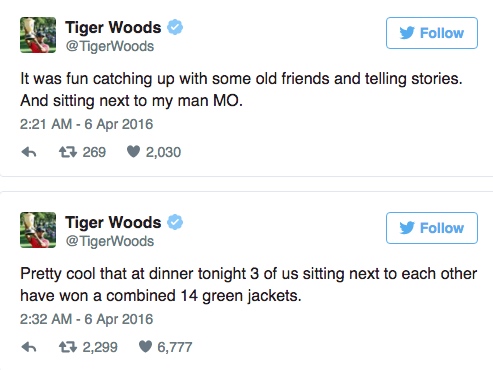 The Green Jacket winners convene over long, adjoining tables in the Augusta National Clubhouse. Other culinary highlights include the 1988 menu (Sandy Lyle) who – surely for a bit of a laugh – served up haggis, otherwise known as Scottish Spam. It's basically sheep innards minced with oatmeal and spices. Imagine Jack's face.
Jack: "You want me to eat a sheep's stomach?"
Sandy: "It has got oatmeal in it."
Jack: "Oatmeal..."
Sandy: "Errm.. yes... and spices..."
Jack: "Sheep innards and oatmeal.."
Sandy: "But it's a Scottish tradition..."
Jack: "So is having one of the highest mortality rates in Europe."
Sandy: "I'll get my jacket..."
Charl Schwartzel, the 2011 champion, chose an assortment of grilled meats with monkey-gland sauce.
Jack: "Monkey gland..."
Charl: "Not to worry, there's no monkey and there's no gland."
Well, that's a relief. Two years later, Adam Scott nailed it when he served up Moreton Bay bugs, lobsters flown in from the east coast of Australia.
How brilliant would it be to have a seat at that dinner? You've got everyone from Jordan Spieth (22) to Doug Ford (93) who won the Masters in 1957.
Tom Watson, the two-time winner who is playing in his 43rd and final Masters this week at age 66, reminisced under the old live oak behind the Clubhouse about the privilege of once being around legends such as Gene Sarazen, Byron Nelson and Sam Snead. "And now I'm one of the old guys," he said.
Don't get me started already Tom, I said I ... sniff... wouldn't... sniff... cry when you bowed out this week.
Anyway, back to Jordan. He got through it. Tiger was happy. Everyone was happy. And no one was happier than Jordan to see his name engraved on the permanent Masters trophy and etched on a brass plate on the locker he will share with Arnold Palmer in the Champions Locker room.
Not bad, young dude.
Related:
GolfPunk's Unique Augusta Course Guide & Fun Facts