Swingin Sirens
Nov 7th, 2018
On the golf road with super model golf nut Jodie Kidd
Good day, Your Grace!
Words: Jack Hayward Photography: Chris Floyd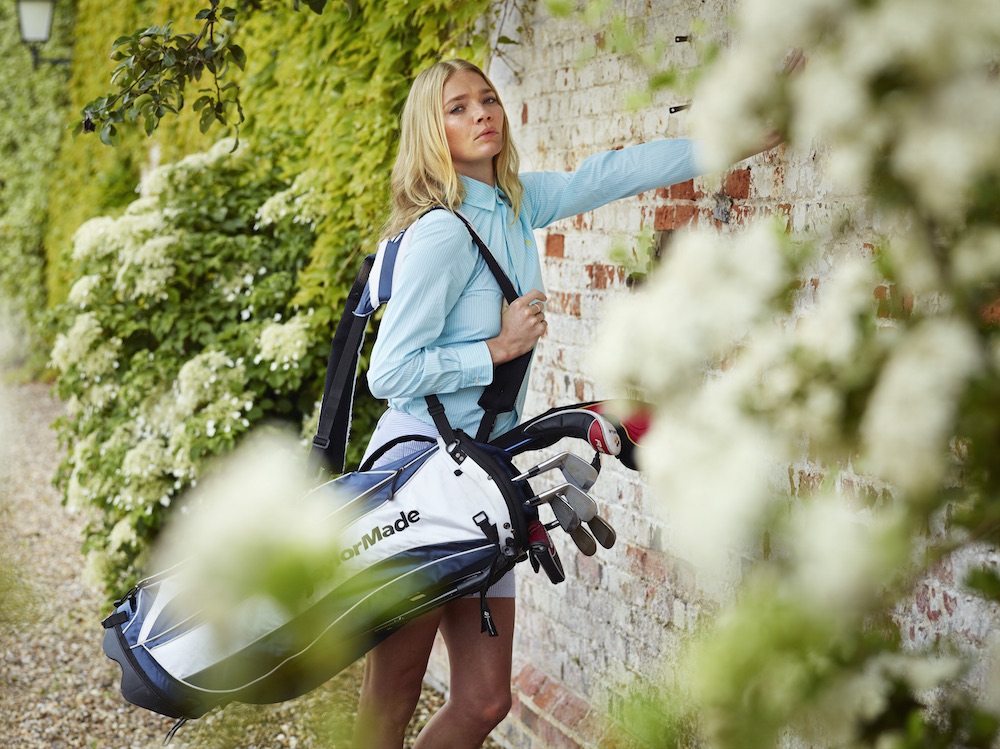 You might be wondering what's going on here. Truth be told there's been a terrible mix up at the repro house. For some reason we've ended up with Vogue's pictures of Jodie Kidd and Vogue have had to run a front cover of Monty playing crazy golf in his dungarees.
Still, who's complaining? Well, probably Vogue readers, but definitely not us. We knew we had it in us to get all fancy if we put our minds to it. Jodie Kidd at Brocket Hall, it's where we were going anyway.
Next month we're teaming up with Little Lord Fontleroy for a game of real tennis with David Cameron & Boris Johnson. Followed by a slap up supper and bottle of Pauillac at the Bullingdon Club…
Over to you Jack, don't worry, they're as scared of you as you are of them…
Too lazy to read? Watch the video...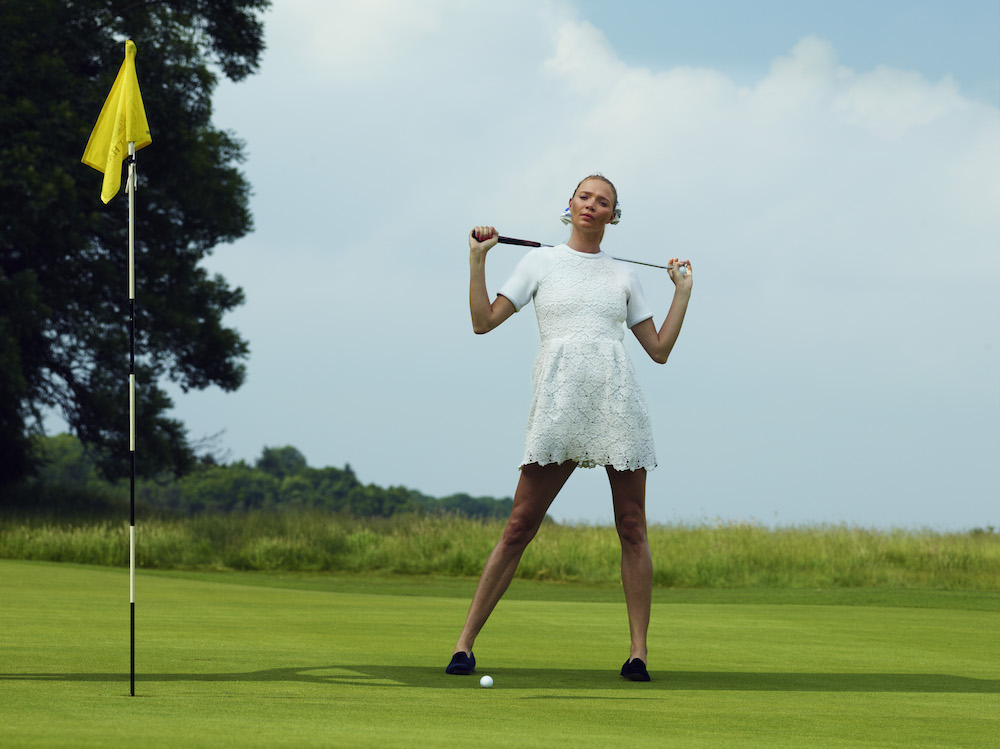 She might be the poshest thing since Downton Abbey, and might have a pair of the longest, and most tantalising pins ever to have been bestowed upon a woman, but what we love most about Jodie Kidd, aside from the obvious, is that she's a golf nut.
Since sacking off the full-time modeling career in her twenties, Jodie has become publicly renowned as an adrenaline junkie, and a full-on, all guns blazing, sports fanatic. Basically, if you catch her either not swinging a golf club, not wielding a polo stick, or not giving a fancy sports car some tap, then it would come as a bit shock to the system.
Jodie has sat atop Top Gear's 'Star in a Reasonably Priced Car' leaderboard, she has taken part in the Gumball Rally across the US, and she has played in countless high profile polo tournaments. Amidst all this though she has also still found time to take on some of the greatest golf courses, and to team up with some of the greatest golfers on the planet.
From Wentworth to Kingsbarns, and Ernie Els to Justin Rose. You name the course, you name the player, there's a fair chance she's played it, or played with them.
She might play off 18, but Jodie is a bandit, and she has a golfing CV to die for. It's hardly surprising then that we were dying to book her in to spend the day with us!
Jodie travelled from Sussex, the base of GolfPunk, for the shoot at Brocket Hall, and from the moment she turned up it was clear that we were all in for a top day of work outside the confines of the office.
Despite having to part with her son Indio for the day at Brocket Hall, Jodie was on great form from minute one, and made all of our jobs a total pleasure. Not only did her glowing personality and striking looks catch us all from the word go, but so too did her passion for the game of golf.
Jodie revealed to us that her father was responsible for introducing her to the dark arts when he bought her a lesson as a Christmas present. Though this was much to her dismay at the time (she was rather more keen on a yellow, underwater Walkman…) Jodie soon realised the error of her ways, and rapidly fell smack in love with golf.
It wasn't until she took a step back from modeling aged 23 though that she got the time to really knuckle down and give in to her addiction: "I gave [golf] up because of modeling between 15-16 and about 22-23. I started taking it more seriously after though, and I got invited to events like the Dunhill Links and tournaments like that, so I started taking it very seriously."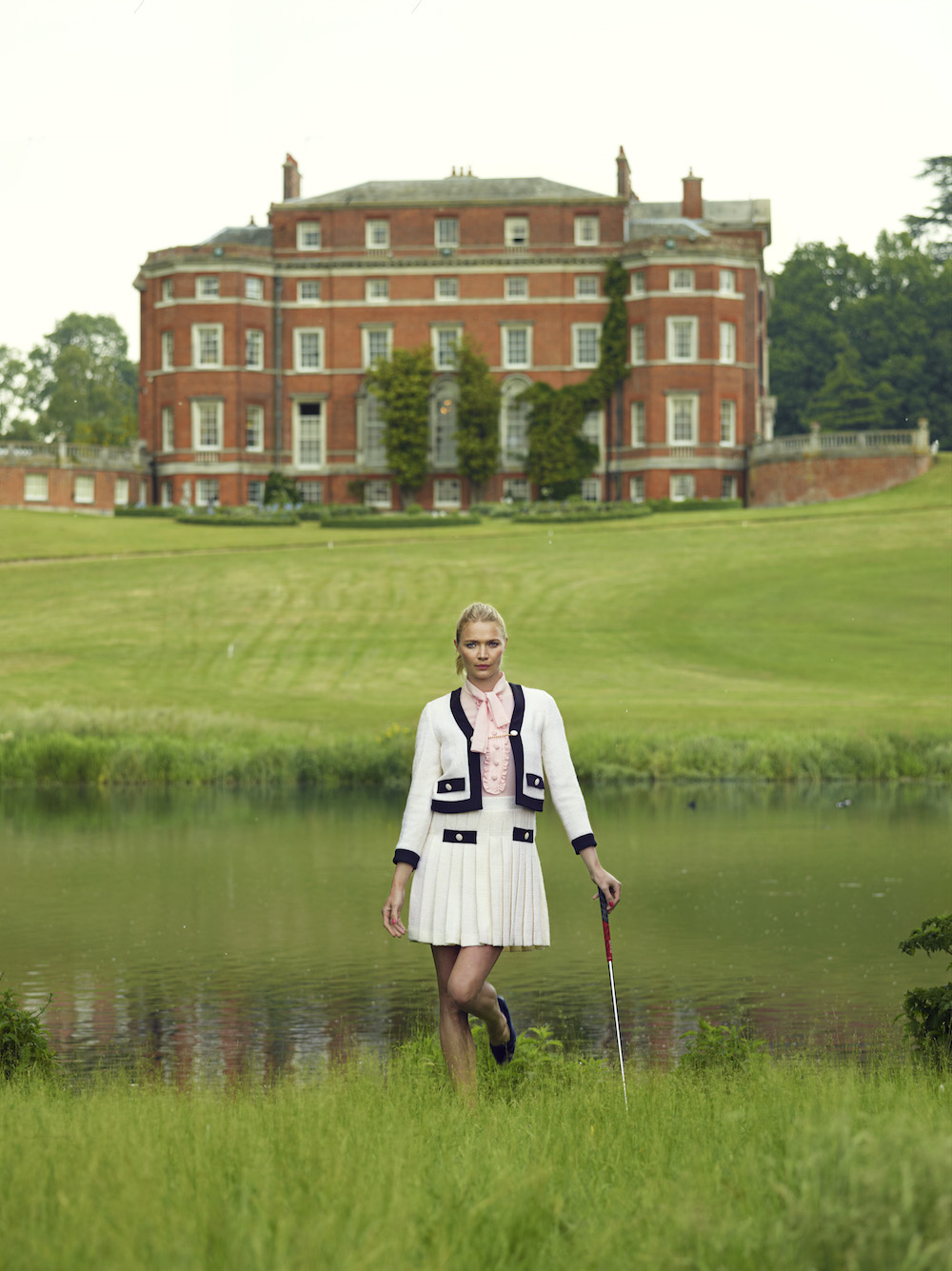 Jodie revealed to us that she is not averse to getting her hands dirty with some lower class sports either, shattering the reputation that comes with being spawned from aristocratic stock, and imparting upon us that she is also a dab-hand with a table-tennis paddle, a pool cue, and some 'arrerrrsss' in hand too. It would though be fair to say that she usually has a taste for glamour, and the high life, even when it comes to her major sporting tastes.
It is clear though that her passion for golf is as strong as any other, and so much so that she is trying her utmost to get her young boy to express an interest in the game, armed with a plastic club. Nothing like getting stuck in early-doors…
If Kidd Jr. is to follow in the footsteps of mother-dearest and fall in love with golf from an early age, then he won't have to look far for advice on handling the big stage and playing alongside global, golfing superstars.
Jodie has already teed it up alongside golfing super-powers such as Colin Montgomerie, former world number one Luke Donald, and four-time major champ and recent winner in Munich Ernie Els. She also recently had the privilege of having a knock with the new U.S Open champ Justin Rose, for whom she has nothing but praise: "Justin was fabulous, because I run a golf day and he was really supportive. He came to support me and he is a really lovely, lovely guy. I was getting feedback the whole time on how he was doing [while I was away during the U.S Open], and I'm incredibly proud. Really, really proud!"
During our day with Jodie at Brocket Hall we sadly only got to see her play one shot (which inevitably she topped straight into the lake on the picturesque 18th on the Melbourne Course), but in her defence, she was playing this shot in thoroughly unsuitable clothing, without any sharpening up, and with sticks that weren't her own. We are led to believe though that Jodie, an 18-handicapper, can really play when she gets her eye in, and is a danger to anyone who dares to take her on.
"[When competing in the ProAm] at the Dunhill Links there was a huge crowd, and I was coming down the 18th and I had just birdied, net eagled, the 17th playing with Monty, and then I was coming up the 18th, which I parred, net birdied, and that was just an amazing feeling coming off with a net birdie, and everyone going 'weeyyyyyyyy!!!' I don't think anything could top that!"
It's clear though that Jodie, like us all, has also had her fair share of embarrassing moments too out on the course. The problem for her though is that unlike us, she nearly always draws a crowd when she tees it up…
"[I was playing] the All-Star Cup where we had been playing for three days, we were quite tired, we'd been having a very good time, and I was playing with Alice Cooper, who was just fabulous, a really good player. I shanked my drive and it hit someone in the crowd. It was just so bad, but they were really good sports, and didn't take it too badly. But, yeah, that was dreadful."
The one golfing celebrity who stands out for the wrong reasons is 400m world record holder, and former 200m world record holder Michael Johnson.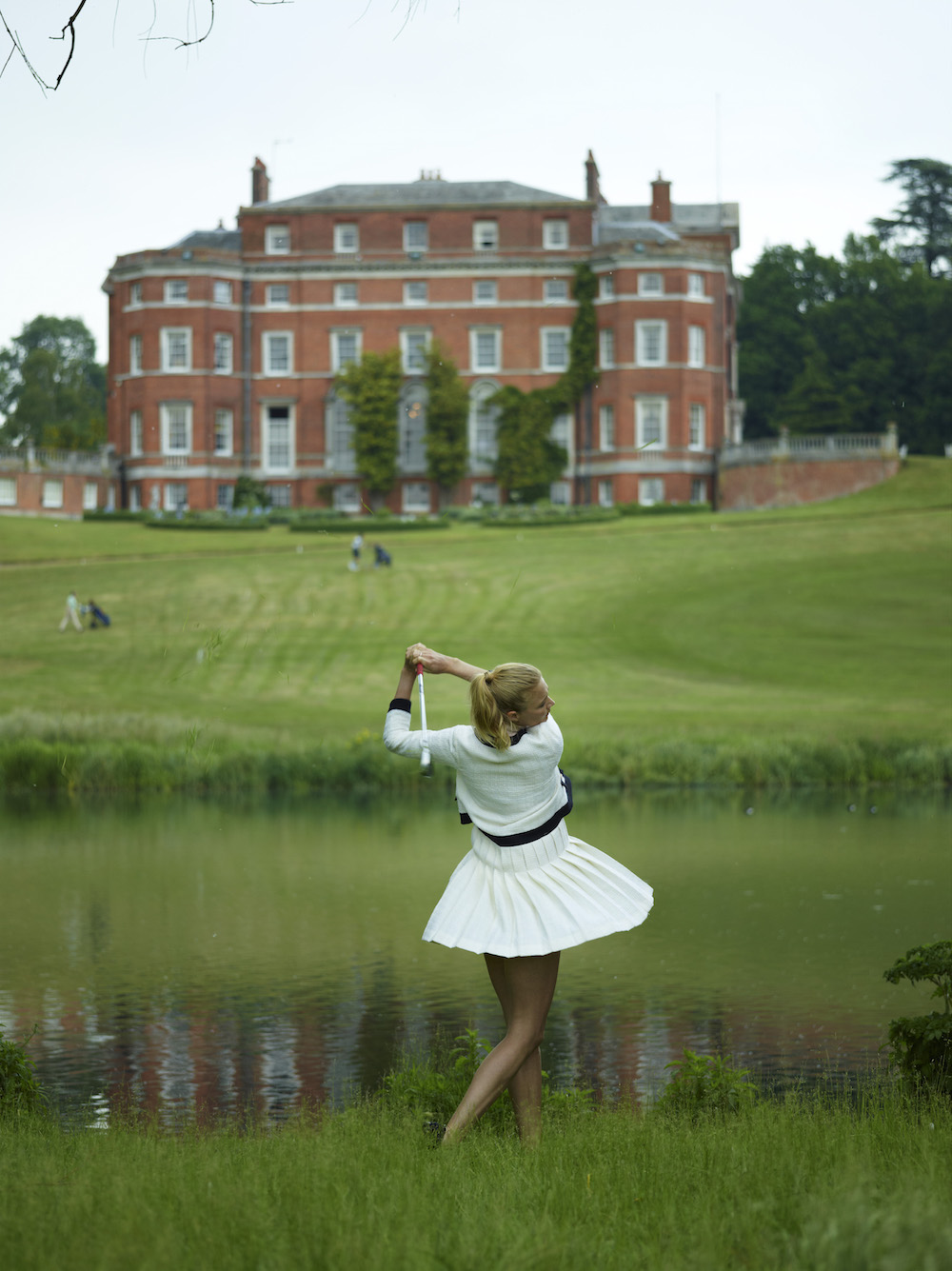 "I have to say that Michael Johnson was one of the worst golfers I've ever been teamed up against. He is just such a legend, and he had this amazing aura, but then my word! When he got up and addressed the ball I was like 'this is going to be a really long day!' But he was fabulous, really funny, and he took it on the chin, but he was a really terrible golfer."
Joide Kidd: Fast car lovin; tour pro golfer playin'; super modelin'; top banana(in'); all round nice lady. She might theoretically seem more suited to a Royal Tea Party than she is to an afternoon at your local pay-and-play, but we're in no doubt which one she'd opt for if given half the chance.
Jodie Kidd truly is our kind of supermodel.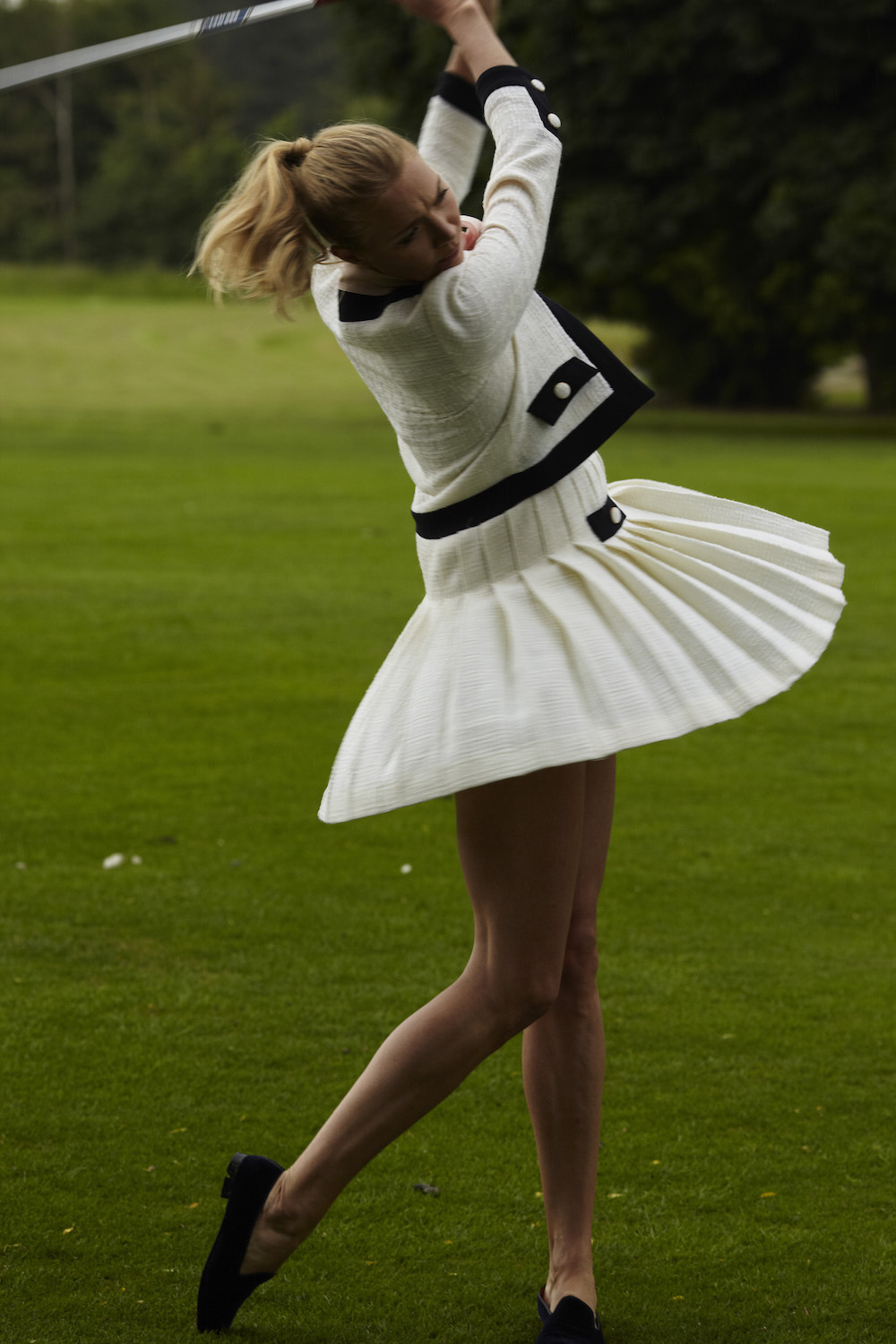 Related:
Amy Boulden Swingin' Siren Shoot & Video Interview
Maria Verchenova Swingin' Siren Shoot & Video Interview
Lexi Thompson Swingin' Siren Shoot & Video Interview
Denise Van Outen Swingin' Siren Shott & Video Interview
Jodie Kidd Swingin' Siren Shoot & Video Interview
Zoe Hardman Swingin' Siren Shoot & Video Interview
PollyAnna Woodward Swingin' Siren
Blair O'Neal Swingin' Siren Shoot & Video Interview
Did you know?
Jodie was just 15 when she was first 'discovered' by photographer Terry O'Neil
Jodie once hoped to land the lead role in Mission Impossible 2 alongside Tom Cruise who is over half a foot shorter than her
Jodie's older sister Gemma married the Grandson of The Duke of Wellington
Jodie's two Great Grandfathers are both titled; Lord Beaverbrook and Sir Rowland Hodge
Jodie's Great Grandfather Sir Rowland Hodge was convicted of 'Food Hoarding' during the First World War, but still received an honour.
Jodie has appeared on several covers including Elle in America and Australia, and British Vogue
TAGS: Jodie Kidd, Swingin Sirens, 2018, Model, Brocket Hall