Swingin Sirens
Feb 9th, 2018
Ice Ice Baby: Eve Muirhead in St Andrews
Curling Champ's golf obsession
Words: Tim Southwell Photography: David Corbett Styling: Anat Dytchwald Hair and Makeup: KiKi Chic
Ice Ice Baby
When she's not blazing it up on the ice winning World Championships and getting us all hooked on curling at the Winter Olympics, Eve Muirhead will be out on the golf course, playing off two and owning the course record at her home club. 
So naturally, GP got on the first bus to St Andrews to meet this ice-rink-loiterin', golf-course-humblin' starlet. Ladies and gentlemen, stand by your beds for Swingin' Siren Eve Muirhead…
Shot at The Hamilton Grand (that awesome building right behind the 18th at St Andrews).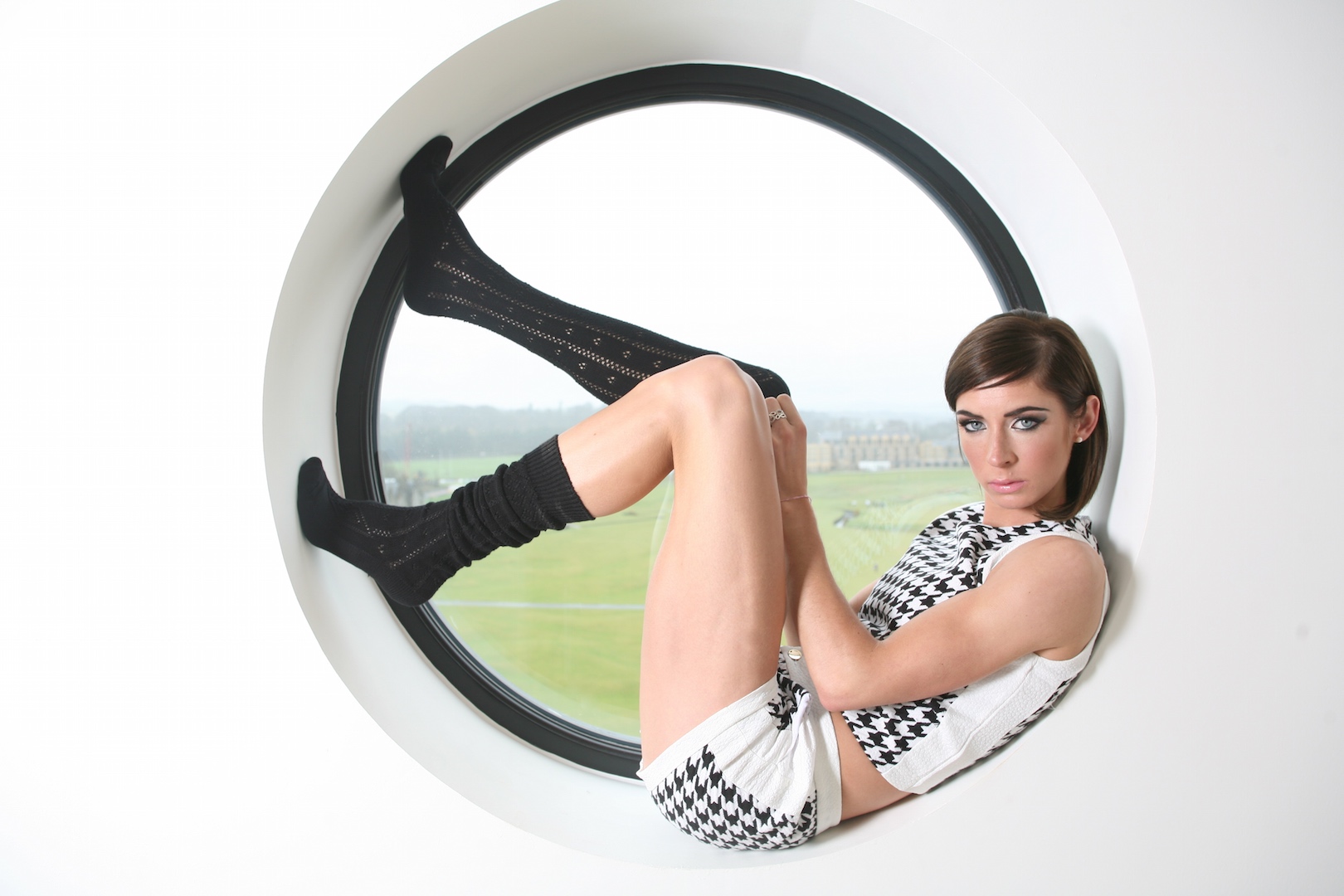 Video interview + behind the scenes at the shoot
So you're an Olympian, a World Champion and a class golfer… are you a Chess Master also?
"Haha… I play off two and that's my lowest I've been. As I haven't been playing golf competitively much over the last couple of years I guess I'm probably more accurately a four or five handicap. When I was at my best I had a choice to make between golf and curling and I figured only a handful of golfers get to the top… I'll never know whether I could have been one of those that made it or not but curling was definitely my sport and having got my Olympic medal there are definitely no regrets there… "
You must be a shoe in for The Dunhill?
"Well, I haven't had a phone call yet! I played in the Pro-am at the BMW at Wentworth and The Scottish Ladies Open at Archerfield which was great. You're not going to turn down invitations like that are you?"
Who got you into golf?
"When I was about nine we moved up to a wee village called Blair Atholl and the golf course was a nine iron away. My dad played a lot of golf and one day he took me along with one of those big plastic clubs with the big plastic ball, which you can't miss; well I still managed to miss it! From then on I just enjoyed it so much so I joined the juniors, and I'm really competitive so when I start anything I want to be the best at it, so I carried on and managed to play at quite a high level."
Is your dad a good golfer?
"He thinks he is! Naah, he was a really low handicapper when he was younger and it was dad that really inspired me to get into golf, he taught me the basics and I was just hooked."
Is golf similar to curling?
"Well, it's totally different in that it's an individual sport whereas curling is completely a team sport, but when you think about putting, it's a precision thing just like curling. With golf you can go and enjoy some alone time by yourself. The sheer competitiveness of all sports is what I enjoy and there are some similarities between golf and curling. Now that I'm not playing golf at such a high competitive level I've started enjoying the social side of golf a lot. I get invited to lots of nice courses and events which is great."
Best course you've played?
"Well, that's a tricky question, I mean you can't get much better than right here at St Andrews which is just fantastic. I've never had a really good score around here to be honest… it's pretty difficult when the wind blows. I've been fortunate enough to get to play some amazing courses abroad in places like Toronto and other Canadian cities. To be honest I enjoy every course as long as the sun's out!"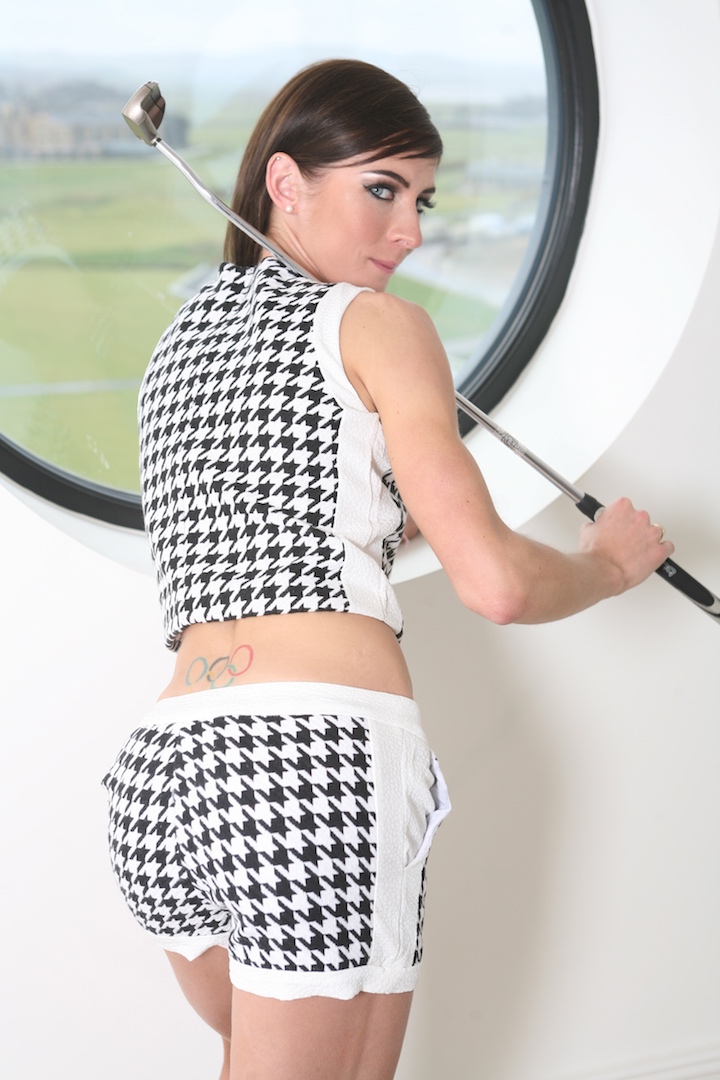 Best every score at your home club?
My home club it Pitlochry. I actually have the course record which is 68."
68
"68."
Blimey.
"Yeah, it was pretty cool… I've never had a hole-in-one and I would LOVE a hole in one. I've been so close so many times but it's still to come."
Golfing heroes?
"I love Sergio he's always kind of under the radar. And Ian Poulter, he's a Ryder Cup legend, isn't he? I love. I think that's great when people step up for these massive team events. In curling, we have the Continental Cup which is the same format as The Ryder Cup. That's a huge event also and it's so nerve-racking when you have a whole team behind you and you're playing for them as well. Ian Poulter always steps it up and brings other team members with him, and the Americans are scared of him. we know that. Poulter is super cool."
What do you think about doing stuff like the shoot for GP today?
"It's really cool; I really enjoy doing different stuff like this. I like the fashion side of it and we're doing lots of different outfits and pictures today, I've been up in the porthole at the top of the building here (Hamilton House) which was amazing looking down across the whole of St Andrews. Then we punk'd it up by the R&A Clubhouse. It's been great. I really enjoy it."
Talking of the R&A, what do you think about when the R&A finally putting women membership to a vote after 250 years?
"Ahhh (laughs), … you know what, that's up to the R&A whether they are going to change that decision, so who knows? A lot of people have very strong opinions but I'm not particularly strong either way, I just enjoy golf and enjoy playing all these nice courses."
Media Trainers 1 GolfPunk 0 – Ed
Golf makes you a better person – discuss…
"I have no clue! I guess it's a sport where you can go out and have a think about things. I'll tell you when I'm older. I guess what you mean is that If you wanted to. It's the same as curling you have to be 100% honest at all times. In curling, you can burn the stone where you touch the stone with your brush. That stone then has to be taken off the ice immediately. You might be the only person who saw the brush but you have to call it on yourself, the same as golf if your ball moves when you've addressed it. You can cheat but your just cheating yourself."
Which rule in golf would you change?
"A mulligan every round! 100%"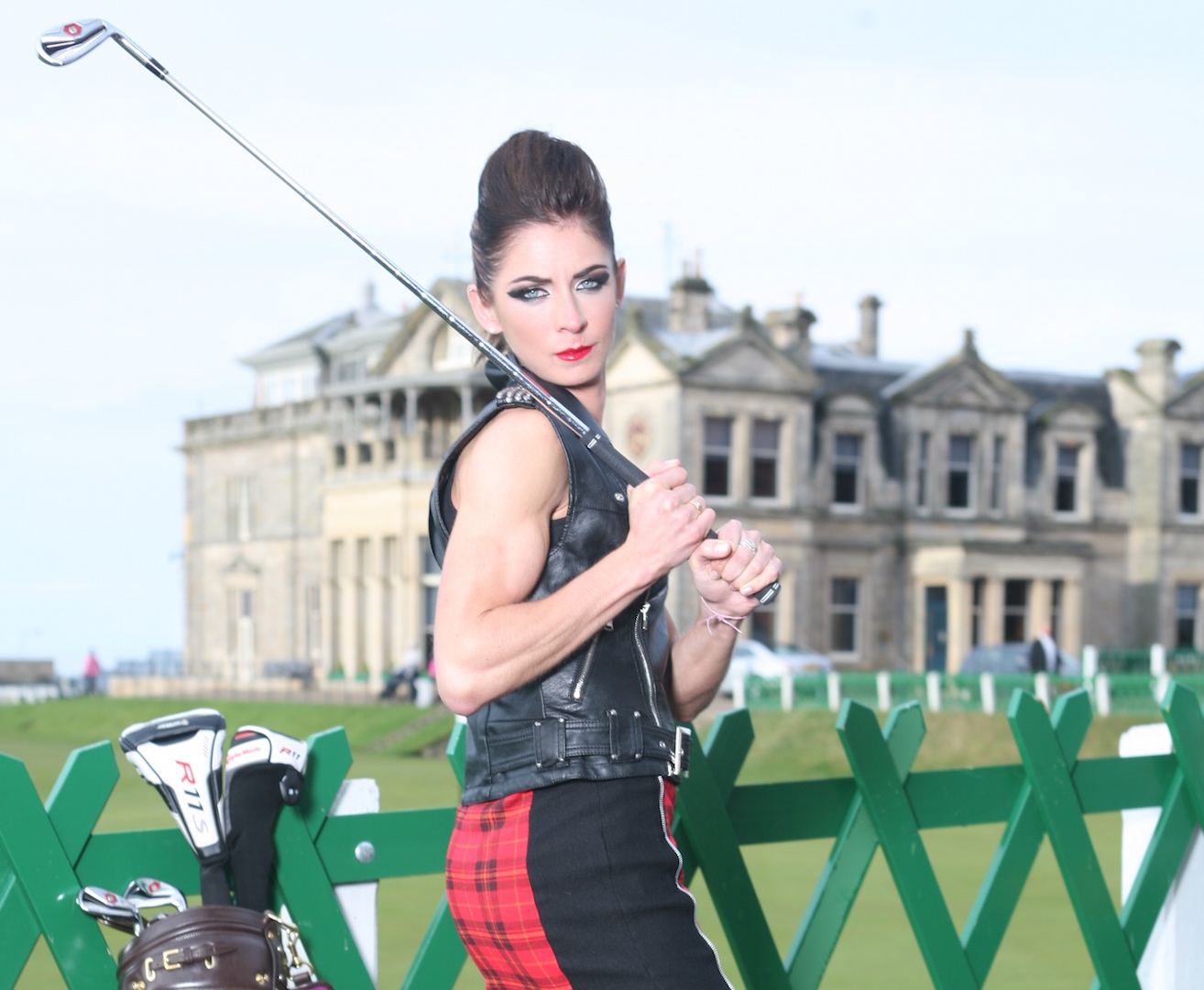 Below Gallery: 39 Steps The Photo Shoot