Swingin Sirens
Jan 17th, 2016
GolfPunk Classics: Swingin' Siren Di Stewart
Now, of course, Mrs Di Dougherty
Words: Iestyn George Photography: Steve Read Styling: Maya Oakley Hair and Makeup: Julia Carta @ Carol Hayes Management
October 23rd, 2004 at the Sky Sports studios, Isleworth, London.
"At the moment I'm getting too much right hand over and collapsing slightly on my left side and it's drawing the ball from right to left. But a hook is better than a slice every time isn't it, particularly on a dogleg left, hahaha! Yes, it's definitely a draw. Not a hook. That's my story and I'm sticking to it. OK?".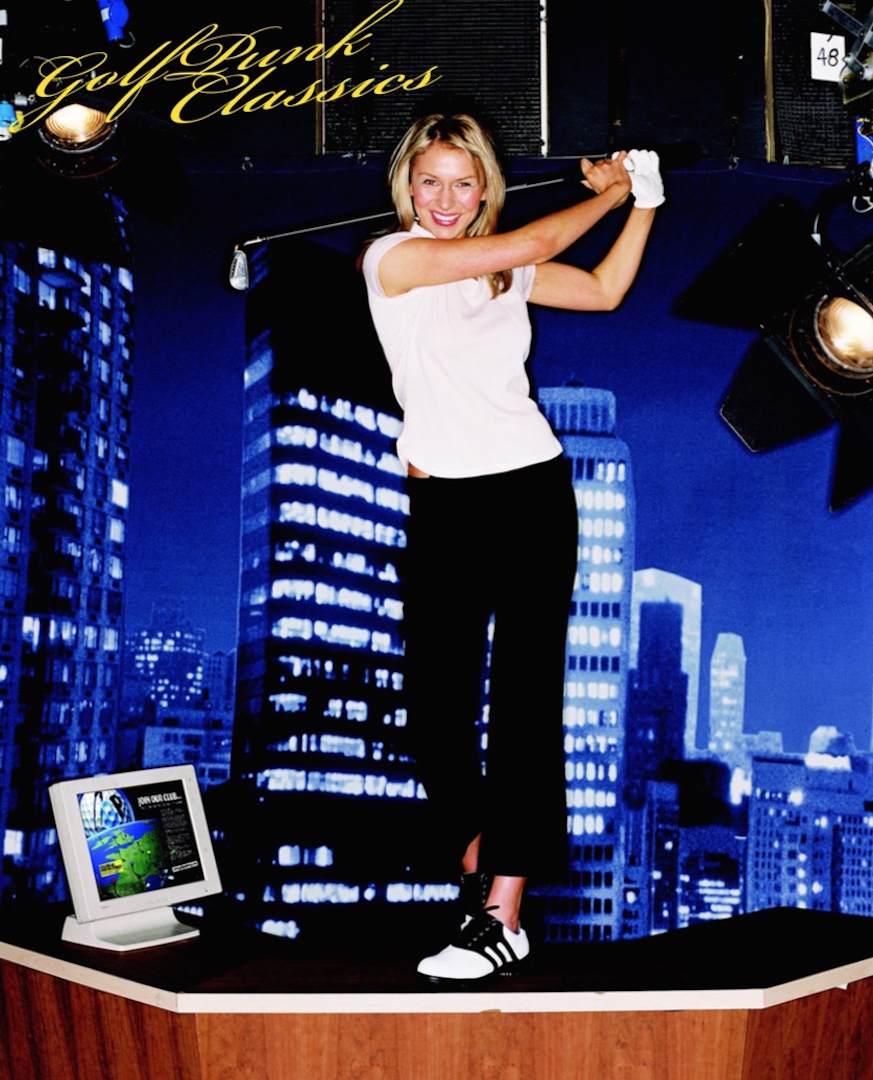 Golf, golf, golf. And then, as an added bonus, some more golf. If the extremely attractive, willowy and effervescent SKY Sports News presenter Di Stewart was any more of a fanatic they'd be checking her house for WMDs. It's not often you meet an elegant young television presenter and the first thought that comes into your mind is: I bet she could teach me a thing or two about my short game.
The first time Di remembers picking up a club was aged six, while she was on holiday in North Wales. Her parents cut down a wooden 7-iron for her to hit while she followed them as they played Rhos-On-Sea near Llandudno.
"It was the best club in the world ever," she recalls. "I didn't hit another for six months. Apparently it's a great way to groove a good, natural swing."
From that point on, Di has been immersed in the game. Her mother's side of the family are the dominant golfing force, which is a bit scary when you find out that Di's father was keen enough to become President of his local club, Stockport. Walk into their house and you'll see tidy rows of golfing apparel in the hallway and Di's mum busily cleaning her grips and clubs getting everything 100% ready for the next morning's match.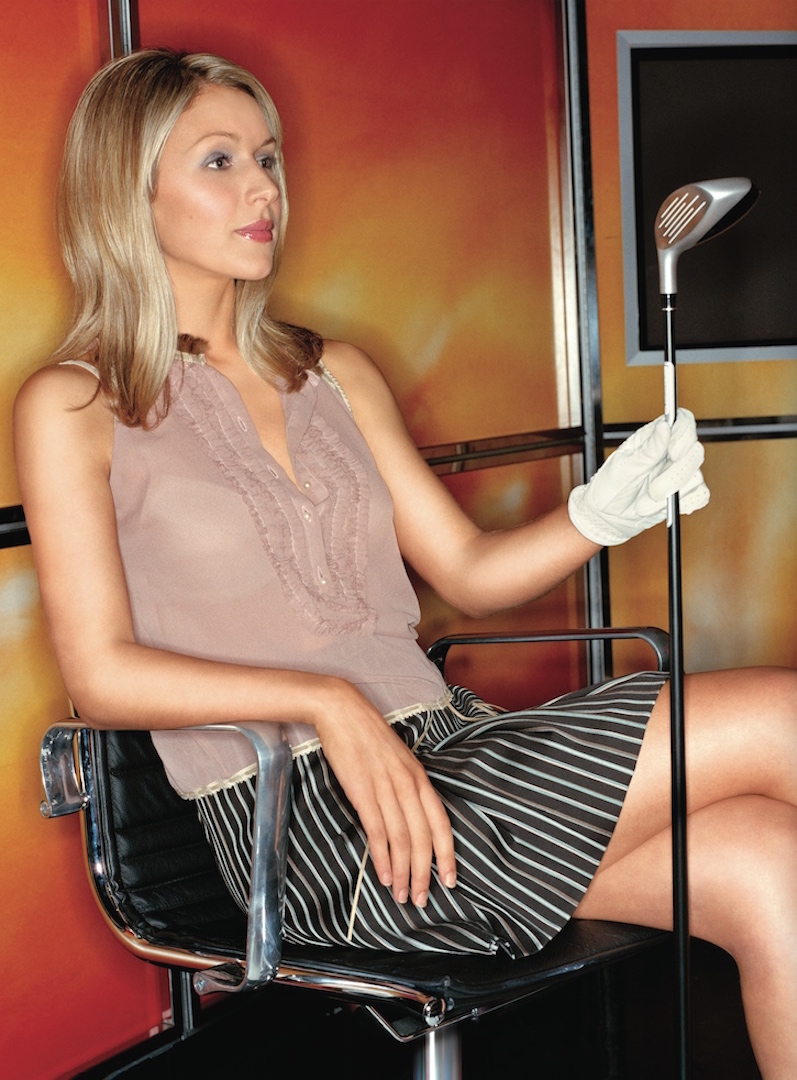 Not surprisingly, when they became capable of independent thought, the Stewart kids were scared off the game. Di was the one that didn't get away.
"I was forced into it," she admits. "Initially I was dragged out kicking and screaming, not wanting to go out anywhere near the golf course. I used to play every week in the competitions with my mum. I was given 36 shots and we beat everyone we came up against. Then I started losing a few strokes off my handicap and really getting into it. We were big news in Stockport golf circles." Di's handicap has been as low as 5.6, she remembers every detail of the two eagles she has scored on par fours and she blurts out the story behind her Hole In One before I've even had the opportunity to finish asking her if she's ever had one: "It was at the second at Rhos-On-Sea, a 145 yard par three, with a 5-iron..." She pauses, as if she needs to justify her club selection. "...I was 16. It was a windy day, I was a lot younger... Anyway, I knew it was going in straight away. My dad was like, 'Bloody hell, Di, I'm going to have to buy everyone in the clubhouse a drink now.'"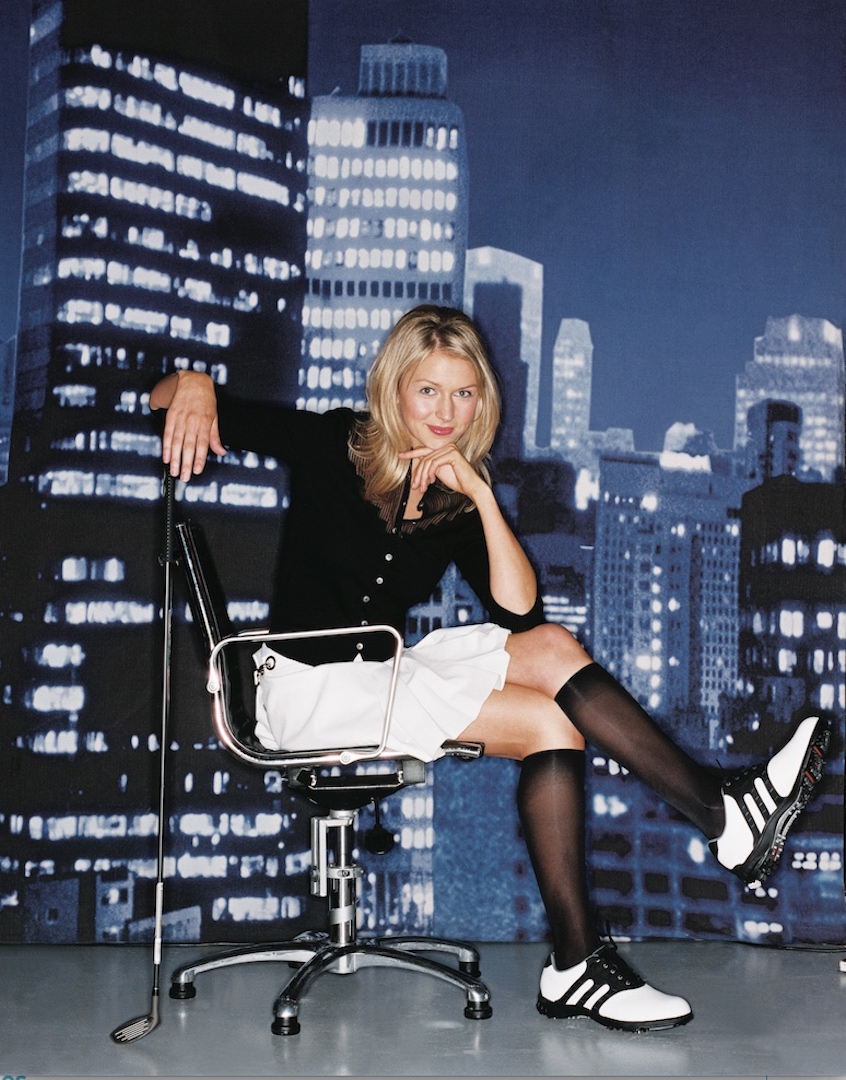 The rest of the family have rejoined the Stewart Cult Of Golf and now compete for the family silverware in a three-day tournament held every August Bank Holiday. "When it started about eight years ago," explains Di, "it was open to anyone who knew us, but now there's a committee – my mum — and a selection process to make sure you're good enough to play. The committee gives you your shots, we have a Stableford competition, Texas Scramble and Yellow Ball competition — it's a four ball with everyone taking it in turns to play the yellow ball. Each hole you pick the best score from the three white balls and the score with the yellow ball has to count. Obviously you play like an idiot every time you have the yellow ball..." An idiot who plays off ten, anyway. Suggest to her that there's an edge of ruthless competitiveness to her and she'll laugh, but won't deny it. "It's ingrained in me." There was a time when she thought about pursuing a career in golf seriously — going to college but focusing on the golf rather than academic pursuits. But in the end she stuck to her German degree at Newcastle University and kept golf as a passionate pastime.
Any boyfriends have invariably had to present their handicap certificates at the door of the family home. 'Do they play golf?' was always the first question my mother would ask any of us," says Di.
There's an unusual touch of coyness to her answer, sensing she might be getting into uncomfortable territory. A bit of background: you probably already know that Di happens to be going out with Jonny Wilkinson, a bona fide English sporting hero. Understandably, she wants to avoid being caught in his not inconsiderable shadow, or being seen as riding on his coat-tails, so a request not to ask any 'awkward' questions is agreed to prior to the interview. Truth is, I'm more of a Stephen Jones man, anyway.
Back on more comfortable ground, Di claims she can spot a golfer anywhere. "Call it a sixth sense, or whatever, but I just know. There are little clues in the way they dress, but a golfer's car is usually a complete give away. I love the little rituals when they pull up in a club car park. Get out, fiddle about with wallet and loose change in glove compartment; get trolley out, get bag out, wonder about waterproofs; scratch head then wander off in general direction of changing rooms with golf shoes; then back to car for wallet, switch mobile on silent; shove clubs over shoulder..."
She cites Seve and Faldo as her childhood heroes, with Sandy Lyle there or thereabouts as well. She met Faldo recently and couldn't stop shaking, while one of her mother's favourite photographs features her holding a course marshall's 'Quiet Please' sign in the background, while Seve prepares to propel another long iron into a greenside bunker.
"You can't help but be awed by these guys," she says, with genuine seriousness. "To be able to excel at such an amazingly difficult sport, to be at the top of the game for years when most of us can hardly play two good shots in a row is amazing." Asking anyone to sum up the attraction about something that's dominated such a significant part of their life is a big ask. Di barely pauses and is no less emphatic with her answer than she is demure on camera.
"Golf can be the most soul-destroying game. It can crush you in an instant. It can make you believe you've reached some sort of higher plane with one shot and then you'll always, without fail, be brought crashing down with some slice into the bushes, or a dodgy putt that you lag six feet short. That's why we go out there day after day, trying to eliminate all the mistakes. It can't be done," she smiles, her eyes twinkling, "but I'll never stop trying."
Di was recently announced as a Lynx Golf ambassador!!
Related to this article