Ryder Cup
Oct 2nd, 2023
Rampant Europe Regain Ryder Cup in Rome
Luke Donald's Ryder Cup team victorious in dramatic final day
Photography: Getty Images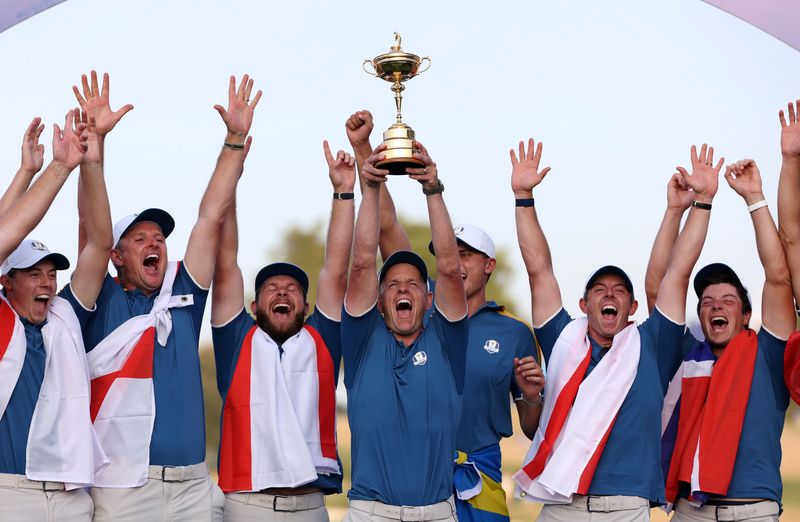 A rampant team Europe regained the Ryder Cup in a thrilling final-day showdown against the USA amidst a carnival atmosphere at the Marco Simone Golf & Country Club in Rome.
Tommy Fleetwood
was the man to secure the vital point on a dramatic afternoon at Marco Simone Golf & Country Club where, despite Europe entering the singles with a commanding lead and never trailing, the U.S. threatened to complete a remarkable comeback.
The home side led 10½-5½ on Sunday morning, meaning the U.S. Team needed the biggest Ryder Cup comeback in history to win despite a rousing 3-1 session victory in Saturday afternoon's four-balls.
Early European success got the home side to 14-7 but Matt Fitzpatrick missed an 18-footer on the last for the trophy as the Americans cut the gap to 14-11 following a strategic decision from Max Homa to take an unplayable that helped him halve the hole.
From there, an air of unease swept the course for the European fans as the us had plenty of red on the scoreboard in the later singles matches, meaning Europe had to gain a momentum shift from somewhere to tip the balance in their favour. 
However, Fleetwood and Shane Lowry then both guaranteed at least half a point each before Fleetwood won the 17th against Rickie Fowler to secure a 3&1 victory and put the Ryder Cup back in European hands.

Speaking to the BBC, Luke Donald said, "It looked good early but then looked like it could be a bad day."
"Our guys hung in there like I knew they would. The first two days were key to us to building our lead.
"The Americans are so strong in singles but we were 12 strong. Everyone contributed. I just love these guys - you need your superstars to show up and they did.
"I've put everything into it and I'm just so glad they were able to win."
Reflecting on the tournament, U.S. Captain
Zach Johnson
said "If I have any reflection right now it's that you take your hat off and tip your cap to Team Europe and to Luke - they played great, they earned it and I was very impressed with them."
"We got outplayed but we showed grit, we showed heart and it got interesting there.
"We had some momentum coming into the day and even some momentum during the day so I'm proud of my guys.
"They fought, they've got so much heart and grit, it's not them, it's on me and maybe some poor decisions. I can reflect at some point, I don't have any idea yet but it's not about those 12 guys. They played so hard for each other and our country and I'm grateful for each and every one of them."

Luke Donald's mantra all week was about getting off to a "fast start", so he put his faith in Europe's big names, and they repaid his belief and proved their worth throughout the whole tournament, with the likes of Rory McIlroy, Jon Rahm, Viktor Hovland, and Tommy Fleetwood picking up major points through the foursomes, fourballs, and singles matches.

Europe's Points Breakdown
Rory McIlroy (4-1-0, 4 points)
Tyrrell Hatton (3-0-1, 3.5 points)
Viktor Hovland (3-1-1, 3.5 points)
Tommy Fleetwood (3-1-0, 3 points)
Jon Rahm (2-0-2, 3 points)
Robert MacIntyre (2-0-1, 2.5 points)
Ludvig Aberg (2-2-0, 2 points)
Justin Rose (1-1-1, 1.5 points)
Shane Lowry (1-1-1, 1.5 points)
Matt Fitzpatrick (1-2-0, 1 point)
Sepp Straka (1-2-0, 1 point)
Nicolai Hoojgaard (0-2-1, 0.5 points)
One of the stand-out players was Ryder Cup rookie
Vikor Hovland
who many had tipped to be a key part of Team Europe's potential success. After a strong finish to the regular season, his form shone through and he delivered in style.
Playing in every match over the 3 days, he picked up 3.5 points and only lost 1 match outright when paired with fellow Ryder Cup debutant Nicolai Højgaard. Hovland also managed to hit an ace in the practise round.
Once Fleetwood had sealed his point on the 17th against
Rickie Fowler,
scenes of utter jubilation were sparked across the course as fans flooded down the 18th to join the celebrations.
Some fans were a little more over-exuberant in their celebrations, with one fan going for a
quick
dip as soon as the trophy was regained by Europe.
Upon the completion of
Robert MacIntyre's
round, the scenes spilled over to the European camp where the pent up emotions of the past 3 days were finally released. Here are some of our top picks..
Viktor Hovland is Europe's Sweetheart


Viktor didn't let being the only single member of Team Europe to hold him back and managed to grab a photo with the WAGS of the rest of the team.


Europes on Fire


Jubilant scenes on the Team bus following the trophy lift...
Shane Lowry and Jon 'Rhambo' Rahm on the Rahmpage


The champagne was flowing in every sense of the word
Tyrrell Hatton - Last Man Standing


Tyrrell certainly embraced that winning feeling by having a late night and enjoying some local delicacies, when in Rome we suppose...
All thoughts now turn to Bethpage, in New York, for the 45th edition of the Ryder Cup in September 2025, where we may see Luke Donald picking his second, and hopefully winning team following Europe's 2023 victory, with his players calling for "two more years". We'll allow him a few more days to celebrate before making any decisions.
---
And another thing...