Ryder Cup 2018
Sep 28th, 2018
Revealed – Ryder Cup Sunday Singles Match Ups
Plus Saturday highlights and wrap
Words: Tim Southwell
10-6. It's all over. Isn't it? Remember Brookline? Remember Medinah? Yeah, us too. Anything can happen on Singles day.
Who's Tiger playing in the singles? Jon Rahm, all the rest of the match ups below...
https://www.instagram.com/p/BoUO5zGjm0H/?hl=en&taken-by=rydercupteameurope
There a lot of big questions being asked. Will Tiger go through the whole week without winning a single point? He looks like a broken man, exhausted. And will Patrick Reed finnally turn up? Captain America, my trousers!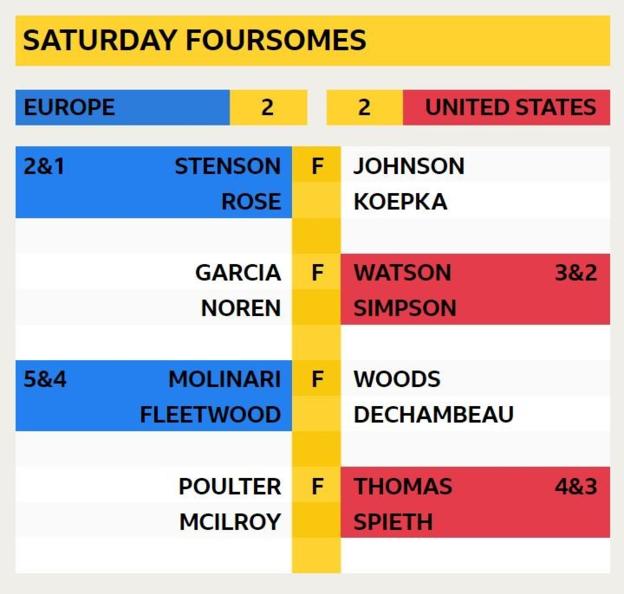 And will Tommy Fleetwood and Francesco Molinari (I still can't quite bering myself to join the 'Moliwood' branding) carry their record-breaking 4-win sequence (only America's Lanny Wadkins & Larry Nelson have achieved this back in 1979) into the singles? 
https://www.instagram.com/p/BoT8Dveljqc/?hl=en&taken-by=rydercupteameurope
It's been excitement central in Paris. The Americans took a 3-1 lead into Friday afternoon following their domination of the morning's fourballs session, with Francesco Molinari and Tommy Fleetwood grabbing a late point for Europe.
But the tables quickly turned during the foursomes session with the Europeans winning all four matches to head into the second day 5-3 in front.
https://www.instagram.com/p/BoTr2mYlxbI/?hl=en&taken-by=rydercupteameurope
The Europeans carried that momentum into this morning's play, winning 3-1 in the fourballs to take the score to 8-4 ahead of this afternoon's foursomes.
Then came the Saturday afternoon foursomes. 2-2. Thomas Bjorn is trying hard not to look delerious. Jim Furyk is trying hard to put on a brave face, knowing that his charges are totally up against it. 
https://www.instagram.com/p/BoUQszxhhlZ/?hl=en&taken-by=rydercupusa
USA need to win the first four or five matches in the Singles. They need to make the scoreboard bleed red early. If they do, the Europeans could well start looking over their shoulders. If they don't, it'll be over by 3pm.
We can't wait. And here are the match ups...
11:05am Match 1
Rory McIlroy v Justin Thomas
McIlroy: Played 4, won 2, lost 2
Thomas: Played 4, won 3, lost 1
11:17am Match 2
Paul Casey v Brooks Koepka
Casey: Played 2, won 1, lost 1
Koepka: Played 3, won 1, lost 2
11:29am Match 3
Justin Rose v Webb Simpson
Rose: Played 3, won 2, lost 1
Simpson: Played 2, won 1, lost 1
11:41am Match 4
Jon Rahm v Tiger Woods
Rahm: Played 2, won 0, lost 2
Woods: Played 3, won 0, lost 3
11:53am Match 5
Tommy Fleetwood v Tony Finau
Fleetwood: Played 4, won 4, lost 0
Finau: Played 2, won 1, lost 1
12:05pm Match 6
Ian Poulter v Dustin Johnson
Poulter: Played 3, won 1, lost 2
Johnson: Played 4, won 1, lost 3
12:17pm Match 7
Thorbjorn Olesen v Jordan Spieth
Olesen: Played 1, won 0, lost 1
Spieth: Played 4, won 3, lost 1
12:29pm Match 8
Sergio Garcia v Rickie Fowler
Garcia: Played 3, won 2, lost 1
Fowler: Played 3, won 1, lost 2
12:41pm Match 9
Francesco Molinari v Phil Mickelson
Molinari: Played 4, won 4, lost 0
Mickelson: Played 1, won 0, lost 1
12:53pm Match 10
Tyrrell Hatton v Patrick Reed
Hatton: Played 2, won 1, lost 1 
Reed: Played 2, won 0, lost 2
1:05pm Match 11
Henrik Stenson v Bubba Watson
Stenson: Played 2, won 2, lost 0
Watson: Played 2, won 1, lost 1
1:17pm Match 12
Alex Noren v Bryson DeChambeau
Noren: Played 2, Won 1, Lost 1
DeChambeau: Played 2, Won 0, Lost 2