Ryder Cup 2016
Oct 1st, 2016
How to become the heroes of Hazeltine
Dare to believe
Words: Tim Southwell & Taylor Massey Photography: Tim Southwell
It's the final day of the Ryder Cup. Europe trail by 3 points going in to the singles. It'll be a Herculean effort to win at Hazeltine, but the boys can do it. And if they need any inspiration, the Miracle at Medinah is proof that we can do this, and spank the yanks on their home soil. So to stir you loins, to get your gander up, and to remind you to believe we can do this. Watch Olly take you through how we fought back against seemingly insurmountable odds in the greatest sporting comeback of all time. COME ON EUROPE!!!
https://www.youtube.com/watch?v=QCO2j37YVGY
Now you've watched the highlights, read what it was like from the GolfPunk's that were there...
Even now this all seems like a dream, a blur, an apocryphal tale. But it happened. And we were there, representing both sides of a complicated and utterly dramatic story... And here it is, from both sides...
THE 2012 RYDER CUP…OUR WAY.
Sitting at Huxley's bar Heathrow terminal 5 waiting for my flight to Chicago for the the 2012 Ryder cup. At the bar is a group of 40 something Englishman excitedly discussing the Ryder Cup.
They, too, are on their way into the bear pit that will be Medinah. Everyone agrees that Chicago is a 'sports town' and the atmosphere will be electric for the Americans and daunting for the Europeans. What we mean by this is that the atmosphere will be as intimidating as the European team has ever experienced.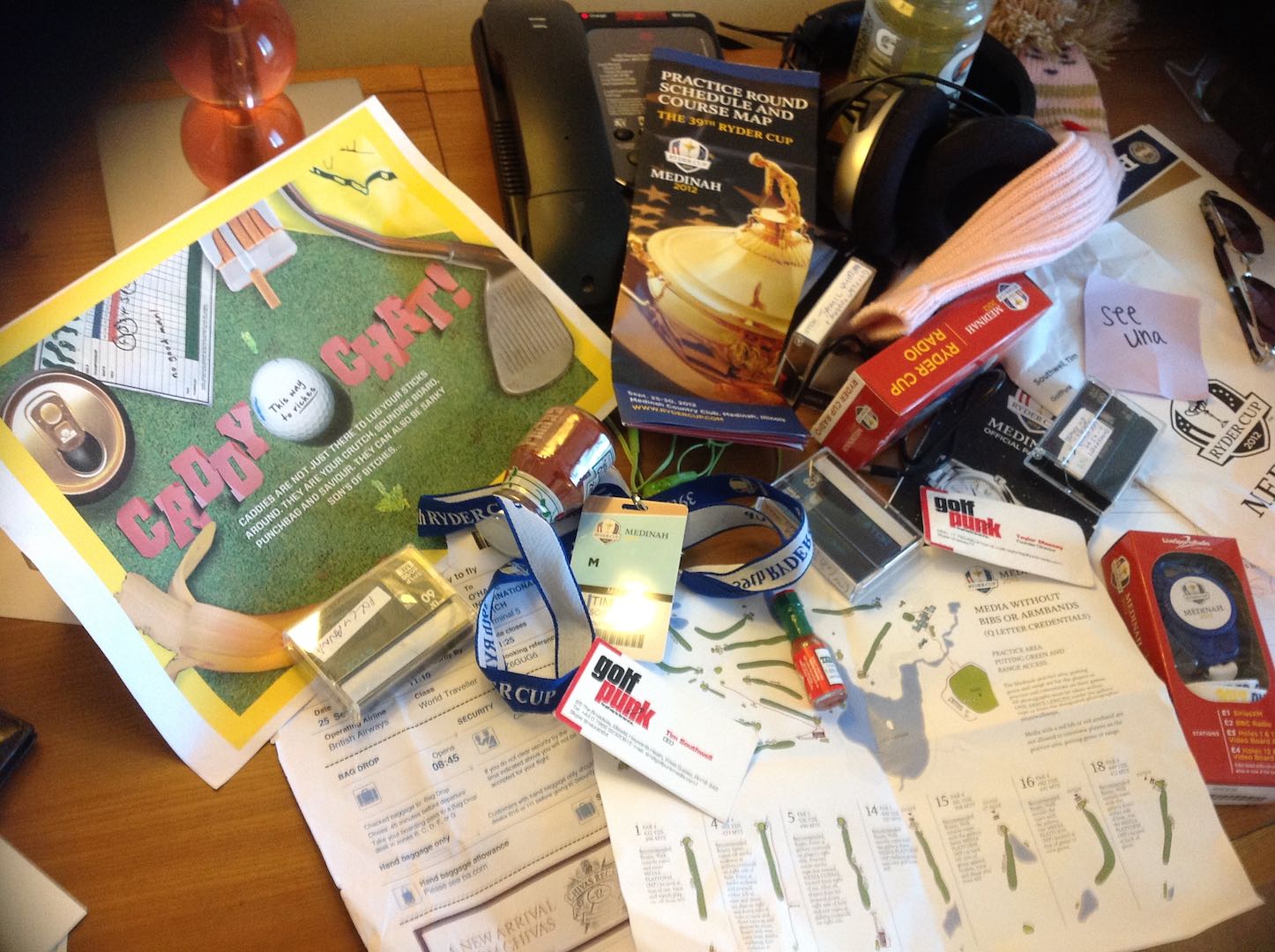 And by 'intimidating' we mean unpleasant. Having lost the last RC at Celtic Manor, the Americans are not going to let a single missed European putt go without an industrial dose of 'mashed potato' (how the hell did that get popular?) or 'don't get in the hole'.
The majority of the European team have been here before and triumphed. I remember back in 2004 in Detroit, Team Europe were ahead from start to finish and yet, the thing I remember most is the noise on singles day.
Buoyed by a history of strong finishes from their team and fuelled by an embarrassingly frustrating couple of days for the home team, the American fans were primed for a do-or-die Sunday. They jumped on absolutely everything as the singles unfolded.
Europe went into the final day with a comfortable lead but for the first couple of hours of that Sunday morning it was uncomfortable listening for European ears. Exulted cheers greeted US birdies and pockets of chanting erupted from various corners of the golf course getting louder and louder and louder: USA, USA, USA!!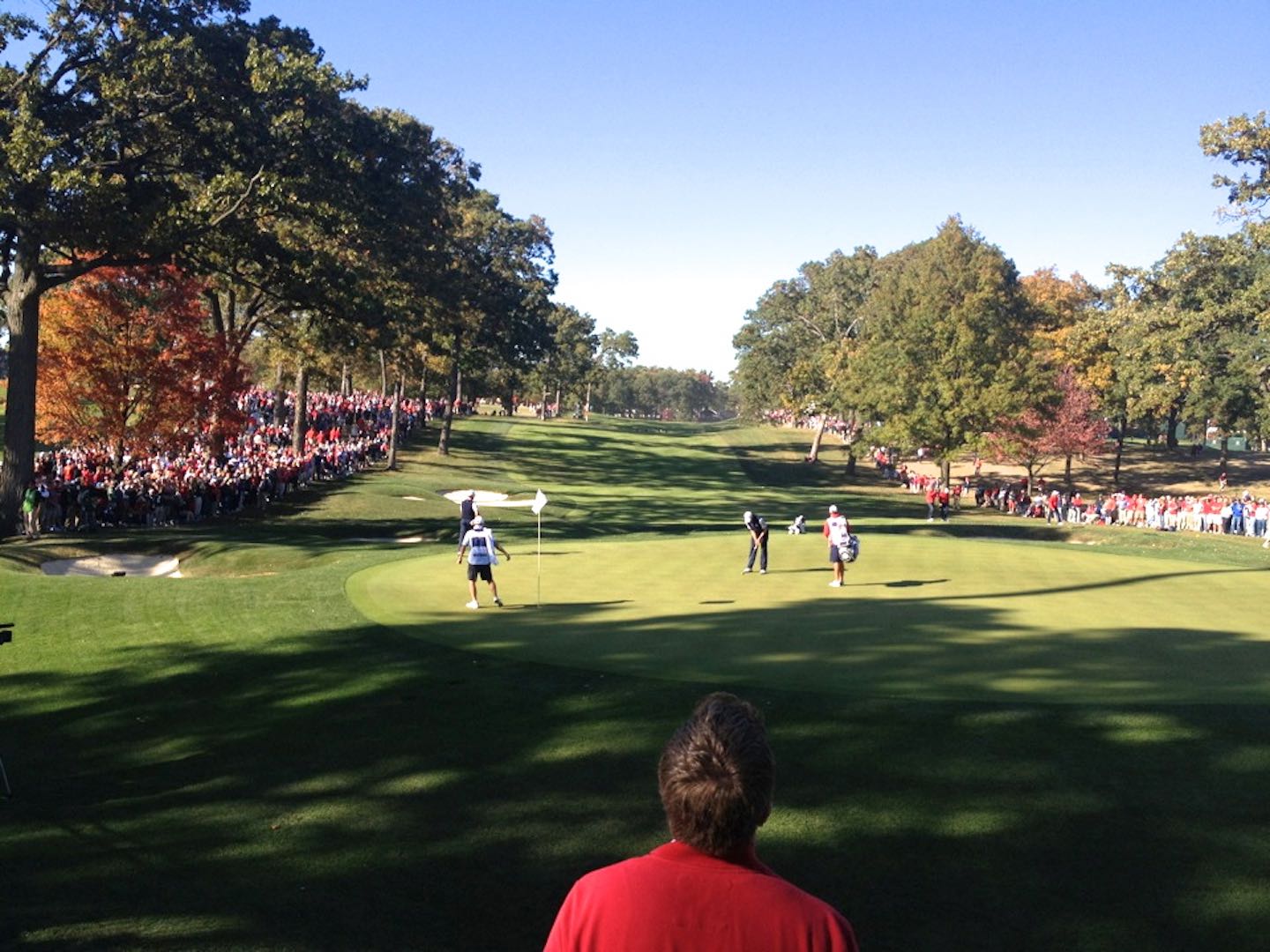 I remember feeling quite nauseous during those early exchanges as the Americans attempted to chase down the greatest comeback in Ryder Cup history, better even than Brookline in 1999, when Europe squandered a 10-6 lead on the final day, and the golf hooligan was born following Justin Leonard's  incredible putt against Olly. USA! USA!
It was then that I felt the sheer weight of wild American patriotism. Despite us all being diplomatic and political friends and enjoying a special relationship, there was no mistaking the sense of absolute conflict.
We were in their way, in their back yard and had to be destroyed. Fortunately, Sergio and Westwood wrestled back control of the early deficits and an eery quiet descended Oakland Hills.
As Europe re-established their ascendancy, the vast army of chino shorts and polo shirts began heading for the exits. It was like that scene in Midnight Express  when Billy Hayes decides to walk against 'the wheel' - one man going one way through several thousand people going the other, enveloped by a sea of disgusted Americans. 
Anyway i'm not sure where i'm going with all this and my flight's about to leave so I better knock this on the head for a bit. Can't wait to get there. I wonder what my American cohort Taylor is doing? Chanting USA probably. Over to you Duderino...
OUR MAN IN AMERICA
How our Taylor saw the Ryder Cup, 
Chicago, The Windy City! What a great place to host Ryder Cup. Or even in general. The famous Sears Tower, the deep pan pizza, home of Oprah, birthplace of Playboy and, of course, a massive, massive sports town. Wherever you yell 'Da Bears' you'll find a friend, and it's home of the Cubs and where Michael Jordan made his fame and fortune at the Chicago Bulls. But the most important thing about enjoying Chicago and enjoying your time there, is when you and your friends are scarfing down giant, delicious, famous Chicago polish sausages, is to not CHOKE!!! 
Let me tell you about my Saturday. Mid-afternoon, after a lot of whooping and hollering, I decided to chill out with a few beers and hot dogs and enjoy this pounding the US were handing out to the Europeans. The balance has been tipped in recent history and we wanted to make amends. It was clear from the yells, fist pumps and red US faces, that the players felt this way too. The energy and confidence buzzing around the place could have lit up the Cubs stadium for a year. And that was just the wives! 
Enter Ian-%*&@£-Poulter. A four-handicap golf pro from Milton Keynes, and his magical, devastating putter. Seriously?! Milton Keynes sounds like one of those Romantic poets addicted to Opium and Greek love. And yet it spews out this guy, who turns the Ryder Cup around on the strength of his heart, belief and confidence???! They don't even make stuff like this up at Disney! 
Thinking on it, the Ryder Cup, was not won on bad shots or technical glitches. It was won by pure emotion. The best golf comes from not technical thoughts, but feelings, emotions we hold inside, and Ian Poulter, scuse me SIR Ian Poulter, is a God among men. There's no point being bitterly patriotic about it. If that man was a US citizen, we would've carved his spiky hair into Rushmore by now. I mean, can you imagine what it took to make 5 birdies in a row with the utter chaos going on around you? 
They said the fans got quiet as the tide turned. I know I did. Sensing something awful was going to happen I headed to the media centre. I got to hang out with U.S ski hottie, Lindsey Vonn and eat muffins. And I met Sean Foley! I mean, what do you do there? Punch him in the face for the way that Tiger is playing or punch him in the face for turning Justin Rose into one of the most solid players on the planet. 
Medinah 2012 through GolfPunk's eyes...
https://www.youtube.com/watch?v=tbpXHJPiINQ
What the players, captains and agents made of it!
Chubby Chandler
'I always wanted to watch the Ryder Cup on television so to catch every second. I spent seven hours on the first day, seven hours on the second day and six hours on the third day on the sofa. And the only time I moved was to shift the pillows. It just made unbelievable TV and now everybody's talking about golf. I mean normal people who don't play the game. So now it's up to us who are in the game to capture that momentum and kick on to make the game more popular because you don't get many opportunities like this.'
I spoke to Lee a few days after and he still hadn't come down. He just wanted to talk about it – I was on the phone with him for about half-and-hour. You see emotion come out in golfers that you don't really see when they're on their own. You get people fist-pumping who have never fist-pumped in their life.'
Bob Torrance
'I watched every single minute and you don't come down after something like that, not ever. People compared it to Brookline but you can't, because then the Americans were at home. It's just destiny. I always believed they could turn it around and after the team talk on the Saturday night I think they believed it, too. Poulter was a giant amongst men.'
Thomas Bjorn, vice captain
'I am marked by the occasion, of course. I don't think it has really settled in yet, what happened. We always say about the Ryder Cup that it's a once-in-a-lifetime kind of thing and then it happens again. That's what makes that event so very special. Ian Poulter was brilliant last week and I think that he sums up what European players think of the Ryder Cup. He probably shows it a bit more than anybody else but they all get very intense and very up for it. But he just has a way of showing the emotion and he has the ability to go out on the golf course and what he says is what he does.'
Thomas Levet
'When I played [in 2004 at Oakland Hills] we did for three days what those guys did on the last day, so for us, Sunday was a lot easier. What they had in front of them was like a mountain; something faced them that no-one had done before and it was just crazy to watch it all. I was commentating for French TV so I saw every shot. When we started the programme we were saying: "How can Europe win?" 
When Peter Hanson came from 4 down to 1 down it was huge for Europe because he didn't give up on his match. What Justin Rose and Ian Poulter and Paul Lawrie did was just unbelievable. And Martin Kaymer's putt – I wish I had a putt like this once in my career. To change everything with one putt is just unreal. That evening I was by myself in the airport and every five minutes I was just laughing, just thinking about how the game went. And look at 
Paul Lawrie
'We had a bit of a party Sunday night and then as soon as you get Monday out of the way you're focused on what you need to be doing next.The head was a bit sore Monday morning but it's got to be done. Ian Poulter loves it, doesn't he? He loves the team environment and the Ryder Cup; he's got a huge amount of passion for it, it's something he enjoys and it spills over. That week he is just awesome. When you're part of it you want to be part of it again so yes, with the next one being in Scotland I would love to be in the team again. 
Huey Lewis
'I watched it all about four times – and graciously, if I hadn't seen it enough already, when I'm jet-lagged and wake up in the evening, the Sky channel is giving me a replay. And now there's "How the Cup was won", which is all the highlights. And that means all the great putts holed by the Europeans and all the missed putts of the Americans. It was great, I thought it was fabulous. It's a golf match after all and frankly I think the fans get a little too vociferous; a little too jingoistic. But we shouldn't let that take away from the fact that it was a great match."
TAGS: Hazeltine, Ryder Cup, Medinah, Ryder Cup 2016, 2016