Players
Mar 3rd, 2017
Top 50 GolfPunks 5-1
Who will be crowned Top GolfPunk Of All Time?
Words: Tim Southwell Photography: Getty Images
5) Doug Sanders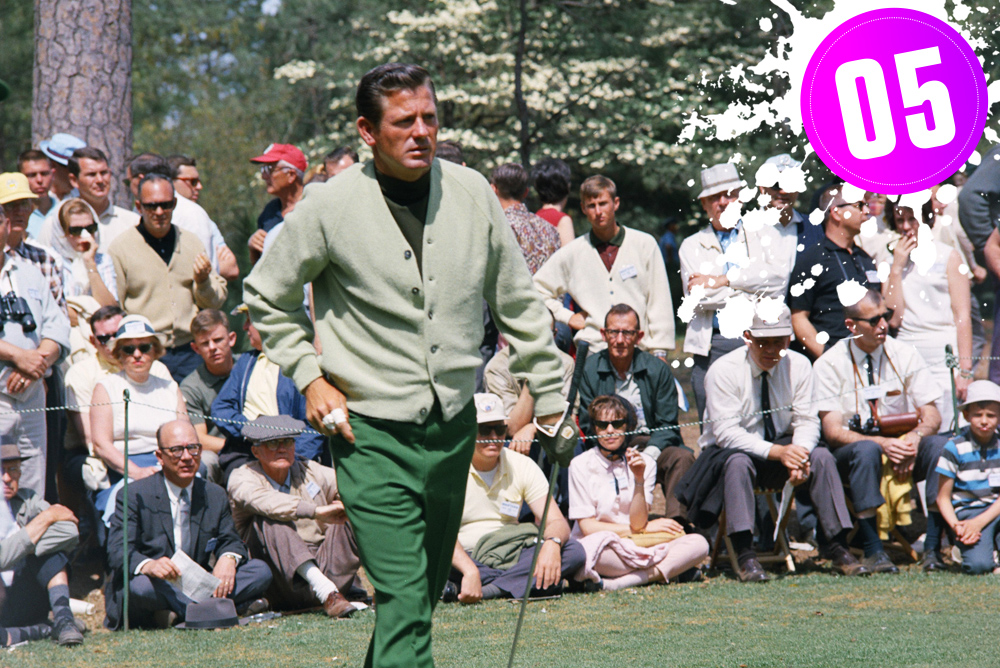 Born into a poor family, Sanders picked cotton as a boy and taught himself to play golf. He was named one of America's Best Dressed Jocks in 1973. Notable for having a swing so short it was said he could unleash it in a phonebox, Sanders was forced to finish a Pro-Am competition in a head bandage after being struck by a wayward three wood from then President Spiro Agnew.
Famously missed a two-footer on the 72nd hole in The British Open at St Andrews 1970. No one remembers the extraordinary bunker shot he played at the penultimate Road Hole to give himself the chance of victory, but hey-ho. A sensational 18 hole play-off followed the next day that he lost by one shot to Jack Nicklaus. GP recently asked Doug if there was ever a day went by that he didn't think about that putt. Doug shrugged his shoulders and said with a conspiratorial wink: "No, no, no.... there isn't ever five minutes that goes by without me thinking about that putt".
Sanders recorded 20 PGA Tour wins but never won a major, finishing runner up twice at The British Open and once each at the US open and PGA Championship.
Despite his lack of a major, Sanders led a truly remarkable life. Nicknamed 'The Peacock of the Fairways' due to his sartorial elegance, Sanders was a genuine 1970s playboy, blazing it up on the fairways by day and tearing it up at night on the town with Frank Sinatra, Sammy Davis Jnr and the rest of the Rat Pack. When he wasn't hanging with the Rat Pack he was playing golf and sipping cocktails with astronauts and Presidents.
It is said that the two most frequently asked questions on the Senior PGA Tour were "What did Arnold Palmer shoot?" and "What is Doug Sanders wearing?"
"I'm as rich as any man or woman in the world," Sanders told us. "Because I weigh and measure my wealth by friends, and golf has given me that opportunity." We will certainly drink to that, Doug.
4) John Daly
Born. Golf. Booze. Stomach pump. Quits college. Turns pro. Booze. Mullet. Moustache. Wins PGA. Superstardom. Booze. Booze. Marriage. Booze. Wins BC Open. Arrested. Suicidal. Booze. Fights fans. Rehab. Diet Coke. Divorce. Wins Bell South Classic. Another marriage. Otis Spunkmeyer chocolate muffins. Wins the Open. Gambling. Booze. Black liver. Booze. Booze. Trashes hotel. Rehab. Dropped by Wilson. Signed by Callaway. 18 shots on one hole. M&Ms. McDonalds. Taco Bell. Gambling. Dropped by Callaway. Prescription drugs. Signed by Hippo. Engagement. Break up. Another marriage. Wife arrested. Wins Buick Invitational. Wife put in prison. Sacked by Butch Harmon. Arrested drunk outside Hooters. Gives up booze. Admits to losing $60 million gambling. Lap-band surgery. 19 professional wins. Legend.
3) The Morris Dynasty
Scottish golfing pioneers of the 19th century, Old and Young Tom Morris have the unique record of four Open titles apiece. Old Tom helped to set up the Open and finished second to Willie Park in the inaugural event of 1860. He competed in the next 36 tournaments, winning the Claret Jug four times.
Young Tom turned pro at 13 and won the first of four consecutive Opens in 1868. He was 17, the youngest ever winner of the event. After his third victory, the tournament was suspended while the authorities tried to work out a way to even things out for the rest of the field. They decided to rotate the tournament between three courses, but Young Tom still left the 1872 Open with the jug in his hands. Tragically, he died just three years later, unable to recover from the shock of losing his wife during childbirth.
2) Ian Poulter
A lot of people must think that GolfPunk and Ian Poulter invented each other. We both hit the headlines in 2004. GolfPunk for launching like a ram raid through the shop window of 'traditional' golf media, Poulter for making front page news worldwide for being a top professional golfer who didn't look like a golfer. His Union Jack trousers became the stuff of sartorial legend and made millions sit up and reconsider the perception of that 'boring' game'.
GP's fourth cover indeed featured Poults in his famous trews spray-painting 'GolfPunk' on a wall. Having famously turned pro with a handicap of four (he would just make himself be good enough to compete on tour!), Poulter joined the tour in 2000 and promptly won the Italian Open on his way to becoming Henry Cotton Rookie Of The Year. He won at least once every year on the European Tour until he upped sticks and headed for the PGA Tour.
Distraught after narrowly missing out on the 2002 Ryder Cup team, Poulter vowed to do everything in his power to make the next one. His eventual qualification for the 2004 team is the stuff of legend. Playing the BMW in Germany, Poulter was in prime position to make the final automatic place but made key mistakes on the front nine and was suddenly about to lose his place to either Paul McGinley or Freddie Jacobson. His playing partner Darren Clarke, keen to have Poulter's sheer fighting spirit in the team, took Poulter to one side and asked politely that Poults: "Give him five birdies" on the back nine. Poulter gave him six and made the team, ultimately holing the winning putt in Detroit.
Since then Ian Poulter has become one of The Ryder Cup's greatest heroes and epitomises everything good about the team spirit and will to succeed that courses through the veins of the European side. Without Poulter's never-say-die attitude it is questionable whether the 2012 Miracle In Medinah would have happened. Poulter, almost single-handedly led the fightback on the Saturday and then led by example in the singles as Europe came back from the dead to leave the American nation in shell-shock. Lovely stuff.
Launched his own clothing range. Loves his motors. Addicted to twitter and has 1.55m followers.
1) Arnold Palmer
What Pele is to soccer, Arnold Palmer is to golf. The difference is that while the Brazilian took the game to another dimension with his athletic prowess, Arnie's non-text book swing, his big hitting and occasionally frail short game made him a winner that everybody could identify with. In doing so he made golf a human interest story.
His record itself is impressive – seven majors, 92 tournament wins in all including 61 on the US Tour and 48 consecutive starts in the Masters. His collaboration with Mark McCormack in the 1960s led to golf becoming a world wide TV sensation. McCormack set up IMG, the world's biggest sporting agency and promptly made Palmer, Jack Nicklaus and Gary Player his first three clients. Palmer's influence in all this was pivotal. Subsequently, Palmer was the first man to clock up $1million in career winnings back in 1968, paving the way for all the high rollers ever since.
Created one of the world's finest golf courses and tournamants, Bay Hill, where you can still find Arnie having lunch most days. Reputeldy one of the friendliest dudes on the planet, Arnie is always happy to have a chinwag with total strangers and make them immediately feel like pals.
"What other people find in poetry or art museums," said Arnie, "I find in the flight of a good drive."
Cool as you can get. Arnold Palmer.
TAGS: Doug Sanders, Arnold Palmer, John Daly, Ian Poulter, The Morris Dynasty, Bay Hill, Players, 2017, The Open, 1970