Players
Nov 18th, 2017
Tommy Fleetwood and Justin Rose Dubai drama
Incredible stuff, going at it toe to toe...
Words: Tim Southwell
Commentators have been calling it the European Tour's finest ever day as the DP World Tour Championship served up a moving day birdie festival, and we are still no nearer to knowing who will top the Racer To Dubai tomorrow night.
With a one shot lead and in the middle of the 18th fairway, Justin Rose does this...
https://twitter.com/EuropeanTour/status/931860609980698629
You really couldn't make this up. The Race To Dubai remains on a knife edge as Justin Rose and Tommy Fleetwood go toe to toe. At the end of day three we still don't know who is going to prevail...
https://twitter.com/EuropeanTour/status/931845753617526784
As the dust starts to settle on a remarkable day three, it looks like this... Justin Rose will take a one-shot lead into the final day of the DP World Tour Championship, Dubai with the Race to Dubai set for a grandstand finish at Jumeirah Golf Estates.
Rosey has won his last two European Tour starts and entered the eighth Rolex Series event of the season knowing a win would see him overtake Tommy Fleetwood and be crowned Europe's Number One for the second time.
He seized the initiative to top the projected Race to Dubai Rankings presented by Rolex after day one but a bogey on the last in his second round meant Fleetwood was back in the ascendancy heading into the weekend.
Fleetwood came home in 30 for a second consecutive round of 65 on Saturday to sit at 13 under but Rose matched him to be two shots better off and one ahead of Dylan Frittelli and Jon Rahm.
A thrilling day three saw Rose and Fleetwood share 15 birdies, with Fleetwood bagging eight in his second consecutive 65, clawing one shot back from Rose who shot a 66.
They are separated by two shots only and as Rose has to win the event to secure the Race To Dubai, better get your popcorn and beer ready and strap yourselves in for a roller coasters finale!!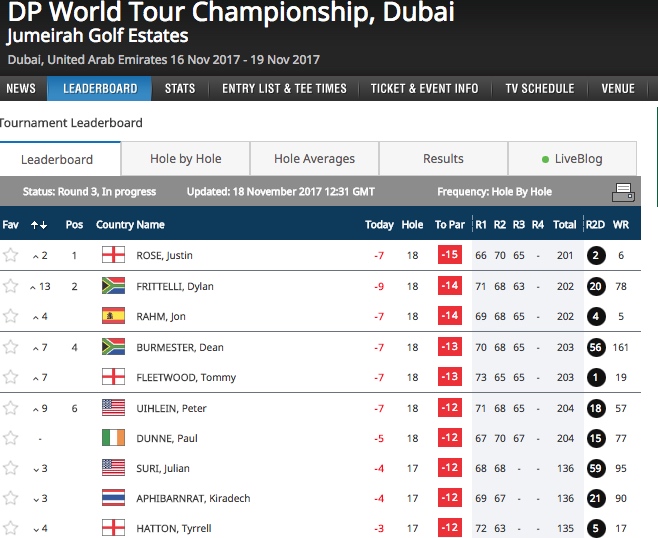 Anything you can do...
https://twitter.com/EuropeanTour/status/931841960922324993
And once more...
https://twitter.com/EuropeanTour/status/931853625743122438
https://twitter.com/EuropeanTour/status/931854800119058434
How to play short par 4s...
https://twitter.com/EuropeanTour/status/931857860878667776
Related:
European Tour stars take on the 2-yard fairway in the desert...