Players
Oct 25th, 2018
Tiger v Phil will cost you $19.99 to watch
Now that's a bargain. Isn't it?...
Words: Tim Southwell
Roll up, roll up to watch two multi-millionaires play golf against each other to see which one will put some more millions into his bank account while the other one pretends to be really upset that he hasn't piled in another load of cash into a bank account that frankly, won't notice either way. Yours for $19.99. Choice.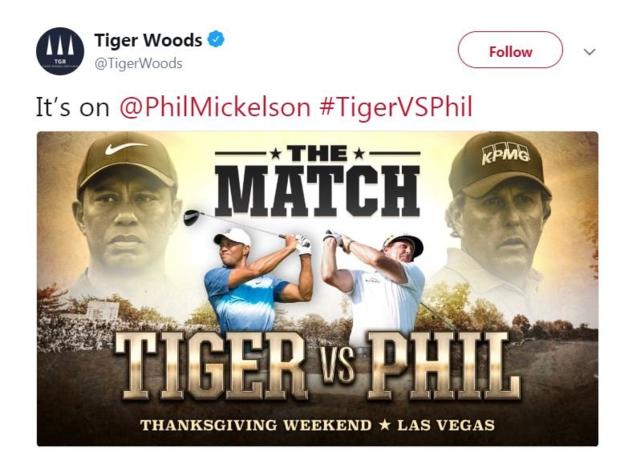 That's the 'suggested price if you want to watch Tiger Woods and Phil Mickelson battle it out at Shadow Creek in Las Vegas on 23 November.
The winner-takes-all $9m (£7m) event will be shown the day after US Thanksgiving. Just what we'll be asked to pay in the UK remains to be seen. How much would you pay for a televised exhibition match with no jeopardy? £2.50? A tenner? Zilch?
To completely circle the drama-square, there will be no spectators at the course. Why? Lord only knows. So, what's the attraction? Well, it is Tiger v Phil. No love lost there we've been led to believe over the years, though the ice seems to have thawed significantly in recent times.
Programme producers, Turner Sports, say that there may be side-bets throughout the round between the two players: Woods or Mickelson "challenging the other to a long-drive, closest-to-the-pin or similar competition during a hole as they play their match, with money being donated to the winning golfer's charity of choice".
Currently, the biggest golf payday is the US open for which the winner gets $2.16m (£1.68m), though the winner of the FedEx Cup bags a bonus of $10m (£7.8m).
https://www.instagram.com/p/BpFocDYl7cr/?hl=en&taken-by=tigerwoods
Tiger is hot off winning the Tour Championship in September while Phil finished last (30th) in the top 30 finale. Both had nightmare Ryder Cups and anyone who saw Tiger in Paris will hope he turns up in Vegas looking less like the exhausted pack dog that wandered around looking confused in Paris.
Tiger (14) and Phil (5) have 21 majors between them, which is one more than Jack Nicklaus's haul. Which is a completely pointless statistic. Tiger v Phil is not a major. It's a pointless exhibition match which... oh, who am I kidding, where's my credit card...
You might also thoroughly enjoy:
When GolfPunk met Tiger. When he was 17. Behind the scenes, before the madness