Players
Oct 2nd, 2017
Tiger and Phil's surprising love boat sets sail
Who'd have thunk it??
Words: Tim Southwell Photography: Getty Images Styling: GolfPunk
All aboard the love boat! Or, to put it another way,... Tiger & Phil, sitting in the tree, K-i-s-s-I-N-G!!!
And you thought they hated each other. Well, we all did didn't we? But apparently not. Apparently we've got it all wrong.
The happy couple put us straight at the Presidents Cup. First e saw Tiger smiling and raising his fist in celebration when Phil drained a clutch putt on the 18th hole on Friday afternoon to win his four-ball match against Marc Leishman and Jason Day 1 up, with partner Kevin Kisner. Then the relationship was fully consummated on Sunday when the two were locked in a warm embrace after Mickelson had won his singles match  against Adam Hadwin.
"Tiger and I have been good friends and have gotten along very well in these team events for many years now," said Mickelson. "Just because it doesn't get reported or shown, is irrelevant. We've worked very well in these team events, and to share in our success has been really fun for us."
"I think the press has made it out to more than what it has been," Tiger added, referring to his allegedly 'strained' relationship with Lefty. "We've been friends for a very long time. We've gotten very close by being on these teams. We've played against each other a lot down the stretch, and we have both enjoyed it."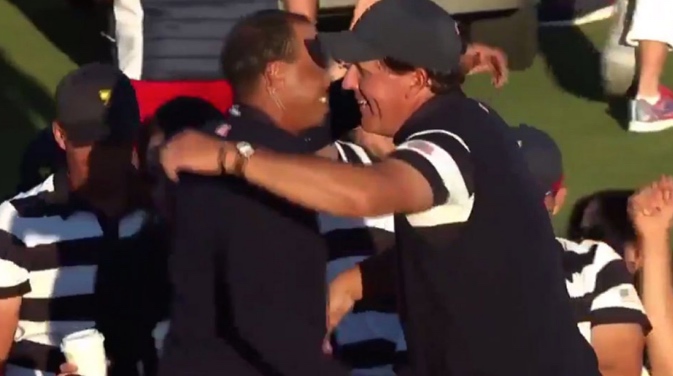 We all remember what happened when Ryder Cup captain Hal Sutton tried to enforce an arranged marriage in the foursomes back in 2004. His approach was basically, 'if the world's two best players are saying they can't play together then I'll knock their heads together and tell them to grow up and get on with it. The result was a disastrous partnership and a record loss for the USA team in Detroit.
How times have changed...
TAGS: Players, Tiger Woods, Phil Mickelson, Presidents Cup, 2017