Players
Jun 16th, 2017
Rickie Fowler equals US Open record
Stellar first round 65
Words: Tim Southwell Photography: Getty Images
Wow. There we were thinking +1 or maybe -1 would be leading after day one and then Rickie Fowler rips up the script and blows Erin Hills away.
Rickie took advantage of perfect playing conditions to fire three birdies on the front nine, four on the back nine and no bogeys, to equal the US Open first round scoring record. If he shoots 64 later tonight, he will set a new 36-hole record, currently held by Martin Kaymer.
The USGA copped an earful from Rory McIlroy on Wednesday after they decided to cut back the Fescue rough and make the course more playable. McIlory had a point. Some of the fairways are 60-yards wide and, well, this is the US Open right? That's it's USP – the hardest, most penalising tournament to win.
It might not be pretty at times but if you take the corridor fairways, up-turned bowl greens reading 358 on the stimp, and stupid high rough away, it's just the USPGA at a different time of the year.
So they made it too easy? Tell that to Dustin Johnson (+3), Rory McIlroy (+6) Jason Day (+7) and they might give you an abrupt clip round the ear. You miss the fairways here, you're chopping out sideways. Rory might be wondering why he tempted fate this morning.
But generally there were good scores to be made in the light winds and clear skies of a stunning opening day.
Paul Casey, who grabbed the world's attention with his 'interesting' phone case sits in second at -6 after starting eagle, birdie. He had another three birdies but also a couple of bogeys in his best start to a US Open to date.
Tommy Fleetwood was also in imperious form once again, recording a bogey-free round of 66 which included five birdies. He is just two back of Rickie at -5.
What Erin Hills gave to Rickie Fowler it menacingly took back – and some – from his illustrious chums. Anyone labouring under the illusion that the US Open, an environment famed for brutality, was going soft after Fowler charged to the top of the leaderboard with a 65 was swiftly corrected. Day one casualties were of the highest profile.
Check out these casualties: Hideki Matsuyama 74 (+2), Dustin Johnson 75 (+3), Rory McIlroy 78 (+6), Jason Day 79 (+7)... You have to think a couple of these guys will not be making the weekend, as even par has 45 players and ties after round one.
Rory looked rusty after only just coming back from his rib injury. Despite the wide fairways, he didn't make friends with one after the 10th hole.
If McIlroy's demise came slowly – he was evens after 10 holes – Jason Day was out of the blocks like a whippet up a trouser leg, crashing to +7 after 11 holes having carded two triples in the same round for the first time in his tour pro career. Not surprisingly it also added up to his worst ever US Open score.
"I just played bad golf," said Day. "I can't put it any other way. Some good stuff was mixed in with an awful lot of poor stuff."
Only four players have recorded an opening round of less than 65 (including Jack Nicklaus's 63 at Baltusrol in 1980) but this was against a 70 par, so Rickie joins an elite group.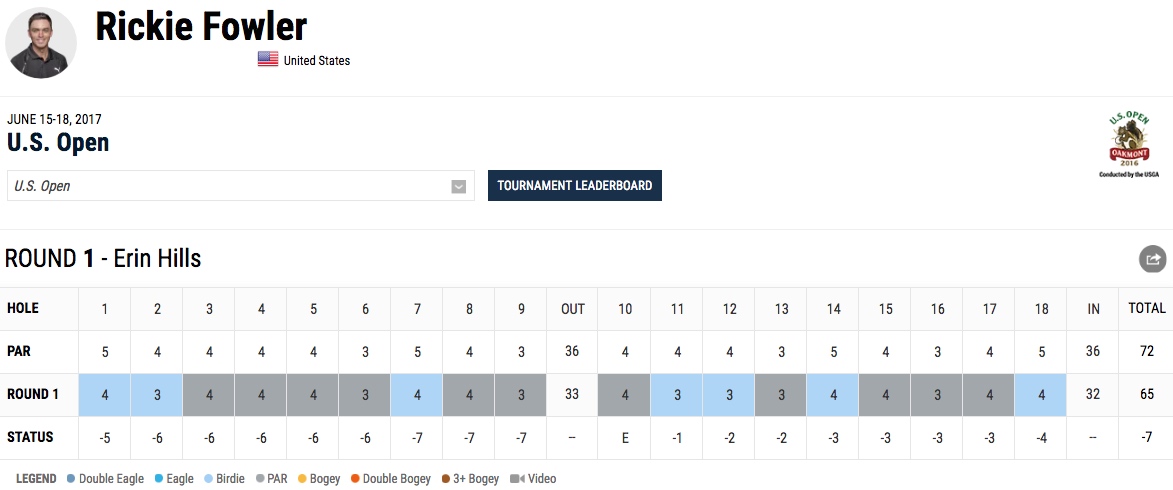 The brilliantly named Xander Schauffele shares second place with Paul Casey at -6, while Brooks Koepka and Brian Harman are at -5, with Lee Westwood and Beef at -3.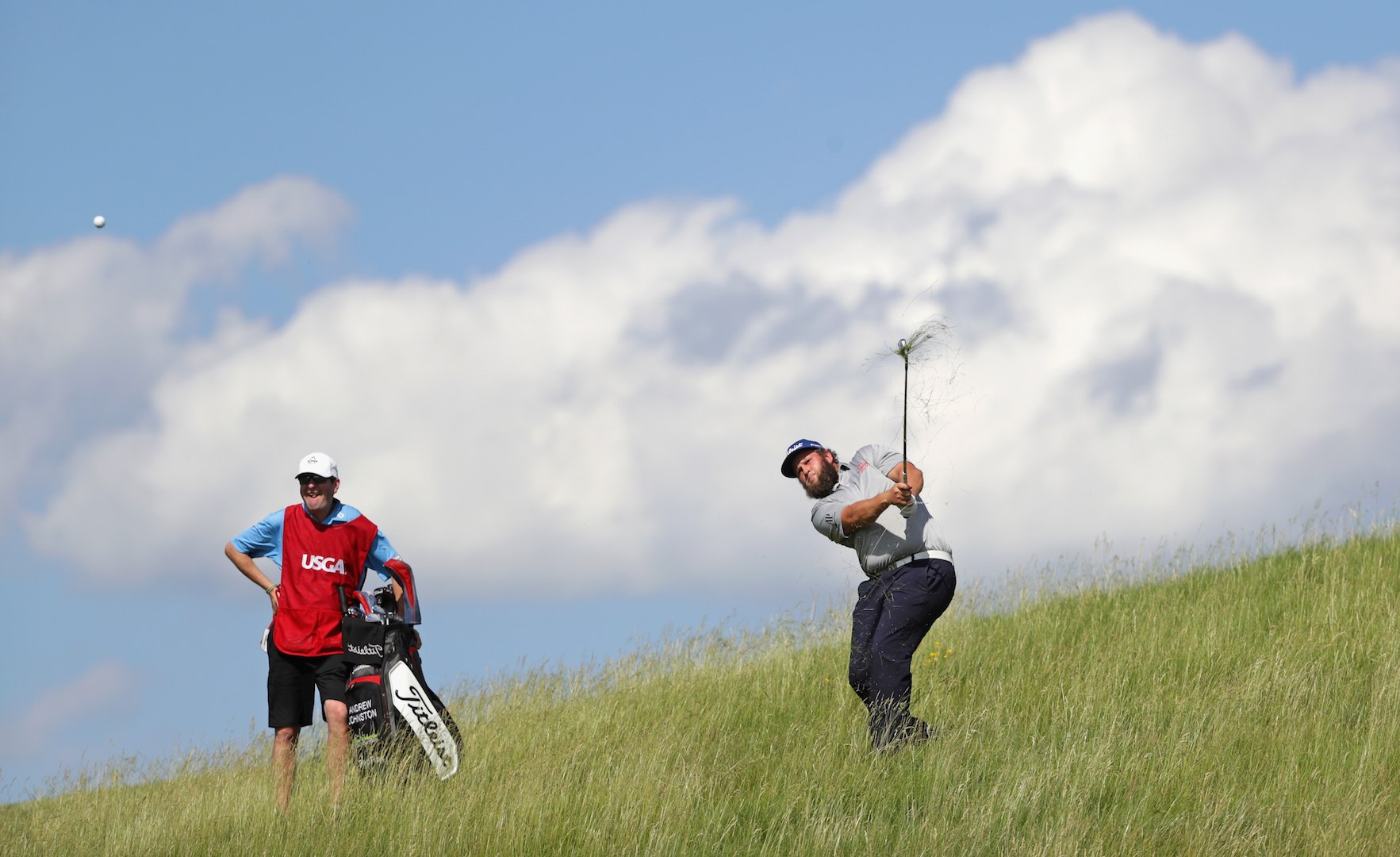 Interestingly, Beef didn't seem his normal goof-around self yesterday. Looked like he had his game face on. I mean, yes he responded to the 'Beeeeeeefffff' calls with good grace and all that, but he looked like a man on a mission.
The next couple of days are going to be extremely compelling. Crack open the cold ones and settle right in.
Related:
GolfPunk's Erin Hills Course Guide