Players
Nov 25th, 2017
Representing: Dave Marr
Photography: Getty Images
Representing for all the Golf Punks all across the world… Dave Marr
One of golf's greatest storytellers hid his own fairytale of a life lived from the gutter to the stars...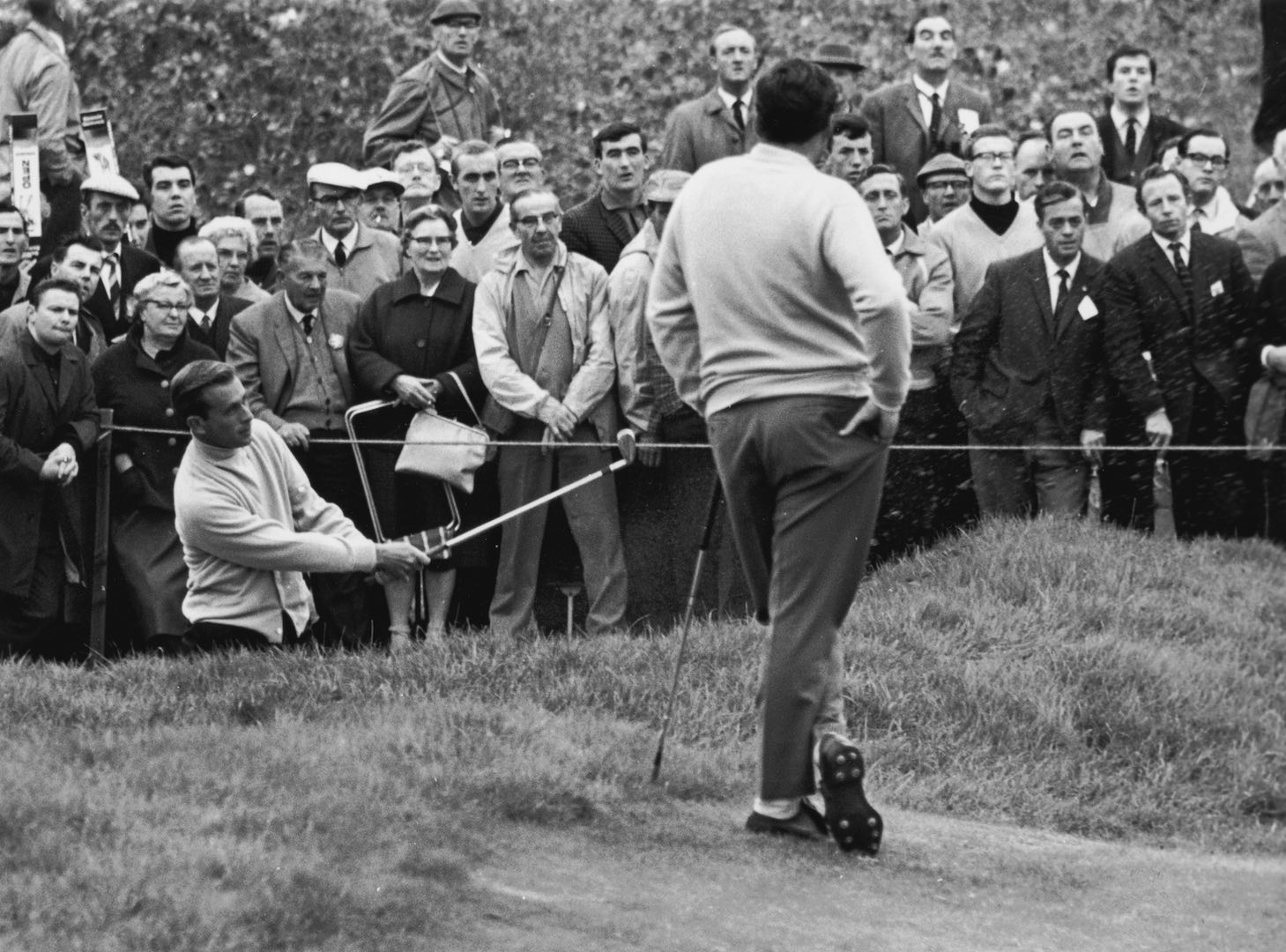 It's the morning of the final round of the 1965 PGA Championship and Dave Marr is tied for the lead with Tommy Aaron.
He's about to face one of the most important rounds of his golfing life, only his mind is distracted, elsewhere. Not thinking about winning a major and the Wanamaker Trophy. Not thinking about holding off Aaron and the spectral, threatening figures of Jack Nicklaus and Billy Casper lurking just behind.
"It hit me in the heart like a chicken-fried steak, seeing our flag being raised and hearing our national anthem. Even Arnold didn't have to ask what the song was"
Marr is thinking about his wife Tally, in New York, due to give birth to their third child at any moment – and he's going to miss it. For this genial, family man, it's a big deal. He's in Ligonier, Pennsylvania playing golf when he wants to be at her side.
But he can't be. He can make the phone call checking how she's doing, how she's feeling and pray she can hold on until he gets back home, but that's it.
In the meantime, he's got to try and put it to the back of his mind and think about winning the PGA Championship. Think about being a major champion when his child is born. How cool would that be?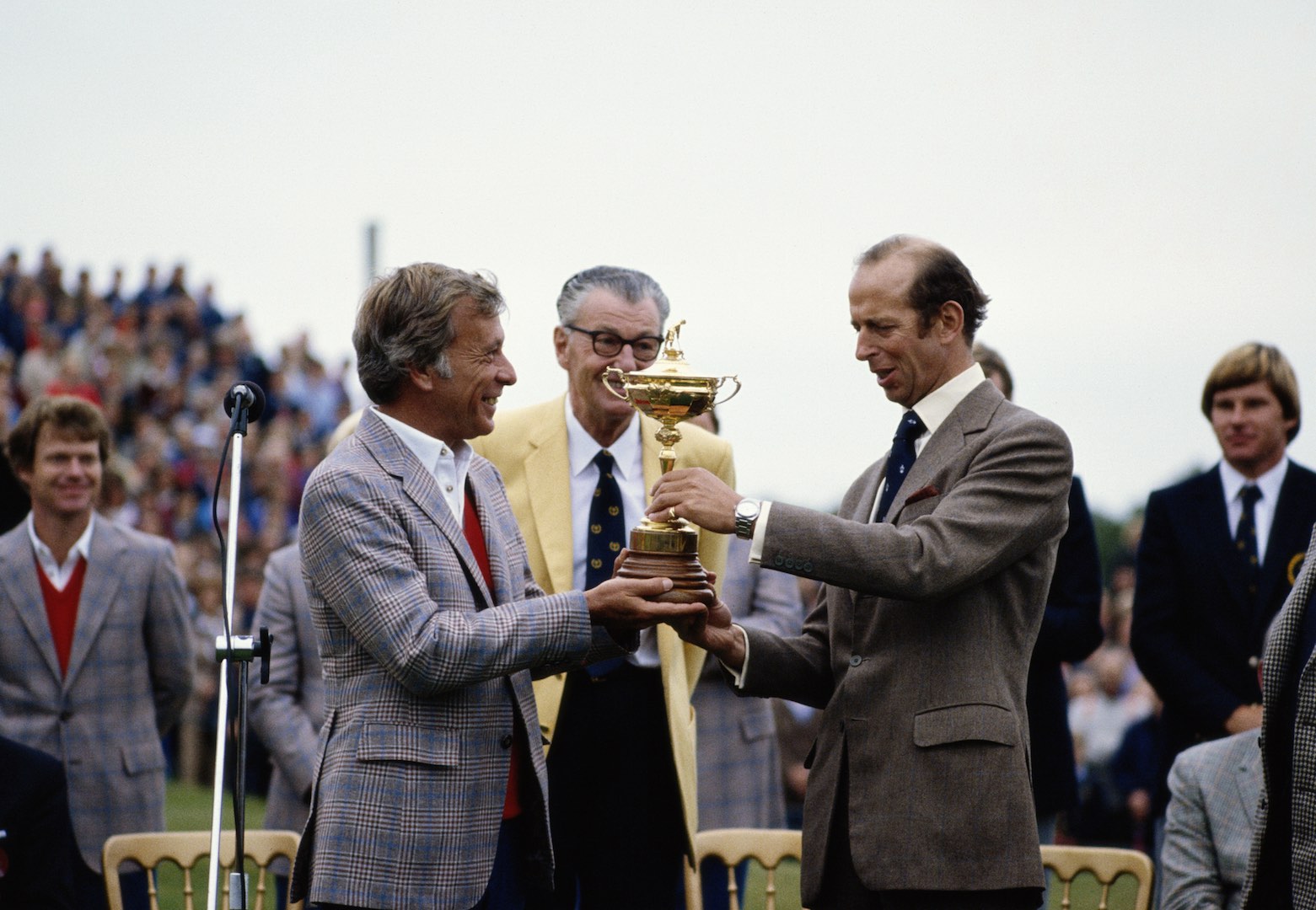 Arriving at the locker room at Laurel Valley, he finds a note which reads, "Fairways and Greens, Cuz," from Jackie Burke, his cousin and fellow pro.
Marr is 31 and having finished runner-up at the Masters the previous year, knows he won't have a better chance to claim a major. He also knows it's going to be a battle, a grind. He's there to be shot at and relentlessly pursued.
It's going well for Marr. Aaron has faded with a 40 on the front nine, but he hasn't shaken off Nicklaus and Casper yet.
On the 11th hole, Marr makes a crucial birdie for a critical two-stroke swing over the Golden Bear. He plays solidly until another key moment arrives at the 17th hole.
"A man who enjoys a good glass of whiskey when night-time comes, is not averse to a second one"
And it's the thought of his kids, Dave Marr III and daughter Elizabeth, then aged three and four, that helps him hole a vital par putt. They always tell him to "be careful, daddy," when he joyfully throws them in the air and catches them as they fall to earth giggling. And as he lines up the par, he swears he can hear his young son saying "be careful, daddy" once more.
He duly holes it to keep the chasing golfing giants at bay and arrives at the 18th hole, a sharp par-four dog-leg right, with the Championship tantalisingly close. He hooks his drive into a bunker. Now the pressure is on.
But displaying the finesse and poise required, Marr lays up out for the fairway trap, leaving himself a testing nine-iron approach over a ball-sucking lake in front of the green.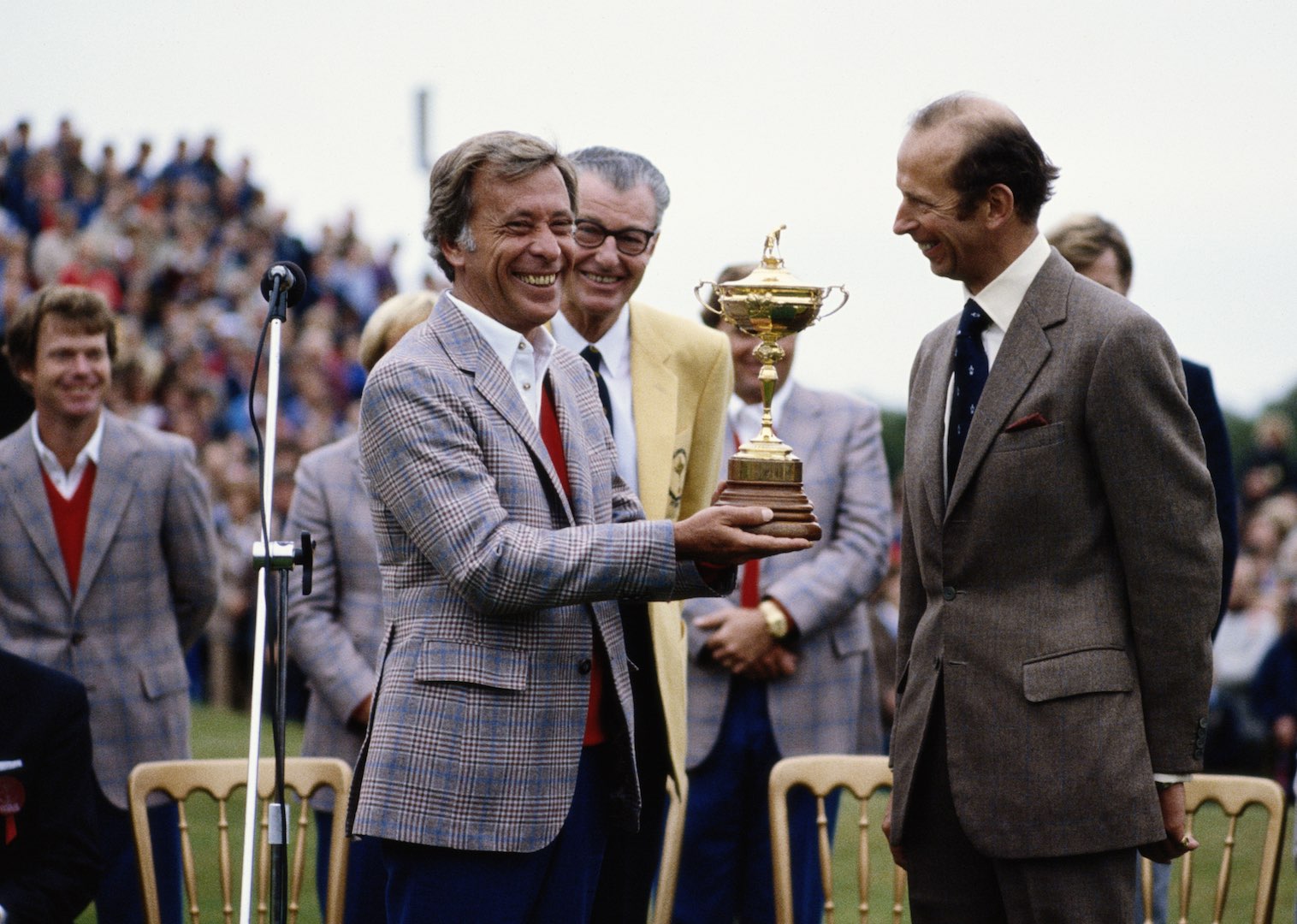 A few deep breaths later, Marr hits the shot of a champion, a perfect pitch to three-feet. And as he holes out to shoot a one-under-par 70, finish four-under 280 and beat Nicklaus and Casper by two, he says: "I've got you now" as he puts his hand across the hole and picks out his ball.
In winning, Marr has relegated greats like Sam Snead, Ben Hogan, Kel Nagle and Arnold Palmer to also-rans.
Not that Palmer minded. Marr was his close friend and he called his chum's victory "one of the happiest moments of my life". The two of them would later joke that between them they won a career grand slam, as Palmer won seven majors in his career, but never the PGA Championship.
In doing so, Marr had become the first man whose father had been a PGA pro to win the Wanamaker. (Davis Love III would be the next.)
But even as Marr raised the giant trophy, and clutched the $25,000 winner's cheque, he knew it wasn't the biggest story in his family that day. For just a few hours after his victory, his son Tony arrived in the world.
Dave Marr was born Dave Francis Marr Junior on December 27, 1933 and raised in Houston, Texas, the son of a professional golfer.
He attended St. Thomas High School where a promising football career was brought to an abrupt end by a boot to his face, leaving a permanent scar. So he became captain of the golf team and member of the Letterman's Club. Following graduation, he attended Rice Institute and the University of Houston.
At 19 he left college and turned professional. He travelled to New York in 1953 and ended up as an assistant club pro to Claude Harmon at the Winged Foot Golf Club in Mamaroneck, N.Y.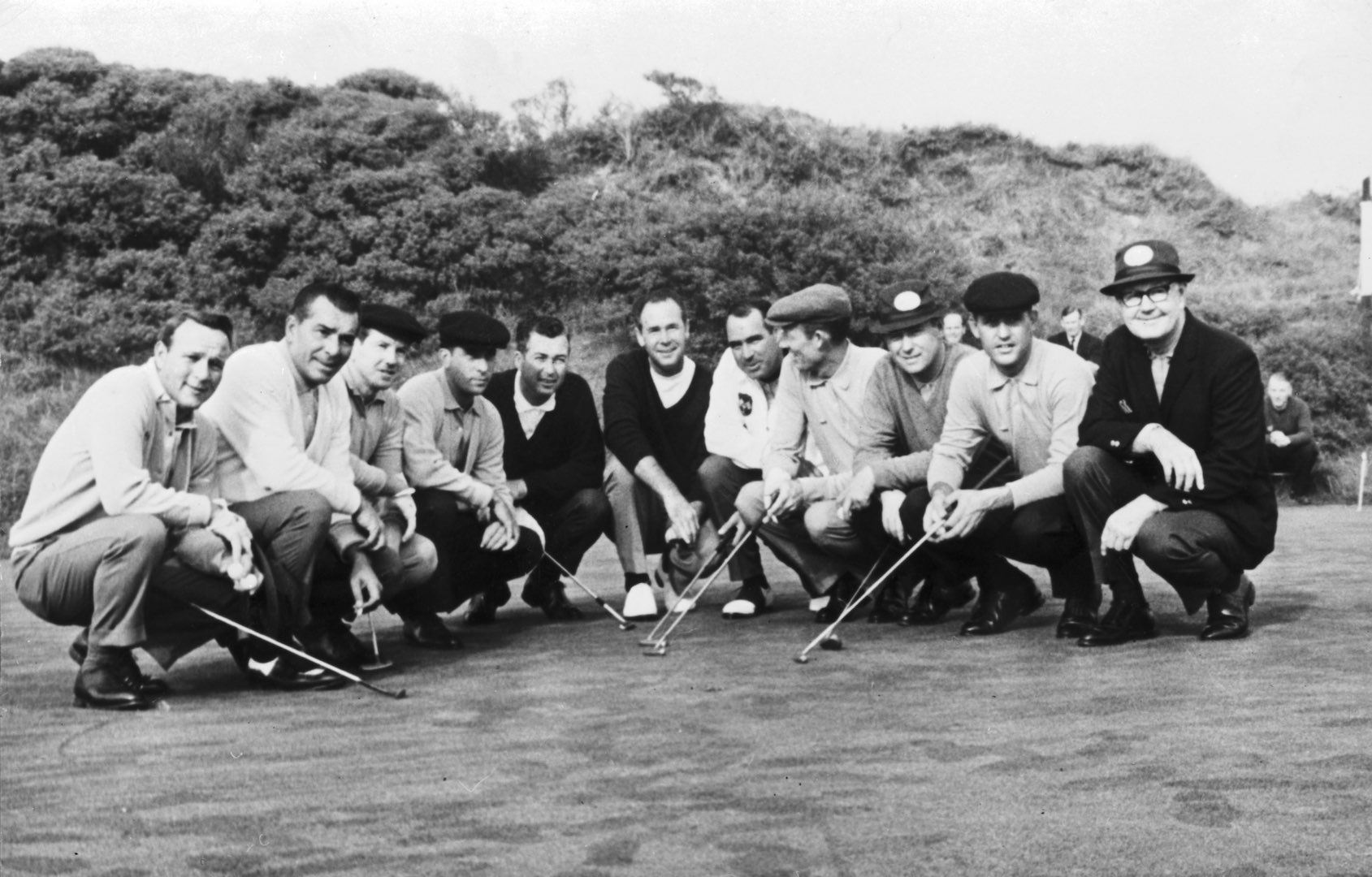 Harmon had a legendary ability to groom young assistants, and Marr blossomed at Winged Foot. Meanwhile, he became more of a New Yorker while retaining his wry Southern sensibilities. Asked once about the huge trap that guards Winged Foot's 10th green, Marr said: ''When I was an assistant there, they delivered my mail in that bunker.''
He began playing regularly on the PGA tour in 1960, and in that year earned his first professional win at the Sam Snead Festival.
A year later, he won the Seattle Open and then the Azalea Open in 1962. Marr joined the elite when he captured the coveted PGA Championship, was named in the Ryder Cup team (he finished his six matches with a 4-2 record) and elected PGA Player of the Year. 1965 was his finest season and he merited his Ryder Cup debut. "Man, I was so proud to be a member of that team. It hit me in the heart like a chicken-fried steak, seeing our flag being raised and hearing our national anthem. Even Arnold didn't have to ask what the song was."
But he never deluded himself about his talent compared with that of the best golfers of his day.
''I was a very good player,'' he said. ''If I played well, there weren't 10 players who could beat me.''
But he acknowledged that he could not beat Nicklaus, Palmer and Lee Trevino if they were playing their best. Recalling the finish of his PGA Championship victory, when he held off a less-than-spectacular Nicklaus on the back nine, Marr said: ''I needed him to stub his toe.''
Marr believed he had two failings as a player: his slight build and his temper. Traits he believed emanated from his father, Dave, a club pro at a small nine-hole course outside Houston. ''We butted heads,'' Marr said of him. ''I don't think I ever finished a round of golf with my father. He had a bad temper and mine was worse.''
He won only four events, but his PGA success became a signature achievement that, along with his popularity among other players and fans, transformed him into an ambassador for the sport.
His fondness for New York City never left him. Affectionately labeled "the pro of 52nd Street", golf writer Dan Jenkins described him as "a man who enjoys a good glass of whiskey when night-time comes, is not averse to a second one, and will wrestle any man in the house to get the check when it arrives. At 5 feet 9 and 155 pounds, he spends practically no time at all worrying about his muscles, and he eats only the food that tastes good."
Marr dined with Bing Crosby, drank with Frank Gifford and lived for the high life.
''Golf was never going to be the end-all for me. I was always going to be more involved. There was more to life than that. New York was wonderful. That was where the brightest lived. There are all kinds of sharks in that water. But it's stimulating. People are well read. You have to be more of a listener in New York.''
With a natural gift for storytelling and self-deprecating humour, Marr made an easy transition into broadcasting when his playing career began to wind down in the late 1960s.
He joined ABC in 1972 and by 1975 was paired with Jim McKay and working full-time as a golf analyst. Marr said he tried to ''just be informational in a quiet way'' as a broadcaster. He had a gentle, non-critical style. During those years Marr also was much in demand as host and master of ceremonies at golf banquets and charity events
He remained with the ABC network until they unceremoniously dumped him in 1991; there was speculation that his style was too gentle.
But he was only out of work 24 hours and returned to the broadcast booth, first with the BBC, where British viewers grew to greatly enjoy his Texan drawl in unison with Peter Alliss every April when commentating on the Masters, and then for NBC.
In 1981, he was non-playing captain of the United States team, for the Ryder Cup at Walton Heath. It was a stellar cast with players like Nicklaus, Watson and Trevino in their prime, but Marr never let them rest on their laurels, maintaining; 'We're gonna be in a dog fight for three days - and it's not the size of the dog that counts, it's the size of the fight in the dog!'
It worked as he guided the US to a crushing 18 1/2-9 1/2 defeat of the Europeans.
Marr was elected to the National Collegiate Hall of Fame in 1977 and the Texas Golf Hall of Fame in 1978. He was selected for the Gold Tee Award presented by the Met (N.Y.) Golf Writers in 1990.
He died at the M.D. Anderson Cancer Center in Houston after a long battle with stomach cancer on October 5, 1997. He was 63. He was survived by his wife, Tally, and sons Dave III, Anthony, daughter Elizabeth Hallas, and step-sons Wayne Bunch, Tucker Bunch.
Marr's children scattered his ashes around the various courses that meant so much to him during his playing days – Royal Birkdale, in England, where he played on the 1965 Ryder Cup team; Walton Heath, in England, where he captained the 1981 Ryder Cup team; and at the 18th hole at Laurel Valley, the site of his 1965 PGA Championship.
Shell Oil Company created the Dave Marr Memorial Award the year after his death. It is awarded annually in conjunction with the Shell Houston Open.
Marr's last assignment as a broadcaster had been to host Shell's Wonderful World of Golf from 1993 – 1997. Past winners of the award include Gene Sarazen, Byron Nelson, Jack Nicklaus, Judy Rankin, Gary Player, Former President George H. W. Bush and Arnold Palmer.
Asked in a Golf Digest interview how he hoped history's assessment of him would read, Marr said: ''He wasn't as great as maybe he thought he was. He wasn't as bad as some of his detractors thought. He did help a few people. He tried to do right as best he could.''