Players
Jun 16th, 2018
Phil Mickelson... The Good The Bad and The Lefty
Good Phil versus Evil Phil. Who is really in charge....
Words: Tim Southwell Photography: Getty Images
Aristotle had another way of saying it:
"There was never a genius without a tincture of madness."
Phil Mickelson was always going to be a golfer. Born June 16, 1970, he had played golf since he was a toddler, grappling with his kiddie clubs almost as soon as he had mastered walking. When he wasn't roughhousing sideboards in his San Diego Chargers helmet, Little Phil was swinging a golf club. When he ran away from home, aged 3 ½, he was considerate enough to tell his neighbors he was headed for the golf course.
https://twitter.com/usopengolf/status/1008062552780107776
Though right-handed, Phil took to playing the game left-handed having studied his father playing that way. Later, aged nine, he had watched the 1980 Masters at Augusta on television and as the champion-elect, Seve Ballesteros strode up the 18th fairway en route to his first green jacket, Phil promptly informed his mother that was exactly what he wanted to do as well.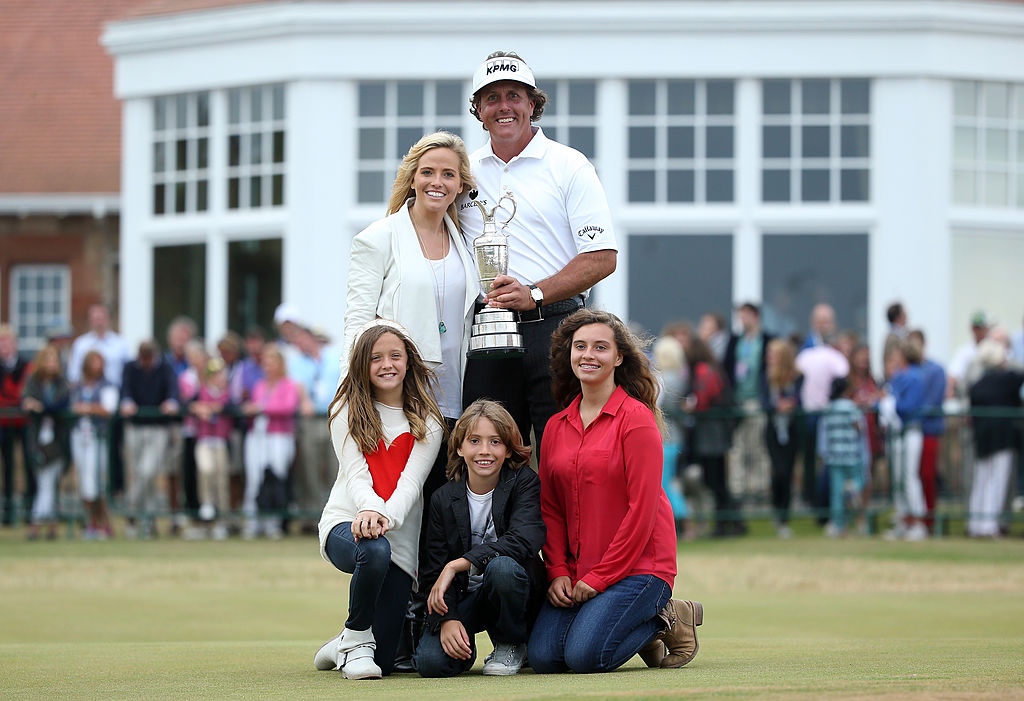 How he was going to get there was quite another matter and he has perpetually been compromised by the crossfire of argument and counter-argument of two very different Phil Mickelsons jockeying for the podium inside in his brain.
Going back to that Aristotle quote, he might as well have been commentating for The Golf Channel from just off the fairway of the 13th at the 2010 Masters. Not for the first time in an important situation, Phil Mickelson finds his golf ball in the kack, wide right of the fairway and lying on a bed of pine needles in the trees. He is nearly 200 yards from the green, which is guarded by water with the Sunday pin cut about a centimeter onto the front.
His playing partner and closest rival for the green jacket is Lee Westwood. Westwood having already done the sensible thing and laid-up is sitting pretty. Bones is telling his boss – the best wedge player in the world - to chip out, get on in three and maybe make birdie that way.
With Phil Mickelson, frankly we, as spectators generally haven't got the foggiest what he's going to do next. Moreover, it seems, neither does he. That's why he does stuff that either makes our jaws drop like breezeblocks or has us hiding behind the sofa: 'Surely he isn't…he's not… is he?!'
When it comes down to it, there are two Phil Mickelsons: There's Good Phil and then there's Evil Phil. Good Phil makes all the right decisions, the sensible decisions. Evil Phil pours petrol all over Good Phil, sets light to him and slings him in a skip, because he sees something no one else on the golf course, or watching at home on TV, can ever imagine: A shot of such incredible imagination and execution it quite simply beggars belief that he would a) see it in the first place b) be reckless enough to go for it and c) pull it off.
Bones was aiming his message of sanity and reason squarely in the direction of Good Phil, but Good Phil never got the message. Good Phil has just been slipped a Mickey Finn by Evil Phil and is lying horizontal out the back somewhere. Evil Phil is seeing a six-iron that blazes out through the clearing in the trees, rises into the air and draws up high over the water and makes the green. It is a one in a hundred shot. Realizing the gig is up, Bones retreats, shaking his head in disbelief.
A hundred yards away or so, Lee Westwood is watching all this unfold: "I was just concentrating on trying to make a good four myself," says Lee. "I had made a good lay-up to a good distance. I just walked down the hill and I wanted to get out of the way. When Phil's ball was in the air I saw it was on line with the flag and I thought there is no way that could carry. I am still amazed that it could carry on that line."
Carry it did, ending up 10-feet from the pin with eagle beckoning. Two hours later Westwood was still searching for that first major and Phil was goofing around in his second green jacket.
Mickelson's short game coach, Dave Pelz, was watching all this on TV and explains some of the thinking, or lack of it, that goes on inside Lefty's bonce at such a moment.
"I wasn't screaming at the television," says Pelz. "But I couldn't watch. When we starting working nine years ago he told me about his philosophy of having to challenge things. At the end of the day, Phil is so competitive that he tries to do anything. I'm from a world where this is a problem, as I teach people that if you can't do something nine out of 10 times, then don't try it, especially if there is a one-stroke penalty if you are a foot short!
"Phil thinks if I can do it I'm going to try it. If one out of 10 times it works I'm going to try it, versus me saying only try it if you can do it nine out of 10 times. After nine years of us working together, he now thinks if he can pull off a wonder shot 50% of the time, I'm going to try it.
"The big thing is that when the heat is on, like at Augusta against Westwood, he tends to think he can do anything. Having said that, he also thought he could hit his last drive onto the fairway at the US Open at Wingfoot in 2006, and he hit it into the tent, made double and lost to Geoff Ogilvy. He was driving very poorly and he should have hit a four-wood off the tee, and he would have won the US Open. He didn't, and we are still looking for our US Open, hopefully, this year…"
Hmmm, doubt it...
Issue 3 of GolfPunk digital magazine out now. Read here.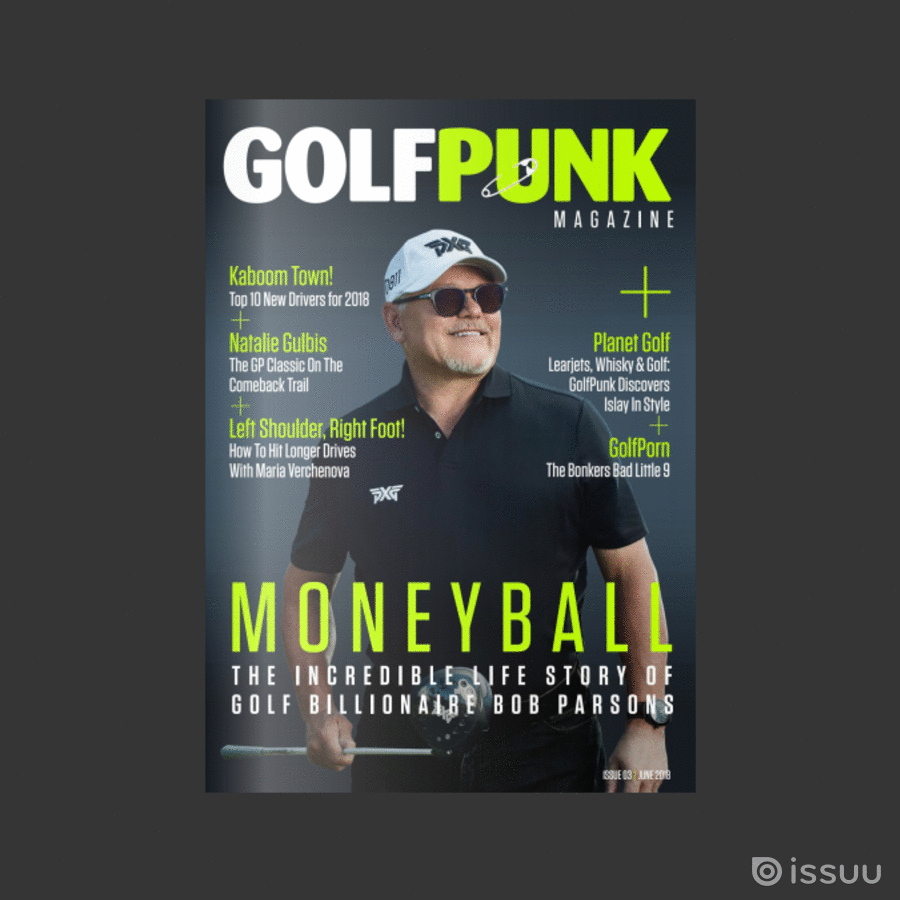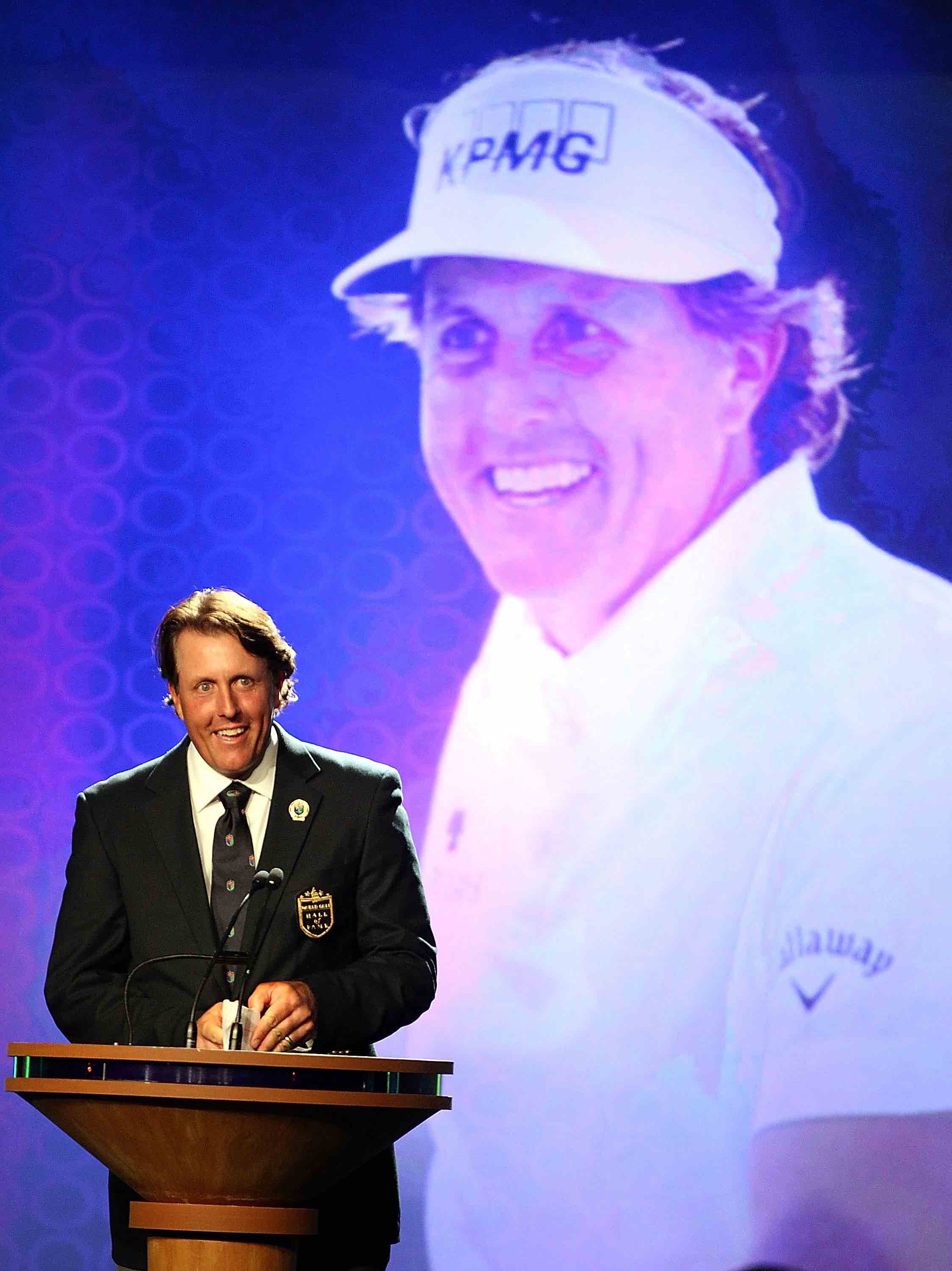 The thing with Evil Phil is, he doesn't have any remorse. Good Phil can berate him all he likes but it ain't gonna make any difference. All you get is a shrug of the shoulders and a look that says: "yeah, but it was exciting wasn't it".
Pelz sheds some light on Evil Phil's driving motivation: "For Phil Mickelson the challenge is exciting; he loves to try difficult shots. When I first started working with Phil, his ratio of 'easy' shot conversions wasn't great. He was great if he had to hit over or round a tree, or into a bank and check it and bounce, but he was not so good with 10 yards to the green without any obstacles.
"Phil would not engage mentally, there was no difficulty in his mind so he would just hit the shot and view it as no challenge. He was brilliant at difficult shots, but ordinary at normal shots. I started challenging him by saying 'you have to make this shot to make the cut.'
"As soon as he tried to hole the easier short game shots, the less challenging shots went from ordinary to extraordinary. Since I've started working with him, he's won four out of 25 majors so we must be doing something right!"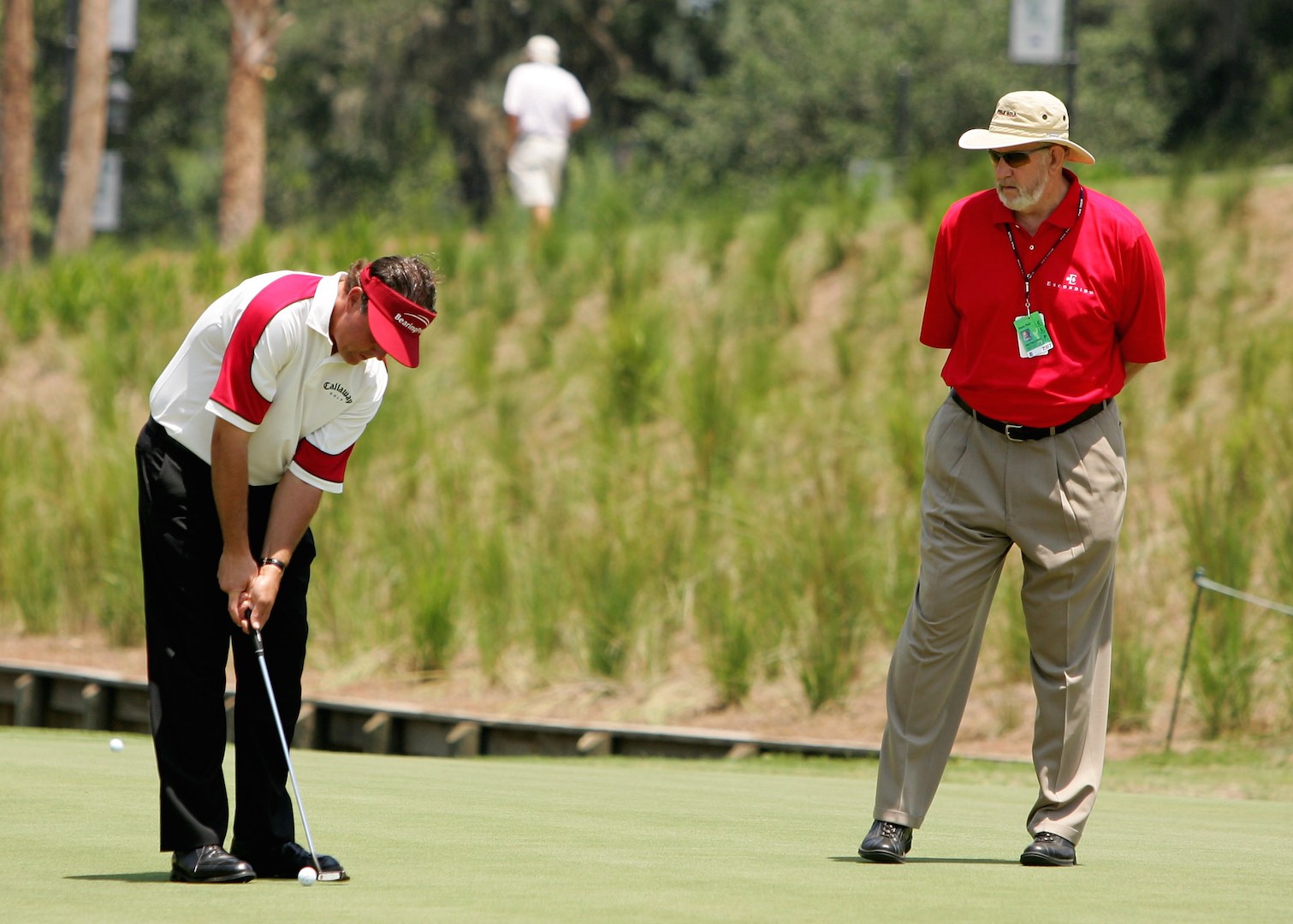 "The only difference between a genius and one of common capacity is that the former anticipates and explores what the latter accidentally hits upon: but even the man of genius himself more frequently employs the advantages that chance presents to him."
Guillaume Thomas Raynal.
Rewind four years to May 2006. GolfPunk has Mickelson on the cover. The cover lines simply said: Three Majors - Two drivers - One Phil Mickelson. It referred to Mickelson's controversial decision to use two different drivers round Augusta: One set up for a draw and one set up for a fade. Everyone, including us at GP towers, scoffed. How could that possibly work? Four days later Tiger was slipping the green jacket over Phil's shoulders and, all of a sudden, the Tiger v Phil dynamic had entered a new dramatic phase. 
Evil Phil, it seems, takes his skullduggery into the tour truck and design labs every bit as much as he does onto the golf course. Two drivers? C'mon, stop showing off! At Augusta that week his two-driver strategy found more fairways, allowing him to hit more greens and hole more putts. Like a renegade policeman, Evil Phil gets results goddamit!
"Yesterday I was thinking about the whole idea of genius and creative people, and the notion that if you create some magical art, somehow that exempts you from having to pay attention to the small things."
Bell Hooks
But there's one striking exception to all this and it goes to prove that Evil Phil hasn't had it all his own way. Last year Phil won the Open without even having a driver in his bag. Together with the dudes at Callaway, he figured out an ingenious way round Muirfield that maximized his accuracy without losing too much distance. Callaway built him a 'deep' three wood, mid-way between a driver and a three wood. And no, that doesn't just mean it's a two-wood! 
'Mid-life crisis, y'big Jessie' we chimed. 
'Check out my claret jug', he said. 
Why I oughta.
So who's really in charge here? Evil Phil or Good Phil? The Muirfield experience suggests that neither extremity was really in charge. Moreover, it points to a majestic overlapping of the two sides. 
It turns out that Evil Phil and Good Phil have been for a pint (which turned into several) together and decided to bury the hatchet. Good Phil has opened proceedings by downing a pint of Stella, followed by a shot of tequila before emitting a long powerful burp. Just because he's Good, doesn't mean he doesn't party. 
Evil Phil, on the other hand, has put forward a strong argument that, despite appearances, he's not completely mental, no matter how many blows to the head he received pre-football helmet days as a child. 
An arm wrestle to see who was strongest was inconclusive. There was no winner in their game of chess. When they went back to Evil Phil's house later to watch Bad Boys and have a takeaway curry, Good Phil discovered they have virtually the same record collection. They couldn't quite reconcile the Vivaldi versus Grateful Dead debate, but you can't win 'em all.
One stark fact lurks amongst all of this. Despite all the dramas, incredible shots and tear-jerking victories, Phil Mickelson, has never been the world's number one player.
Not even when Tiger managed to decimate his career and reputation back in 2010 did he manage to ascend to the top of the game's rankings. It's a peculiar anomaly for a player of his talent and his record, but one that doesn't detract in the slightest from just what he has achieved in golf. At the time of writing, for example, he has 42 PGA Tour wins – the ninth highest in history – five major championships and is second behind Woods on the all-time PGA Tour money list. It is a record that stands comparison with the very best players in the game. But should it have been more? Can it be more? 
As individuals, Good Phil and Evil Phil are entertaining but sporadic challengers for golf's greatest prizes, but when come together, they pose a very serious threat to any golf tournament they enter. Including the Masters.
At Shinnecock Hills, I think we know who was in charge...
$10,000.00 On The Flop
There's a story we just love about Mickelson and Tiger. Tiger walked up to Mickelson practicing flop shots at a tournament. 
"Can you show me how to do that?" Asked Tiger.
Mickelson ignored him at first, assuming Tiger was either taking the piss or setting him up for one of his famous pranks.
"No really. We'll play nearest the pin. $1,000 a hole. " persisted Tiger.
Finally Mickelson relented winning 10 holes on the spin but Tiger got closer and closer every time.
"Best $10,000.00 I ever spent," declared Tiger as he walked away.
Dave Pelz Reveals The Key to Golf...
"I found that the short game is the key to scoring. It's not how you hit the ball off the tee, you have to hit it reasonably well, but what matters is if you can hit your wedge shots close enough to one putt rather than two putt. That's the main difference in the game. That's why Lee Westwood is a great player, who will win a major, but he hasn't yet because of his short game. If he had Phil Mickelson's short game he would have won 10 majors, as good a player as he is."
Phil's Meltdown moments:
US Open 1999
Bay Hill 2002
US Open 2006
US Open 2013
TAGS: Phil Mickelson, Phil Mickelson Golf Swing, Phil Mickelson Golf Grip, Players, 2018, Short Game, Tiger Woods