Players
May 10th, 2017
Grayson Murray quits twitter after more controversy
Sacked caddies, offended tour pros & Playboy models...
Words: Tim Southwell Photography: Getty Images
Sacked caddies, offended tour pros & Playboy models... Grayson Murray has made quite a name for himself on his first year on the PGA Tour in 2017. He's even been known to play some golf, finishing 8th, 11th and 12th in the Sandersons Farm, Zurich and Career Builder respectively, earning $383,176.00 into the bargain...
Now he has quit Twitter. But why?
Let's start with his tweet referring to Bryson DeChambeau's withdrawal from the Genesis Open with a hand injury after 28 holes.

He did have some support from some tour pros with this...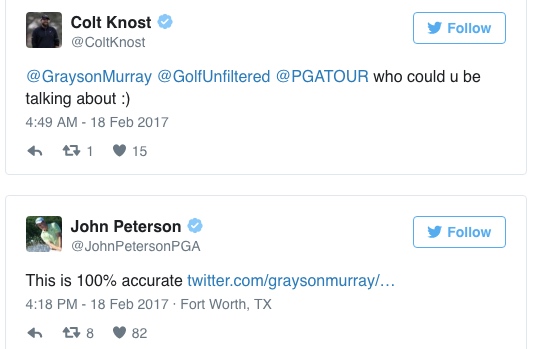 His most controversial tweet though, came prior to the Houston Open when he asked Playboy model Lindsey Pelas to caddie for him at the Par 3 Competition at the Masters. If he qualified for the Masters by winning the Houston Open, that is. 
To his surprise, Pelas replied in the positive...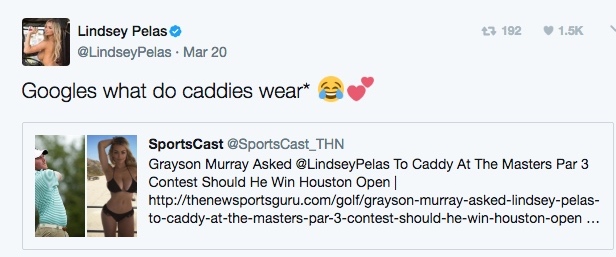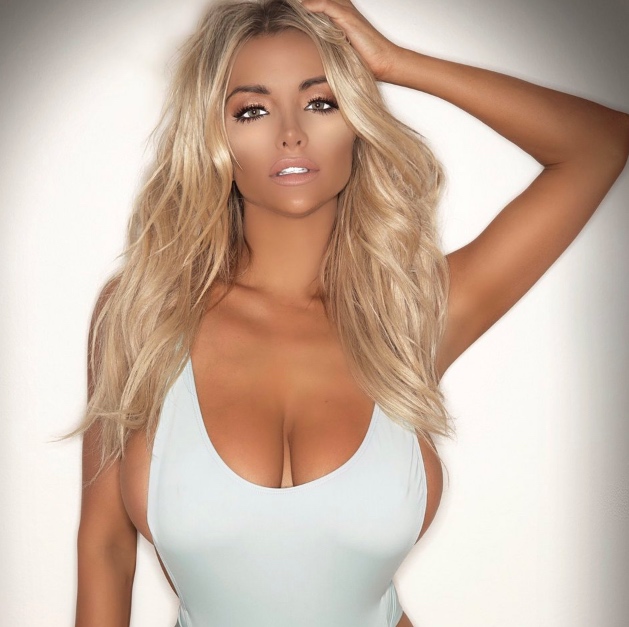 Mr Grayson didn't win the Houston Open so it didn't happen, but he did get some heat from his fellow tour pros who responded thus...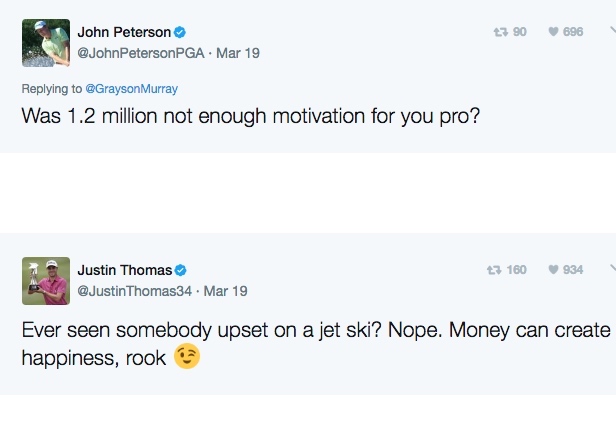 Then he started calling out tour pros for being completely boring.

He then went a step further, qualifying what he meant... sort of...

Fellow rookie PGA Tour player JJ Spaun then gave Grayson a twitter slap by suggesting that any self respecting tour pro was "too busy practicing" to be interesting on social media. To which young Mr Grayson responded...

Anyway, in a very disappointing move, Mr Grayson has decided to hang up his twitter boots and has deactivated his account, robbing the world of, well, someone with a bit of colour on the Tour.
The 23-year-old switched himself off on Monday night. The move comes immediately after splitting with his caddie Mike Hicks mid-round at the Wells Fargo Classic on Sunday.
Before he signed off, Mr Grayson defended his actions on Twitter on Monday night, saying it was a "disagreement, not an altercation, between myself and my caddie. It is a personal matter between the two of us." 
On Tuesday before a practice round at the Players, Murray told Golf Channel's Ryan Lavner that he "deactivated (Twitter) for now. I don't want anything to do with it."
PGA Tour spokesperson Ty Votaw declined to comment when asked if the Tour had any involvement in Murray discontinuing his account. He did say, however, that the Tour does discuss social media use with its players.
"Those conversations, for the most part, stay between us and the players," Votaw said.
Try telling that to Steve Elkington who revealed he'd been suspended for two weeks and fined him $10,000 after he made a derogatory tweet about gay football player Michael Sam.
Elkington, who is reportedly more than capable of starting a fight in an empty room, tweeted in February 2014: "ESPN reporting Michael Sam is leading the handbag throw at NFL combine....No one else expected to throw today." 

Grayson Murray is in the field for the Players and tees off at 9:11 a.m. EST Thursday with Bryson DeChambeau and JJ Spaun. Only kidding, he's playing with Ben Crane and Graham DeLaet.
Completely unrelated:
USPGA to be moved to May. 'Little Rory' is furious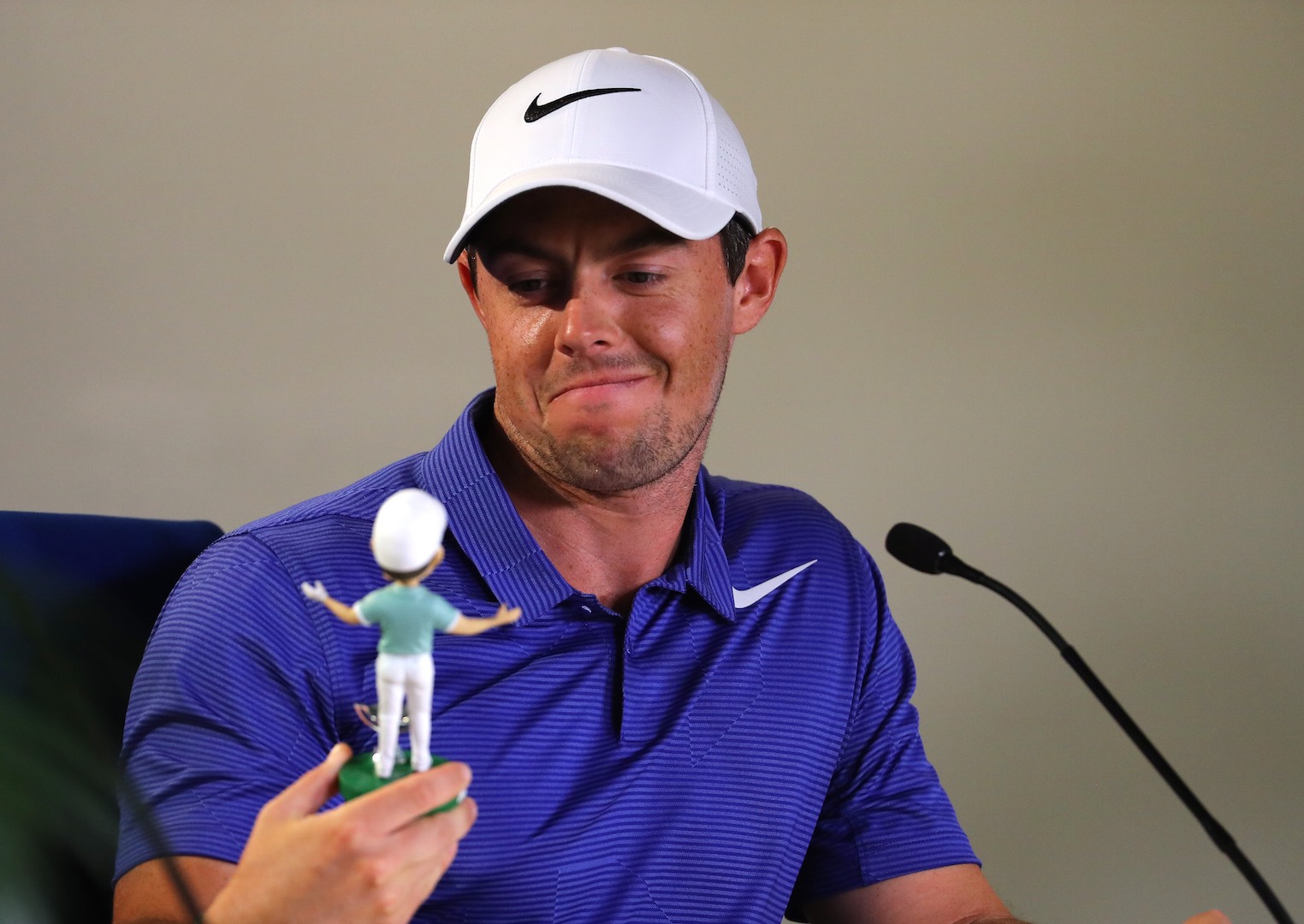 TAGS: Grayson Murray, Players, Bryson DeChambeau, 2017