Players
Feb 17th, 2019
Golf legend Gene Littler passes away
Despite a career blighted by cancer, Gene Littler still won 29 times on the PGA Tour including the 1961 US Open. Gene 'The Machine' Littler, we salute you...
A year after winning two PGA TOUR tournaments, Gene Littler met with the media to discuss his return to golf. Fans had last seen Littler play in the 1972 Doral-Eastern Open in Miami before he took an extended break from the game.
He had a good reason for his sabbatical. In March, surgeons removed a malignant tumor on the lymph glands under Littler's left arm. Two weeks later, surgeons then removed all the gland-bearing tissue under that same arm.
With all the medical issues he had encountered, Littler's professional golf career was somewhat unsettled, and even he didn't know if he would return to the level that saw him win the 1961 U.S. Open and 23 other PGA TOUR events or even return to the TOUR at all.
"No one can say how well I'll play," Littler told the assembled reporters. "The doctors won't stick their necks out and say I'll play as good as ever. But the way I feel now, the way I feel and have been progressing, I think it will be nearly as good as new. I feel like I'll be able to do it."
Littler was right. Seven months after his surgeries and called cancer-free by his doctor, Littler was back on TOUR, competing in his home state of California at the Kaiser International Open in Napa, where he would tie for 35th. And by 1973, the San Diego native was back playing a full TOUR schedule that included a hard-to-believe win at the St. Louis Children's Hospital Open. Recovering from cancer and winning that tournament at age 42 may have been his crowning achievement.
Forty-seven years after that cancer scare, the player people called "Gene the Machine" because of his stylish golf swing, died on Friday in his hometown. He was 88.
"Gene was the consummate gentleman but also a fierce competitor. His rhythmic swing that earned him his distinctive nickname remains in our minds a thing of beauty. It was a pleasure to watch Gene Littler hit a golf ball," PGA TOUR Commissioner Jay Monahan said. "San Diego has produced great champions like Billy Casper, Phil Mickelson and Mickey Wright. Gene Littler stood right there beside those giants of the game, and we mourn the passing of a tremendous golfer, husband and father."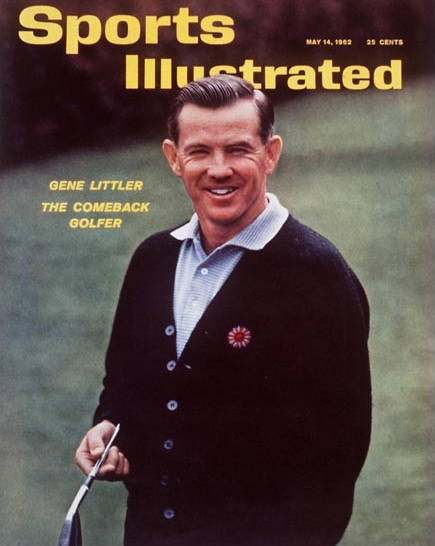 Born July 21, 1930, Littler was a contemporary of Casper, who was 11 months younger than Littler -- the two Californians inexorably tied together throughout their respective World Golf Hall of Fame careers.
Growing up in a beach community, Littler wasn't all about golf early in his life. During his teenage years, he surfed and played a lot of baseball. He then discovered golf, a pastime he turned into a career.
Littler attended and graduated from San Diego State University and then joined the U.S. Navy, where he served from 1951 to 1954, still playing a lot of golf as a member of the Navy golf team. On that squad, based in San Diego, were seven future PGA TOUR players: Littler, Casper, Don Whitt, Bill Bisdorf, Bob Goetz, Bud Holscher and Bill Blanton.
Along with his military obligations, Littler was able to still play competitive golf and was a member of the winning 1953 U.S. Walker Cup team that featured, among others, William C. Campbell, Ken Venturi and Harvie Ward. The Americans defeated the Great Britain and Ireland team, 9 to 3. He also won the 1953 U.S. Amateur in Oklahoma City, beating Dale Morey, 1-up, in the final.
In January 1954, while still an amateur, Littler won his hometown San Diego Open, a PGA TOUR event in just its third year. An even-par 72 in the final round -- his worst score of the week -- couldn't slow Littler, who coasted to a four-shot win over Dutch Harrison at Rancho Santa Fe Golf Club. Two weeks after that triumph, and after consulting with his wife, Shirley, at the time eight months pregnant with the couple's first child (Curt, born in March), Littler decided to turn professional. Six months later, Littler finished as runner-up to Ed Furgol at the U.S. Open at Baltusrol Golf Club in New Jersey, one of four runner-up finishes Littler recorded that season.
Littler captured his lone major championship at the 1961 U.S. Open, shooting a final-round 68 to come from three shots off the pace to defeat Bob Goalby and third-round leader Doug Sanders by a shot at Oakland Hills Country Club in Michigan. His first win as a professional came in 1955, up the road at the Los Angeles Open, beating Ted Kroll by two shots at Inglewood Country Club, a course that saw him chip in for birdie three times during the 72 holes.
Yet it was his play in two USGA events that he felt cemented his place in golf history.
"To win both those -- the U.S. Open and the U.S. Amateur -- is really, really special; a big thrill for me," Little said in a 2012 interview. And of his famous swing, Littler added, "I worked on tempo a lot, and I think my tempo was really pretty good. I think maybe that's what gives the impression of a terrific swing. I don't know if mechanically it was that sound or not, but it must have been OK."
"It's a perfect swing like Sam Snead's, only better," fellow World Golf Hall of Famer Gene Sarazen once said.
In addition to his U.S. Open victory and runner-up showing, Littler had second-place finishes in the Masters and the PGA Championship. Both of those playoff losses came with asterisks for their respective places in history. His loss to Casper in the 1970 Masters Tournament was the event's final 18-hole Monday playoff.
At the 1977 PGA Championship at Pebble Beach Golf Links, Littler fell in a playoff to Lanny Wadkins, the first sudden-death extra session in major championship history.
"I probably would have performed better and won more tournaments had I not wanted to go home so often," Littler told the Los Angeles Times. "But I guess I loved my family so much that that was the most important thing in my life."
Despite his disappointments in those major championships, Littler still won 29 TOUR titles overall, five after his cancer diagnosis. For his entire career, it was his golf swing and gentlemanly nature that people remembered even if he wasn't as well-known as contemporaries Jack Nicklaus, Arnold Palmer, Lee Trevino, Gary Player and even Casper.
Original story from PGAtour.com
And Another Thing!
Representing For The GolfPunks All Across The World: Lee Elder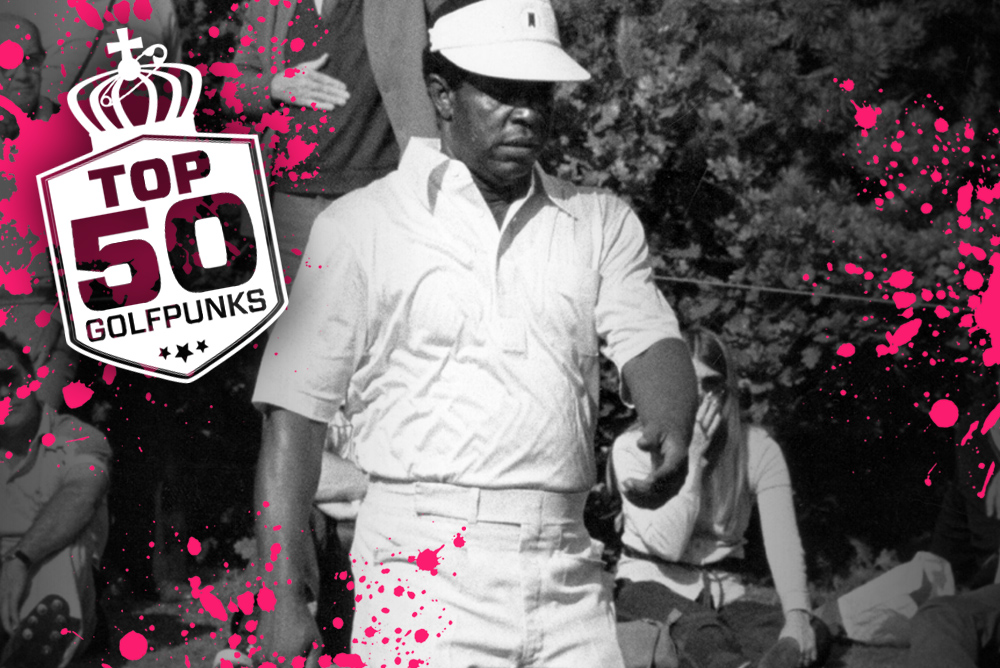 TAGS: