Players
Jul 21st, 2018
Francesco Molinari's lambretta beach-golf caper
Meet us at Putney Bridge, Franny, we said. And bring your Lambretta...
Words: Shaun McGuckian Photography: Steve Read Styling: Merc & Gresham Blake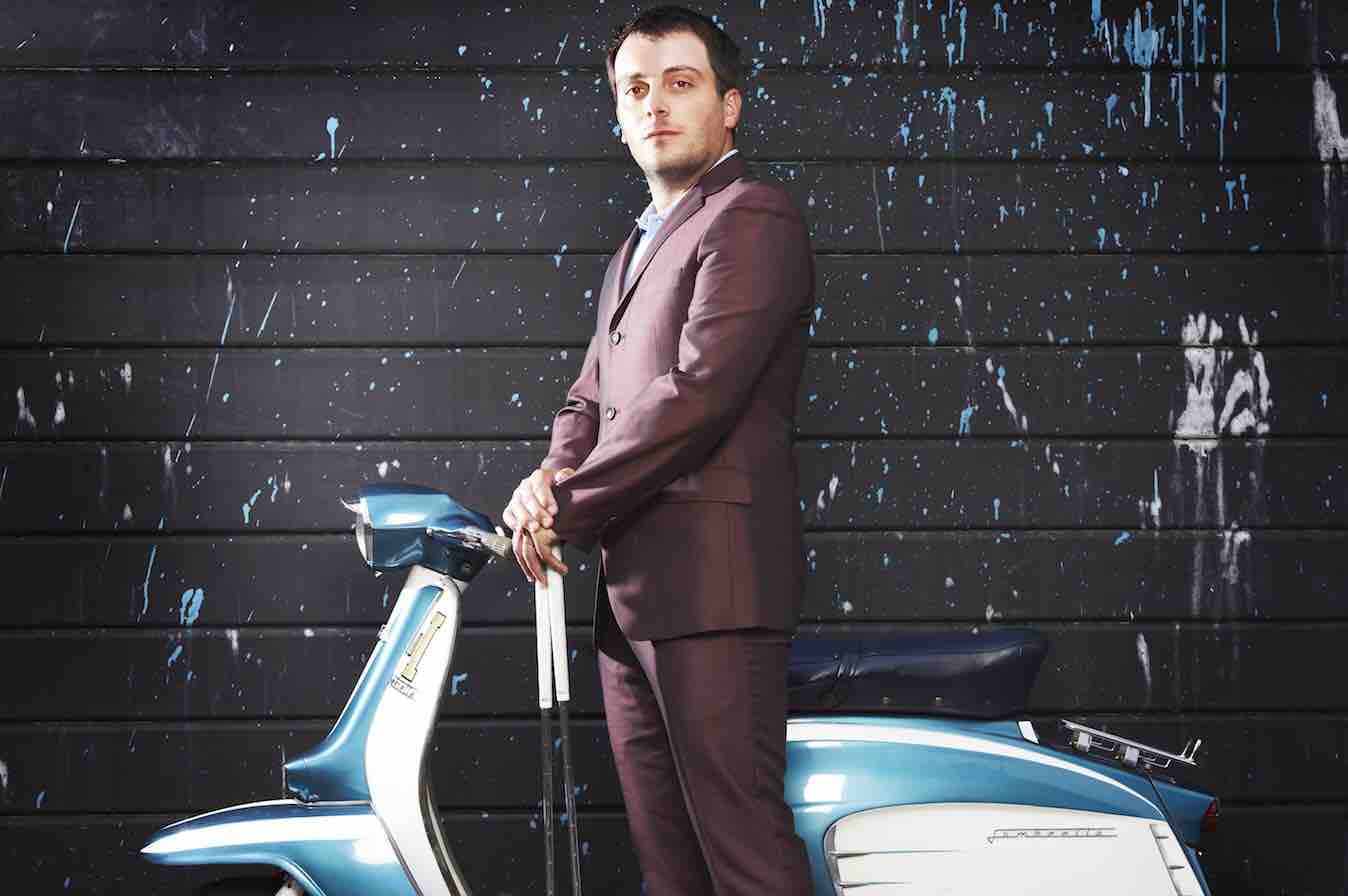 "Do you know what Bunga Bunga means?" asks Francesco Molinari. "It is the name given to the sex parties that Silvio Berlusconi has with all his powerful friends. Basically, a load of old men lusting over a load of young girls. It's horrifying."
As he explains this, Francesco is looking up at a framed newspaper front page on a restaurant wall. On it Silvio Berlusconi, the Italian Prime Minister with a face like a camel's foot, has his arms draped around two scantily dressed young ladies looking every inch the man who has just been invited to (or organized, as the case may be) an orgy.
Such a global laughing stock have Berlusconi and 'Bunga Bunga' become that it is the premise behind the new London Pizzeria we meet Francesco in. A tongue-in-cheek blend of gauche Italiano, Venus de Milo aprons and stunning pizzas with a dressing up box and karaoke upstairs should your tastes prove the same as a horny pensioner.
"He won't last much longer," continues the young Italian golfer. "Too much corruption and dark corners. I doubt he'll even be able to remain in Italy after he is voted out of power. He will have to go and hide somewhere else."
The exact opposite is true of Francesco Molinari. He and his brother Edoardo have spent the last six years being stopped in supermarkets, hugged by strangers and praised in the papers. They were world champions in 2009. Then, in 2012, Medinah. And Molinari's crucial half with Tiger which officially made it a win after Martin Kaymer's heart-stopping putt fell in to retain the cup. Bright lights amid the slew of dirty politicians and corrupt match fixing of the nation's much beloved football.
It's quite amusing then, that six years ago your average Italian wouldn't be able to tell you where their nearest golf course was, let alone identify a 'Molinari'.
"Growing up in Italy it wasn't very easy to play golf. There weren't many courses and they were all far apart," says Francesco.
This is undeniably true. Only over the last six years has there been any concerted effort by the Italian government to invest in golf to drive tourism. It's intention was to change the elitist image of the sport and popularize it to tourists, but more importantly, domestically.
Adverts alone were not going to do this. One exquisite bunker shot, however, did.
At the final hole of the 2009 World Cup, Francesco and his brother Edoardo were clinging onto a one-shot lead with Sweden and Ireland breathing down their necks. Edoardo's approach landed in a bunker. The pin fluttered some 40 feet away, but just beyond it was a big lake. All downhill. "That was a real pressure shot and he had no easy move to make," said coach Denis Pugh, "but he played the perfect bunker shot."
The ball rolled out to five feet and seconds later Italy was a world champion.
"For a non golfer in Italy it is almost more important to read that two Italians became world champions than that one Italian won the Masters or Open," he explains.
"Italians don't know about these tournaments, but they do know what it means to be world champions with our rich history in football."
The Molinari brothers were suddenly front-page news. "It was really good to get recognized, not only from the golf community, but from the non golfers. It gave us a big boost in confidence."
That last point is perfectly emphasized as we set up our first shot in the backstreets of Battersea, London. Francesco is leaning against a garage door in a slick burgundy suit, twirling clubs in his fingers when a silver Porsche rips down the street nearly taking photographer, Steve, with it. 'Tosser' he says. In that instant the brakes slam on and the Porsche reverses back up the street. It stops right in front of Steve and the window winds down as a bald-headed bloke emerges.
"Francesco," he yells, pointed a mobile phone at him. "Huge fan son, huge fan." He clicks, chucks a thumbs-up and zooms off.
Do you have a fan club?
"People are very nice, very respectful. It's strange because I certainly don't feel like I do anything to deserve it. Golf is very much about myself, except for the occasional team event like the Ryder Cup, World Cup or Seve Trophy. It's only then that we professionals can really see what an impact the game makes."
You always do well in Asia, what's your magic there??
"Couldn't tell you. Wish I could. I do love it out there. The tournaments tend to be in big cities and I like to go out exploring. It's easier to entertain yourself when the Tour goes to Asia than somewhere like Gleneagles, say. There is only so much news you can watch on TV. Singapore and Hong Kong were amazing places and when I feel comfortable in an environment I normally carry that onto the course."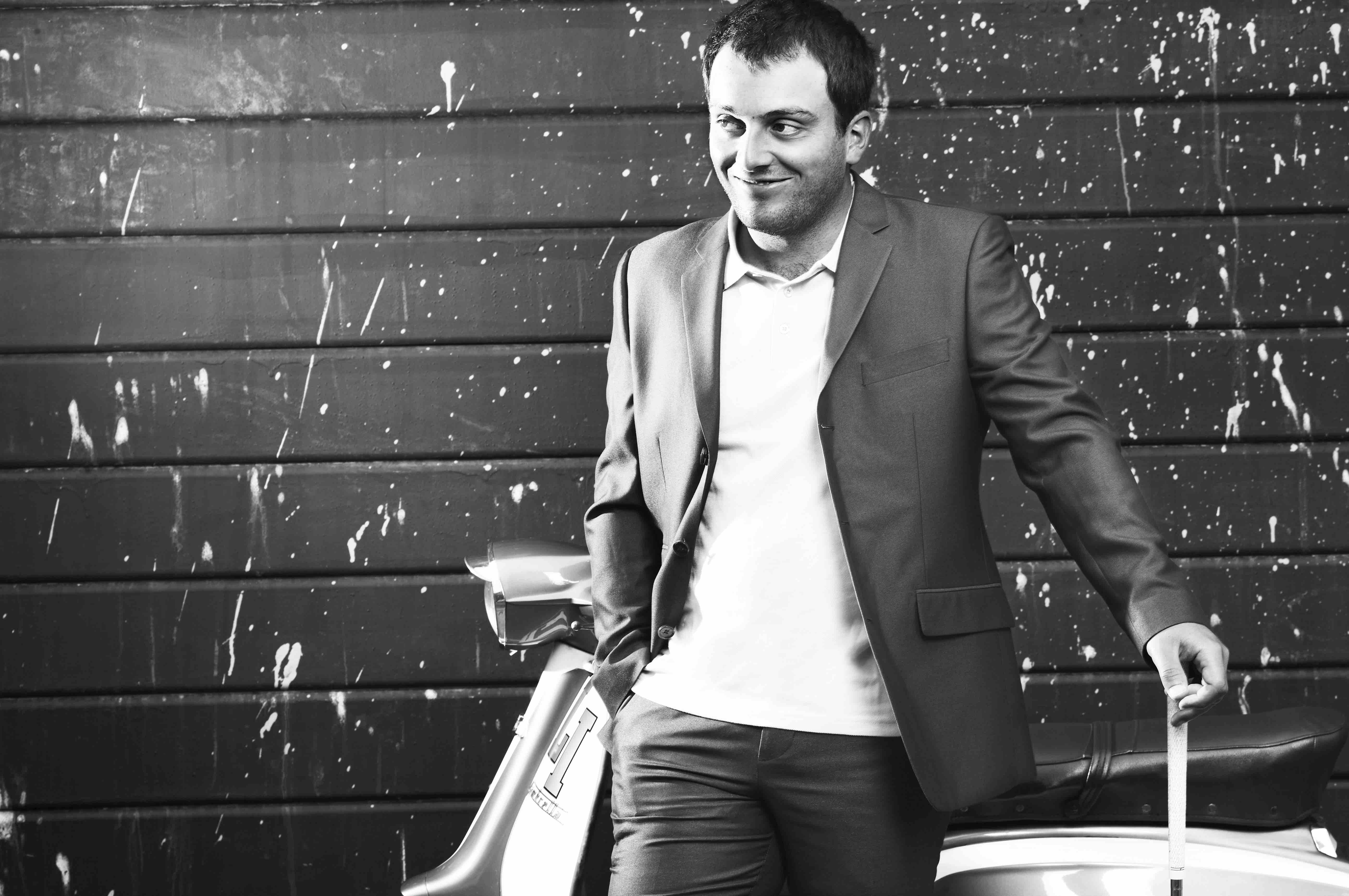 You're somewhat spearheading a renaissance in Italian golf…
"The World Cup victory gave me and Edoardo a big boost in confidence. But for Italian golf in general it was a turning point that we are beginning to see the benefits of now."
Such as Matteo Mannasero?
"He's just a special talent. The most amazing thing about him is his mentality and work ethic for a 22-year-old. It's something that you usually only see in golfers when they reach their 30s."
Have you taken him under your wing?
"Well, we tried to help him a little bit, but then he comes out and wins tournaments and holes iron shots and everything. There's not much help I can offer him there. If anything he should be giving me some advice! It's nice to have another Italian player on the Tour though. We work together and train together like a little enclave and there is a real sense that we are changing things. That we will inspire a new generation."
Why has it been so sporadic so far? Apart from Constantino Rocco no one springs to mind…
"This is true. It was difficult for us as well and if it wasn't for my parents then I'm pretty sure I'd be in an office or something. They had a very big influence on our career. They had to drive us all around Italy to tournaments and to practice every day in Turin. They also supported us and pushed us to do better."
Were they good pushy or ugly pushy?
"They were supportive. They never pushed us to turn professional. Actually, they were scared when we turned professional. We went to university because our dad said it was best to have a back up plan. So we both got a degree first in case life on Tour didn't work out.
"The effect of pushy parents comes out a lot later I think. If they oblige you to do something that you don't want to do then you just go along with it as a child. But, later on, when you can choose what you want to do then maybe golf isn't as important to you. That wasn't the case for Eduardo and me. We enjoyed it. We loved practise and we love playing."
There's Only Two Molinaris... Two Molinaaaaarriiiis....
The first tee at the Ryder Cup in Celtic Manor 2010 was pure theatre. The rain and cold had tried its very best to sink the spirits of the crowd and players, but they were not for turning. This valley was theirs and the amphitheatre around the first tee was where they would sound their battle cry. And it was in this mud splattered fortress where they cut through the wintry conditions with the warmth of laughter.
'There's only two Molinaris, only two Molinaris,' they bellowed as the brothers made their way to the tee.
"I still smile now when I hear that. It helped calm my nerves," says Francesco.
It was not only diffusive humour, but also it also showed what the crowd recognized about the duo. That it was all about family.
Francesco is no peacock. Rather he's contented. A happiness you sense comes from others rather than a need for self-gratification. He has a degree in Business. His tone is measured and stoic and he even stops halfway through our shoot to catch up with a friend from Turin who coincidentally works in the restaurant.
"I haven't seen him in eight years," he laughs. "Small world."
Hell, we even ask him to go and stand in the Thames River and he just nods to say 'why not'.
You've become a dad a few years back. How's that been?
"It's a great feeling, the birth end everyting, and moreover a great experience. You learn things about yourself that you didn't know or didn't expect.
"I didn't think I was going to be so emotional, for example. I mean you expect to be a bit emotional at the birth. Big smiles, tears and everything. But every time I look at him [Tomasso] I can feel the emotion surging through my body. It's such a strong feeling. People tell you about it but no one really describes the reaction properly."
Did you cry at the birth?
"Of course. Being a dad is the greatest feeling. It's so emotional and that intensity just grows more and more every day. To come home and see the little one waiting there for you is amazing. I notice it more when I'm away week from week."
Awww. Does being a dad get in the way of being a world-class golfer though?
"It has been difficult to adjust my life, especially in the first few months. It has taken some time. I won't lie. Rearranging your life is never an easy thing to do, especially when you are happy with the way things are. You have to start training at different times of the day – like at six am when the baby wakes."
So Tomasso is not part of your entourage on Tour then?
"We have Skype for that now. We're quite lucky to live in an age where technology has made the world so much smaller and keep my flight costs down. It's hard to stay away. A week is not so bad, but two or three weeks are a tough slog and that's just for me. My wife used to travel quite a lot with me, but that's another thing that has changed. As much as you want to have your family around you at all time, we've realized that it's not the best for everyone."
You decided to move to England just to be close to your coach [Denis Pugh]. Talk about determined…
(laughs) "It wasn't just for Denis! There were a few things that made me decide to move. My wife and I were already married and we always wanted to experience life outside of Italy. I was thinking of going to America to finish university, but my wife did an MBA in London in European Business MBsc, so that helped.
She sounds a catch. Also sounds like you don't win many arguments…
"That's true. It's the one thing I don't often win at. We really enjoy our own company. Waltzing around London, checking out art shows, the theatre and exhibitions. We like to go and see any art exhibition that's around. We both loved living here and with Denis just down the road it helped us to make the move permanently."
Are you and Edoardo more Cain and Abel or The Jonas Brothers?
"We used to train together in Turin all the time and still practice together on Tour. There's the competitiveness because we were competing against each other as we would compete against any other player on Tour. I think it's been really good because there wasn't that many golfers in Italy, so having a brother there to train alongside provided focus. Whenever he did well, I wanted to do well and that gave us great momentum throughout our careers. When he won the US Amateur and then won the Italian Open five or six months later I was really driven to get out there and do the same thing. That's why I turned pro. I wanted to get some of the success he'd been having. His successes pushed me to work harder and play better and that dynamic has remained with us ever since. The only thing better than seeing Eduardo's name at the top of the leaderboard is seeing mine above it."
Was that the magic ingredient in your Ryder Cup pairing at Celtic Manor?
"That was really unbelievable. Not just that week, but also the 12 months prior. The whole experience of making the Ryder Cup team together was every dream come true for us. When I turned pro I thought I was good enough to play on Tour and maybe winning a tournament now and again and I wasn't even 100% certain of that. So, making the Ryder Cup team was only something I dreamt about. Making it together was simply amazing."
Must have been a hell of a comedown after?
"I played in the Dunhill Links a week later and would say that 20% of me never even turned up in St Andrews. It was still having a party at Celtic Manor. I was knackered, but you only notice it once the adrenaline disappears. You're on this massive high for a week, especially mental energies and then I felt this massive lull once the circus had ended."
Is there much progress to make?
(Raises eyebrows) "It gets harder and harder as you get closer to the top. It's much harder to go from 30th to 10th than it is to go from 200 – 100. Like it is a lot easier to change your handicap from 24 – 15 than it is from 5 – 1. I think this has been a settling year. We haven't improved as much as we wanted, but there's still time to make it better. The main thing is to keep sticking to the strategy I've developed with Denis and the other people around me and I've found that results tend to follow when we do that."
That must drive you nuts then?
"It's frustrating when you're working really hard on something and it doesn't happen as often as you wish. I probably get more upset when I'm practicing than during tournaments. You know that if you start swearing and stressing at tournaments then you lose control of things and then there's no stopping what might happen.
"I'd say that one of the most important lessons I've learned is to remain calm and patient on the course. Stick to what you were working on at the range and keep your focus limited.
"That said, a little anger is also a way of pushing myself harder as well when things aren't going the way I wish."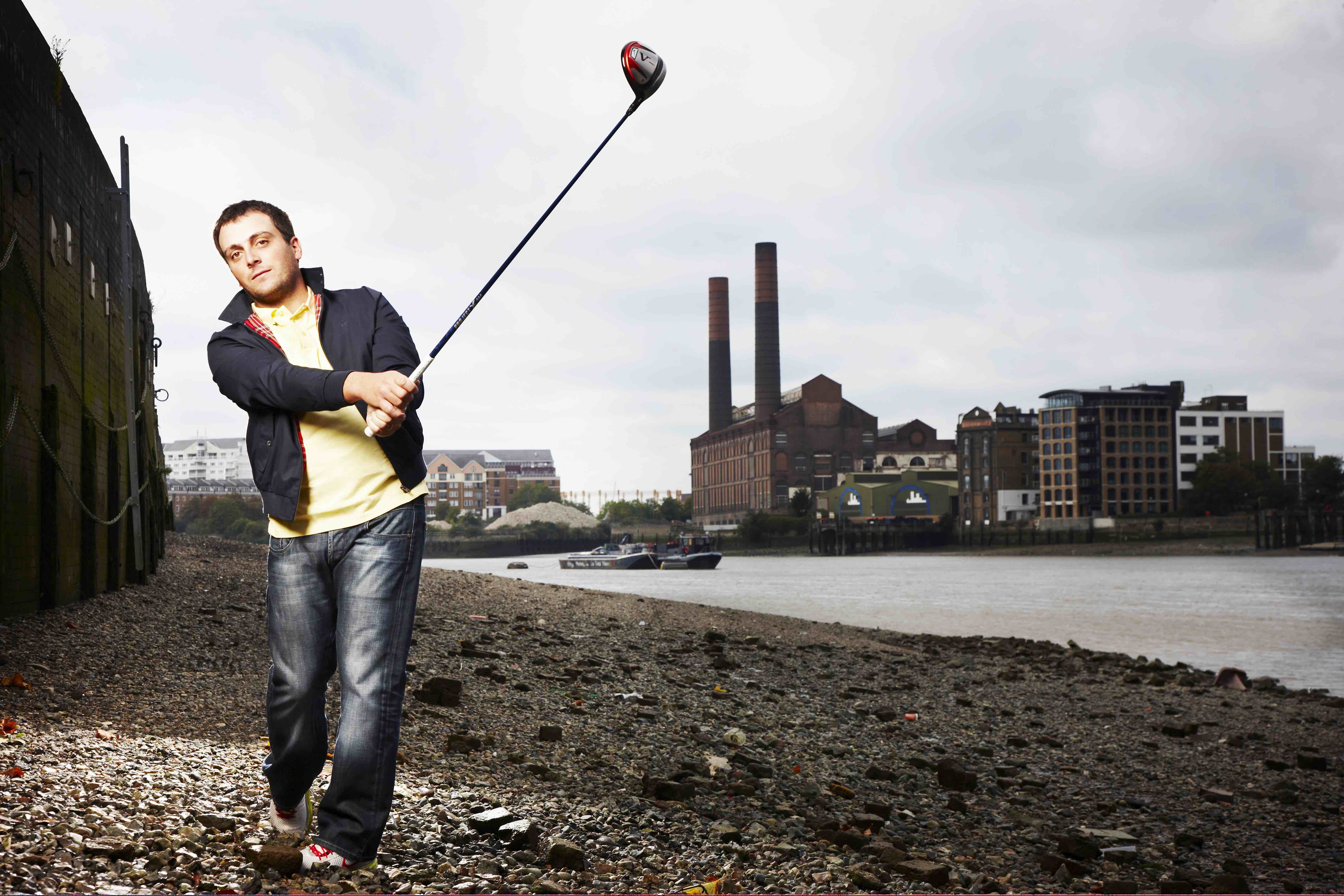 Special thanks to David Wilson for lending us his lambretta. #WeAreTheMods
Dennis Pugh's verdict
Denis Pugh has been Francesco's coach throughout his professional career. Francesco even moved to London to be close to him.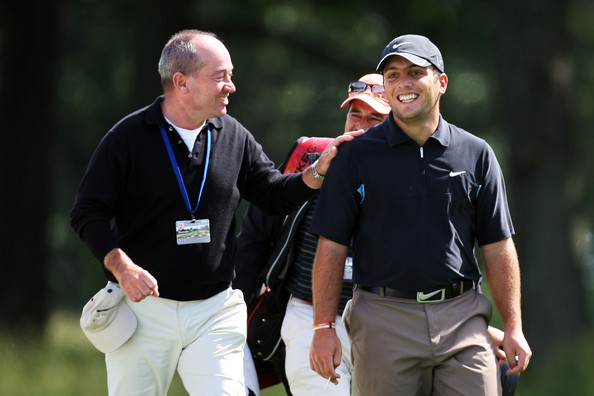 What you recall of Francesco when you first met him? 
"He was a quiet character until you get to know him because that's just his way. He thinks about things quite a lot and is quite a deep person.
He didn't quite have the consistency in those days but was a really good ball striker. He'd just turned professional and is one of the few who didn't even do the Challenge Tour; he just went straight from top amateur onto the Tour."
Did you have any specific breakthroughs
"When I met him Francesco's swing relied a lot on his hand-eye co-ordination. He had quite a lot of hand action in his back swing, which meant that when he was off his striking would go offline. Either the big block to the right or the classic counter pull to the left. The basic problem in those early days was too much wrist-action in basic terms.
We started working on balance because where he'd grown up hitting the ball with his hands, he'd fallen into the habit on standing up on his left leg with the driver
So they were the two issues that needed to be corrected. He's always had excellent rhythm and motion through the swing and I've always felt that his short game has never attracted as such credit as it's due. He was always a streaky putter but you could not fault his chipping."
What sort of work ethic does he have?
"Every time he went away he'd come back improved. He's that sort of person. Whatever work was needed, Francesco would go away and do it. There have never been any quantum leaps in our relationship, but he has gradually improved over time.
If I were to stitch together all our lessons all you would see is the gradual eradication of superfluous movement from his swing."
Has he – or does he -–take your breath away? Can you expand? 
"No. It's never got to the stage where it's taken my breath away. That would be quite something in golf. I would say that there have been three occasions that I've been very impressed by the way that he handled himself.
1) His bunker shot at the World Cup after his brother had missed the final green. That was a real pressure shot and he had no easy move to make, but played the perfect bunker shot.
2) His opening tee shot in the Ryder Cup. I knew how nervous he was as he walked out to the tee. The crowd in full voice singing 'there's only two Molinaris' and he absolutely melted it down the middle.
3) The putt he made to halve he holed to get the half point, which ended up being so crucial. He birdied the last hole. I know that he wasn't happy with his putting that week and didn't fancy it, but nonetheless stood up and knocked it in."
Can you describe his character? 
"He's very much a family man, which is an important part of Italian culture. He has good parents, a lovely wife and they've recently become parents themselves. He's a proper person and I would describe him as a very good friend to have."
Has he ever had a strop during a lesson? 
"When Francesco is not performing well he gets very angry with himself. He's certainly passionate about what he does, but he directs his anger inwards rather than at me or at his caddie, which could be a better outlet for it.
We've had a few strops out on the practise tee, but on those occasions we can take a break and go for some tea and sympathy. The tournament arena, however, offers no such respite and that is one area where we can still make progress."
What was your reaction when he told you he was moving to England?
"I thought he was very wise as there was a lot of work to do and we needed to spend as much time as possible doing it. He was very committed to being the best player he could be and the move to London proved to me his true intentions."
TAGS: Francesco Molinari, Italian Golfers, Players, 2018, Ryder Cup, 2012, Edoardo Molinari, World Cup, Tiger Woods, Medinah, Putt, Hole In One, Phoenix Open