Players
Mar 20th, 2017
Emotional win for Leishmans
Bay Hill victory caps remarkable family comeback
Words: Tim Southwell Photography: Getty Images
There's golf and then there's life. For the Leishmans they are extremely grateful to be able to celebrate both this week.
Marc Leishman's victory at Bay Hill last night added another emotional storyline to the week that saw the Arnold palmer Invitational being played for the first time since the King's passing last year.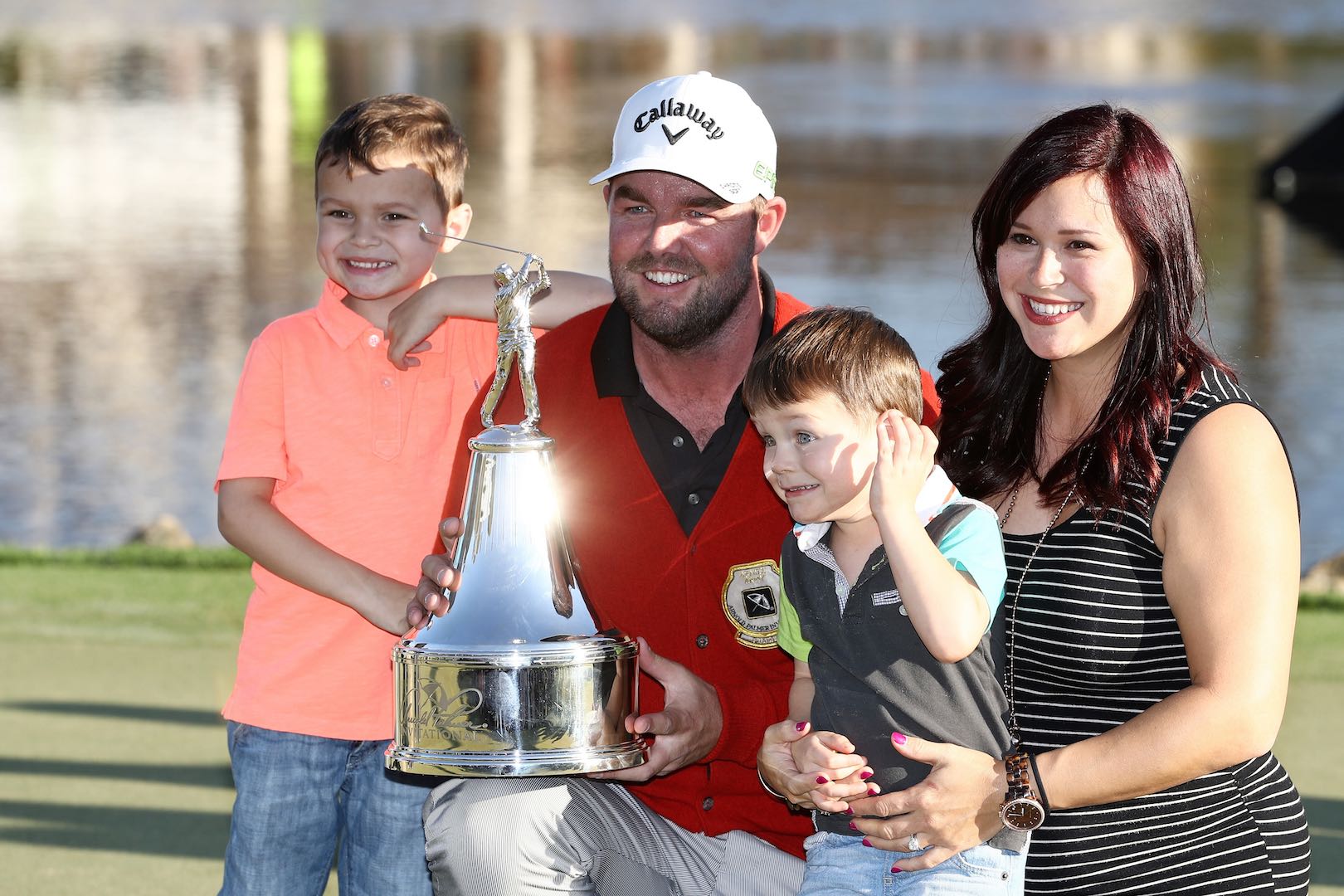 "It's been a real dream and a real motivation to win a trophy for Harvey and Ollie, and the fact that we're all here together is a dream come true," Leishman's wife Audrey said. Winning at
Audrey nearly died in late March 2015 after developing acute respiratory distress syndrome and toxic shock syndrome. She was placed in a medically-induced coma and was later told that her chances of survival had been about 5 percent.
"It was terrible. I was ready to give it away," Marc said Sunday evening as he wore the red cardigan sweater now awarded to the Arnold Palmer Invitational's winner. "If Audrey had passed away, I was going to be a dad and that was it. It didn't cross my mind to keep playing golf."
https://www.youtube.com/watch?v=QEfrJ2PLb4k
Audrey was back watching her husband play a PGA TOUR event just a few weeks later, but the ordeal still impacts her.
"They went through their nightmare when I was in my coma," Audrey said Sunday. "When I woke up, it was a big relief for them, and that's when my nightmare started. That's when I realized what had happened to me and how sick I really was."
She still didn't feel healthy for about a year after getting sick. At this tournament last year, she had to be hospitalized to receive IV fluids and steroids because of exhaustion after the family toured two of Orlando's famed amusement parks. A tonsillectomy last May improved her health, helping her reach "a new normal."
"I don't know if I'll ever be what I was before, but I'm pretty comfortable with where I'm at," said Audrey, who's due to give birth to a baby girl in July.
In September, Audrey's infectious disease doctor told her that she wouldn't have to return. "Go have a nice life," Audrey said the doctor told her.
She fulfilled that command Sunday by witnessing her husband win on the PGA TOUR.
Marc made the win possible by holing a 50-foot eagle putt on the 16th hole Sunday and making a gritty par at the last. Marc was inspired to win a trophy for his sons, and he thought of Harvey for an extra dose of confidence as he stood over his final putt, a 3-foot par putt with its share of break.
"Some weird things go through your head, but I was thinking – because we have a putting green upstairs – that Harvey could make this putt. You have to make it," Marc said.
He did, allowing a family that has endured so much to share a joyful moment at the tournament celebrating one of golf's great figures.
Bay Hill earned Leishman an invitation to this year's Masters. He withdrew from the tournament two years ago as his wife fought for her life.
"For the past year, Harvey has been asking Marc, 'Daddy, why don't you ever win a trophy?'" said Harvey's mother, Audrey Leishman.
Harvey had seen his friend Dash Day, son of Jason, run jubilantly onto the 18th green many times over the past couple years, and he wanted an opportunity to do the same.
Harvey, 5, and his brother Ollie, 3, got their chance March 19 when Marc Leishman made eagle on the 70th hole and snuck out a one-shot victory at the Arnold Palmer Invitational presented by Mastercard. The win moved Marc to 11th in the FedExCup and increased his chances of qualifying for a third consecutive Presidents Cup team.
It was Marc's second PGA TOUR win, and the first one that Audrey and their two sons were on-hand to watch.
Congratulations Leishmans.