PGA Tour
Mar 12th, 2022
Players Championship to run into Monday
Opening round still not completed at rain soaked Sawgrass
Words: GolfPunk Photography: Getty Images
The Players Championship is set to run into Monday for the first time since 2005 as storms continued to hit the TPC Sawgrass course in Florida.
Tommy Fleetwood and American Tom Hoge lead the way on six-under after both managed to finish their rounds as scheduled on Thursday. The rain and storms on the opening resulted in the loss of five hours of play and an evacuation of all spectators.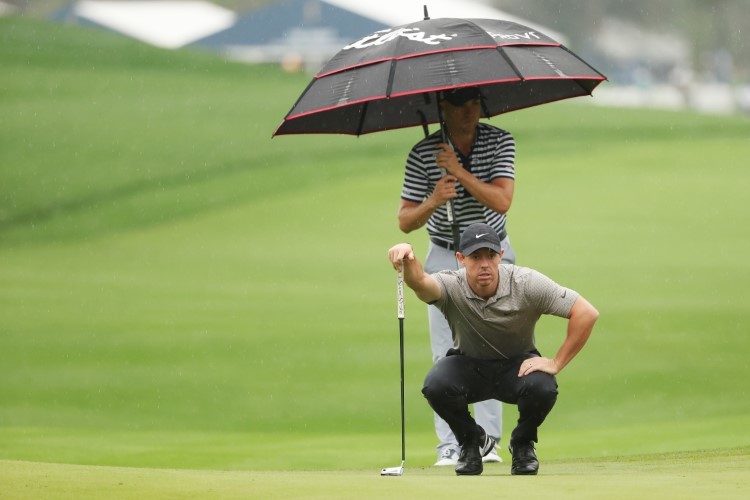 Bad weather wept in again on Friday play was again suspended before the decision was made to call it day.
"The golf course has just reached a point of saturation, and unfortunately the weather conditions are not providing us any relief," said Gary Young, the tournament's chief referee.
There was speculation that the tournament may run into Tuesday but this was dismissed by Young.
"If our calculations on everything hold together, we certainly expect to be finished with the championship on Monday," he said.
The cut will remain at 65 and ties after round two with a number of names struggling as they picked up the bad side of the drawer having to play in the rain on Friday.
Rory McIlroy, who was playing alongside Justin Thomas and Collin Morikawa, is sitting on one-over with three holes of his opening round to play. Defending champion, Thomas faired better and sits on two-under with Morikawa at level par.
England's Ian Poulter, who sprinted his last three holes on Thursday to ensure he finished is a player needing a good event. Poulter is in danger of missing the WGC World Matchplay the week after next and a chance to force his way into the field for the Masters.
Poulter is currently 65th in the world but needs two good finishes to move up into the top 50.
"It goes without saying that I'm desperate to play in the Masters, so I've got two opportunities to get it done, which is this week and the matchplay," said Poulter.
---
And another thing...