PGA Championship
Jul 27th, 2016
John Daly: USPGA's greatest ever hero?
Blockbuster feature reveals all
Words: John Daly Photography: Portrait by Michael Lewis & Getty Images
You have to feel for John Daly. Here, after all, is a simple guy from the country who wants nothing more than a quiet life but, for whatever unlikely reason, can never seem to find one. Ever since he came from nowhere to win the PGA Champion- ship at Crooked Stick in 1991, his has been a career characterised by calamity and sandblasted with scandal. Marriage, drinking, driving, sex, eating, gambling, smoking; the word 'moderation' simply isn't in Daly's dictionary.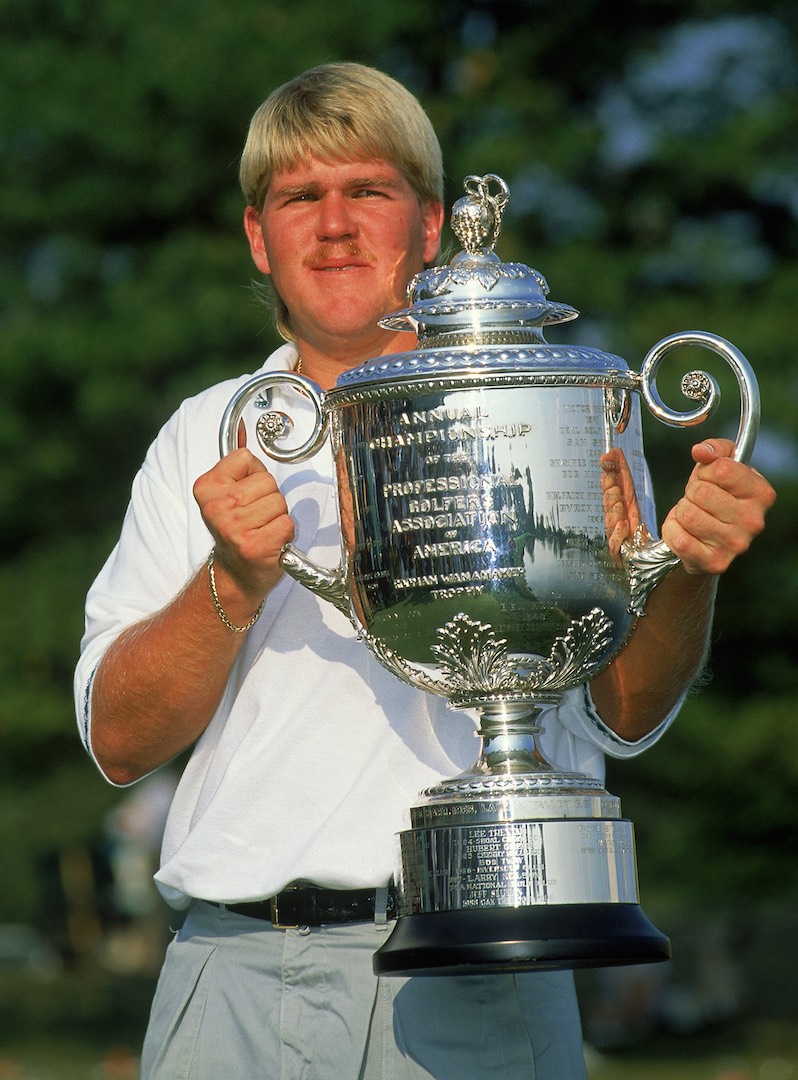 And with a track record that name-checks pretty much all of the seven deadly sins (and a bunch of the other non life-threatening ones too), it's to his eternal credit that he still somehow manages to turn up and play, when he should really be laid up or laid out.
This, of course, is because Daly possesses a seemingly unbreakable spirit and a strength of character so resilient that despite all of the headaches and heartaches that have pockmarked his story, he's still in there competing.
It's also because he has a lot of people pulling for him, not merely among his fellow players where he remains one of the most popular guys on tour, but among his legion of fans too. Witness the play-off with Tiger Woods at the 2005 AmEx Championship in San Francisco. When Daly missed his three-foot par putt to hand Woods the title, the sense of disappointment in the galleries that day was tangible. Why? Because nobody wanted Woods to win it; not really. They, as ever, wanted the Wild Thing.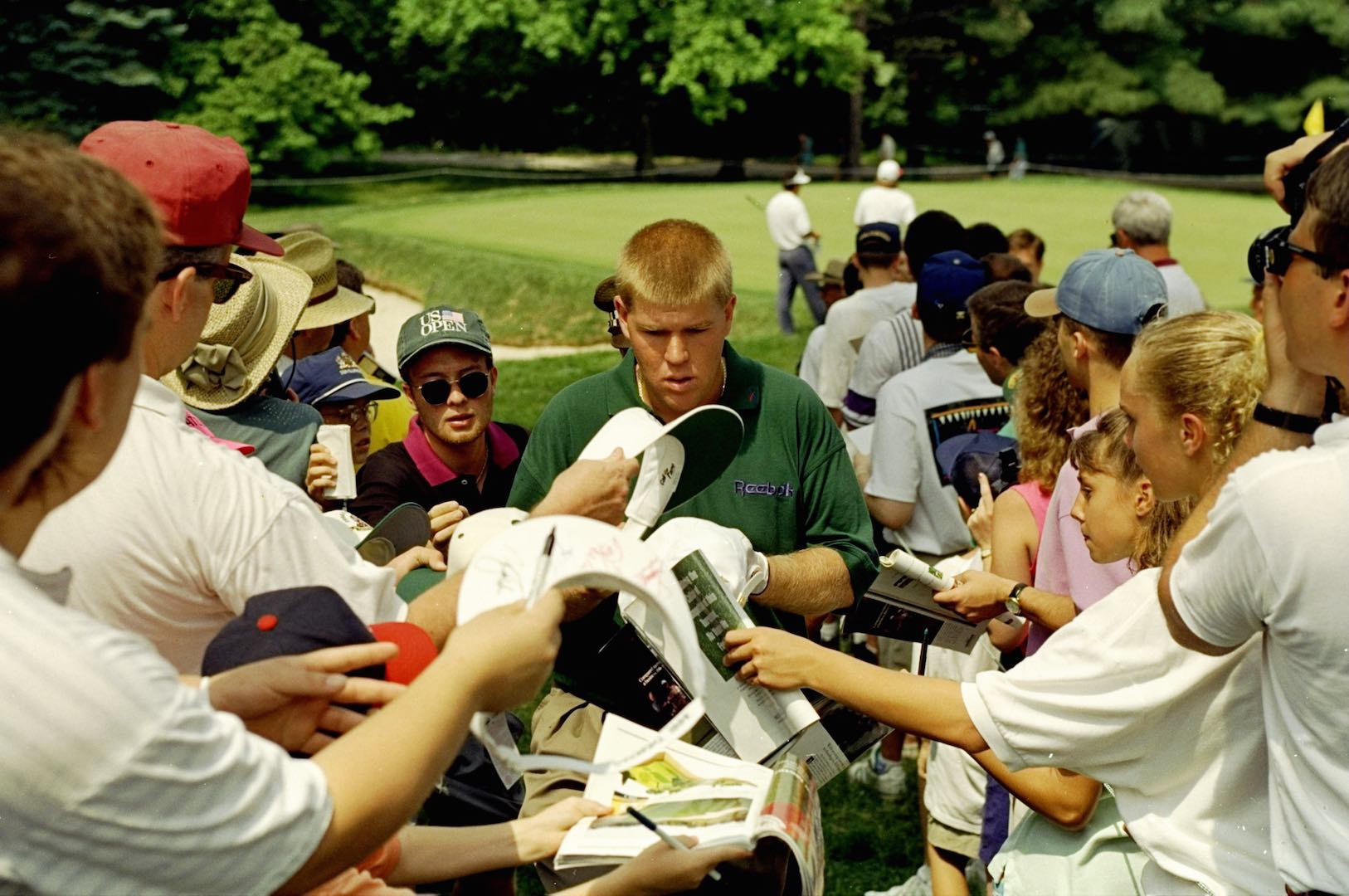 Why do we love him so much? Probably because he's every bit as susceptible to 'getting stuff wrong' as the rest of us. Plus, he's the only golfer to have won two majors and not played on a Ryder Cup team. What's up with that?! Plus, he doesn't mind talking about it. All of it... Over to you JD!...
DALY ON GAMBLING
Over the course of his career, Daly estimates he may have lost up to $60 million.
"I'll give you a perfect example of how destructive my gambling gets at times. Last fall 2005, after getting beat by Tiger in a play-off at the WGC AmEx Championship in San Francisco, I made $750,000 for finishing second, and generally felt pretty good about everything except my putting. I was real disappointed that I hadn't won, but at least I'd had a really nice payday.
"But instead of going home and closing the 2005 PGA Tour season on a high note, I went straight to Vegas. My first stop was the new Wynn Las Vegas casino, where they have this $5,000 slot machine. Within an hour-and- a-half, I was down $600,000. There went all that hard work against Tiger. Next I went over to Bally's. Got a $600,000 line. Won about $175,000 and took it back over to that damned $5,000 machine.
"It owed me big-time. But I didn't hit shit on it. Got another $600,000 line from Wynn. Lost it in two hours on that $5,000 slot. Back to Bally's, where I won another $80,000, then tried dialing down to the $100 slots, looking for a little streak so I could pay down some of what I owed. No dice: in less than five hours, I lost $1.65 million.
"So much for finishing the 2005 PGA Tour season on a high note. And here's how my sick mind analysed the situation: my sponsorship payments would be coming through in January, so I'd be able to pay everything off and get back to even by the beginning of the new year. Everything's fine. Every- thing's OK. No problem. Hell, yes, there's a problem. If I don't get control of my gambling, it's going to flat-out ruin me. What burns me most, looking back, is that in the 12 years I've been gambling heavily, if I had left after the first hour-and-a-half every time I was in a casino, I'd be up, way up. Instead, I'm down $50 million to $60 million."
DALY ON MARRIAGE
After Dale, Bettye, Paulette, and Sherrie, Daly is now with his fifth wife Anna Cladakis...
"I always look on the bright side of things. I always think I'm going to hit a perfect shot. I always think I'm going to hit the next jackpot. And I always think that this time it's going to be love forever and evermore. That's what I thought when I first laid eyes on Sherrie Miller. She was standing by the green on the 10th hole of the TPC at Southwind during the first round of the FedEx St Jude Classic on June 7, 2001. She just flat blew me away.
"Man, she was beautiful. I said to myself – honest to God, I did, right then and there – I said, "I'm gonna marry that girl." First, though, I had to meet her. Turns out that wasn't so hard. I walked up to her, introduced myself, and asked her if she would meet me in the parking lot after I finished my round. She said, sure, I'd like that. I'll never forget what she said later when we got together: "I don't like blonds, and I don't particularly like golfers, but I do like fat boys." Shit, I was a third of the way home. Fifty-three days later, on July 29, 2001, we got
married.
In 2010, Sherrie pleaded guilty to federal drug charges and was sentenced to a five-month prison term. On December 17, 2010 in Memphis, Circuit Court Judge Donna Fields awarded custody of the couple's seven-year-old son, "little John" to Daly, and jailed Sherrie for interfering with Daly's court-ordered visitation rights and other failures to abide by the court's orders in their ongoing divorce proceeding. Business as usual...
JD is now married to Anna Cladakis who Daly met through her job as Promotional Director for Hooters. Cladakis can often be seen caddying for the Wild Thing.
And that's not all...
Previous wide Sherrie Miller sued Cladakis and two purported employers in 2011 in DeSoto County, where Miller alleges Daly and Cladakis began their sexual trysts. Miller says the trysts began in 2007 while she was separated from Daly.
Miller appealed to the Mississippi Court of Appeals, which ruled that the lawsuit should be heard in DeSoto County because 'the alleged sexual activity between Cladakis and Daly within the state of Mississippi, which contributed to the breakup of Daly's marriage with Miller, constituted a tort committed, at least in part, within this state.
Since the sexual activities between Cladakis and Daly allegedly occurred in the state, witnesses and evidence may be found here. … we do not find it improper to bring her back into Mississippi to defend the alienation-of-affection case that arose out of those alleged activities.
Blimey.
DALY ON THE 1997 PLAYERS CHAMPIONSHIP
With his form nose-diving, his drinking escalating and his marriage on the ropes, Daly arrived at the 1997 Players Championship at Sawgrass. Then, matters got much worse...
"For almost two years, me and my wife Paulette had been splitting up and getting back together, splitting up and getting back together. The only constant in our relationship was the fighting. I was miserable and pissed off all the time. Was I drinking? Hell, yes. That was the only way I could stay sane.
"When we went to Ponte Vedra Beach for the Players [Championship], everything came to a head. She wouldn't come out on the course with me. She didn't want to have anything to do with me. And at bedtime, none of that either. Then I went out and shot a fucking 76 in the first round. And it wasn't even one of those "If I'd made a putt here, a putt there" 76s. It was a pig-ugly 76, and I was pissed off.
"So I grab Donnie and I go out drinking. Remember those "40 or 50 drinks of whiskey since my first rehab" I mentioned? Well, I drank a big bunch of 7&7s that Thursday night, so maybe the 40 or 50 number is a little light. After a while, Donnie couldn't stand watching it anymore, so he left me with a bunch of caddies and told them to bring me home.
"We ended up at a joint called Sloppy Joe's. All told, I had been drinking for a good 12 hours. I was absolutely trashed, as drunk as I'd ever been in my life and still standing. That night was the first time I got up on a stage and sang Knockin' on Heaven's Door. Finally, at about three o'clock in the morning, the guys got me back to the hotel, and as I was coming in the front door of our suite, I stumbled and crashed against this door leading into the kitchen. Smashed the hell out of it, fell down, and blacked out. Next thing I know, I'm sprawled out on the floor, and Olin Browne, one of my good friends on the Tour, is trying to help me get up.
"There are five or six security guards standing around, but there wasn't anything for me to do besides watching Ollie try to haul my drunk ass off the floor. And Paulette's yelling, "Oh, my God! He destroyed the room!" And Ollie's looking at her, saying, "Hey, it's just a door." Right, it was just a door. I've destroyed rooms before. I know what they look like after I'm done with them.
"This was no big fucking deal. With Ollie's help, I managed to get up, get myself into the bedroom, and fall into bed, where I blacked out again, this time with my eyes open. (I'd done that before. I guess it must look pretty scary.) By then somebody called an ambulance, which I didn't think I needed: I had a blackout, that's all. But the EMTs [Emergency Medical Technicians] came and strapped me to a gurney and started wheeling me out. Ollie was still there, and a couple of cops, the security guards, and Donnie.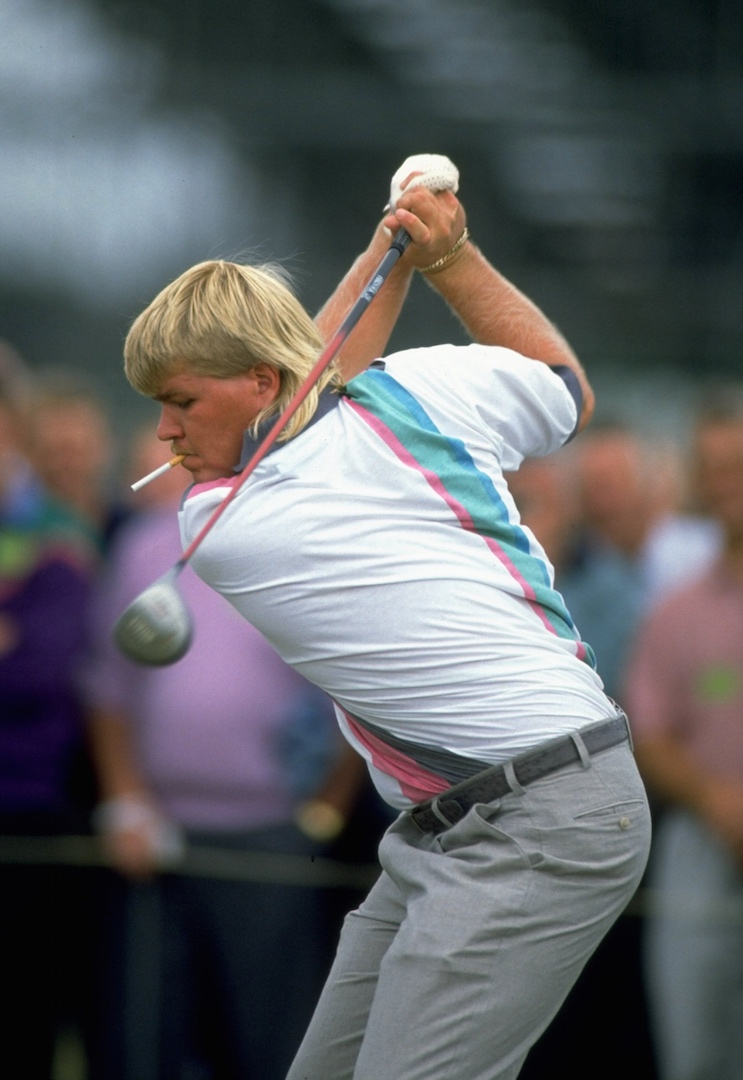 "Then Fuzzy Zoeller came up as they were wheeling me down the hall towards the elevator. He leaned down and said, "Are you all right, kid? Are you gonna be OK?" And I said, "No, Fuzz, I'm not. I'm fixing to lose my wife, and I ain't playing worth a shit, and I'm drunk all the time, and I wish somebody would just kill me. Why don't you grab that cop's gun and just fucking kill me? I can't live like this anymore."
"At least that's what Fuzzy later told me I said. By then I was sort of going in and out, and I don't remember so good. The first faces I saw when I woke up in the damned hospital belonged to my agents, Bud and John, and to Donnie. Paulette had gone back to Memphis, Donnie said. She hadn't even come to the hospital to see how I was. She went straight home to file for a divorce. I told the guys I was miserable and that I had to go somewhere and see if I really needed help."
TRAVELLING
Daly travels in a luxury $1.5 million motor home. An avowed aerophobe, he only flies when he absolutely has to...
"My bus is a lot more comfortable, it's more private, and it doesn't fly. See, I don't like flying. Don't throw a bunch of statistics at me about how much safer air travel is than driving. I know that. I don't care. Obviously, a lot of times I can't avoid flying. But if I have a choice, I'll always take my bus and leave flying to the birds.
"My bus is 45 feet long. It's got a Prevost engine that's strong enough to tow a car if I need a second one besides the courtesy car at the tournament. Outside, there's a small refrigerator, a freezer, and full- size barbecue grill that folds out, along with a small TV I can watch while grilling steaks.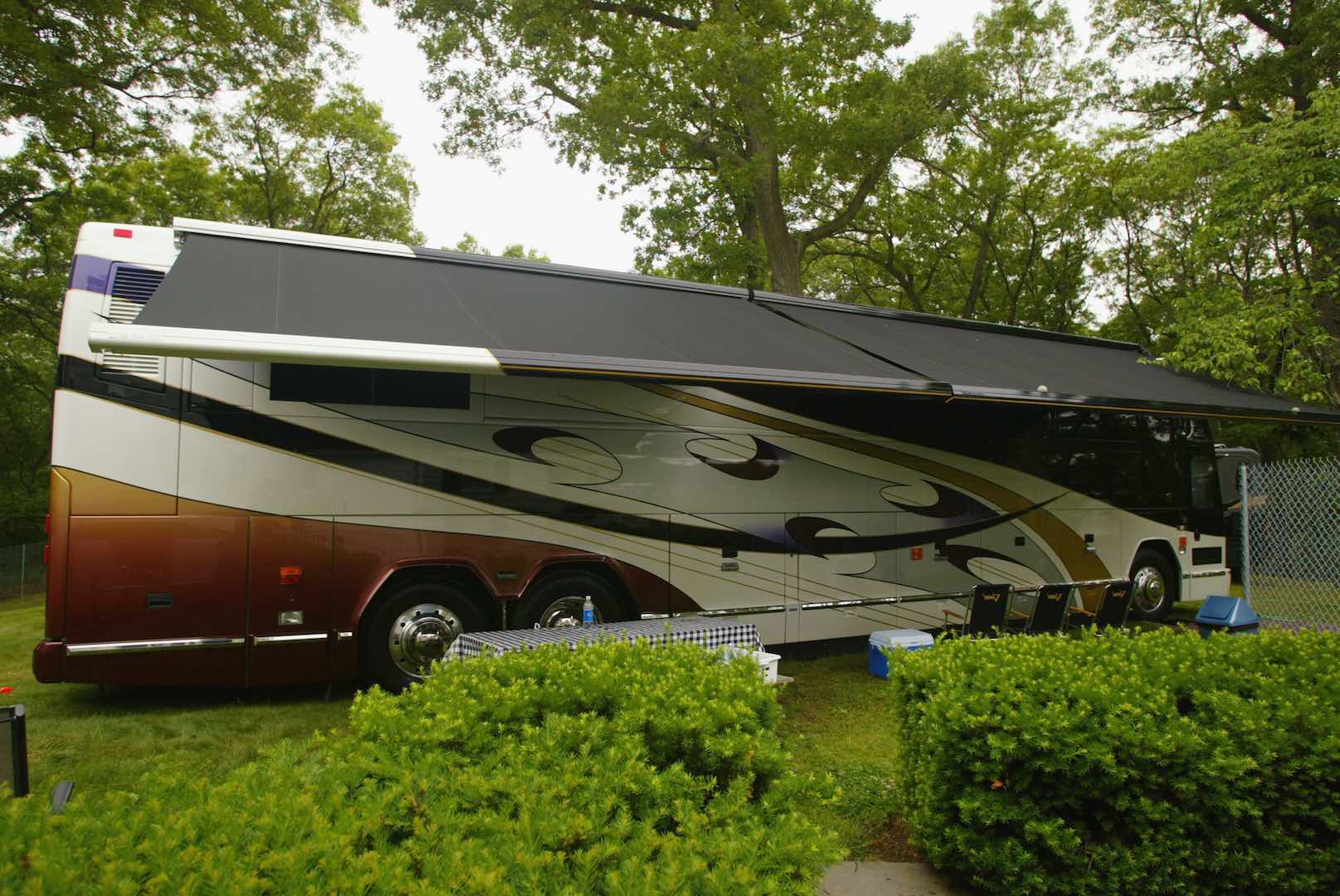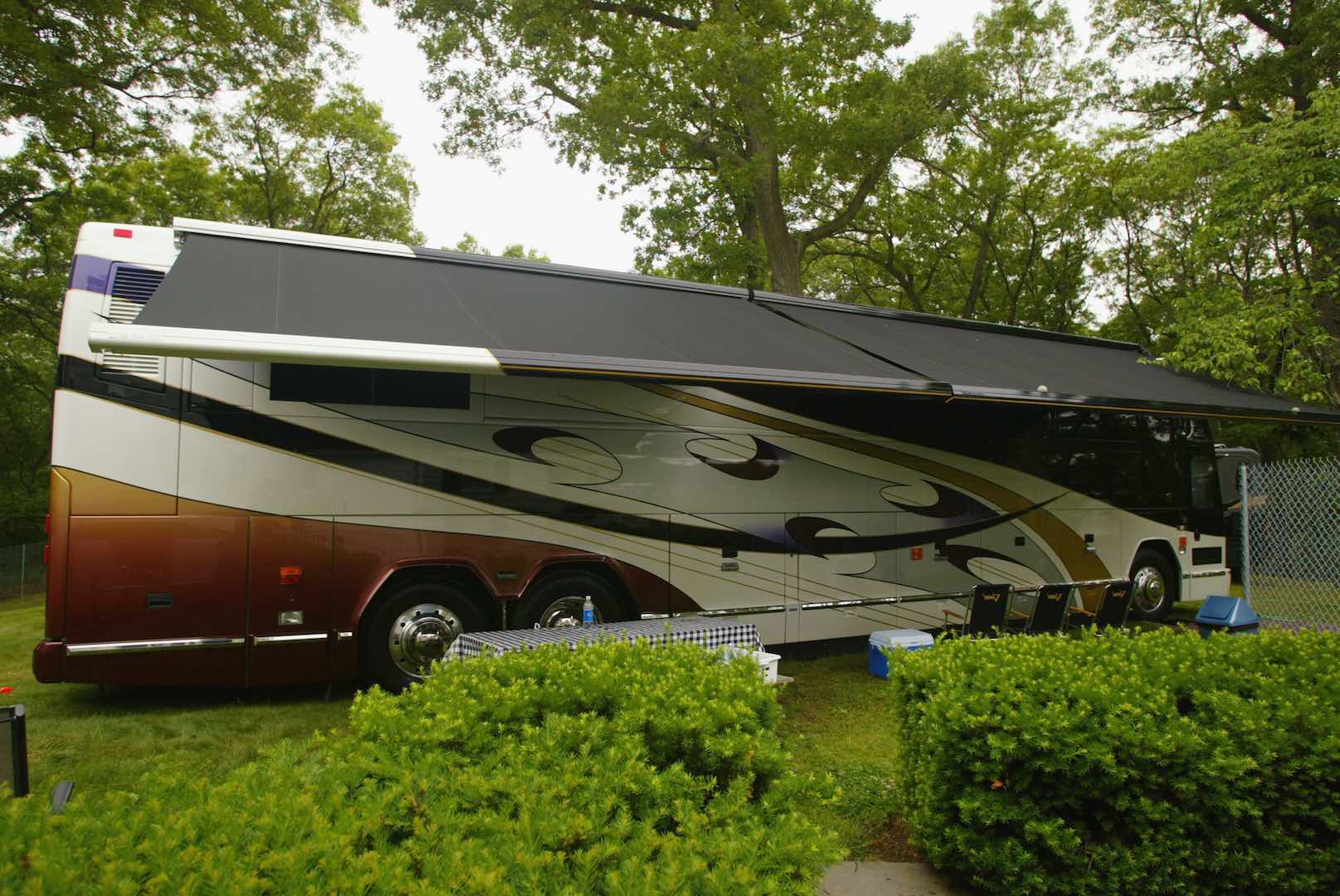 "There's also storage space for a picnic table and chairs, as well as for luggage. Some guys I know keep a motorcycle in there; another stashes a golf cart. Inside, it's about 900 or 950 square feet, divided into two rooms. The bedroom has a California- king-size bed, which is larger than your standard king. Two of the three couches in the living room make down into beds.
"There's a chair-recliner for me to sit in and watch one of the two 42-inch- inch plasma TVs (and a satellite dish on the roof to make sure the picture's good and clear). Leopard-print walls, granite countertops. Full kitchen, with plenty of cabinet space. Washer-dryer. Dishwasher. Bathroom with full shower. And no fucking workout room.
"On my bus, I get to leave when I want to, come home when I want to, stop when I want to. It's cheaper (or at least no more expensive) in the long run than hotel rooms and airplane tickets and meals at restaurants (which I hate anyway). No security checks, no flight delays, no waiting forever for your luggage, no ticket screw-ups, no hassles if, God forbid, you should want to change your departure plans – and no "clear air turbulence" to scare the living shit out of you. Plus, on my bus, I can smoke.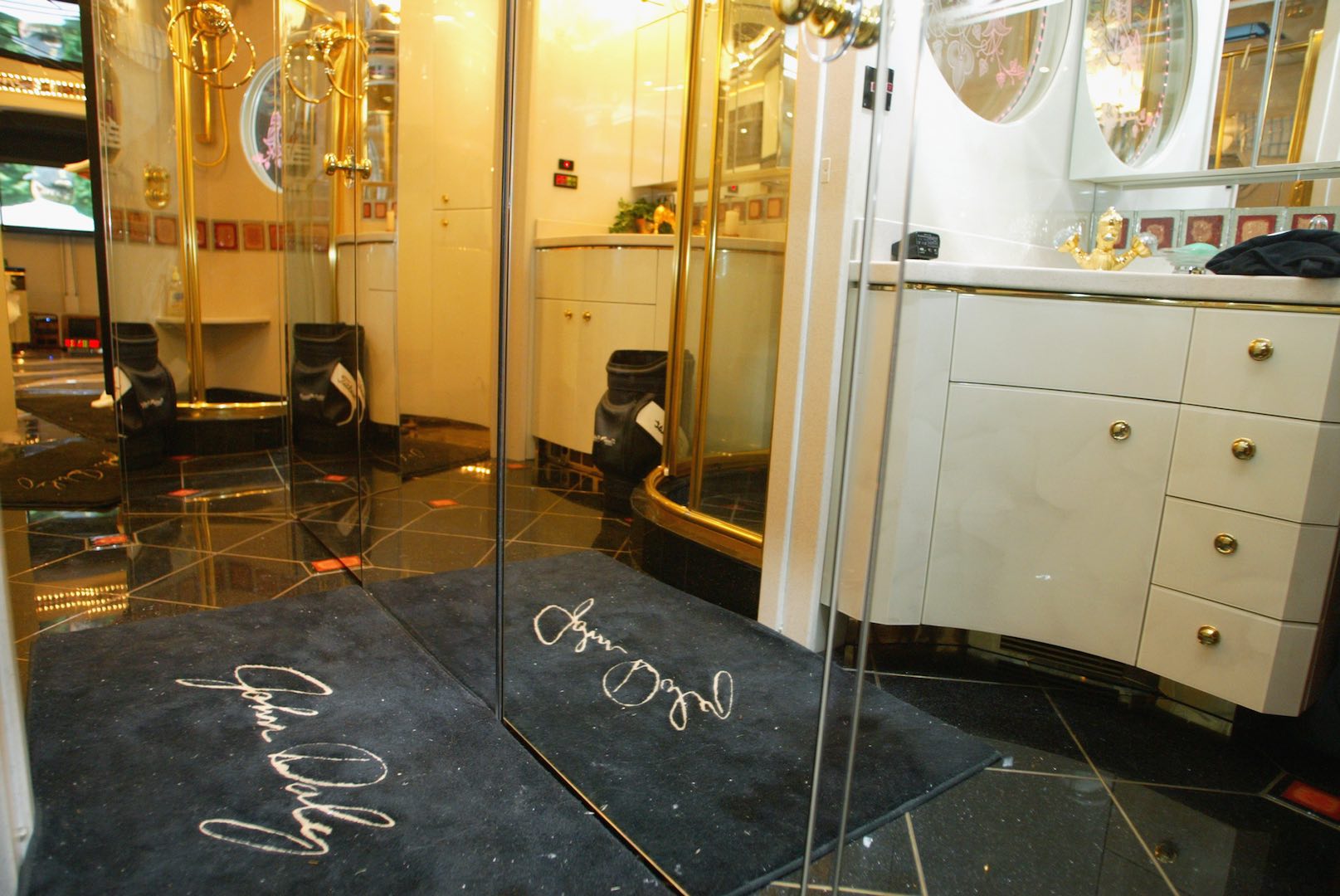 DALY ON FOOD
Even as a kid, Daly had problems with his weight.During a three-year period at high school, he put on 50lbs...
"McDonald's or Burger King? I think Burger King's got the best burgers. Wendy's burgers ain't bad. And I love McDonald's fries and their sausage biscuits. And their Quarter Pounders are good, too. But my favourite burger is the Double-Double, Animal Style, at the In-N-Out chain in California. That's two meat patties, with ketchup and mustard and pickles and onions cooked into the meat. I pitch the top half of the bun to cut down my carbs. Trust me, it's worth a trip to California.
I eat salad. I eat an orange or a banana every now and then. I'm not big on apples or pears or any of that shit. I love anything chocolate.
I consider spaghetti and meatballs my lucky food ever since I won the British Open. Pizza. Mexican food. Mainly, I'm a meat-and potatoes guy. Steak, well done. Baked potato with sour cream. Barbecue. I don't mind turkey. Fried chicken, but I try not to eat too many fried foods.
I hate vegetables. I never eat them. When I was a kid, my father used to make me sit at the table until I ate the vegetables on my plate. But when I did, I puked, so he finally stopped. Fish? I hate fish. The last time I ate fish was a piece of fried catfish when I was seven years old. Even though I'm from Arkansas, I never learned how to fish because I absolutely, positively hate fish.
DALY ON THE RYDER CUP
Daly has never played in the Ryder Cup. In 1991, when he won the PGA Championship, the qualification- rules were changed so that the PGA Champion didn't receive an automatic place, while in 1995, when he won the Open, he was overlooked as a wild card pick by US captain Lanny Wadkins...
"Playing on a Ryder Cup team is my biggest unfulfilled goal in golf, bigger even than winning a Masters. If I had made a Ryder Cup team, I like to think I could have helped change the nasty rivalry thing that went on. Look, if I ever play on a Ryder Cup or a Presidents Cup team, I'd even wear a tie. I know there are a bunch of dinners you have to go to, and I can't stand wearing a tie. But I'd wear one for my country, even though I'd rather have a rope around my neck and be hanging from a tree."
Daly still harbors hopes he will make it as a Ryder Cup captain someday...
DALY ON HIS DAD
Daly's father, Jim, bought him his first set of golf clubs when he was just six years old. They were a second- hand set of full-size Jack Nicklaus Golden Bears. They cost $50 and Daly didn't bother having them cut down...
"Me and my then wife Sherrie and a bunch of friends were back in Dardanelle for a big Fourth of July cookout and party. It was a big party, maybe 50 or 60 people, with a lot of friends from all over. We threw it at my house, which is near our old place where we grew up.
Me and Sherrie, we're staying in my tour bus, which was parked out front, and we're out there at about 10.30pm, when there's a knock on
the door. It's Sherrie's friend, Kelly, and she wants to come in because my dad's been following her around, she says, trying to hit on her. Look – Kelly's 25, maybe 26, and Dad's 69. He's in his bathing suit, and he's drunker than shit. I tell him, "Dad, just get back
on out of here, get back on out to the patio."
Then I go get Jamie and tell him Dad's drunk, he can't walk, and we got to get him home. Well, Jamie [Daly's brother] and I manage to walk Dad back to his house, and all of a sudden he blows up on me, like he's wanting to fight. He starts at me, and I just push him back into the chair. I tell him, "Dad, just sit down and shut up."
Mom, meanwhile, is over at my house, listening to Johnny Lee sing – thank God she didn't see or hear any of this. After a while, Dad gets up and stumbles into his bedroom. We think he's going to bed. But all of a sudden he stumbles back out of the bedroom with a big old pistol in his hand, and points it at me, about six inches from my head.
He was so hammered, he didn't know who the hell I was. I'd had it with him. I say, "Just go ahead and shoot me – if you don't recognise your own son, just go ahead and shoot me." You know, I think he might have done it, he was that shit-faced. But before he could, Jamie comes up, pushes
his hand away, shoves his head up against the wall, takes the gun out of his hand, and shoots it off, I guess to get Dad's attention.
Whatever, it worked. Dad looked up, and without a word, staggered off into his bedroom. The next day Jamie talked to Mom and told her what happened. She was devastated. She really got up in Dad's face. He didn't remember anything. He had a total blackout of the whole thing. He apologised to Mom, to Jamie, to me, to everybody.
All I know is that Dad was so drunk on Jack he didn't know who the hell we were, and that if Jamie hadn't been there, Dad might have shot me dead. End of story. Well, almost end of story. There's one more thing: Dad hasn't had a drink since that day."
DALY ON 1993
In the years after his USPGA title, Daly struggled as the fame enveloped him. By 1993, though, he had at least managed to take hold of his drinking...
"All I can say about 1993 is that there was no 1993, at least not in terms of golf. The only good thing was that I had been sober a year. That had been my goal, and I achieved it. Golf? The best thing I did all year was reach the 630-yard 17th at Baltusrol in the US Open in two – driver, 1-iron. That was fucking historic. The rest of the year was shit."
DALY ON FITNESS
At his heaviest, John Daly tipped the scales at 265lbs. While his weight has fluctuated over the years, his aversion to working out remains steadfast, presumably because it would eat into his time for smoking two packets of Marlboros and drinking 20 beers a day...
"Look, people are always saying how great they feel after a workout. Not me. Every time I get on a bike or a treadmill, I go puke afterwards. I try not to get within a pitching wedge of the fitness trailer they bring to tournaments. And I'm sure as hell not going to some fucking health club, because they won't let you smoke.
"Last year, a bunch of us were sitting in the clubhouse after practicing, having a beer and shooting the shit, when Tiger comes through in his workout gear, on the way to the gym. I say to him, "Hey, man, don't you ever get tired of that workout shit? Why don't you just come over and have a few beers with us and hang out?"
"He goes, "If I had your talent, John, I wouldn't have to work out. "The way I see it is that I walk five miles a day, four days a week, assuming I make the cut. If that's not enough to keep me fit, then I'd better start looking for another line of work.
THE PRESIDENT
After winning the 1995 Open Championship, Daly received a phone call...
"Later that night, when we got back to our rooms in the Old Course Hotel, there were a bunch of new messages, including one that said: "Please call the President of the United States." Fine, I said. I get the picture, and I will. But I still haven't had dinner yet, and I'm starving. Besides, I didn't even vote for the guy.
"But now Bud's going the other way: "He's the president, John. You've got to talk to him. Please! Do it now." So I'm like, OK, OK, get him on the horn, only that turned out to take a lot of back-and-forth, one guy talking to another guy who told me to hold on, all this even though he'd been the one to call me in the first place.
"But finally a guy came on and said, "John, this is President Clinton." Sure it was – I recognised the voice right off. You can take the boy out of Arkansas, but you can't take the Arkansas out of the boy. And so I said, "Thanks for calling. Sorry it took me a while to get back to you." And then we went back and forth a little: how do you feel, were you blown away when Rocca made that putt, you made us all proud, blah-blah-blah.
"And about then I recalled something: "Say, do you remember that time we played golf after I won the PGA and you were still governor? Well, you told me you'd look into a speeding ticket I got that time outside of Fort Smith the month before, only you didn't, and it's costing me two grand a year on my insurance." So he laughed this big laugh, and said he's sorry, but he can't do anything about it now because he's not governor anymore.
"And then he congratulated me again, and we shot the shit some more, and I thanked him, and we said goodbye. It was pretty nice, if you think about it. After all, here's the President of the United States, a fellow Arkansas boy, calling to say he's proud of me for winning a damned golf tournament. (Pretty nice, but I didn't vote for him the second time around either.)
"That night, as you can probably imagine, I celebrated pretty hard. But not with Jack Daniels. And not with Miller Lite. I celebrated with chocolate ice cream with chocolate sauce, served up in the Claret Jug. It was the best food I had ever eaten in my life."
DALY ON SEX
On a Howard Stern Show, Daly said he is obsessed with sex and that his penis is 10.5 inches long and about the width of "a Coke can"...
"I'm thinking about sex all the time. I want to have sex two or three times a day. I think sex helps my golf. I swear it does. At the BMW in Germany in 2001, me and Sherrie were making love like crazy, and I won. At the 2004 Buick Invitational in San Diego, same thing, on my bus, and I won.
"At the WGC AmEx in San Francisco in 2005, we had sex all week, and I would have won if I could have putted worth a shit. So whenever you see John Daly playing great golf, you know his wife's taking care of his needs. And when you see John Daly playing bad golf... Look, if you think about sex as much as I do, it can get tough out there in a golf tournament.
"You got good-looking women all over the place. Some of them take off their underpants and sit around the greens and flash you when you come up to putt. Women are always coming up to you in the parking lot and asking you to sign their boobs. I used to do that a lot, hundreds of times over the years, but I don't sign tits anymore."
DALY ON THE OPEN CHAMPIONSHIP, 1995
Aged 29, John Daly won the 124th Open at St Andrews. At the time, it made him only the fourth player in history, alongside Jack Nicklaus, Tom Watson and Johnny Miller, to win two Major titles
Taken from 'JOHN DALY: My Life In and Out of the Rough', by John Daly.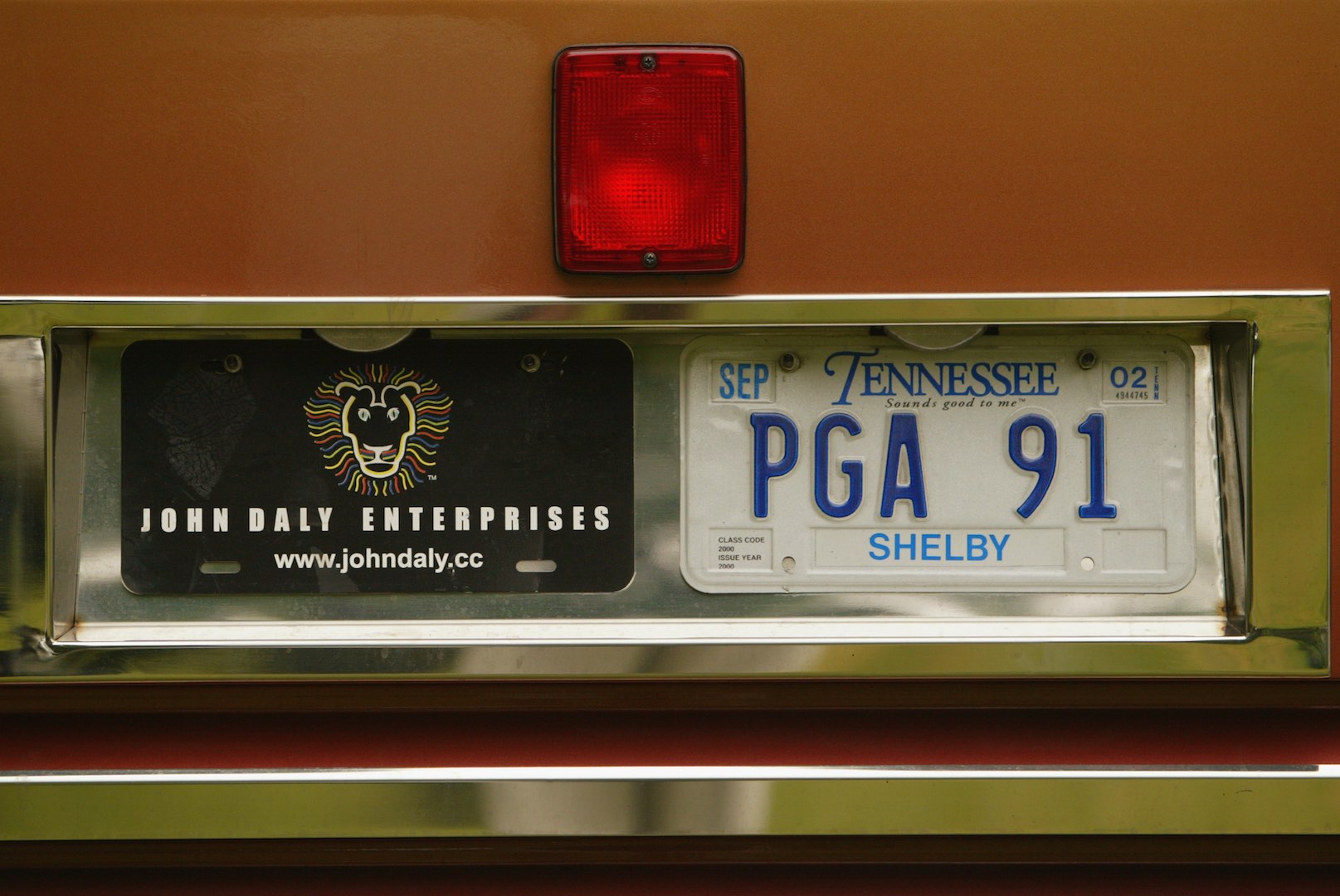 Related: