News
May 20th, 2022
Women's Golf Day invites you to the 2022 Palooza
May 31st will see the return of WGD Palooza
May 31st will see the return of WGD Palooza, a virtual online event brought to you by Women's Golf Day.  Last year's event was an experience unlike any other, connecting thousands of golfers from around the world to the movers and shakers who inspire us all.  WGD Palooza is a free to attend event, open to everyone. Simply register at
www.wgdpalooza.com
to receive the event link.

The full lineup for the two-hour online event will be revealed in the coming weeks, but WGD's partners and sponsors, including Callaway, The R&A, Titleist, FootJoy, PGA TOUR Superstore, ClubCorp, GloveIt, NGF and Troon, will all be participating alongside some famous faces from the world of golf.  As with the inaugural event, there will be a live interactive chat throughout the program and great giveaways from WGD sponsors.
Elisa Gaudet, founder of Women's Golf Day, and the WGD team created WGD Palooza at a time when connection was more significant than ever as she explains, "The idea behind Palooza came out of the pandemic.  Not everyone could get out on a golf course, where we enjoy our best connection with the game, but we knew that we could unite golfers digitally and remotely to some of the most important people and brands in the golf world.  Thankfully the situation has improved for most people, but I can promise you that is year will be even more fun and informative!"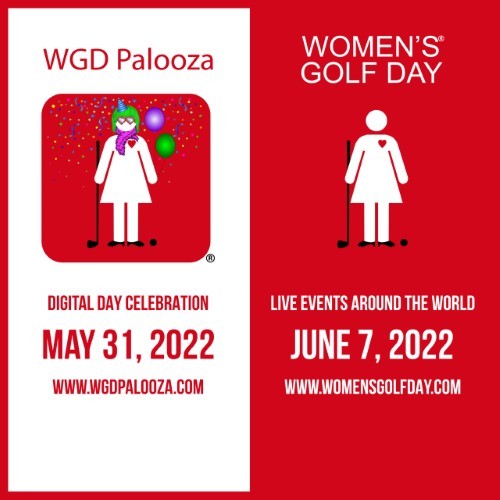 Running alongside WGD Palooza will be an auction with incredible golf lots from global WGD supporters. They have contributed items to raise much needed funds for the All-Ukrainian Golf Federation (UGF), a voluntary, non-profit public organization, that is providing round-the-clock assistance to their fellow Ukrainians.  The auction will go live on the 31st of May:
www.32auctions.com/golfcommunityukraine
Women's Golf Day events will take place this year on June 7th.  Female golfers and non-golfers around the world are encouraged to find a location and join an official event at one of the 1000+ participating locations
www.womensgolfday.com/locations/
---
And another thing...