News
Feb 24th, 2021
Tiger Woods lucky to be alive
Car crash may be career-ending as star shatters his leg
Words: GolfPunk Photography: Getty Images
Tiger Woods suffered severe injuries to his legs in a dramatic car crash in Los Angeles yesterday morning. Rods and screws have been inserted into Woods' right leg after a comminuted open fracture in his right leg. Such a fracture means the bone was shattered in at least two places and broke through the skin.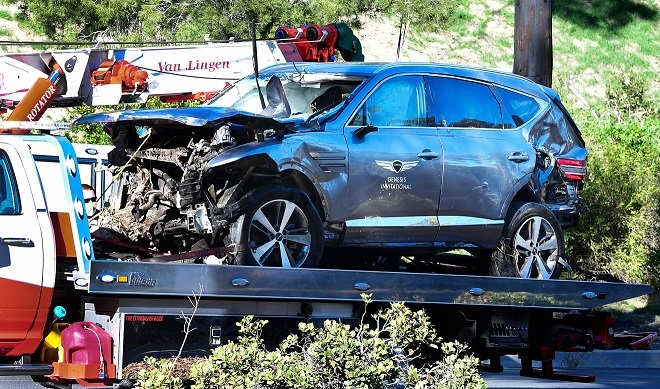 The accident happened in the early morning in Ranchos Palos Verdes, a district south of the Californian city and no other cars were involved.
A statement from Tiger's family posted on Twitter stated that "He is currently awake, responsive and recovering in his hospital room".
LA police reported that the golf star was lucky to be alive as his car had left the road and rolled several times after hitting the central reservation and careering across the road. Fire crews had to use an axe to break through the windscreen to release Woods.
The injuries sounded awful as set out in a statement by Dr Anish Mahajan the Chief Medical Officer at Harbor-UCLA Medical Center.
"Mr Woods suffered significant orthopaedic injuries to his right lower extremity that were treated during emergency surgery by Orthopaedic trauma specialists," Mahajan says.
The whole golf world was in shock on hearing the news but there was also relief that the injuries sustained are not life-threatening. World number three Justin Thomas is one of Woods' best friends on the PGA Tour and expressed concern for his compatriot.
"You know, it hurts to see one of your closest friends get in an accident," said Thomas. "Man, I just hope he's all right. Just worry for his kids, you know. I'm sure they're struggling."
The 45-year-old was alone in a courtesy car, a Genesis GV80 four-by-four which, given the lack of skid marks and the distance travelled, the police believe was going at a significant speed.
Sheriff's deputy Carlos Gonzales, first on the scene, said Woods, still wearing his seatbelt, was "calm and lucid." The deputy recognised the golfing great and Woods confirmed his name was "Tiger."
Woods was back in his hometown to fulfil his role as tournament host of the Genesis Open, which benefited his charitable foundation and finished on Sunday. Woods was not playing as he was still recovering after undergoing a fifth back operation in December.
Given all the injuries Tiger has endured and the description of his right leg's rebuilding, it looks like this could be career-ending for Tiger. However, he has bounced back before against the odds, so never write the man off!
TAGS: News, Tiger Woods, Genesis Open, 2021
---
And another thing...