News
Nov 13th, 2020
Nicklaus and Player stoke up the ball debate
Legends of the game believe change is coming
Words: GolfPunk Photography: Getty Images
An 80-year-old Jack Nicklaus and the ever-youthful looking Gary Player, 85 hit the ceremonial opening tee shots to open the Masters Tournament at a dank and gloomy early morning at Augusta.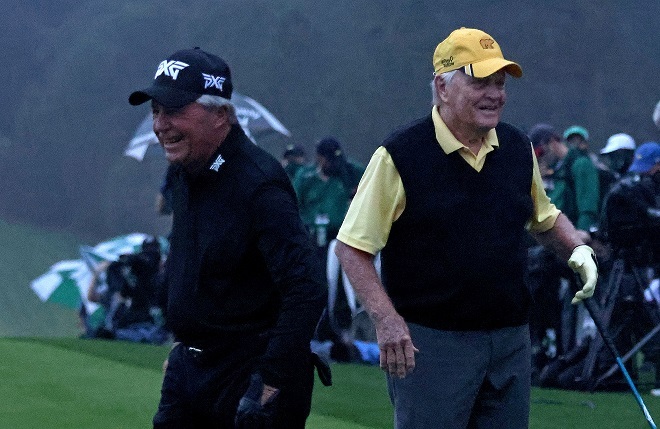 "We'll never know,"  was Nicklaus's reply when asked how far his ball had travelled at the annual press conference but both he and Player had a view on how far the latest stars of the game are hitting the ball and that action is required.
Both men, who amassed a total of twenty seven major championships between them, believe a change in the ball is coming. They think that the conclusion of the R & A's and USGA's Distance Insights Project which is delayed due to COVID-19 will conclude that they must rein back on the ball.
"I believe they probably would have brought it back this year if it wasn't for Covid, or at least they would have thought about it or got serious about bringing it back," Nicklaus said
"Both the USGA and the R & A said they're serious about it. They have to make some changes with it, otherwise, all the old golf courses, all the strategy and everything else that you've had on golf courses is gone. It doesn't make any sense whatsoever."
Player, who has openly voiced his admiration for Bryson DeChambeau believes the latest big hitting by the man from Calfornia is just the start of the revolution.
"We're seeing things we never thought of, and we're in our infancy. You've got players coming along that will carry the ball past where DeChambeau ends up now. I said 20, 25 years ago that players would be hitting the ball 400 yards, and I was scoffed at." said Player
"Now I don't know how far the ball can go, I don't know what the limit may be, but don't be surprised if you see them hit it 500 yards because these guys are so big and so strong, it's frightening."
Some quarters believe that the governing body, scared of litigation from the equipment manufacturers will plump for "Bifurcation" where professionals and amateurs will play a different ball. However,  Nicklaus believes this will not be the outcome.
"No, they'll change it for everybody," Nicklaus said. "They don't want to bifurcate golf balls. I don't know what they're developing, but my guess it's a ball that the faster the club-head speed, the progression is less as you go down. If you swing at 125 miles an hour, you'll be limited to this distance. If you swing at 100 miles an hour, you won't lose as much distance. If you go to 90, you won't lose hardly any distance."
Jack and Gary seem pretty confident that the R&A and USGA will take action and so maybe 2021 will be the year of change.
---
And another thing...