News
Aug 9th, 2021
McDonald-O'Brien follows in Sir Nick's footsteps
Rising star claims England Midlands Championship at Kedleston Park
Rising star, Isla McDonald-O'Brien, followed in Sir Nick Faldo's footsteps at Kedleston Park Golf Club to claim the overall title at the Faldo Series England Midlands Championship.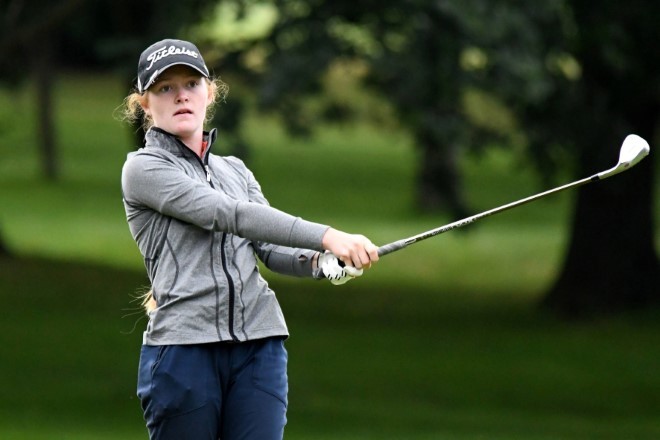 Having celebrated the 'Champions of Champions' title as Hertfordshire County champion in 1975 at Kedleston Park Golf Club, the six time Major champion returned with his junior Series, inviting 112 talented juniors from across the UK to compete for a prestigious invite to the Faldo Series Europe Grand Final this October.
Known for its championship conditions, the course is highly regarded as an exciting stage for competition proven by its more recent responsibilities as a Regional Qualifying host venue for The Open.
Overlooked by the 18th century Kedleston Hall, it was highly talented 15-year-old, Isla McDonald-O'Brien, who triumphed in the magnificent setting with rounds of 72, 70 and 70 taking her to a total score of ten-under-par to secure the overall title by three shots and the Girls U16 title too.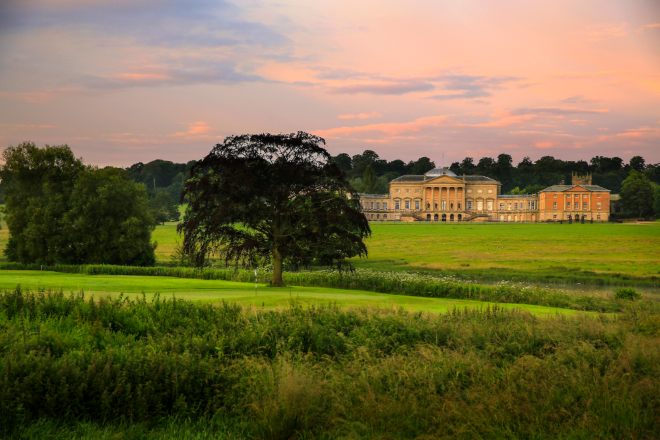 After watching a competitive chasing pack fall short of her early benchmark, champion McDonald-O'Brien spoke how she remained composed throughout the event, "I don't really know to be honest! My putting was good all week, which helped. Just hit the fairways around the course and avoid the trees and you'll be fine. I was nervous going into today, but it went good!"
The drama continued in the Girls categories, with a two-hole playoff required to separate seasoned Faldo Series players, Grace Rigby-Walden and Nicola Slater. In the end, it was Slater who, on her final eligible year with the Series, secured the win and will return to a Series Grand Final for her fourth time.
In the Boys categories, a tight leaderboard set up an entertaining finish for the spectators watching on from the clubhouse. Tied going into the final hole, the Boys U21 category was won by home member, Sam Potter, who used the best of his local knowledge to claim the win in emphatic style with a birdie on the last. Whilst in the U18 Samuel Johnson's opening 68 set the tone to secure an equally impressive wire to wire win.
Following suit, Tyler Weaver's round of the week, recording a 66 in the scoring hut on day one, proved too much as he continued his form to charge to a 10 shot victory in the Boys U16.
Speaking after the event, Matthew Faldo, Director of the Faldo Series, said: "To return to Kedleston Park is a great privilege and made extra special to come full circle with Dad's win in 1975. Much like last year, the course was in fantastic condition and set up an exciting test for the players out there. Equally, it is great to see players returning too, with familiar faces competing with the likes of Grace and Nicola in the Girls U21. 
"What a performance by Isla, to take the win and to show such composure and maturity for a young player really does demonstrate her talents. It has been a great week, and congratulations must go to all the winners, both Sams, Tyler and of course Nicola too, all very impressive competitors who will certainly be amongst it at the Grand Final later this year."
The Faldo Series will continue to celebrate its 25th year of competition with a visit to Goodwood Golf Club for the England South II Girls and Boys Championship on 9th August.
Leading final scores and qualifiers for the England Midlands Girls and Boys Championship:
Boys' Under-21:
Sam Potter -7
Matt Millar -5
Max Hayward -2 
Boys' Under-18:
Samuel Johnson -6
Mark Stockdale -4
William Mcghie -2
Teddy Hall -2
Boys' Under-16:
Tyler Weaver -5
Mckenzie Lewis +5
Jake Plumb +6
Monty Holcombe +6
Girls' Under-21:
Nicola Slater +3
Grace Rigby-Walden +3
Olivia Williams +6
Girls' Under-16:
Isla McDonald-O'Brien -10
Ellise Rymer E
Lili Rose Hunt +1
---
And another thing...