News
Jul 12th, 2023
LIV GOLF ANNOUNCES SIMPLEBET AS OFFICIAL SPORTS BETTING INNOVATION PARTNER
Partnership Will Introduce Cutting Edge In-Play Betting Markets

LIV Golf announced today a strategic partnership with Simplebet, the global technology leader in micro-betting products, to serve as the league's Official Sports Betting Innovation Partner.
The dynamic collaboration will see Simplebet distribute the league's real-time competition data to sports betting operators and media platforms globally, providing innovative single-screen in-play wager technology complimented with low latency video streaming in the U.S. and other international markets.
"This is a transcendent moment for the sport and we are thrilled to serve as the Official Sports Betting Innovation Partner of LIV Golf," said Simplebet CEO
Chris Bevilacqua
. "We've revolutionized the way audiences around the world connect with live sports by unlocking fan engagement opportunities and together with LIV Golf, we will create the new blueprint for how sports leagues can maximize their IP through innovative betting."
"Developing new ways that golf can progress into the future has been a league tenet since day one," said
Greg Norman,
LIV Golf Commissioner and CEO. "LIV Golf presents a supercharged tournament and fan experience showcasing a consistent field of the world's best players competing at the same time under the same conditions.
With golf becoming an increasingly popular sport within the multi-billion-dollar sports betting market, our league is proud to work with Simplebet which aligns with our competition model that every shot from every player is meaningful, from start to finish."
Leveraging Simplebet's platform, which is transforming the fan experience by creating deeper engagement around thousands of individual moments throughout the course of a tournament, sports betting operators will soon be able to offer in-play wager opportunities during LIV Golf's action-packed events.
Fans will be able to engage with the tournament competition from start to finish, wagering on moments such as if Brooks Koepka's next tee shot will land in the fairway, if Cameron Smith will sink his next putt, or if Dustin Johnson will hit the green in regulation on a specific hole.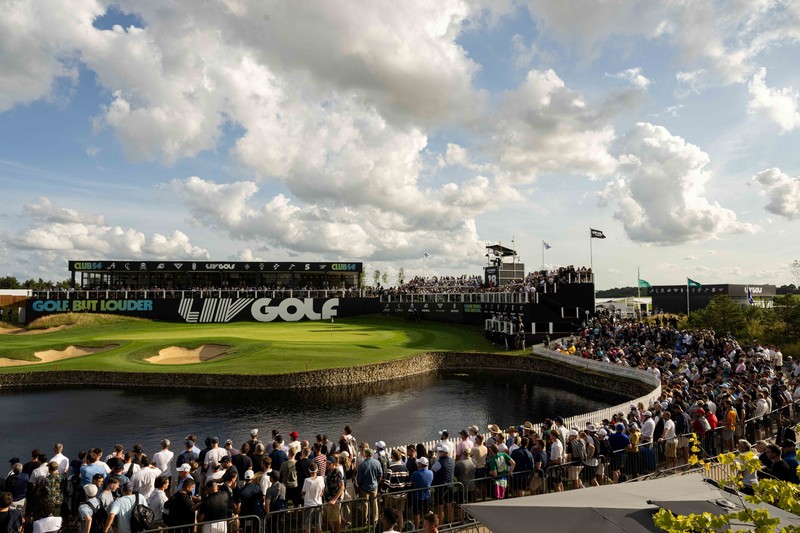 Simplebet has experienced record-breaking growth over the past year and has established itself as a global leader in the sports betting industry, developing a suite of innovative in-play micro-betting and fan engagement products for the NFL, NBA, MLB, NCAAF, NCAAB, and IFL. Through its partnership with the groundbreaking golf league, Simplebet's technology will now connect fans with LIV Golf's innovative team and individual competition featuring shotgun starts and many of the sport's biggest names.
Five-time major champion and 2023 PGA Championship winner
Koepka
, reigning Open Champion
Smith
, World Golf Hall of Famer and six-time major winner
Phil Mickelson
, two-time major winner
Johnson
, 2020 U.S. Open champion
Bryson DeChambeau
and 2017 Masters champion
Sergio Garcia
are just some of the 13 major champions with a combined 25 major victories represented in LIV Golf's 12-team, 48-player field.
Last week, at Centurion Club in Hertfordshire, United Kingdom, Ripper GC captain Smith won the individual title and celebrated his first victory of 2023 as he moved to second place in the season's individual standings. 4Aces GC featuring Johnson, 2018 Masters champion Patrick Reed, Pat Perez and Peter Uihlein eclipsed the Rippers by one stroke to win the team competition at LIV Golf London, the league's ninth tournament of the year.
The 4Aces currently sit in first place in the team standings with four regular-season tournaments to go in build-up to the season-ending Team Championship, October 20-22 in Miami.
LIV Golf continues action
August 4-6
with
LIV Golf Greenbrier
in the picturesque Allegheny Mountains of West Virginia where many of the world's best players will take on The Old White course, the signature course at The Greenbrier, one of America's most prestigious and popular resorts.
The LIV Golf League airs from 1:00 - 6:00 p.m. ET on Saturday and Sunday on The CW, The CW App and LIV Golf Plus, with Friday's round carried on The CW App and LIV Golf Plus. In addition, LIV Golf tournaments are carried on YouTube and on more than a dozen international broadcast partners, delivering league broadcasts in over 180 territories to more than 380 million homes worldwide. For more information on how to watch the 2023 LIV Golf League, visit
LIVGolf.com
. 
LIV Golf is owned and operated by LIV Golf Investments whose vision and mission are centered around making holistic and sustainable investments to enhance the global golf ecosystem and unlock the sport's untapped worldwide potential.
---
And another thing...