News
Jul 5th, 2023
Daniel Hillier wins British Masters with Titleist
New Zealander claims first DP World Tour title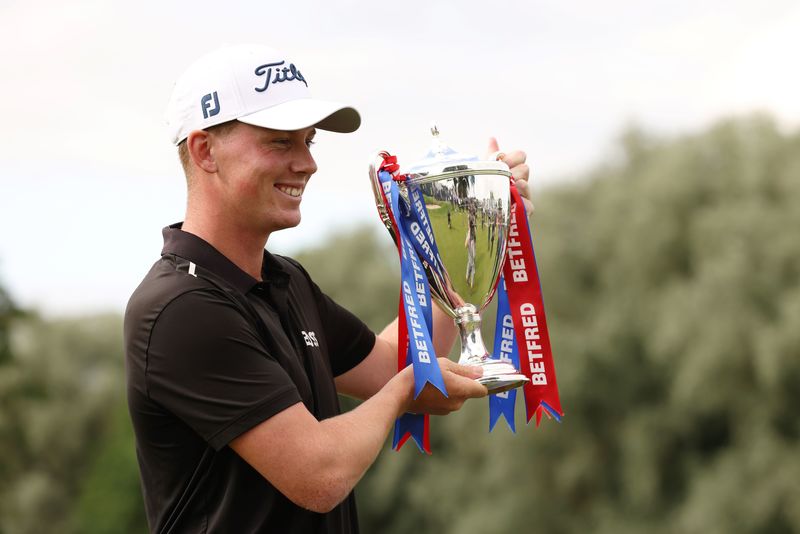 Titleist Brand Ambassador Daniel Hillier played his final four holes in 5 under par to win his first DP World Tour title. The 24-year-old New Zealander – gaming a NEW Pro V1x golf ball, TSR3 driver and full bag of Titleist equipment – played The Belfry's 15th through 17th holes in eagle-birdie-eagle to seize the two-shot victory.
On the par-5 15th, Hillier used his Scotty Cameron Phantom X 5 to drain a 40-foot eagle putt. From a fairway bunker, he knocked his Pro V1x for a tap-in on the par-4 16th. And on 17, he hit his second shot to 6 feet and rolled his Pro V1x in for his second eagle in three holes. "I'm over the moon and a bit lost for words," Hillier said. "Those last few holes are going to take a while to process I think."
WITB | Daniel Hillier
NEW Titleist Pro V1x; TSR3 9.0; 620 CB 4-6, 620 MB 7-9; Vokey Design SM9 46.10F, 50.12F, 54.10S, 58.08M wedges; Scotty Cameron Phantom X 5 tour prototype putter.
Hillier trusts Pro|SL shoe and StaSof glove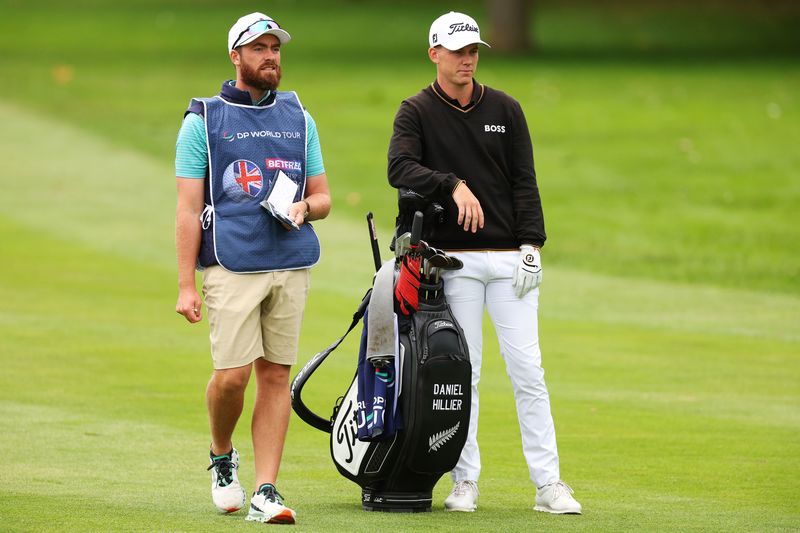 Hillier trusted the superior performance of the FootJoy Pro|SL shoes on his way to winning at The Belfry.
FootJoy was once again the overwhelming shoe of choice with 61% of the field choosing the #1 shoe in golf.
StaSof was the glove of choice for the British Masters champion with over 40% of the field opting for StaSof, HyperFLX or Pure Touch.
NEW T-SERIES IRONS LAUNCH ON DPWT
The tour seeding and validation of new T-Series irons continued this week at the Betfred British Masters, with players on the DP World Tour getting the chance to game the new models in competition for the first time.
Titleist reps were on site at The Belfry, working through testing with players. Eleven players put new models straight in the bag on Thursday, including Jordan Smith, Antoine Rozner and Grant Forrest.
Rozner put new T100 models (3-5 irons) in the bag in irons after his testing session: "I've always been a blade fan, and to be honest, this visually, when you set down it looks like a blade. So, I'm really happy. 
I also get a little bit more height, which was what I was looking for the last few weeks. So, this is great. I think this is going to be perfect for the people who want the look of a blade, look for a little bit of forgiveness as well, and a really good first impression." "In one word, sweeter," Rozner said on the feeling of new T100.
Forrest added a new T100 4 iron for many of the same reasons: "Yeah, so just the MB 4 iron is quite thin and a little bit uncomfortable to look down on sometimes. The T100 just helps the launch get up in the air. It's really, really good for heading into par-5s or long par-3s. 

And you just get that little bit more forgiveness as well. Golf's hard enough. Why make it any harder? … Being used to the MBs, you're still looking for something quite soft, even in the longer irons. I think that the T100 really, you get the best of both worlds. It still feels really soft, but you just get that extra bit of forgiveness as well."
Also putting NEW T-Series immediately in play at The Belfry: Oliver Bekker (T150 4-9), Louis de Jager: (T100 3-P), Jeremy Freiburghaus (T100 3-9), Zander Lombard: (T200 3-4, T150 5-P irons), Richard Mansell (T100 4-6), Lukas Nemecz (T100 4-9) and Clement Sordet (T100 4-9). For the week, Titleist was the most played iron with 53 players, 15 more than the nearest competitor.
PGA TOUR CHAMPIONS | U.S. Senior Open
Bernhard Langer, playing his NEW Pro V1x golf ball, rewrote the history books yet again with a two-shot victory at the U.S. Senior Open, claiming his 12th senior major title while becoming the winningest player in PGA TOUR Champions history with 46 victories. Langer also became the oldest U.S. Senior Open Champion in history at 65 years of age. 

Over the four rounds at SentryWorld, the Hall of Famer led the field in Driving Accuracy (87.5%, 49/56) and Greens in Regulation (72.2%, 52/72) while finishing T3 in Scrambling (70%, 14/20). Langer topped a leader board that featured eight Titleist Pro V1 and Pro V1x golf ball players in the final top 10, including runner-up Steve Stricker, who has finished worse than second just once (T5) in his last six starts.
CHAMPION GAMES VOKEY LOB WEDGE
The U.S. Senior Open champion gamed a Vokey Design Proto 60.10K lob wedge, finishing the week T3 in Scrambling (70%, 14/20) and T8 in Sand Saves (75%, 6/8).
---
And another thing...