News
Sep 2nd, 2018
Your Golf Travel and Lee Westwood go the extra mile
During Ryder Cup month
Words: GolfPunk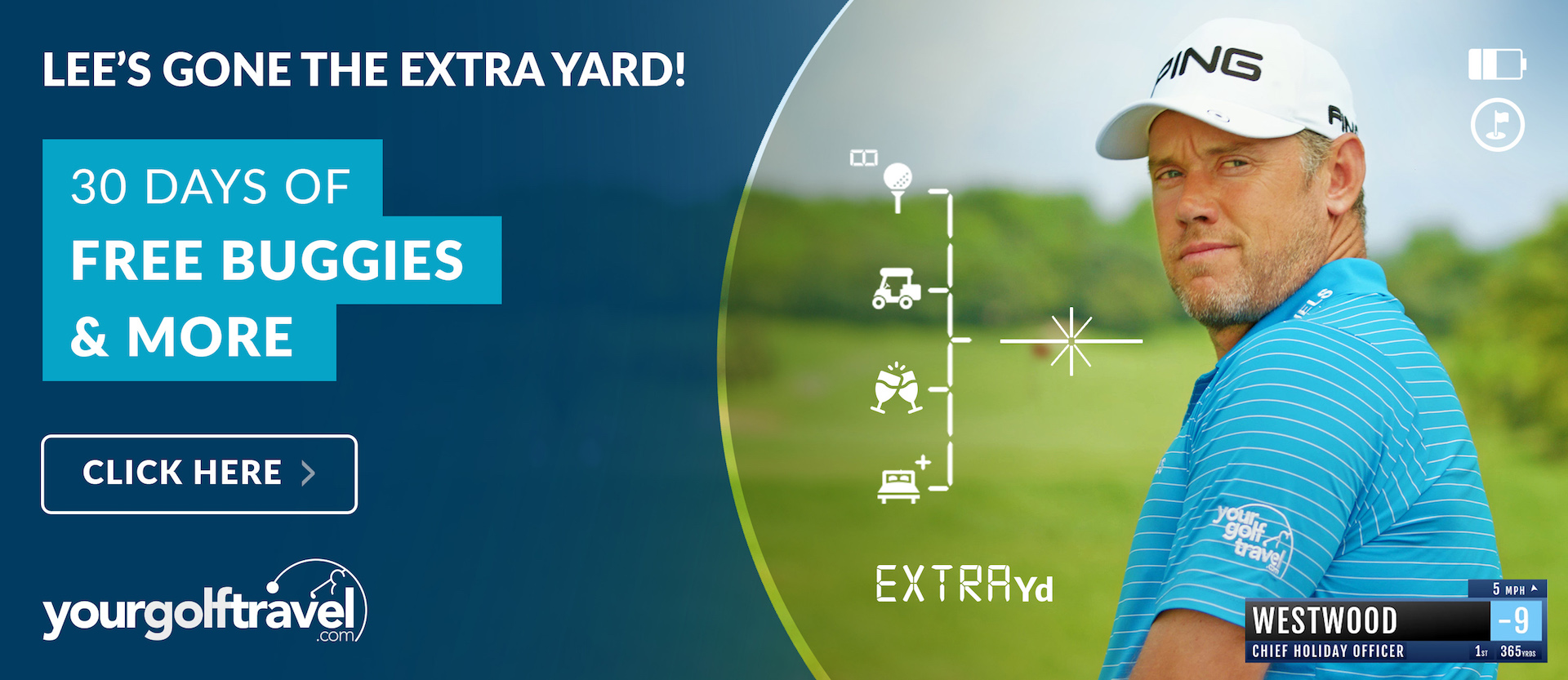 Your Golf Travel (YGT) and Chief Holiday Officer Lee Westwood have gone "The Extra Yard," listening to customers and securing an incredible selection of value add-ons for those booking holidays for 2019 holidays between 1st and 30th September.
Your Golf Travel recently conducted a survey in which 70% of respondents expressed an interest in extra value offers, including unlimited golf and free buggies. Your Golf Travel and Chief Holiday Officer Lee Westwood took this information on board and, to celebrate the Ryder Cup, Your Golf Travel has teamed up with a host of partners to offer customers booking 2019 golf holidays free value add-ons with their golfing holiday. Throughout September, a selection of incredible value add-ons, including: free room upgrades, free buggies, unlimited golf and food and beverage discounts will be made available to Your Golf Travel customers for venues across the UK, Europe and the rest of the world.
"At Your Golf Travel we strive to deliver the best possible experience for customers on golfing holidays to some 3,000 destinations in 22 countries across the world," said Your Golf Travel CEO Ross Marshall.
"We've listened to our customers and have worked closely with Chief Holiday Officer Lee Westwood to ensure we go 'The Extra Yard' for them. Lee is one of the world's most travelled golfers, having won 42 titles globally and represented Europe in 10 Ryder Cups. With his extensive travel experience and knowledge of golf, he is perfectly placed to give our customers expert recommendations and help our customers receive the best possible experience when booking with Your Golf Travel. We are excited to have sourced value add-ons at venues across the UK, through Spain, Turkey, France, Morocco and even Mauritius, Abu Dhabi and The Dominican Republic."
The Ryder Cup is the most exciting event in the world of golf and will be contested at Le Golf National, Paris from Friday 28th to Sunday 30th September. In the build up to, during and until the last putt drops in the final singles match on Sunday September 30th, YGT customers can benefit from some incredible extras to ensure their 2019 golf holidays are the best ever.
To take advantage of the incredible value add-ons and extras available in September through Your Golf Travel, visit yourgolftravel.com/the-extra-yard or call 0800 043 6644.
Related:
Peter Millar launches Autumn 2018 collection
TAGS: Your Golf Travel, Europe, News, 2018, Travel