News
Apr 5th, 2018
What makes a Masters Champion?
The index to find this year's winner
Words: GolfPunk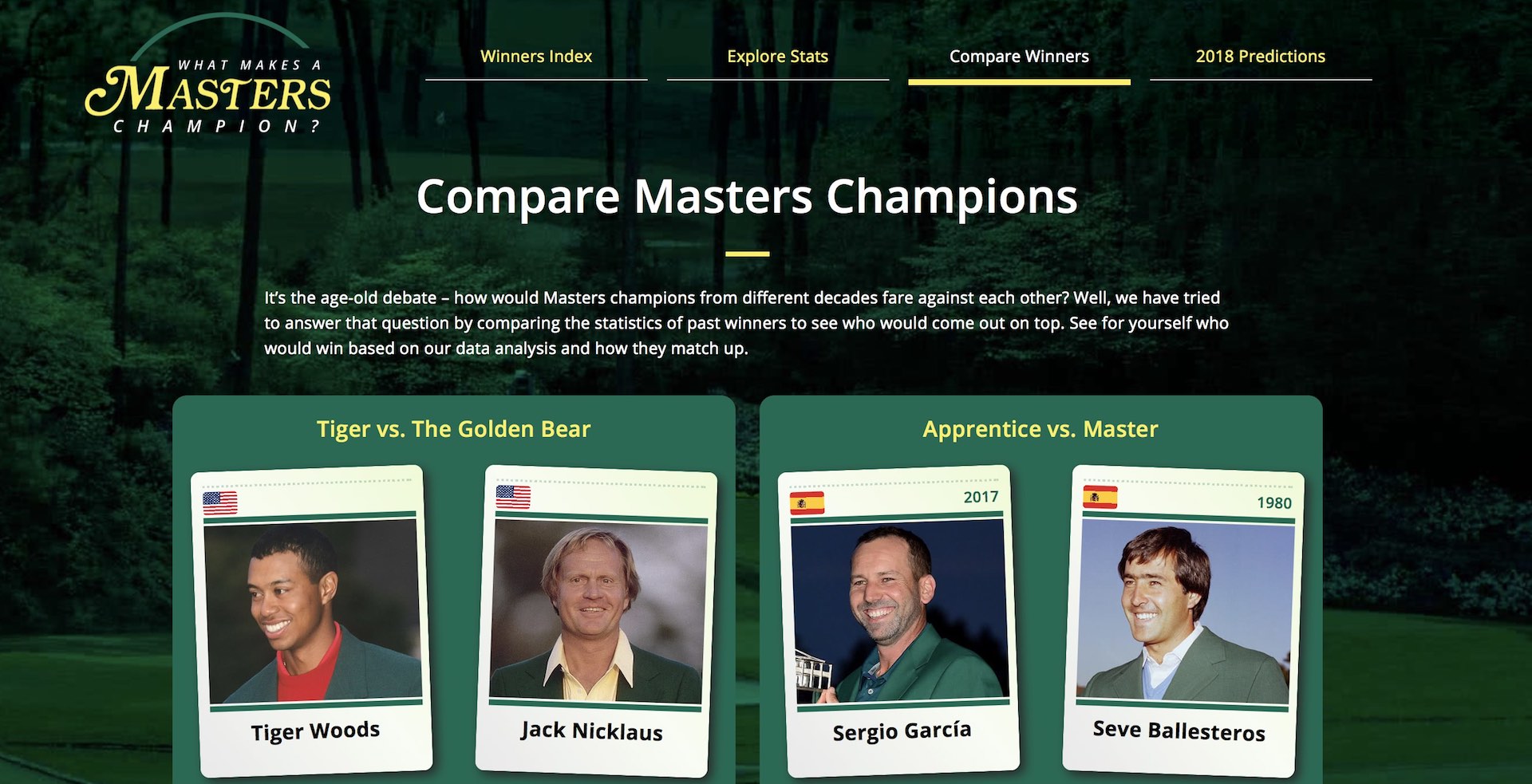 Want to know what it really takes to win The Masters? Golf Care have the answer.
Using performance and personal data of every Masters champion since it began in 1934, Golf Care have calculated the average stats of a Masters champion.
This winning formula combines personal statistics such as the champion's age when they won, whether they're right or left handed, their height and weight as well as statistics relating to their performance during their famous victory including their overall score, margin of victory, average driving distance and no. of putts.
So if you're right handed, weigh 181lbs, married and can hit the ball 276 yards you could one day be wearing your very own green jacket! Explore the full set of Masters statistics here: https://www.golfcare.co.uk/what-makes-a-masters-champion/explore-stats/
The interactive index displays the statistics of every winner allowing users to flick through each year, filter the winners by a range of statistics and even watch footage from the tournament itself.
"What Makes a Masters Champion" also pits iconic winners against each other to see who would win based on their Masters performances such as Tiger vs The Golden Bear, The Hawk vs Slammin' Sammy and even Young Jack Nicklaus vs Old Jack Nicklaus. Check out each comparison here: https://www.golfcare.co.uk/what-makes-a-masters-champion/compare-winners/
So who will win?
Rory Mcllroy might be the bookies' favourite but when Golf Care benchmarked the winning formula against this year's contestants to see which golfers fit the bill to be a Masters Champion, the result may surprise you…
With a staggering 85% of compatibility, Golf Care's predicted winner for 2018 is Thomas Pieters!


But "What Makes A Masters Champion" is more than just a nod to great golfers of the past – it's also an indication of what we can expect in the future. 3-time Ryder Cup Captain and Golf Care ambassador, Bernard Gallagher said: 'The research and statistical analysis which has gone into this resource is remarkable and has helped uncover some incredible golfing facts.
I was intrigued to discover that Thomas Pieters was statistically most likely to win this year's Masters, based on Golf Care's data. His stock has really grown over the last few years and, while he may not be the first name on everyone's lips, he could well spring a surprise on golf fans and take the title. '
Related:
Read Issue One of GolfPunk Digital Magazine here