News
Aug 12th, 2015
USPGA - Bunker rulings
To ground, or not to ground, that is the question
Words: Sandy Carlisle Photography: Getty Images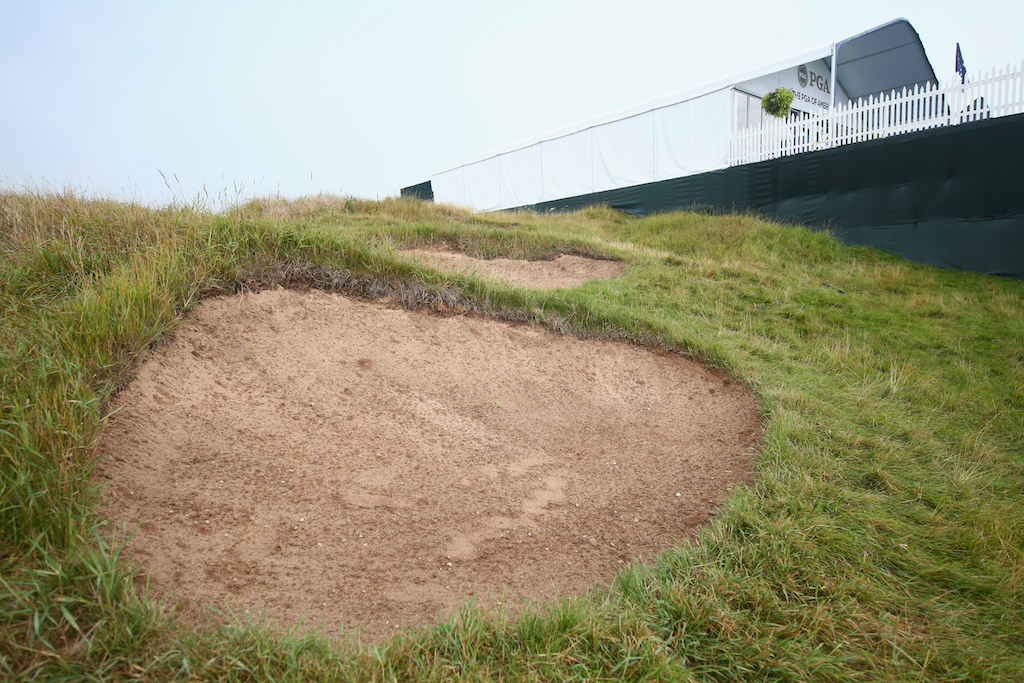 Dustin Johnson's bunker from 2010 is covered over with a hospitality area this year.
The bunker that was the sandy grave of Dustin Johnson's 2010 US PGA Championship is no longer. At least for this week. It's been covered over by a hospitality area.
5 years ago, Johnson was one shot in the lead going up the 72nd hole. Having carved his drive way out to the right he found himself in a sandy waste area that had been trampled by the crowds all week. Unfortunately for Dustin, as he addressed his ball preparing to hit his shot, he grounded his 4-iron, not aware it was a bunker, and was given a 2-stroke penalty putting him out of contention, and ending his dreams.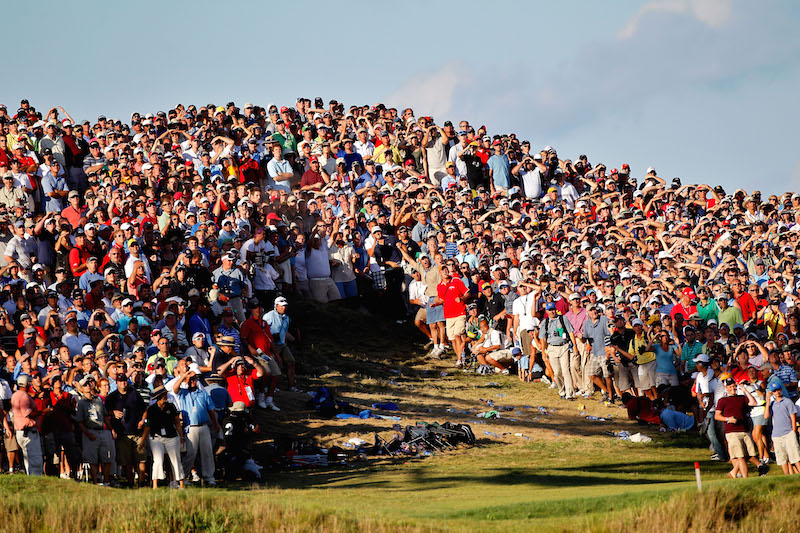 Dustin Johnson plays the dreaded shot in 2010
Johnson said last week,
"I won't be grounding my club anywhere if I miss the fairway, that's for sure. I just missed the memo where all sand is deemed a bunker."
There are over 1,000 bunkers (did someone count them all) at the breathtaking Whistling Straits Golf course in Wisconsin. Sand everywhere. So, it's important we have an understanding of the rules this week.
Just to be clear, as with both previous 2004 and 2010 PGA Championships at Whistling Straits, all sand will be considered bunkers.
"All areas of the course that were designed and built as bunkers, filled with sand, will be played as bunkers (hazards) whether or not they have been raked," the PGA said in a notice to competitors.
"This will mean that many bunkers positioned outside of the ropes, as well as some areas of bunkers inside the ropes, close to the rope line, will likely include numerous footprints, heel prints, trash and tire tracks during the play of the Championship."
Such irregularities are deemed "part of the game," the PGA said, "and no free relief will be available from these conditions."
This memo will be posted everywhere. There are even signs up in the locker room toilets (sparking the inevitable quips about 'taking relief' ) to ensure that this time round, there will be no question on what to do should you find your ball in sand. A rules official will accompany every group, and players can consult that official (why wouldn't you) should a question come up.
The problem is though that the dunes were man-made, and after the course opened in 1998, more grass has grown in some areas since the intent is to keep a wild, natural look. So as the wind blows, the sand moves around, and makes it difficult to define what is a bunker, and what isn't.
Rory McIlroy summarized the situation well, saying that caution is the key.
"So I'll always hover my club regardless if it's a waste area or a bunker - just to be on the safe side."
Good luck out there, oh and mind those mosquitos too…
Whistling Straits – Mosquitos an added hazard
Can I use this in here?
Hi! Is this is a bunker?
This is definitley a bunker!