News
Jun 20th, 2015
US Open Day Two Recap
+ 5 was the cut...
Words: Tim Southwell Photography: Getty Images
Representing For All The (UK) GolfPunks All Across The World: Paul Casey +1 – All to play for!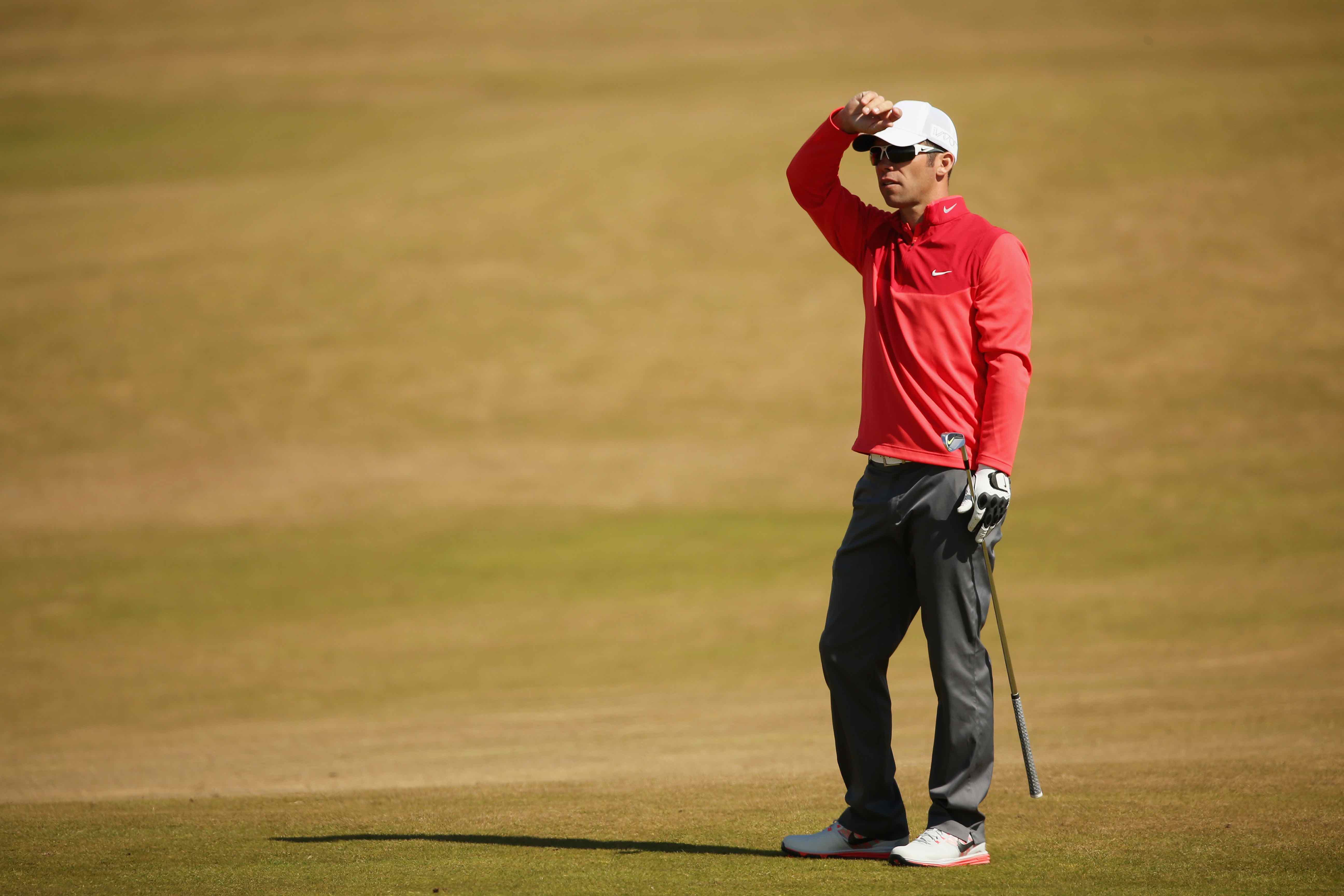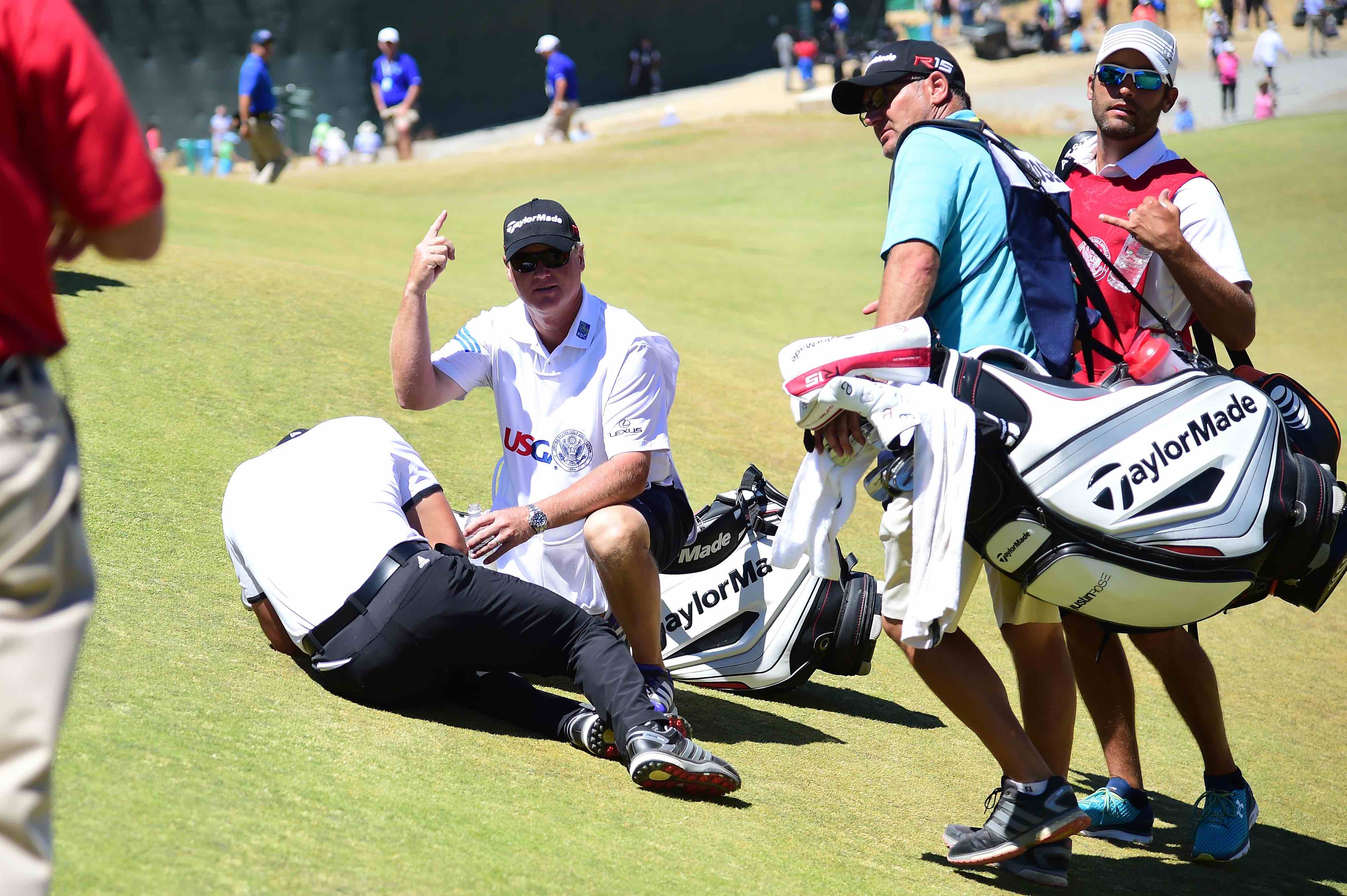 Jason Day suffered a vertigo attack and only just managed to finish his round. Our best wishes go out to Jason, and we hope he makes a swift recovery. You can still win this!!
Tiger missed the cut at the US Open for the first time since 2006 after finishing the second round 16 over par at Chambers Bay. The 14-time major winner, 39, had eight bogeys in a six-over 76. He still beat Rickie Fowler though, which the pair seemed to think was quite hilarious. As far as the actual tournament went on day two, Masters champion Jordan Spieth shot a 67 and he leads with fellow American Patrick Reed (69) on five under. Rory McIlroy dropped three shots in his last two holes but his two-over 72 and four over total was one inside the halfway cut mark.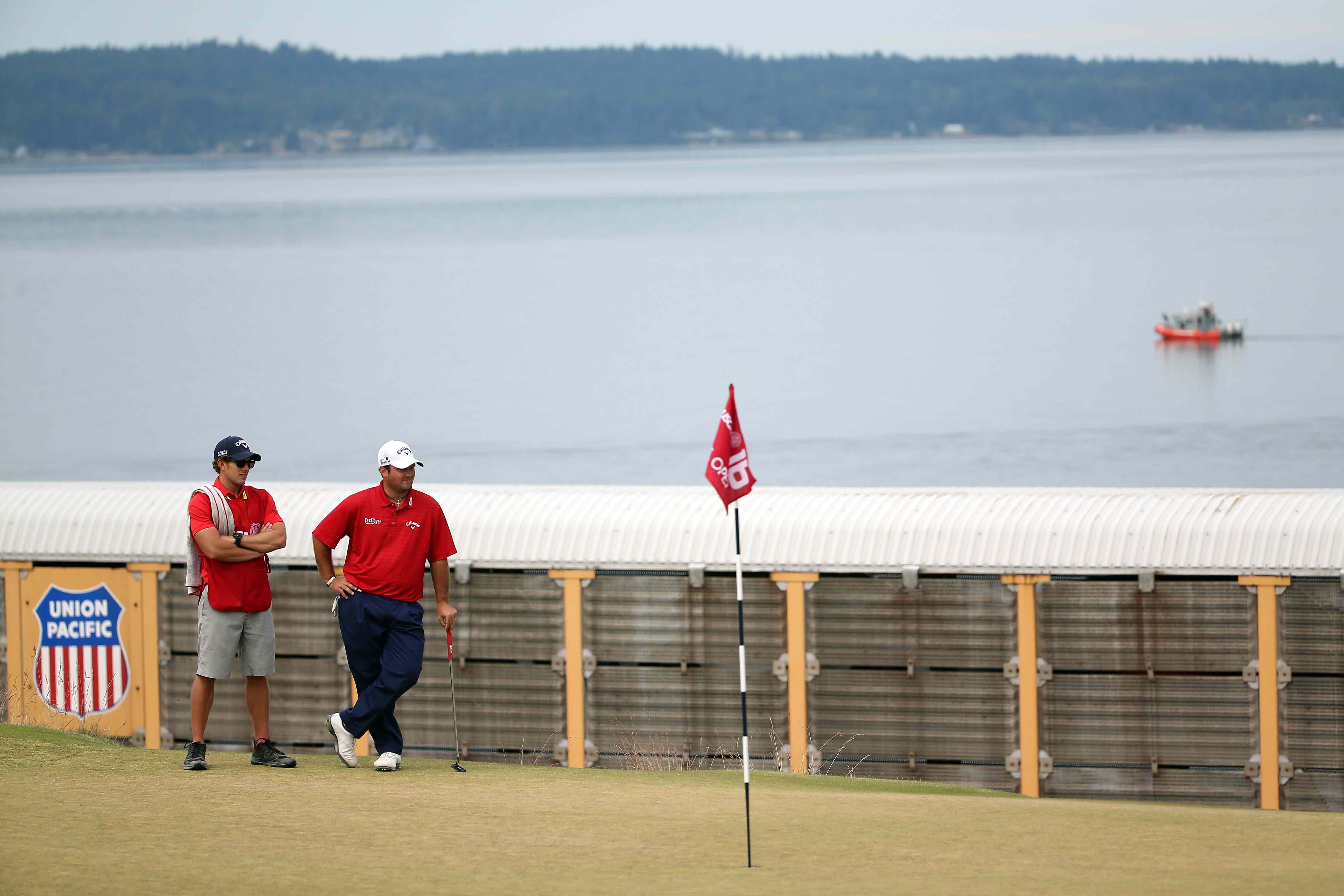 "So I says, to Mabel, I says..."
Spieth will join Gene Sarazen as only the second 21-year-old to win more than one major if he triumphs at Chambers Bay. He will also become the sixth man, after Craig Wood, Ben Hogan, Arnold Palmer, Jack Nicklaus and Tiger Woods to win the Masters and US Open in the same year. Spieth flew out of the traps from the 10th, firing four birdies in his opening eight holes which put him at the top of the leaderboard on six under before a double-bogey six at the par-four 18th slowed his charge.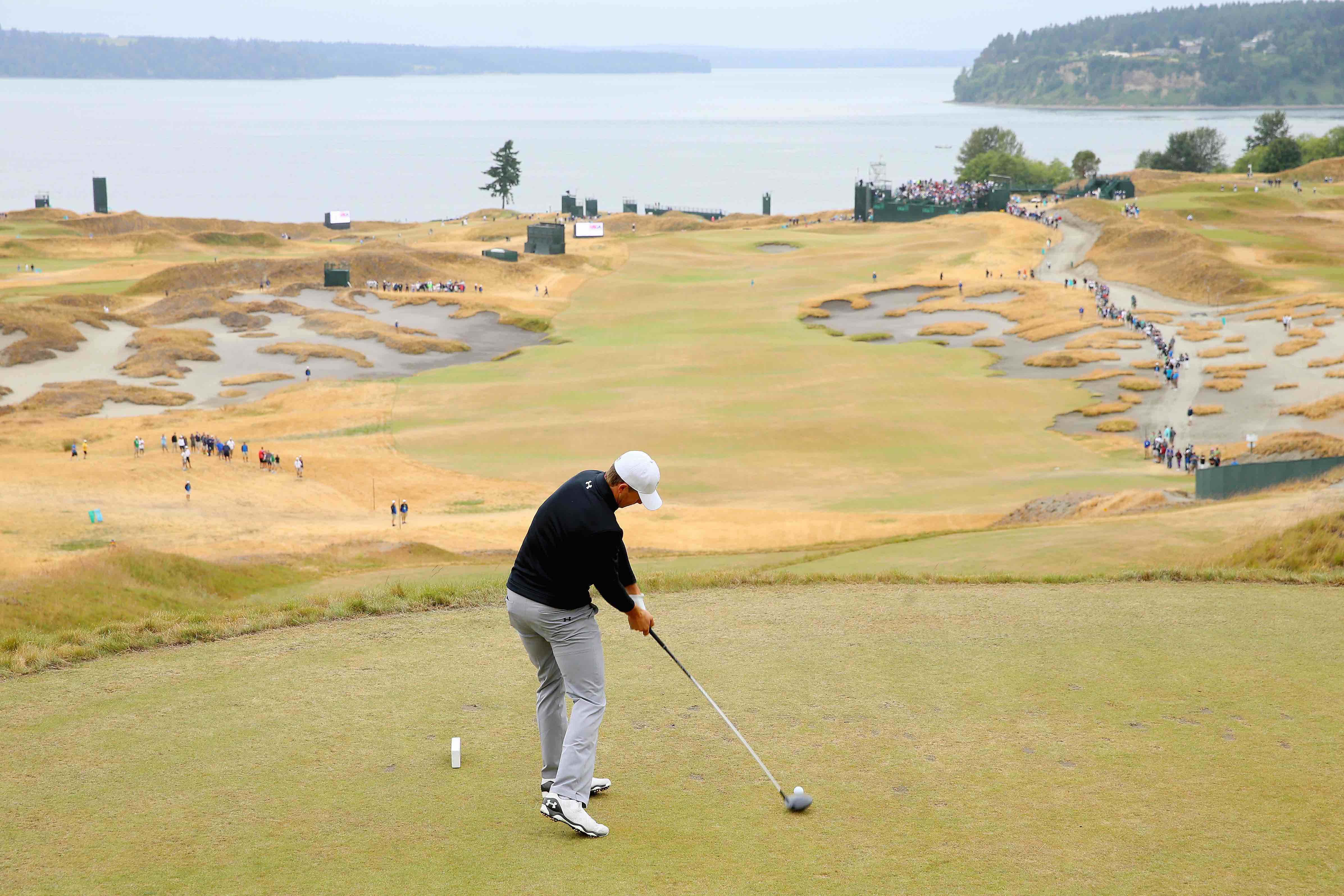 Boom!!! Spieth lets fly at 11
Paul Casey leads the way for the Brits, standing at one over par after a one-under 69. Casey struck four birdies and three bogeys and is only six shots back with two rounds to play. A decent performace in round three and he could easily be in the mix come Sunday.
The 18th hole proved to be Lee Westwood's Hell Hole. Lee found a fairway bunker off the tee, took six more shots to get down and his score went from one under to two over just like that. He will play the weekend though, as will Justin Rose, who also had a triple-bogey seven in a level-par 70 to match Westwood's two-over total.
"Look Tiger, a birdie..."
Colin Montgomerie briefly flirted with the leaders before successive bogeys on the 13th, 14th and 15th saw his challenge fade. A bogey at the last dropped him to five over, in a tie for 60th and good enough to play on.  Ian Poulter and Scot Jimmy Gunn both had 73s to finish on five over.
Joining Woods on an early flight home are the likes of two-time Masters champion Bubba Watson, who had six bogeys on his back nine in a 77, Rickie Fowler who ended 14 over after a three-over 73 in round two, and Germany's defending champion Martin Kaymer, who finished six over.
Teenage amateur Cole Hammer is heading back to Houston. The 15-year-old, the third youngest player to tee it up in the US Open, had a 14-over 84 on Friday to finish second last on 21 over. As is – sadly – Codey Gribble who missed the cut by one. Jamie Lovemark, however, is in good shape at two under.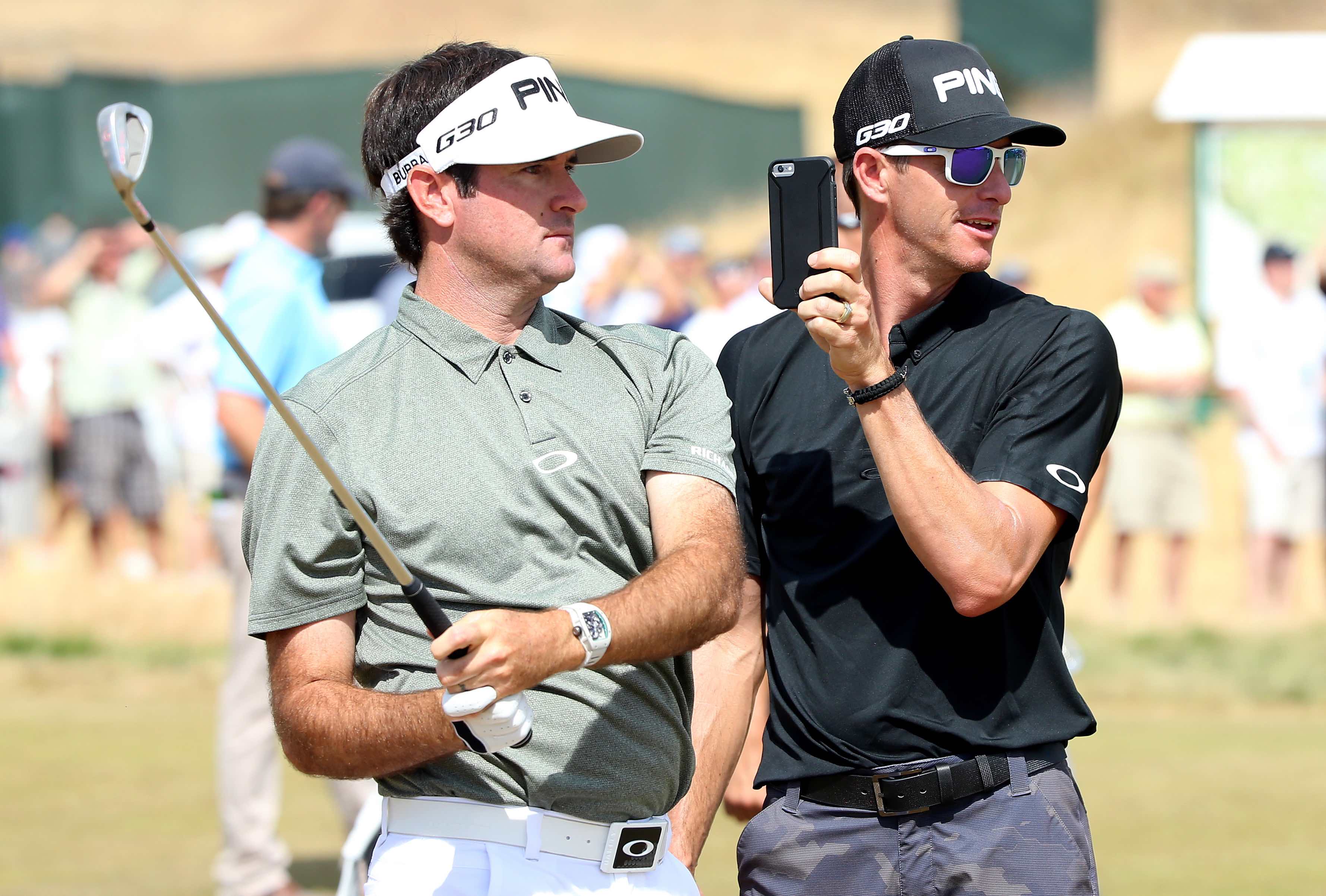 "This might explain why you missed the cut, Bubba"
Of the rest of the UK contingent, Northern Ireland's 2010 US Open champion Graeme McDowell bowed out with two 74s while England's Danny Willett, who was two under after nine holes on day one, finished with a seven-over 77 and nine over par total. Jason Day collapsed at the end of his round after suffering a bout of vertigo. The 27-year-old Australian received medical attention but looked shaky as he completed the hole, which was his last, with a bogey to finish two under.
Insert your own caption here...
There's no need for that, fella
Train in vain
Jason Day before the vertigo struck

That's just spooky...
Some people, eh?
The Story at Half-time
Reed
US
66
69
 
 
135
Spieth
US
68
67
 
 
135
D Johnson
US
65
71
 
 
136
Grace
SA
69
67
 
 
136
Finau
US
69
68
 
 
137
Luiten
Ned
68
69
 
 
137
Martin
US
67
70
 
 
137
Summerhays
US
70
67
 
 
137
Day
Aus
68
70
 
 
138
Holmes
US
72
66
 
 
138
Lovemark
US
70
68
 
 
138
Campbell
US
67
72
 
 
139
Kisner
US
71
68
 
 
139
Levy
Fra
70
69
 
 
139
Lowry
Ire
69
70
 
 
139
Stenson
Swe
65
74
 
 
139
Dufner
US
68
72
 
 
140
Kuchar
US
67
73
 
 
140
Romero
Arg
71
69
 
 
140
Smith
Aus
70
70
 
 
140
Casey
Eng
72
69
 
 
141
F Molinari
Ita
68
73
 
 
141
Maguire
US
73
68
 
 
141
Matsuyama
Jpn
70
71
 
 
141
Ogilvy
Aus
69
72
 
 
141
Scott
Aus
70
71
 
 
141
Snedeker
US
69
72
 
 
141
Els
SA
72
70
 
 
142
Fraser
Aus
71
71
 
 
142
Na
US
70
72
 
 
142
Rose
Eng
72
70
 
 
142
Schniederjans
US
69
73
 
 
142
Warren
Sco
68
74
 
 
142
Westwood
Eng
73
69
 
 
142
Fleetwood
Eng
74
69
 
 
143
Hossler
US
71
72
 
 
143
Kirk
US
70
73
 
 
143
Mickelson
US
69
74
 
 
143
Oosthuizen
SA
77
66
 
 
143
Pan
TPE
71
72
 
 
143
Schwartzel
SA
73
70
 
 
143
Silvers
US
72
71
 
 
143
Tringale
US
75
68
 
 
143
Beljan
US
69
75
 
 
144
Bradley
US
73
71
 
 
144
Chappell
US
69
75
 
 
144
Donald
Eng
73
71
 
 
144
Elder
US
76
68
 
 
144
Fritsch
Can
70
74
 
 
144
Furyk
US
71
73
 
 
144
Horschel
US
72
72
 
 
144
Koepka
US
72
72
 
 
144
McCarthy
US
71
73
 
 
144
McIlroy
NI
72
72
 
 
144
Palmer
US
74
70
 
 
144
Saunders
US
72
72
 
 
144
Senden
Aus
72
72
 
 
144
Streb
US
74
70
 
 
144
Z Johnson
US
72
72
 
 
144
Aiken
SA
74
71
 
 
145
Cabrera
Arg
70
75
 
 
145
Coetzee
SA
72
73
 
 
145
Garcia
Spa
70
75
 
 
145
Gunn
US
72
73
 
 
145
Hardy
US
70
75
 
 
145
Hoffmann
US
71
74
 
 
145
Kelly
US
72
73
 
 
145
Montgomerie
Sco
69
76
 
 
145
Parry
Eng
72
73
 
 
145
Points
US
74
71
 
 
145
Pope
US
74
71
 
 
145
Poulter
Eng
72
73
 
 
145
Simpson
US
72
73
 
 
145
Villegas
Col
72
73
 
 
145
Walker
US
72
73
 
 
145
Castro
US
74
72
 
 
146
Fujita
Jpn
72
74
 
 
146
Gribble
US
68
78
 
 
146
Haas
US
73
73
 
 
146
Hoffman
US
76
70
 
 
146
Kaymer
Ger
72
74
 
 
146
Mulroy
SA
74
72
 
 
146
Siem
Ger
73
73
 
 
146
Sullivan
Wal
72
74
 
 
146
Allred
US
74
73
 
 
147
B Watson
US
70
77
 
 
147
Dubuisson
Fra
74
73
 
 
147
Hearn
Can
72
75
 
 
147
Hoge
US
73
74
 
 
147
Kawamura
Jpn
70
77
 
 
147
Lahiri
Ind
75
72
 
 
147
Liang
Chn
73
74
 
 
147
Mahan
US
73
74
 
 
147
O'Neal
US
74
73
 
 
147
Putnam
US
70
77
 
 
147
Wiesberger
Aut
72
75
 
 
147
Goosen
SA
77
71
 
 
148
Harman
US
69
79
 
 
148
Henley
US
71
77
 
 
148
Jaidee
Tha
71
77
 
 
148
Jimenez
Spa
69
79
 
 
148
Lucas
US
74
74
 
 
148
Mabrey
US
74
74
 
 
148
McCoy
US
74
74
 
 
148
McDowell
NI
74
74
 
 
148
Noren
Swe
73
75
 
 
148
An
Kor
73
76
 
 
149
DeChambeau
US
74
75
 
 
149
Ishikawa
Jpn
74
75
 
 
149
Janzen
US
73
76
 
 
149
Kapur
Ind
72
77
 
 
149
McNeill
US
75
74
 
 
149
Moore
US
75
74
 
 
149
Neil
Sco
76
73
 
 
149
Nesmith
US
76
73
 
 
149
Palmer
Eng
76
73
 
 
149
Van Pelt
US
73
76
 
 
149
Willett
Eng
72
77
 
 
149
Becher
US
78
72
 
 
150
Bjerregaard
Den
73
77
 
 
150
Compton
US
76
74
 
 
150
Duncan
US
78
72
 
 
150
Farr
Wal
73
77
 
 
150
Gallacher
Sco
78
72
 
 
150
Jones
US
78
72
 
 
150
Knapp
US
74
76
 
 
150
Leishman
Aus
73
77
 
 
150
Marino
US
75
75
 
 
150
Van Der Walt
SA
77
73
 
 
150
Yang
Kor
74
76
 
 
150
Barber
US
78
73
 
 
151
Donaldson
Wal
74
77
 
 
151
Hagy
US
74
77
 
 
151
Horsfield
Eng
75
76
 
 
151
Sonoda
Jpn
78
73
 
 
151
Woodland
US
74
77
 
 
151
Davan
US
77
75
 
 
152
Hurley III
US
80
72
 
 
152
Lee
NZ
78
74
 
 
152
K Barnes
Aus
72
81
 
 
153
Riley
US
73
80
 
 
153
Todd
US
78
75
 
 
153
Fowler
US
81
73
 
 
154
Jaeger
US
74
80
 
 
154
Lee
NZ
74
80
 
 
154
Persons
US
79
75
 
 
154
Berberian Jr.
US
83
72
 
 
155
Cappelen
Den
70
85
 
 
155
Wilson
US
79
76
 
 
155
Baek
Kor
74
82
 
 
156
Glover
US
73
83
 
 
156
Woods
US
80
76
 
 
156
Clarke
NI
77
80
 
 
157
Hammer
US
77
84
 
 
161
Kim
US
80
86
 
 
166