News
Jun 24th, 2016
Trump speech hijacked with Nazi golf balls
The Donald in a rage
Words: John Dean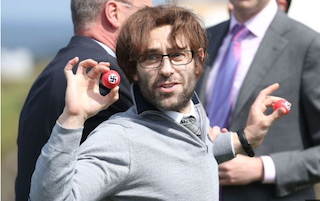 Donald Trump was furious with a British comedian and provocateur, who hijacked his speech with Nazi branded golf balls at Turnberry today.
Trump was about to take to the stage at Turnberry when comedian Lee Nelson started handing out the Nazi golf balls to the assembled audience.
Trump shouted at his security guards to "get him out" as Nelson, whose real name is Simon Brodkin, attempted to speak to the press who were there to cover Trump's speech.
Nelson, who appears to be wearing the Turnberry uniform, could be heard jokingly saying: "The new balls are available from the clubhouse as part of a new Trump Turnberry range.
"I forgot to hand them out before, I'm very sorry Mr Trump, and thank you, I apologise."
Nelson's humour was not appreciated by everyone, as one man in the crowd shouted "Go and get a job and a haircut," while another told him to  "Stick them where the sun don't shine."
https://twitter.com/RealLeeNelson/status/746306555855896576
TAGS: Turnberry, News, 2016