News
Dec 13th, 2016
Trump gives Scotland the bird
By tearing up environmental agreement
Words: James Greenwood Photography: Getty Images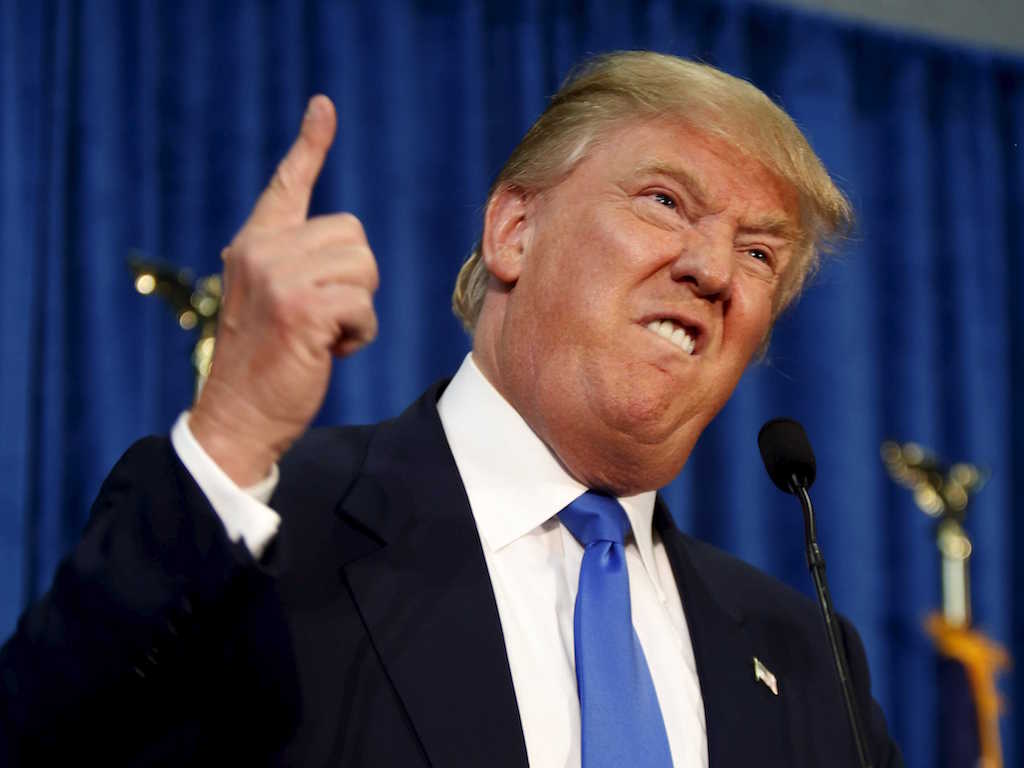 Donald Trump has given Scotland the bird by tearing up a legal agreement on environmental protection made with the Holyrood government, the Sunday Herald has revealed.
The legal agreement was designed to prevent the Trump causing damage to the Scottish environment with his golf course in Aberdeenshire.
When Trump was given permission to build his controversial course on a prized nature conservation area on the Aberdeenshire coast, he promised to set up and fund an expert group to oversee compliance with a number of legal conditions designed to protect wildlife.
But now the Trump organisation has unilaterally "dissolved" the group, provoking anger and condemnation from experts and wildlife campaigners. He has continually "bullied or ignored" the Scottish planning system, according a leading critic.
Trump's golf course was given planning permission in December 2008, after Scottish ministers intervened to overturn Aberdeenshire Council's rejection of his application. The legal agreement that enabled it to go ahead included a commitment to establish and finance the Menie Environmental Management Advisory Group (MEMAG).
Involving two government agencies, Scottish Natural Heritage and the Scottish Environment Protection Agency, Aberdeenshire Council and others, MEMAG started meeting in December 2009. Its remit was to advise the Trump organisation on the "minimisation" of environmental damage and "full compliance" with planning conditions.
When Trump wrote to the Scottish Parliament's Economy, Energy and Tourism Committee in April 2012 to complain about wind farms, he highlighted the importance of the group. The golf course at Menie was constructed to the highest standards under the "strict supervision" of MEMAG, he said.
Trump's representatives, however, often failed to turn up for meetings. According to the minutes of MEMAG meetings, his Scottish spokeswoman, Sarah Malone, gave her apologies to meetings in April 2011 and May 2012.
At the May 2012 meeting MEMAG described the Trump organisation's failure to attend recent meetings as "unfortunate". It agreed to write to the organisation "noting the need for representation at MEMAG meetings".
MEMAG last met in January 2013, and its fate has become increasingly uncertain since then. Aberdeenshire Council decided in December 2013 that the group should be reviewed, and wrote to the Trump organisation pointing out that MEMAG remains a legal requirement, but the council has yet to have a response.
The Sunday Herald then approached the Trump organisation last week, and it made clear that MEMAG had been killed off.
"Having successfully completed its scrutiny role for the construction of the championship golf course, MEMAG was dissolved," said George Sorial, executive vice-president and counsel for the Trump organisation in New York.
Sorial insisted that the golf links had not done much harm to the Site of Special Scientific Interest (SSSI) it was built on. "More than 95 per cent of the SSSI remains untouched and the ecological diversity of the site remains intact," he said.
The golf course covered part of a rare mobile sand dune system, protected under law because of its natural importance.
Aberdeenshire Green councillor, Martin Ford, accused Trump of failing to show any respect for the "amazing" dune system. "What was actually an SSSI was to Mr. Trump a low-cost development opportunity," he told the Sunday Herald.
"For the past ten years, Mr Trump has in turns either bullied or ignored the Scottish planning system. Mr. Trump has also repeatedly had to make retrospective planning applications for development carried out without planning permission."
According to Ford, a long–standing Trump critic, the suggestion that MEMAG had been dissolved would be news to the council. "The obligation to maintain MEMAG is a continuing one," he said.
Aberdeenshire Council said it had told the Trump organisation that "there was no time limit on the duration of MEMAG". It pointed out that if Trump wanted to scrap MEMAG it would have to make a formal application to change the legal agreement it had made.
"To date the council has not been advised of the preferred option to deal with this matter," said a council spokeswoman.
Dr Tom Dargie, Trump's adviser on the Menie sand dunes from 2006 and 2009, described the demise of MEMAG as "extremely worrying".
"No MEMAG input since 2013 means no information on habitat and species change in the crucial early years of golf course operation at Menie," he said.
'MEMAG is a condition of planning consent and the complete inertia between Aberdeenshire Council and the Trump golf resort bodes ill for any future development in Scotland involving sensitive habitats, threatened species and protected sites."
So it's business as usual with Trump and his minions.
Related:
Bill Murray takes on President Obama at putting in the Oval office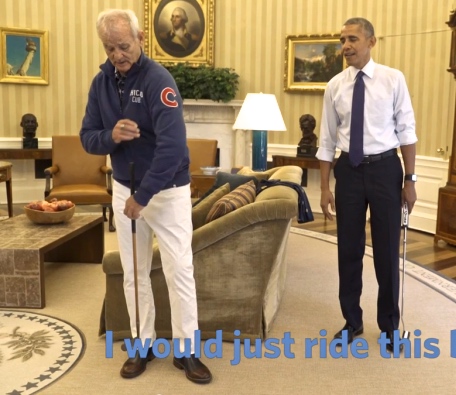 TAGS: Donald Trump, Trump International, Trump International Aberdeen, Site Of Special Scientific Interest, News, 2016