News
Sep 27th, 2015
Tour Championship Final Day
Who is $10 million up?
Words: The Brigadier Photography: Getty Images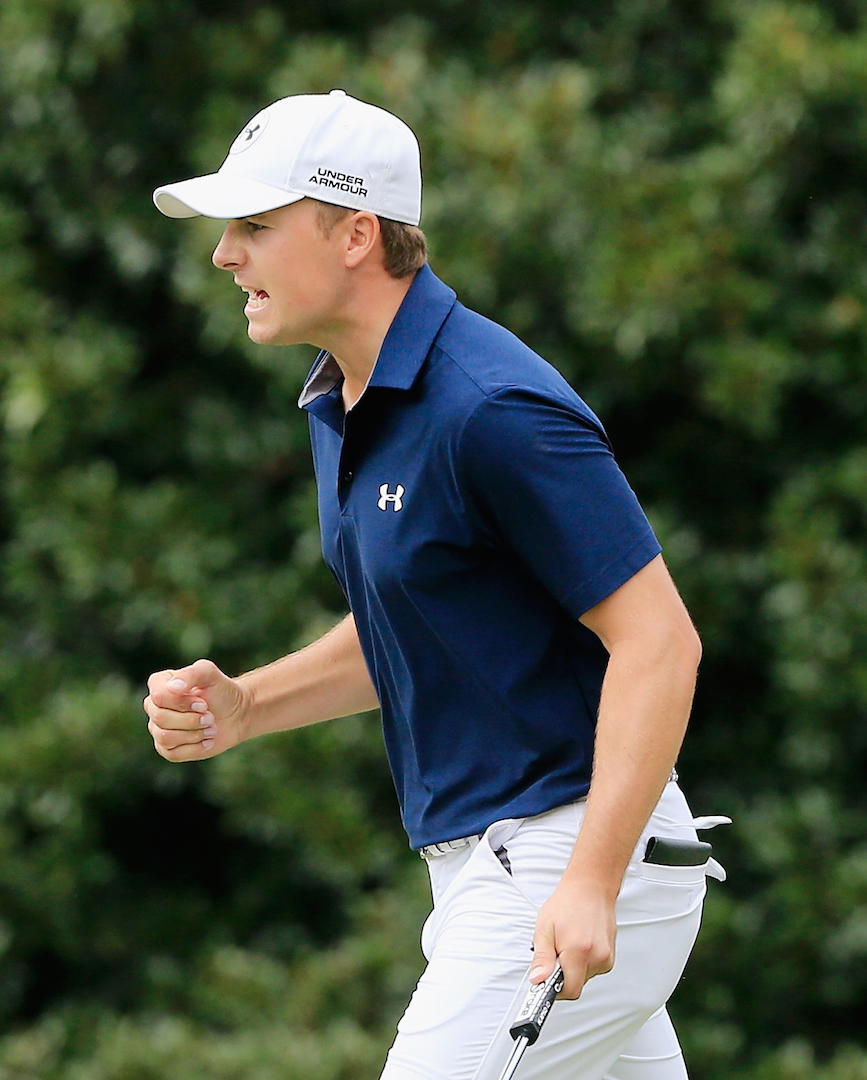 Job done on the putting front. Ruthless.
It didn't rain (that much) today, and the crowds came out in their droves. Who says the young guns aren't already making a difference?
They came to see Jordan, and he did not disappoint. In the end he won comfortably with a two under 69 to beat Henrik Stenson by four shots.
He's won the most money ever in a season - $22 million – two majors, and he's now Number One in the World.
Only a week ago Jason Day could have been player of the year, and Spieth has spoken of his awe in playing against an in-form Day. That's all just changed. Spieth has totally stamped his authority on the game with this win. End of.
Spieth started the day with a one shot lead over Henrik Stenson. He had the odd wobble at the start of his round with two dropped shots on the fifth and sixth, after a birdie on the second.
The big momentum change came over the eighth and ninth. On the eighth Spieth made a birdie to Stenson's bogey, and then made an immaculate par save on the ninth, when he was looking at a bogey or even a double bogey.
Henrik kept to his strategy – 3 Wood off the tee, driver firmly kept under lock and key – and managed to bounce back with a birdie on the ninth. But you could sense that a shift had been made.
Henrik Stenson with a touch of the Niki Lauders.
Spieth was out in thirty-four to Stenson's thirty-five. Spieth has had the best of the back nine all week, shooting a total of seven under to Stenson's even par.
Spieth had another wobble on the tenth with a bogey, but so did Stenson, who just couldn't seem to find a way to close the gap.
There's no one putting like Spieth this year when it really matters, and this is where he did the real damage. He's now had 700 one putts this season!
He knocked in a sublime putt on the eleventh, and you could see the pain on Stenson's face, who had just knocked it close himself. He grimaced like Niki Lauder as both took birdies, when he felt convinced that he made a shot back.
A dropped shot by Stenson on the twelfth, and Spieth had a three shot lead. He now just needed to keep his head down, stay focused, avoid trouble, and the $10 million was his.
Stenson hit a ragged hook shank on the sixteenth, which signaled that it was all over. He'd led for three days, but was simply ground down by Spieth on the final day. His relentless, ruthless, putting made all the difference.
Others to mention in dispatches are Dustin Johnson, Paul Casey, Justin Rose and Jason Day.
Dustin put in a great charge with birdies galore, and signed off for the season with a six under sixty four. He dropped a single early shot on the fourth, before going on a seven birdie-fest over eleven holes.
Justin Rose had a six on the tenth when he lumped it out of bounds, but quickly got his momentum back with a birdie on the twelfth - the hardest hole on the course. He had an eagle putt on the fifteenth, but could only manage a birdie. He closed out his round with a birdie for a sixty-six.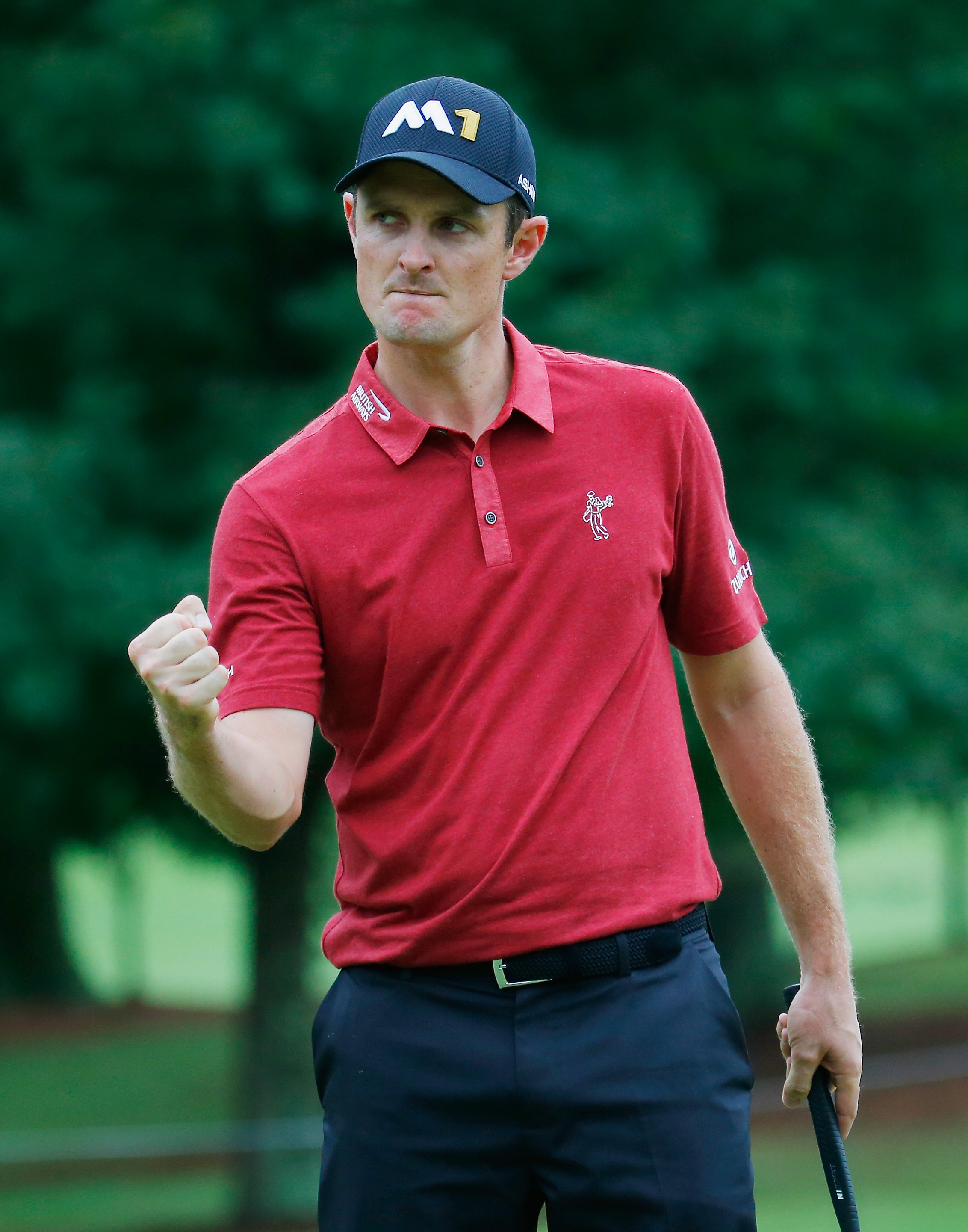 Rosey's still pumped.
Rory McIlroy was missing too many greens, mostly to the left, and has had a frustrating week all told. He came into the week thinking he had a real chance. He created plenty of opportunities, which he was not able to finish.
It's been a disappointing season for him, and he now needs to regroup, and get ready to go again for 2016. We're already chomping at the bit, and it's only September!
Paul Casey finished with a seventy to tie fifth with Bubba Watson, and Dustin Johnson. He's getting back to where he belongs, but he's still not quite there yet. We're hoping for great things next year, although it's a real shame that with his commitment to the US Tour we won't be seeing him at the Ryder Cup, unless anyone knows different?
Jason Day came into this week off too big a high, felt flat and could finish no better than two under for the event, and tied tenth. That's something that he's going to be working on. The game has changed, and new levels of expectation are being set.
It's been just an incredible end to what has been a simply amazing season. Jordan Spieth, we salute you. What's more, we know he's not really motivated by the $10 million That's totally secondary. He wants to win, and win proper.
Related to this article:
Jordan Spieth: Genius Or A Bit Boring?
Jordan Spieth: What's In The Bag?
FedExCup: Bunch Of Arse or Helping The Gravy?