News
Nov 19th, 2015
Tiger Woods Not Fit To Be A Ryder Cup Captain
According to some Golf Channel Goon
Words: Tim Southwell Photography: Getty Images
Has every TV goon got it in for Tiger, or what?! First Nick Faldo weighed in with "Tiger is finished in the majors", and now Golf Channel analyst Brandel Chamblee has ripped into him by claiming Tiger doesn't deserve to ever be a Ryder Cup captain or assistant...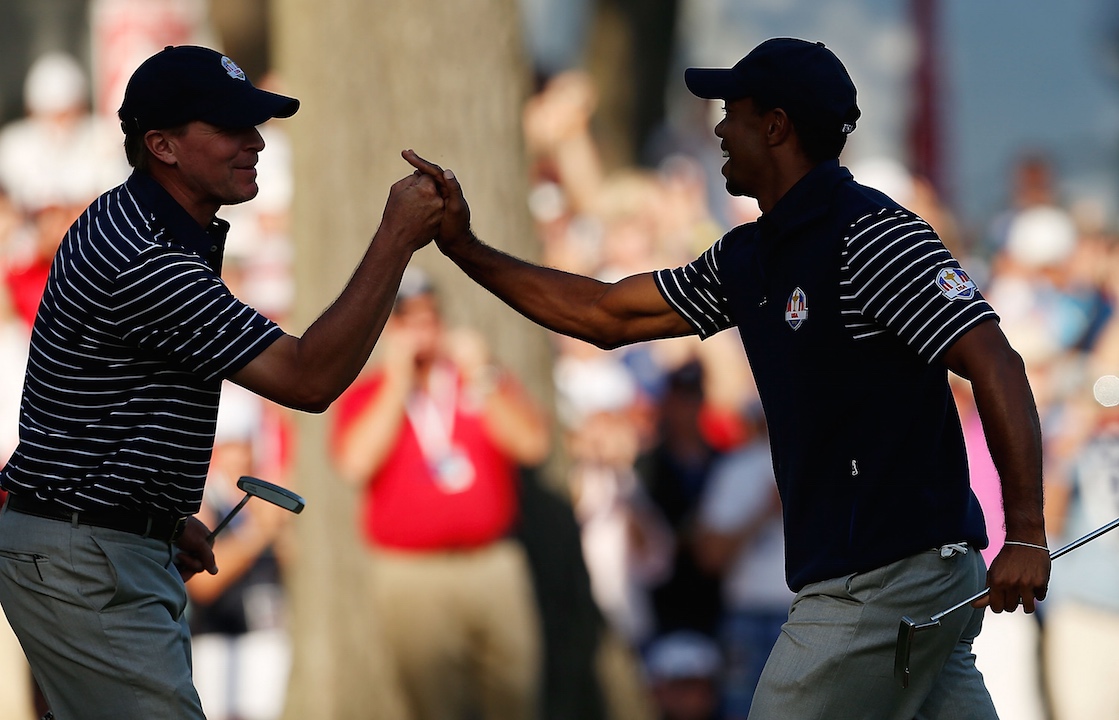 Over the weekend Tiger reportedly called USA Presidents Cup assistants Fred Couples and David Love III, offering some advice on how to get over the line in the Presidents Cup, and also to throw his baseball cap into the ring to be one of Davis Love III's assistants for next year's Ryder Cup.
Assuming Tiger's form remains wobbly and he doesn't qualify for the team, or warrant a Captain's pick, he still wants to be involved at Hazeltine. Is this a good idea? GolfPunk's initial thoughts were: "Of course, what are you stupid?!"  But not everyone agrees. Namely rent-a-quote Bert Shambles who has described the very idea as 'the devil's work'.
Clearly just couldn't give a toss...
Shambles said that both Tiger and Phil Mickelson don't "deserve" the roles because: "I don't really think it's appropriate to give players leadership roles in an event they didn't show interest or passion for when they were competitors."
It's not often that I drop my bacon sandwich but when I read that there was ketchup everywhere. Tiger may not have the best Ryder Cup record (13 wins, 17 losses and three halves) but he's still in the top 10 points earners ever with 14 1/2. He must have had a modicum of passion to rake in that many points.
Just not interested
The perception that 'Tiger is not great at Ryder Cups' is there is because Tiger was so brutally dominant in stroke play for so long that it seemed an anomally for a mere mortal such as, say, Constantina Rocca to prevail against him over 18 holes of matchplay. Does losing to Constantina Rocca prove a lack of passion or commitment?
Get a grip Bert. Your comments are insulting not only to Tiger but to anyone who had the career highlight moment of beating the greatest player of our generation. Besides, have you never played matchplay against someone who played better than you and beat you? 
Plus, Bert's logic is completely bonkers. Nick Faldo had a brilliant Ryder Cup record (23-19-4) but was about as much use as a chocolate fireguard when it came to being a good European captain, brilliantly orchestrating Europe's only loss in recent times, over a week that panned out more like a self-penned golfing version of This Is Your Life. 
Tiger Woods was an integral part of 'The USA team's Medinah' when they came back from nowhere to win at Brookline in 1999. What's more, Tiger's brilliance in the 90s and 2000s came at a pivotal time for the USA's younger Ryder Cup players. They were inspired by TIger and guys like Jordan Spieth and Rickie Fowler totally look up to him.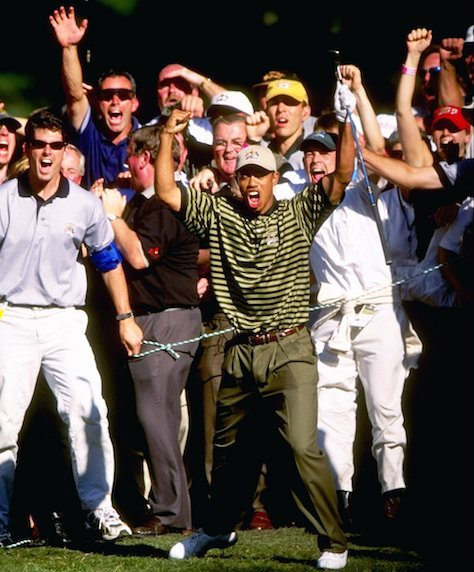 Nope, don't get this Ryder Cup thing at all
Bert Shambles needs to get his finger out of his proverbial and show some respect. Anyway, if it doesn't work out Tiger, you can always captain the GolfPunk Team at the National Pitch & Putt Championships at Warley Woods, Birmingham. Just give us a call. 
Peace out.
Here's a video of Tiger holing a putt against Paul Casey and not caring at all
TAGS: Tiger Woods Ryder Cup, News, 2015, Tiger Woods, Ryder Cup Captain, Ryder Cup