News
Dec 8th, 2015
Tiger Woods "I'm far from being done"
Someone cheered up over the weekend...
Words: Daniel Owen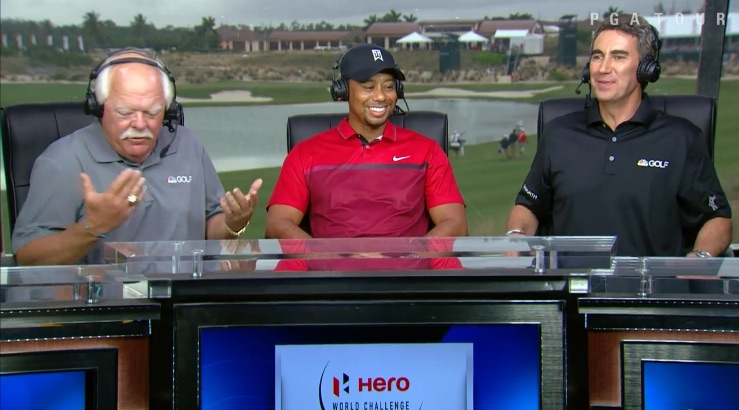 Tiger seems to have cheered back up again. We all know you have bad days when your recovering from something, and it seems like his rehab, or lack of it, nerve surgery was getting to Tiger woods. And he made it clear he isn't calling it a day just yet while being interviewed by the NBC golf commentary team.
"The difference is that the health is different than what it used to be," Woods said. "The spring back from a joint — having all the many surgeries that I've had over the years — is so different than having a nerve (problem). That's probably the recognition I think you're seeing is that I understand that this is very different. 
"Does that mean I'm not going to rehab, I'm not going to train and I'm not going to try and fight to get back? Of course I am. I'm far from being done. I have to be patient, which I am not very good at when it comes to that side of it. The golf part, when I'm on a golf course, I can be very patient. When it comes to this stuff, I love to train, I love to bust my butt, I love to get out there and try to get better. This is the complete flip side. They're telling me that I can't do anything in order to get better. That was a hard transition for me to understand, to wrap my head around because it's so counterintuitive to how I've always been."
While still talking about the same problems, he seems to have picked up a more positive attitude over the weekend. Let's face it a bad day as Tiger Woods is going to be a more interesting than what most of us get up to. 
We also loved that Tiger turned up at the Hero World Challenge in his Sunday red. We reckon he wears the red every Sunday, whatever he's doing. At his kids little league games, at his restaurant in Jupiter, Sunday mass, even going down the local supermarket. And he definitely practices his fist pumps down the peanut butter aisle. Who doesn't need that winning feeling in their life every Sunday, and if you're Tiger Woods you can't win at life if you're not wearing red!
TAGS: Tiger Woods, PGA Tour, NBC, Nerves, Hero World Challenge, News, 2015