News
Feb 6th, 2016
The one that got away
From Ian Poulter?
Words: John Dean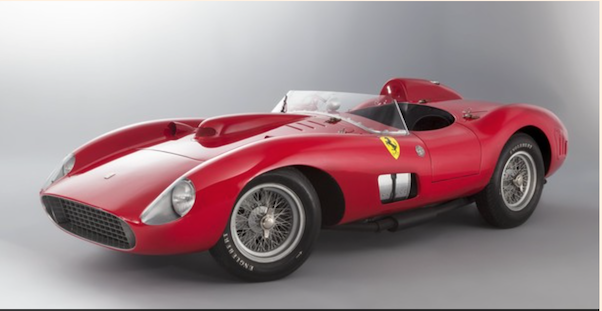 A very rare Ferrari has been sold at auction in Paris, for a whopping great £24.6 million pounds. So we don't think that it will be going to Ian Poulter's Ferrari museum. We reckon that's too much coin even for Ian. But we'd like to be proved wrong.
The 1957 Ferrari 335 S Spider Scaglietti was sold for more than £24.8 million, with auction house Artcurial tweeting "#WorldRecordForACarAtAuction".
However, according to reports in the Financial Times, the sale was still way short of the sale of a Ferrari 250 GTO, which was sold by Bonham's for $38 million at Pebble Beach in California in 2014.
"It's probably the ultimate front-engined racing Ferrari," said Simon Kidston, founder of Kidston SA, a boutique advisory firm for classic car collectors in Geneva. "It was the most powerful racing car of the era."
The Ferrari set a lap record at the Le Mans 24 hours race, competed in the original Mille Miglia rally, and the car later finished fourth in the Swedish Grand Prix, and second in the Venezuelan Grand Prix to help Ferrari win the World Constructors' Title in 1957.
It was driven by Mike Hawthorn at Le Mans, and has also seen Stirling Moss and Wolfgang von Trips take the wheel.
Pierre Bardinon, who amassed a significant Ferrari collection before his death in 2012, owned the car, and his estate was selling it.
The Ferrari 335 S Spider Scaglietti was capable of doing an eye-watering 186mph in 1957, and became the first car to average 200kph on a lap of the Le Mans Circuit.
According to Mr. Kidson, "Buying this car and not driving it would be like marrying the world's most beautiful woman and not going to bed with her."
The buyer remains anonymous. Ian?
For more on Ian Poulter's Ferrari collection click here or on the image.