News
Dec 24th, 2016
The battle for Beckenham Place Park GC goes on
Here's how they are objecting
Words: John Dean

James Davies is one of the main campaigners fighting the battle to keep Beckenham Place Park GC open. We are very keen to support the campaign, and are therefore pleased to publish Jame's submission to the local council in full. We wish the team the best of luck, and will continue to support them in any way we can.
I, James Simpson Davies, as a Lewisham resident who lives in Downham very near to Beckenham Place Park and a regular user for over 30 years wish to lodge my objections to the proposed development of Beckenham Place Park.
I wish to lodge my complaints on several grounds covering the areas of concern for Transport & Traffic, Environmental, Ecology, Security, Inadequate Consultation, Health & Safety, Public Health Issues, Inept and inadequate solution to the provision of a lake, Un-necessary ground works, Removal of public facilities, Sustainability Plan (or lack of), HLF collusion, Flawed planning process.
Transport & Traffic
(Landscape Design and Access Statement 529257, Transport Statement 529369, Sustainability Statement 529368)    According to the council's sustainability plan 400 events for 70,000 people are planned over 5 years and no proper thought or consideration has been given to the local traffic congestion and pollution this will cause to the area.  Even the recently minor "Festival of Light" event on the 4th December 2016 caused considerable traffic congestion.  This problem is compounded by the nearby Major Event space of the Number 2 Kent County Cricket Ground and if any event coincides the whole of South East London and Kent could become gridlocked.  These major events instead of being an asset to the local community will impinge on the local community with traffic congestion and by the fact that their normal use of the park will be restricted and many will suffer traffic problems as they go about their daily lives.
As well as the increased Traffic Congestion & Pollution there has not been enough consideration to Parking and the effects on the local area / neighbourhood.  In fact referring to the Transport Statement 529369 & Sustainability Statement 529368 clearly state that "visitors to events can park in adjoining roads" - no consideration to the impact on the local area especially as some of this is not on Lewisham's territory!
The impact from parking will be particularly felt among local residents with parking in adjoining roads actively being encouraged by the Council to the detriment of both Lewisham and Bromley Council Tax Payers and Residents -this will be particularly prevalent in Westgate Road as well as the adjoining roads on the Beckenham side of the park.
The Problems of Parking, Traffic Congestion. Major planned events such as the proposed Cyclecross with visitors expected from as far away as Bradford, and Extra Pollution also highlight the Need for Access for emergency services in the above roads during events as well as to and from the park especially in the event that the only access road is congested with parked vehicles and the above roads during events as referred to in the Beastway website in reference to the nature of the sport and proposed Cyclecross event planned for 27th December 2016.
Environmental
I also wish to object to the unnecessary removal of healthy trees with no rational need for them to be removed and merely on the subjective whims of the creatives, especially the mature trees which Lewisham claimed some would be replaced by mature sapplings yet the recent tree-planting event (12thNovember 2016) by project manager Alison Taylor produced merely "Whips". This at a time when the London Mayor, Sadiq Khan is issuing pollution warnings yet they plan to remove one major contributor that helps remove CO2 from the atmosphere. Landscape Design and Access Statement 529257, Tree Survey 529370, Tree Removal Works 520371.
Once more I object again on the grounds of  Disruption to quality of life for local residents when major events take place - music and sporting events etc with increased Traffic congestion as above but also noise, anti-social behaviour and pollution.
Leading nicely onto Ecology
The Destruction and unnecessary Disruption of local habit for wildlife – in particular bat roosting trees that will be removed to create the lake and all the disruption that will be caused by the creation by the use of heavy machinery to create an artificial lake as that is what it would be at very best – or as I tend to call it a £1million pound Pond!  I do not accept the LBL claim that this will be mitigated and I believe this is a major issue ( Landscape Design and Access Statement 529257, Tree Survey 529370, Tree Removal Works 520371. Ecology Report 529350).
There is also the question of the possible disturbance of the badger sets and I dispute the LBL claim that the sets are not active (Ecology Report 529350).
Another Major Concern is SECURITY – or rather lack of it!
Undoubtedly People are and feel less Secure with the forced removal of a popular local public sporting facility and customers from all over London as well as local residents of South East, South London, Kent and Surrey who frequented the site in all weather 12 months of the year from dusk until dawn in various numbers.  The lack of a credible approach to addressing the security concerns for park users particularly women and children who use the park regularly for walking either with their pets or on the way to and from work and school especially now that they don't have the assurance of nearby golfers.
The expulsion of golfers results in increased security threat for lone women in particular - this has been advised to LBL project Manager Alison Taylor who had no credible answer - there is little in the planning documents and what there is is contradictory to other policy statements
It is also a concern for the upkeep of the Park, Park Buildings and Park facilities as there has recently been a spate of vandalism and graffiti in the park as youths have gathered at the end of day and damaged some of the Park bench memorials placed in the park in memory of loved ones lost (Crime Prevention Safer Places report 529345).  Remember it was vandalism that caused the fire in the stableblock.
I also object to the factually incorrect Statement of Community Engagement, Dishonest or Economical with the truth Statements from LBL and Project Officers (Statement of Community Engagement 529366) as conceded by Alison Taylor at a meeting with the Beckenham Society in Sept 2016.  The decision to close the golf course was after consultation of less than 200 people in a region that has 29000 plus local residents and a further potential 300,000 residents in Lewisham, and ignored the objections of thousands of park users such as 8000 petition presented to HLF recently.  I object to the exclusion of existing user groups and exclusive preference given to preferred groups whose intentions have still not been fully disclosed publicly.
For example the unilateral disolution of the Beckenham Place Park Working Group and the creation of new groups comprising solely of supporters to LBL's plans as well as the Refusal to allow Friends of Beckenham Place Park a seat on these groups (Statement of Community Engagement 529366).
I also wish to object on the grounds of the Million Pound Pond Folly - Inept and inadequate solution to the provision of a lake.  It Is an unwanted facility locally as there are numerous green spaces with Ponds and lakes within South London and many nearby in Keston, Beckenham, Southwark and Croydon for example.  The proposed water feature will require a specially constructed bottom to prevent the water draining away which is the reason the lake was never a permanent feature previously but how the water will be replenished without a proper supply to replace water lost through evaporation; there is no provision for a water supply! Water extraction will be necessary as there is no surface water supply even after heavy rain. There has also been a failure to contemplate measures that may be required to prevent the formation of dangerous algae becoming a Public Health Hazard! 
Does the Destruction of the environment outweigh the creation of a facility aimed at a small proportion of potential users already well-served with such facilities in South London?  There is no clear sustainability plan (Landscaping M E Services Report 529361). There is the Sustainability Statement 529368 but this fails to address this issue adequately.
HEALTH & SAFETY
The issue of public safety has not been addressed - risk of drowning - no clear indication of how lifeguard services will be provisioned.  The existing pond in the park has been fenced off and from which the public are excluded on safety grounds.  This also raises the issue that the lake could, especially with the lack of security and increase in fly tipping especially at Foxgrove Club for example, become a dumping ground for stolen vehicles and supermarket trolleys as well as fly tippers!  No obvious documentation to address these issues or concerns.  This again brings into question the dangers of the contamination of the water and issues such as Weil's Disease from rat contaminated water. There is a huge cost associated with maintaining water quality and once again this does not appear to have been addressed (Geo Environmental Assessment 529341, but doesn't address this issue).
Such a cost would be a pre-requisite for the proposed water facility to become suitable for open water swimming but yet no provision has been granted for the provision of changing facilities for swimmers!
Un-necessary, Invasive and destructive ground works
Regular Park Users and the local community are happy with the landscape, vista and environs of the Park and do not want any un-necessary, invasive and destructive ground works especially if it will impinge on the local habitat and wildlife, whether or not the golf course could be re-instated in the future and whether or not they would want it reinstated (Landscape Design and Access Statement 529257, Heritage Statement 529355, Destruction of Heritage)!  LBL are, in my opinion, trying to create an artificial heritage and an artificial environment that is neither appropriate nor wanted and at the cost of the destruction of 100 plus years of local Heritage and the vandalism of a Multi-million pound sports venue therefore whatever the cost of the ultimate masterplan the damages to this much loved local facility and loss of revenues need to taken into account! They are trying to Re-create something that never actually existed except in their Downtown Abbey Fantasies as they roam about in their 4x4s creating further pollution to the very environs they say they wish to protect!
The re-siting of the car park incurs un-necessary expense and further ecological destruction and there are much better alternatives for the re-siting of the car park (Landscape Design and Access Statement 529257, Heritage Statement 529355)!
Removal of Public Facilities & Destruction of Heritage
I also wish to object to the removal of both the Public Golf Course and the Public Tennis Courts and the destruction of the current gardens (Landscape Design and Access Statement 529257, Hardwork Demolitions 529354.   I also object to the destruction of the very ancient Kiosk between the two sets of tennis courts which I understood to be of importance to English Heritage and has previously prevented plans to re-site the gardens and tennis courts.  These are all landscaped features much valued by current park users and the local community.
Sustainability Plan – Or rather the Lack of it!
The anticipated increase in visitor numbers has no factual foundation.   Since the draconian closure of the golf course numbers have in fact fallen by circa 80% and the demographic mix has substantially altered away from age and race diversity (Sustainability Statement 529368).  Failure to address key HM government Requirements (para 1 of Sustainability Statement).
The sustainability requirement is a HLF funding condition.  The sustainability statement has no credible numerate information with respect to budget required per annum and how it will be funded. Social progress meets the needs of everyone but LBL's masterplan fails to deliver this as they have cynically expelled existing user groups and are moving forward with a scheme that is elitist and on the whole neglectful of the needs of the immediate local community.
I also object to LBL's masterplan as it destroys almost 30% of the park for no logical reason instead of proffering Effective protection of the environment it will effectively destroy it!  It also fails on the prudent use of natural resources as the scheme includes a Lake with no water supply and no effective plans on how the are going to maintain it especially in times of austerity when a neighbouring borough cannot even afford to pay £5000 to cover the cost of maintenance of a childrens' paddling pond!
The scheme has already resulted in several redundancies and instead of job creation it appears most of what they plan is recruitment of volunteers yet they have failed to listen to the local community who could provide the volunteers necessary!  There is no significant job creation!
I also object on the issue of ageism as most of the planned events and facilities seem to be directed at the under 50s and even younger with no thought given to the provision of active sports participation for the over 50s and Lewisham's increasing aged population other than the fact they have taken away a sport that all ages from all backgrounds can play from when they can walk and until they are in their 90s!
It is my contention that the masterplan will have the opposite effect to the goals of the community engagement statement.  In fact I would go so far as to allege that Council Officers are actively driving out existing users to allow and cater exclusively for their own personal sports and interests to flourish (Statement of Community Engagement 529366, Sustainability Statement 529368)!
HLF COLLUSION
I also wish to complain that allegedly there is evidence to suggest from LBL.s own legal department that LBL and HLF have unlawfully colluded to secure the grant funding and this would appear to be confirmed by the sudden, late decision by Lewisham Council to bring forward the closure of the golf course from Dec2016 when HLF were going to announce stage 2.
Despite assurances from HLF as to independence of the assessment process only the LBL side of the argument has been presented and evidence to the contrary has been cynically excluded.  There is extensive email correspondence to back this up and there is the Verita report.
I object also to the negligence by HLF in failing to adequately address the veracity of the information provided by LBL in order to secure significant Public Monies.
Flawed planning process
I object also to The exclusion of evidence from those opposing the scheme which has resulted in a potentially unlawful outcome.  Other objections include the Multiplicity of different dates for the receipt of objections;  And the Different versions of the planning notice in different places and at different occasions. First there was to be a 9 hole golf course, then the tennis courts were to be re-located, then there is no room in 240 acres (90plus hectares) for tennis or golf!
I also object to the time of year that these objections have to be submitted which is an ancient local council trick to try to get bad planning application passed by putting them through around Christmas or holiday times!  These are my objections and are shared by thousands in my local community.
Related:
Vandals stirke again at a Leeds golf course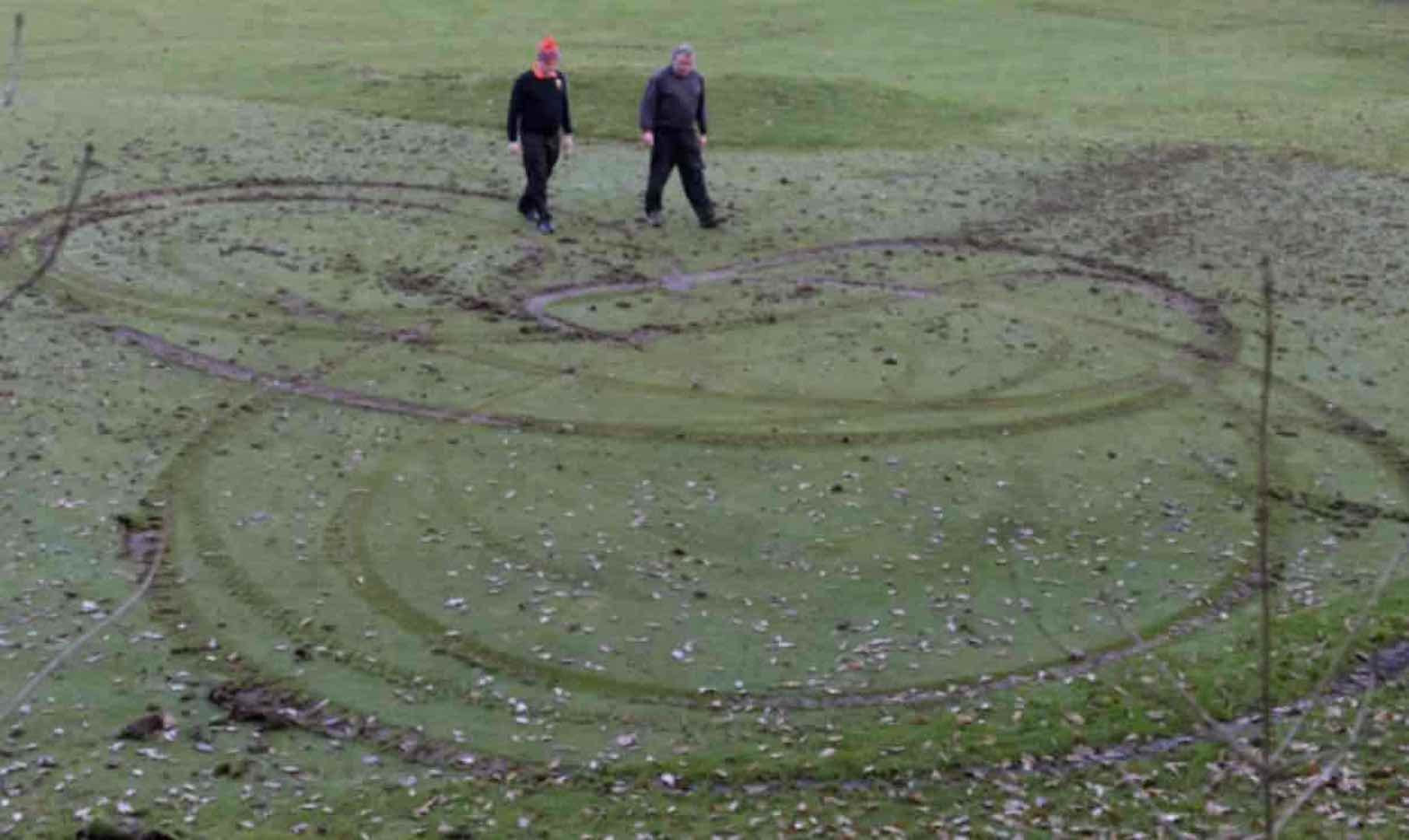 TAGS: News, 2016, Golf Course