News
Mar 26th, 2016
Team USA launch 'golf wine' for the Ryder Cup
Golf and wine! What could possibly go wrong?
Words: James Greenwood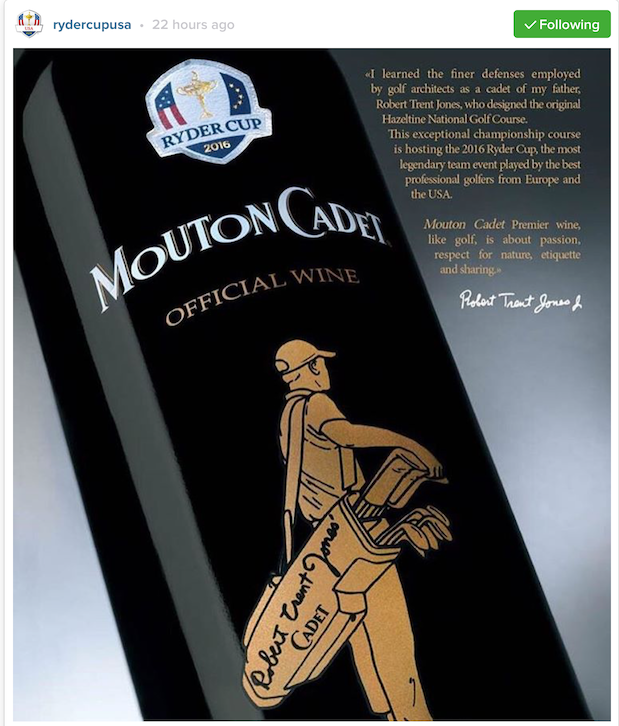 The official wine of the 2016 Ryder Cup has been announced. Mouton Cadet (Mouton Caddy? Ed) has previously worked with the European Tour and is now partnering with the Ryder Cup. Here's the skinny.
Hugues Lechanoine, Managing Director of Baron Philippe de Rothschild SA, commented, "Mouton Cadet began its relationship with Ryder Cup Europe in 2014, and is now delighted to expand the relationship for a United States-based Ryder Cup for the first time. With this fantastic expansion into the U.S., this partnership is now firmly implanted on both sides of the Atlantic." 
"The PGA of America is honored to partner with Mouton Cadet," said Jeff Price, Chief Commercial Officer of the PGA of America. "The passion that people have for the Ryder Cup and wine are strikingly similar, both in the United States and Europe. It's those passions that keep them coming back again and again."
Yes, we are clearly on the same page, as our passion for wine is pretty much on par with our love of golf. We have tried combining the two together before, but the results have never been entirely satisfactory.
We are as much partial to a nice cold glass of Sauvignon Blanc as a full-bodied Bordeaux. The Brig is also very fond of a good Paulliac, or even a drop of Brunello de Montalcino when he can get his hands on it. So golf and wine, we salute you.
For more on a golf course that is going to be turned into a vineyard click here or on the image below.
TAGS: Golf And Wine, Mouton Cadet, News, 2016, Ryder Cup, The Ryder Cup