News
Dec 1st, 2017
Sandals Emerald Bay
Our guide to beach life in the Bahamas
Words: The Brigadier Photography: Sandals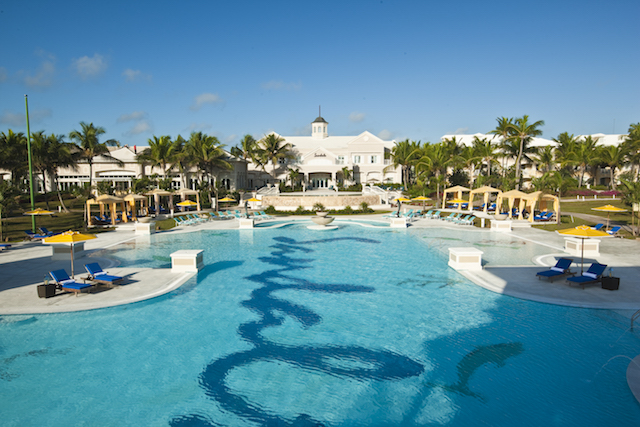 Sandals, Exuma, The Bahamas: nice, very nice indeed. First off, Sandals is for couples only, so there are no kids on the block, new or otherwise. It's 100% nipper free, so if you want some P&Q and a break from kids, then this is the place for you and your better half – male or female.
It's also a place where you can do as little or as much as you like, and there's plenty to do if you have a mind for it. Obviously there's the golf, with the Greg Norman designed Emerald Reef Course, which I'll deal with later and separately.
What I got into first was the diving, which is free as all the on-site activities are included within the price. Yes, you can kayak, sail, swim, snorkel, sunbathe, water-board (not to be confused with waterboarding), waterski, and windsurf, but for me the opportunity to dive twice a day at no extra cost was a total winner.
You do need to be certified, in the PADI / DAN way, rather than a note from your Doctor, so it's worth getting a course under your belt before you come. You can learn here at the resort, but there is an extra charge for this, so it's best to get it out of the way before you come.
You will be hard pushed to find better water to dive in than in the Bahamas. The name Bahamas is derived from the Spanish Baja Mar, meaning shallow water or sea. The turquoise colours of the Bahamian waters are simply incredible, and are one of the things that make the place unique.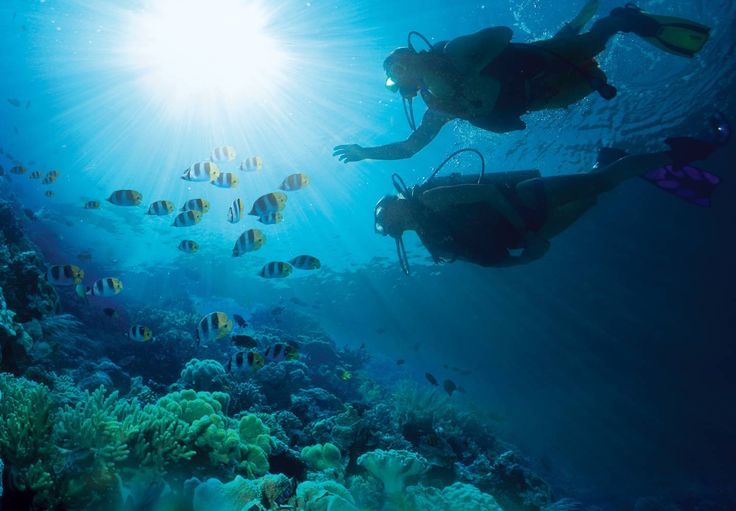 With a little bit of luck you'll see turtles, basking sharks, manta rays and a whole plethora of other sea-life, and all in water that is completely crystal clear. The Bahamas are rightly famous for some of the best scuba diving in the world, so this is an opportunity you should grab.
And if you like to fish, the Bahamas are famed for their Bone Fishing. Bone fish are pound-for-pound the hardest fighting game fish in the world, and this is where the likes of Jack Nicklaus, Nick Price, Nick Faldo and Greg Norman come to indulge in their second favourite sport.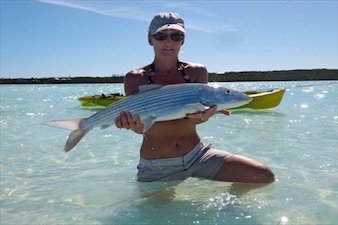 Once you've had your dive, you can then refresh yourself in the pool bar with the local beer (Kalik), a cocktail, or a full-on spicy Bloody Mary, which did it for me every time.
There are plenty more on-shore activities, including tennis, croquet, boules, beach volleyball, and off course chilling out, which is compulsory. And I would also highly recommend their Red Lane Spa, where I had a proper deep tissue massage. The charming Dolores found more knots in my shoulders than you'd find on a super yacht.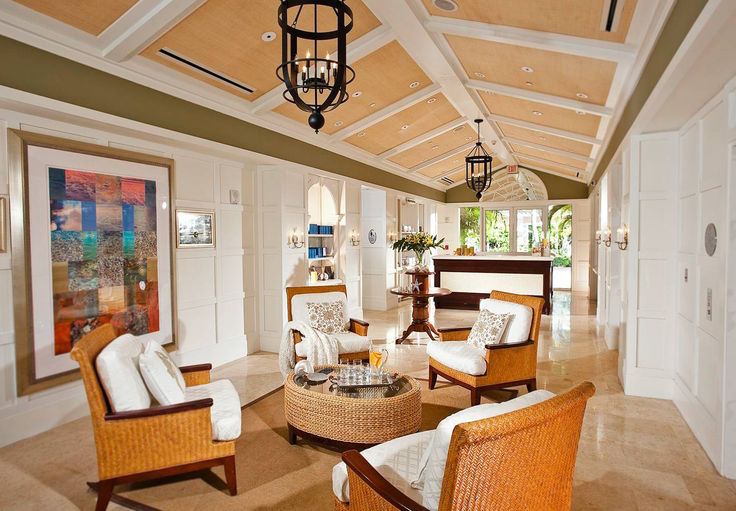 I'd never had a deep tissue massage before, and it is something else. You have to drink a load of water afterwards, as it releases a ton of toxins into your body. It's properly good for you, and will sort you out for your golf as well.
As an all-inclusive resort, Sandals has been leading from the front in terms of pushing the envelope, and creating new expectations in terms of service and standards. Long gone are the days of the dreaded wristband, and the watered down drinks of inferior quality.
Everything is top notch now, and you'll also find that your room comes with an excellent, all-inclusive, stock of fine beverages, including gin, rum, vodka, whisky, wine and Champagne.
Your fridge is restocked everyday, so there will always be tonic water, soft drinks, and bottled water at your disposal. There's nothing better than getting in from a long, hard day on the beach and creating your own G&T to taste. One little idea for our friends at Sandals would be to have fresh limes on hand as well. Now that could really work!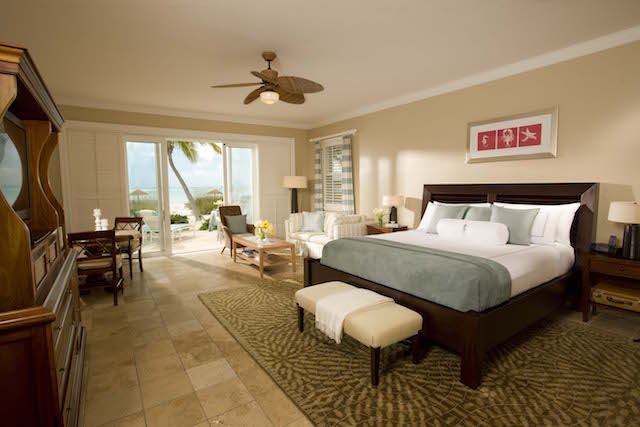 When you are not doing stuff, or not as the case may be, you will want to be dining, and again there's plenty of choice to be had. Breakfast is a bit 'standard international', but does the job. But there are still plenty of different choices to be had, and our group spent most mornings grazing on coffee and pastries in the excellent Café Paris. This is not the place to come for weight-lose, unless you have a will of steel.
We ate in a number of different restaurants, from the informal Barefoot by the Sea, to the more intimate and upmarket French Restaurant, La Parisienne. The food has come on a long way at this all-inclusive, but service can still be a bit hit and miss, in a charming Bahamian way.
The wines are all good, with Pinot Grigio, Chardonnay, and Sauvignon Blanc on offer for the whites, and Merlot, Cabernet Sauvignon and Shiraz for the reds. If you get bored of these you can upgrade to a paid for 'Managers List', which includes a decent Fleurie at $40 a bottle.
One thing I loved is that all the staff say hello. I know it's part of the training, but it does work and adds to the relaxed ambience of the place. It's also good for you as a visitor to be kept on your toes and your manners. You have to engage, which is good for everyone.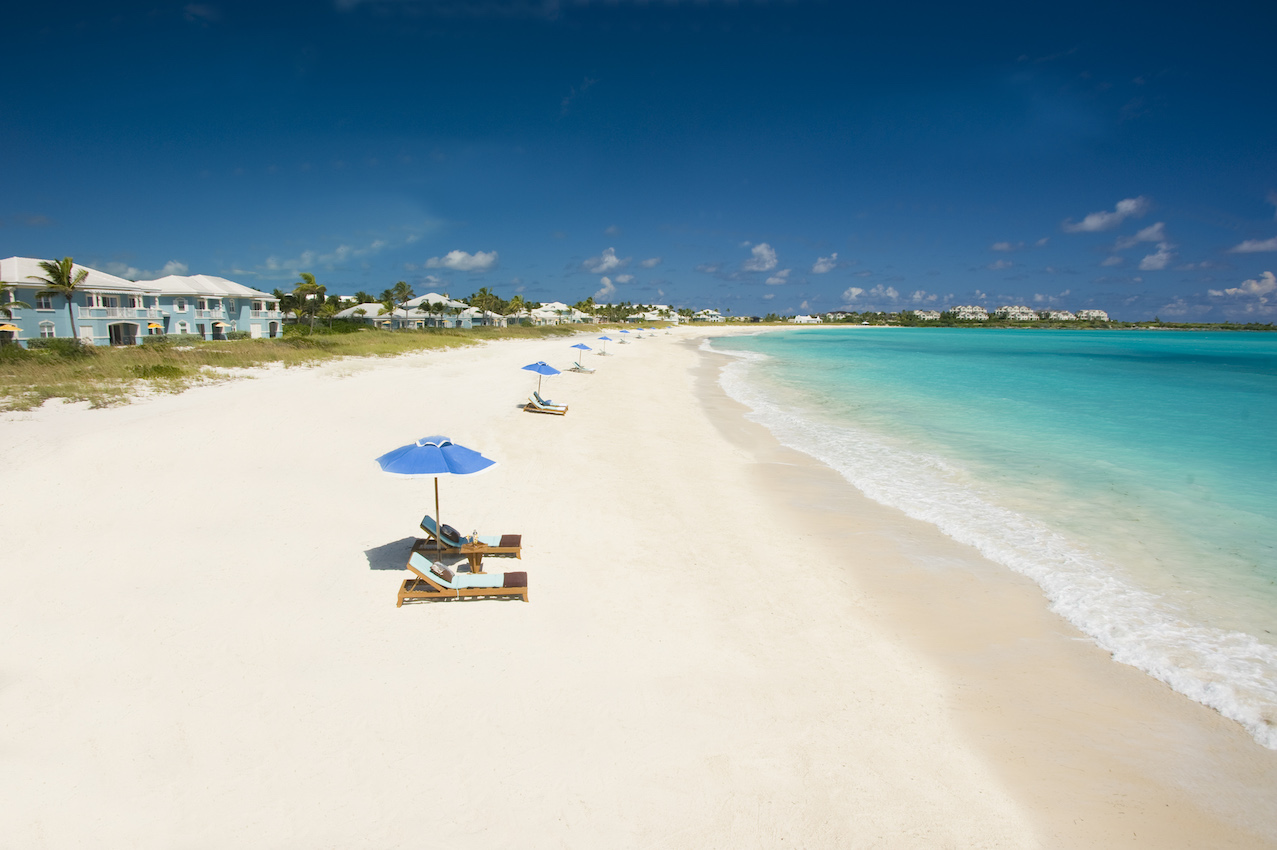 We had an amazing boat trip, which is one of the few extras, but worth every penny / dollar. Our first stop was to the famous 'swimming with pigs Island', where your boat is greeted by a flotilla of swimming pigs looking to be fed and watered.
https://www.youtube.com/watch?v=3z-6D5DoAU0&feature=youtu.be
Next stop was Leaf Island and the opportunity to feed its colony of very rare Rock Iguanas with grapes. Apparently actor Nicholas Cage bought the island as part of a tax avoidance scheme, only to find that he could never build on it because of the Iguanas. He bought it for $3 million, and is now trying to off-load for $8 million. Fat chance.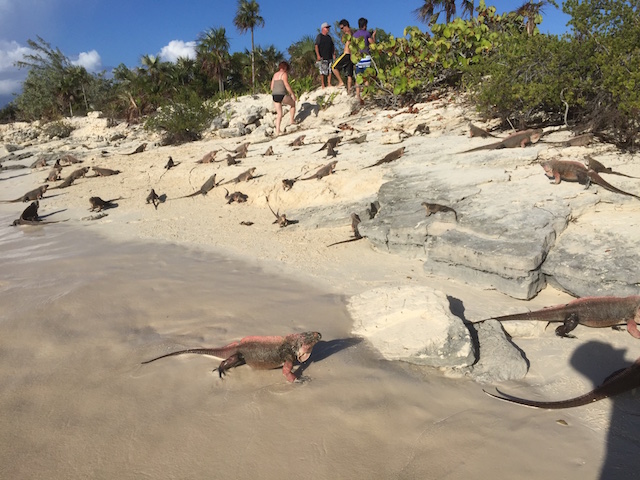 Nicholas Cage isn't the only star to have bought into the islands of Exuma. We pass the island owned by the guy who set up Blockbuster Video, before it went south. He's probably there watching Netflix now. Off course Johnny Depp is in on the action, as is Eddie Murphy, David Copperfield, and Jay-Zee and Beyoncé.
If you've never been to an all-inclusive, here is one to try. We guarantee you won't be disappointed, other than by having to fly home. More on the golf to follow, and that won't disappoint either I can promise.
For more on Sandals go to www.sandals.co.uk
Related:
Click here or on the image below to read about the Sandals Emerald Reef Golf course