News
May 27th, 2016
Rules of Golf launches on Android
Free R&A App now for all devices
Words: James Greenwood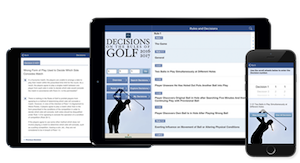 The official interpretation of the Rules of Golf from The R&A is now available free in an updated edition for 2016 - 2017, and it is now available on Android as well.
It provides clear answers to practical problems encountered when playing golf. Decisions follow a simple question and answer format, making them easy to understand and act upon.
This is the perfect app for those that are involved in organising events and who need to know the Rules in detail: referees, golf club Committee members and golf professionals.
The App is available on iPhone, iPad and now Android.
Related:
Click here or on the image below to read more about the launch of the best selling golf book in the world