News
Jan 1st, 2016
Rory and Erica Celebrate
With some fine wine
Words: The Brigadier Photography: Getty Images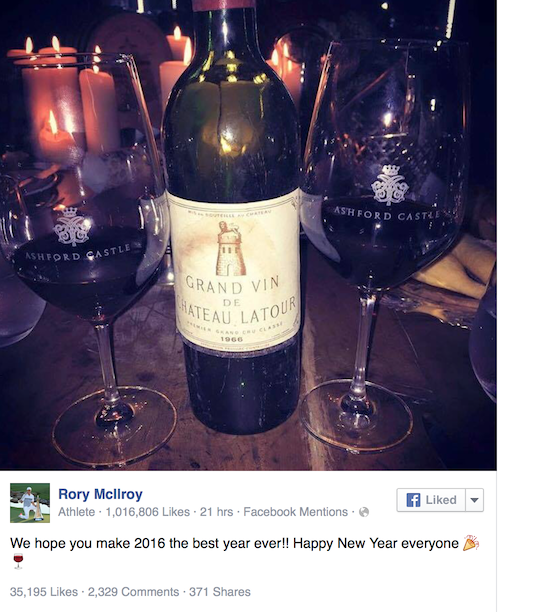 Rory returned to Ashford Castle in County Mayo, Ireland, for a quiet celebration with his finance Erica Stoll.
On the menu for the evening was a £200 bottle of 1966 Pauillac Grand Vin Premier Grand Cru, one of our favourites at GolfPunk Towers, although for budgetary reasons we are currently mostly on Tesco's Cote de Rhone, which comes in at a very modest £4.
One onlooker who spotted the couple said they were "dressed down and keeping to themselves".
"They looked like they had been out walking around the grounds and were both dressed very casually," they said.
"They went into the bar at one stage to have a drink and seemed to be so relaxed in each other's company, like any other couple really."
Rory and Erica have been enjoying a few days off after spending Christmas with Rory's family in Holywood, Co Down, before heading to the Mayo hotel.
Could this be the venue that they eventually get hitched in? It's got plenty of celebraty form, as Pierce Brosnan married Keely Shaye-Smith here, while Westlife star Shane Feehily celebrated his wedding to Gillian there in 2003.
He said recently how they're in no rush down the aisle as they were enjoying being engaged.
"She is a low-key person but she brings a level of normality to everything.
"She has a calming presence and that's not just on me, it is noticeable in any company," he said.
"She never wants to be the centre of attention."
Rory has clearly got a stayer on his hands, who will keep his head sorted for what is going to be one hell of a year.