News
Dec 6th, 2015
Playstation to launch 100ft Robot Golf
Does what it says on the tin!
Words: The Brigadier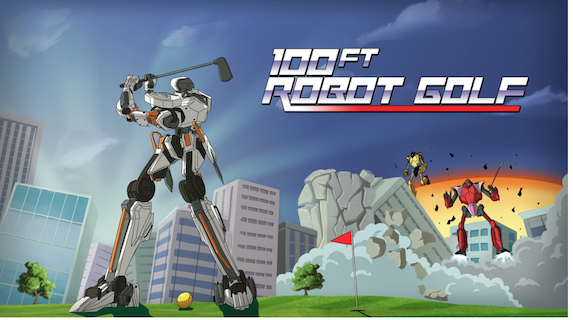 Playstation are launching a new game – 100ft Robot Golf. 100ft Robot Golf does exactly what it says on the tine. It's impossibly huge robots playing golf!
The twist is that not only are the robots directly controllable in real time, but they're playing golf in a fully destructible environment. You can now destroy that pesky obstacle that's blocking your shot to the green, or even push it in the way of one of your golf buddies!
The good people at Playstation have been pulling out all the stops to make 100ft Robot Golf really fun to play with friends. You can tear up the town with up to four people taking turns, in real time splitscreen, or even online. They also "super excited" to reveal that you will also be able to control a golf club wielding robot using the PlayStation VR headset! There's nothing quite like donning a headset to take control of a huge robot with a singular purpose lowering a golf handicap.
Bring it on we say!
TAGS: Playstation Launch 100ft Robot Golf, Robot Golf Launch Playstation, 100ft Robot Golf To Be Launched By Playstation, News, 2015